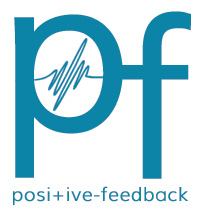 You are reading the older HTML site
Positive Feedback ISSUE
35
january/february
2008
Upgrade - VPI's New Super Platter for the Scout Turntable
by Robert H.Levi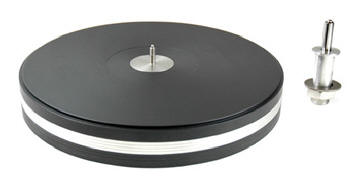 First, this is from VPI's website:
VPI is now taking orders on the new 25 pound "super platter" with matching inverted bearing. Orders will begin shipping on or around May 1. The "super platter" can be ordered directly from VPI or any one of its many authorized VPI dealers.

This platter is the most advanced platter VPI has ever made and of course, it is compatible with the VPI Periphery ring. Made from an acrylic/stainless/acrylic sandwich (just like the HRX chassis) and weighing in at 25Lbs this is a big bad platter upgrade and will fit all VPI turntables except for the HRX. This platter has better bass performance, will fit the periphery ring, is ultra quiet, and has more stability, great slam, and power.

Yes, it will fit the HW-19 series, as well as all Aries, Scouts, Scoutmasters, and Super Scoutmaster. It'll even fit the previous 20 years of TNT's; just not the HRX which has a larger diameter bearing assembly with its own optional HRX super platter.

VPI is offering a $300 discount if the platter is purchased with a current model VPI turntable.

If a customer has purchased any VPI turntable (except HRX) after 3/1/07 and they purchase the Super Platter, they are eligible for a $300 rebate on the Super Platter directly from VPI with the return of the old platter and bearing.
With my Scout already supported on a Townshend Seismic Sink, regulated by an SDS controller, and lavishly outfitted with Kubala-Sosna interconnects and the fabulous E.A.R. 324 phono section running balanced, the new platter was the obvious next step.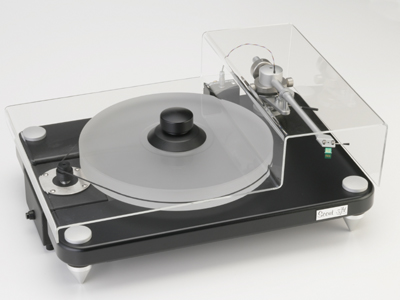 The new platter is a classy looking 25 pound beauty. The acrylic original looks junky by comparison. At $1200, it costs over half as much as the turntable originally did, so it should look top notch. I've installed many mods over the years [2 with VPI] and this is the most successful yet.
I'll cut to the chase. This is a wondrous upgrade! It yields an improvement in everything, especially with my ZYX Airy 3 singing away. I hear cleaner, faster, tighter, deeper bass, airier mids, and smoother [much smoother] highs. Overall definition is enhanced by about 25% while the realism factor is upped as well.
The first thing one hears is clarity; lots and lots of clarity. Vocals are more focused and realistic with perceived less distortion. Imaging is more solid and depth is nicely deepened. The overall sound is quieter as well. This is a lot of added performance from just a new platter change. It's more than I expected.
Quibbles?
In the past I've bought two mods from VPI: an upgrade kit for a Model 16 record cleaning machine (taking it to 16.5 model) and this Scout platter mod. With these two, I am 2 for 2 as neither fit. Leonardo da Vinci couldn't have installed the 16 mod, so I ultimately gave it away and bought the 16.5 cleaner. This Scout platter change didn't fit either, plus it doesn't come with instructions. Even so, I managed to get it to fit thanks to E.A.R.'s Dan Meinwald and his advice. It needed five large washers (not included) that I was able to source from my local Ace Hardware. Adding those washers is no big deal, but you have to make sure that you order your platter for the correct model turntable, even though that didn't help me.
Adjustments
If you are using an SDS controller, you must boost the juice to attain accurate speed …after all, this platter weighs considerably more. Also, it's taller so you will need to raise your arm, though no azimuth change was needed for my tonearm. You will though need to rebalance the entire turntable with its adjustable feet.
I have never been a fan of 100% acrylic platters from anyone and this new acrylic/stainless/acrylic sandwich Super Platter drives that opinion home. The new platter sounds so much more natural and right than the stock platter. What a great mod!
At $1200, the new Super Platter from VPI is a winner and then some! Gorgeous to use and see, I love it. I heard improved performance across the board. Have your dealer install it for the least aggravation, but if you own a Scout or any other model, you must buy this upgrade. It's worth every Peso and enhances your investment in vinyl. "Made in America" is looking mighty nice right now. Thanks VPI for continuing your quest to offer your customers the best you can! It earns my highest recommendation for all VPI turntable owners.