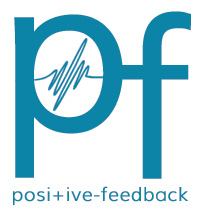 You are reading the older HTML site
Positive Feedback ISSUE
36
march/april
2008
Notes of an Amateur - March, 2008, Part 3
by Bob Neill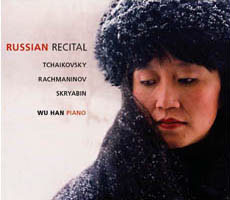 Russian Recital: Tchaikovsky, Rachmaninov, Scriabin. Wu Han, piano. Artistled 10701.
As my review of the Music@Menlo 2007 recordings in Part 1 of the March reviews spelled out in some detail, classical music recording is alive and well in some corners of the world, thanks in part to the efforts of two excellent, energetic, and very savy musicians and one highly skilled recording engineer. While the big record companies struggle to deal with the changing situation in the classical music recording business, musicians themselves are showing the way. There are still a considerable number of smaller labels in both Europe and the US doing it the old (and excellent) way; and even a few large ones are doing okay with their diminished stables of stars. But when you look at what John Eliot Gardiner and his musicians are doing on Soli Deo Gloria, what the London Symphony and San Francisco Symphony Orchestras are doing on their own labels, and how well Jordi Savall and his musicians are doing with Alia Vox and David Finckel, Wu Han, and Da-Hong Seetoo with Music@ Menlo, Artistled, and most recently the Chamber Music of Lincoln Center Studio Series of recordings (see below), it seems there is a new force rising, with enough energy and quality to survive whatever happens to the industry as a whole. I am not a sufficiently prescient prognosticator about the economics of the situation to say more than this. All I can do is pray that sonically compromised formats and downloads don't become too big a piece of it all. But—no surprise—Wu Han and David Finckel have got that covered too: http://www.positive-feedback.com/Issue30/amateur3.htm.
More to the point, I do know fresh, wonderful, and very well recorded musical performances when I hear them, which is what we invariably get from Artistled. Their catalog, which amounts to ten releases so far by pianist Wu Han, cellist David Finckel, and recording engineer (and violinist) Da-Hong Seetoo, is an absolute jewel of a music recording enterprise. All of the performances are satisfying—the Beethoven Cello Sonatas recording is the best I've heard. But until now, all have included both Wu Han and David Finckel—and in one instance Da-Hong Seetoo, an accomplished violinist as well as engineer. Now we have Wu Han alone in performances of three Russian composers, her first solo outings I know of since the Mendelssohn's "Songs Without Words" she played in the Music@Menlo series several years ago.
Both Finckel and Wu Han have developed an attachment to Russian music—Rostropovich was one of Finckel's teachers, which may or may not factor into this. The duo's CD of Russian cello sonatas is very fine, as is the Shostakovich String Quartet cycle by the Emerson Quartet, for which Finckel is cellist. Wu Han has chosen Russian romantics for her recital, and just a few months into Tchaikovksy's The Seasons we can hear why. She hears Mother Russia in this music and wants us to hear Her too. This is the bold, high-spirited Russia that was at the heart of Tolstoy's Volkonskys and Rostoffs, which those of us born after the Revolution and all that has been twentieth century Russia can only read about—or listen to. Tchaikovsky's Seasons is almost incidental music—unpretentious and small scale—written, we learn, almost off the cuff on a commission. But Wu Han will have none of that: as she plays the work, it is strong and eloquently direct, the composer at his spirited, rhapsodic, and magical best. And as always with Tchaikovsky, dance is at its heart, ending at Christmas with what must be a mazurka for Natasha (and the six-year-old Miss Finckel) to dance to.
Wu Han is one of the very few pianists who can make me listen to Rachmaninov. As she plays seven of his Preludes, with restraint, he flows directly from Tchaikovsky, as he does in the program. Rachmaninov never sounds particularly Russian to me in other hands—he seems overwrought with single-minded rhapsodic excess. In the hands of Wu Han, the excess is trimmed away and we have instead a proud, lyric but also sophisticated gallant. Wu Han disciplines the emotional rhetoric of this music into something that feels more natural for it, thus enabling the music to become more truly expressive. Along with the usual richness, we hear more emotional subtlety and complexity. Speaking about "Prelude No. 1," she describes how much more complicated Rachmaninov's language is than Tchaikovksy's, and by implication the kind of playing it takes to bring this out:
…the melodies are not as simple anymore, and in many ways the music is more exaggerated…the accompaniment part is incredibly complicated: it's repetitive, chromatic, and sometimes turbulent, with much anxiety underneath. It's half-mourning, uncertain—the key is always changing, and the emotion never stays in the same place for too long. In a way, it speaks directly to the essence of the Russian character, at least as I hear it: sometimes sentimental, sometimes total beauty, sometimes the warmth of the people, and often the sadness of their history.
Given her approach to Tchaikovsky and Rachmaninov, I was curious to hear what Wu Han would do with Scriabin, whose legendary pyrotechnics attract the likes of flashy Canadian pianist Marc-André Hamelin. Wu Han's Scriabin is luminous, impressionist; also rhapsodic but crisply and dramatically so rather than swirling and flamboyant, which he can also be played. Scriabin does not sound especially Russian to me either, even in Wu Han's hands, which may of course simply mean that his 'Russian-ness' is outside my range of musical perception. He sounds like another passionate late nineteenth century composer trying to find a way to absorb his century's powerful musical influences (including Wagner's!) and carry us into a new aesthetic territory without a new musical language. He succeeds better than most at this and probably best when his formidable dynamic power is not over-pressed. Wu Han holds him in a bit but plays him plenty vigorously when vigor is called for—and Da-Hong Seetoo makes sure we get it all.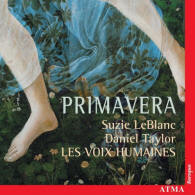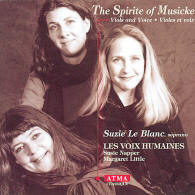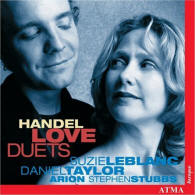 The Spirite of Musicke: Suzie LeBlanc; Les Voix Humaines (Susie Napper & Margaret Little), violas da gamba. ATMA classique. ACD2 2136.
Primavera: Suzie LeBlanc, soprano; Daniel Taylor, counter-tenor; Les Voix Humaine. ATMA classique. ACD2 2258.
Handel: Love Duets. Suzie LeBlanc; Daniel Taylor; Arion, Stephen Stubbs, director. ATMA classique. ACD2 2260.
Continuing my search among earlier favorites, I have come across several more from the Canadian label, ATMA classique that you really need to hear about. I'll write about three here and save two more for later.
Around ten years ago ATMA (presumably) realized that soprano Suzie LeBlanc had a quality to her voice that mates almost chemically well with viols; and soon thereafter that the counter-tenor or male alto voice of Daniel Taylor has a similar quality. Since then, ATMA has released a handful of renaissance and baroque programs capitalizing on the extraordinary evocative power of these two singers in association with La Voix Humaines, the name that gambists Susie Napper and Margaret Little give themselves when they play as a duo. What does this group evoke? Well sexuality, to begin with! The sexuality that bittersweet, coppery, sensuous sounds can connote in close harmony. The timbres of these two singers and the viols are distinct from one another, but not contrasting. The two voices seem to insinuate themselves around one another and amidst the viols.
On the first of the albums I listened to, The Spirite of Musicke (1998), LeBlanc and the two viols perform fifteen songs and instrumental pieces by six different early seventeenth century composers, with Tobias Hume representing the chief presence. What this album is really about is the spirit of Suzie LeBlanc & the viola da gamba, who together may truly be the spirit of early seventeenth century English and Italian chamber music. Earthy but smooth, tangy but flavorful—like good British ale. There is wonderful human weight to these performances. "Earth's the right place for love: I don't know where it's likely to go better." (Robert Frost) This is not the thought that comes to mind listening to most performances of viol and vocal chamber music these days. Perhaps it should. I can find nothing more or better to say about this album, which is seldom on my shelf.
In Primavera (2002), Taylor joins LeBlanc, Les Voix Humaines, and a half-dozen others playing flutes, recorders, violins, lute, theorbo (a larger lute), and percussion in a dozen and a half short works which celebrate, in a great many different ways, spring. They play in various combinations but all capture what I am coming to hear as the French Canadian renaissance and baroque sound, which is earthier and more 'natural' than, for example, Jordi Savall's or English musicians' playing this music. Again, the key to the sound is LeBlanc, whose soprano has more diaphragm in it than most. Taylor complements her perfectly with what may well be the best counter-tenor voice in the world these days. The warmth and liquidity of his high alto voice turns its bronze quality into gold. Their close harmonies have a piercing beauty: they sing the last number on the album by Etienne Moulinié so exquisitely the silence that follows is almost unbearable. Spring as celebrated by these musicians is the spring of myth, full of raw 'natural' beauty and rebirth—sexuality. They draw on LeJeune, Monterverdi, Marais, Lawes, Ferrabasco, Rameau, Byrd, and Purcell, among others, and all of the composers gain from the experience. The accompanying musicians are all we could ask for. The two gambists of Les Voix Humaines are sensuous and clear, the lute player Sylvain Bergeran also especially notable. This could be an album of the year—but alas, it has been around since 2002.
Which brings us to one of the most treasured of LeBlanc's and Taylors's joint ventures, Handel Love Duets, released later in 2002. This program gives us these two great voices, singly and together, supported by Arion, a very fine baroque ensemble which had been playing for twenty years by the time of this outing and who get a couple of non-vocal cuts to strut their considerable stuff. The program is made up of excerpts from seven Handel operas, music that lets the soloists stretch their voices a bit. Taylor, singing Rinaldo's aria, "Cara Sposa," from the opera that bears his name, lets us hear why he has become so beloved of conductors of baroque opera. And then we get LeBlanc singing "Lascia ch'io pianga," the aria the late Loraine Hunt Lieberson made her name on. It is not a criticism of either of these two great sopranos to concede that there is little to choose between them. I had not realized how beautiful LeBlanc's voice can be before this album; strong, rich, clear yes—but Handel brings out the shear beauty she is capable of.
As expected, it is the duets which cause the program to soar, giving new and wonderful life to music that was written for an extraordinary pair of early eighteenth century stars, soprano Francisca Cuzzoni and male alto Senesino. This is one of the best albums of its kind ever made. If you like baroque opera, by Handel in particular, you will love it. If you don't like baroque opera, this release may turn you around in spite of yourself.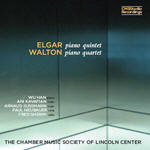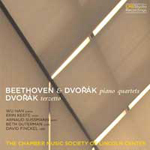 Beethoven and Dvořák, Piano Quartets; Dvořák, Terzetto. Wu Han, piano. Erin Keefe, violin. Arnaud Sussmann, violin. Beth Guterman, viola. David Finckel, cello. Chamber Music Society of Lincoln Center. CMS Studio Recordings 82503.
Elgar, Piano Quintet; Walton, Piano Quartet. Wu Han, piano. Ani Kavafian, violin. Arnaud Sussmann, violin. Paul Neubauer, viola. Fred Sherry, cello. Chamber Music Society of Lincoln Center. CMS Studio Recordings 82506.
If you're a fan of chamber music, you will welcome the latest enterprise of Wu Han, David Finckel, and Da-Hong Seetoo, recordings of some of the most interesting programs of the Chamber Music Society of Lincoln Center (NYC), of which Wu Han and Finckel are artistic directors. These recordings, like those of another of their projects, Artistled Records, are studio recordings, not the actual 'live' programs performed at Lincoln Center. The goal here, as with Artistled, is to enable both artists and recording engineer (as always Da-Hong Seetoo) to have input into all aspects of the recording process—and product. The series, now two CD's strong, is called CMS Studio Recordings.
The music-making on both of these CD's is crisp and affecting, the sound (apparently) dependent on venues. The Elgar/Walton CD, recorded in the Rose Studio of Lincoln Center, is a bit leaner and drier, the Beethoven/Dvořák CD, done in the Concert Hall of Drew University (Madison, NJ), is warmer, sweeter, and more resonant. (The differences are more apparent on my Audio Note system than on my Blue Circle/JM Reynaud rig, which is a trifle warm to begin with.) It will be interesting to see if one or the other of these venues becomes 'home' for the continuing series. Both CD's are recorded fairly close up and so are full of clarity, instrumental texture—and dynamic energy.
The Dvořák Terzetto (two violins, viola) is delightful Dvořák, and the lack of significant instrumental contrast (cello or piano) seems to add to its appealing qualities. The Beethoven Piano Quartet (Opus 16) is an arrangement (by the composer) of his extremely popular quintet for piano and winds; and to my ears, which are always drawn to pianos and strings together, it works wonderfully well. The Dvořák Piano Quartet, Opus 87 is good fulsome Dvořák, which is highly suitable for these small forces. The composer's chamber music is among his best work.
The Elgar Piano Quintet takes a while to become Elgar, but when it does—in the second movement—it's lovely, sentimental Elgar and very enjoyable for all that. Elgar (and his compatriot, Vaughn Williams) walk the narrow line between kitsch and art but generally fall on the better side of the divide. The Walton Piano Quartet is more interesting—Walton's goals are more ambitious, his musical personality more venturesome. This work is bursting with exciting, sometimes moderately dissonant, counterpoint, including a fine fugue. Walton is no Benjamin Britten but twentieth century British music is on its way to Britten here, whereas with Elgar it's content to keep the old and more comforting late romantic sound viable. Putting these two composers together in similar musical forms is good and rewarding programming.
Systems used for these auditions: Audio Note CDT3 transport and Dac 4.1 Balanced Signature with both Blue Circle SBT/SBM separates, Blue Circle BC6000 line conditioner, and Jean Marie Reynaud Duet speakers; and also with Audio Note M6 preamplifier, Neiro monoblock amplifiers, and E/SPX SE speakers. Audio Note Sogon and AN-Vx interconnects, Audio Note Lexus and SPx speaker cable.
Bob Neill, in addition to being an occasional equipment and regular music reviewer for Positive- Feedback Online, is also proprietor of Amherst Audio in Amherst, Massachusetts, which sells equipment from Audio Note, Blue Circle, Manley Labs, and JM Reynaud, among others.