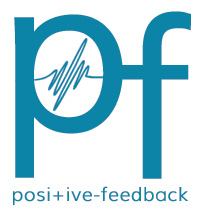 You are reading the older HTML site
Positive Feedback ISSUE
36
march/april
2008
Notes of an Amateur – April, 2008, Part 1
by Bob Neill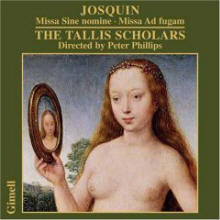 Josquin, Missa sine nomine; Missa Ad fugam. The Tallis Scholars, Peter Philips, Director. Gimell Records CDGIM 039.
So here they are again, the reigning rulers of western a capela renaissance choral music performance, with their first new CD in what seems like several years now—though an album of English madrigals dated 2007 may have been a new one. And then there have been some re-recordings of material recorded back in the 1980s and some reissues and repackaging of several earlier recordings. Their total output now approaches 60 recordings in one form or another. Their album numbering system suggests there have actually been 39 albums of new music made since the beginning, this one under review being the thirty-ninth. (http://www.gimell.com/catalogue.aspx) At any rate, it's clear that their recording career as a group has gradually come to take a back seat to an increasingly ambitious worldwide performing schedule; which makes great sense. Truth is, there is very little important renaissance choral repertoire they haven't recorded and they are extremely popular public performers.
So listening to this latest recording, how are they doing? The main impression I always get from the Scholars is of their identification with the divine vision of the music they sing, a mainly successful effort to transcend the music's basis in human voices. Their goal seems to make all human effort disappear. And that characteristic of their performing style is intact here. They provide a listening experience comparable to the visual experience of looking at a painting by Raphael, whose subjects have about them a sense of peaceful abstraction, their thoughts and feelings focused elsewhere, on another realm of existence. Of course the masses of Franco-Flemish master Josquin des Prés tend to take a singer on such a course! This is peaceful and meditative (though not at all sleepy) music written expressly to transport us, which if we give ourselves up to it, it surely does. That is what the Tallis Scholars do as no one else can.
It is gratifying to see so many of the familiar names of singers listed, whom we have grown used to over the years. How many such groups can we recall that extend well back into the Age of Vinyl?! The album notes remind us that the Scholars were established in 1973, their recording label, Gimell, in 1981.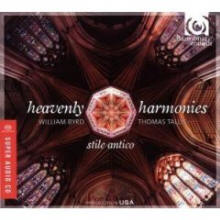 Heavenly Harmonies: William Byrd and Thomas Tallis. Stile Antico. Hyperion Records. CDA
Which brings us, as it seems invariably to do these days, to Stile Antico, the younger, more extroverted group often seen as the Tallis Scholars's chief competition. Even singing the modest and austere hymn-like pieces by Thomas Tallis here, Stile Antico seem committed to the earthly flavor of the music, bringing more personality to their delivery. To be fair, this music is one-hundred years younger than Josquin's, and we can hear that in its willingness to accommodate a more melodic flow and a complementary decline in chant-like formality. But even allowing for differences in the music itself, Stile Antico has more of the ebullient spirit of, say, John Eliot Gardiner's Monterverdi Choir singing Bach cantatas contrasted with the Tallis Scholars' European restraint characteristic of a Ton Koopman choir. The personalities of these two groups could hardly be more different, and musically they make a fascinating comparison – or I wouldn't waste your time talking about it!
In this their second release (the first one is here), Stile Antico alternate short, simple, almost homiletic pieces by Tallis with longer more elaborate ones by Byrd (from his Cantiones Sacre I and II), setting him off dramatically as one of the most eloquent composers we have had. Stile Antico push Byrd further than most to bring out all of his lyric qualities. Newcomers to his music could do far worse than meet it here.
The recording engineers have mastered a wonderfully resonant venue for this album, All Hallows Church, Gospel Oak, London.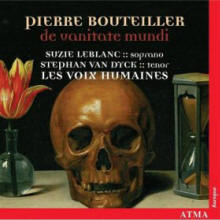 Pierre Bouteiller, de vanitate mundi. Suzie LeBlanc, soprano; Stephen Van Dyck, tenor. Les Voix Humaines. ATMA classique. ACD2 2259.
No, I'd never heard of this late seventeenth/early eighteenth century French baroque composer (1655-1717) either; but I have come to trust the principal musicians on this CD as well as ATMA itself, and so thought what the hell? Belgian Tenor Van Dyck is also new to me, but I needn't have worried. He has studied with peerless William Christie (Les Ars Florissants) and Rene Jacobs and has sung for Christie, Rousset, Pierlot, and Savall, among others. He has a perfect voice for French baroque—clear, firm, and, like LeBlanc's, born to blend with viols, in particular those of Les Voix Humaines.
Bouteiller writes sonorous motets, which he scores for bass viols and organ continuo, which adds a rich foundation to the proceedings. The subject is religious but the quality of the music is definitely of this world—rich and sensuous; and the instrumental accompaniment contributes mightily to this quality. We learn from the album notes that the composer was himself a violist. This music is utterly satisfying and does not make one miss the considerably better known composers of his time, like Charpentier for example.
His mass for the dead (which enables LeBlanc and Van Dyck, who solo separately in the motets, to sing together) is so beautiful it could almost reconcile the mourners to its subject, which is no doubt its purpose. I would much prefer to hear Bouteiller's requiem than all of the well-meaning personal encomiums and solace offered at most funeral and memorial services. If I have the resources left in my estate at the end, I think I will make 'final arrangements' to have these musicians come to Massachusetts to perform it on my behalf. What a rare piece of musical excellence it is!
Bouteiller was a provincial composer who wrote the music we have from him far from the center of French culture (Paris) of his time. He is a marvel. French baroque music at its best understood Christianity in a fully human way that this particular group of musicians understand perfectly. Track this CD down—not only the music but also the sound will flatter your music systems.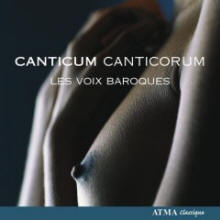 Canticum Canticorum. (Song of Songs). Lassus, Palestrina, Schütz, Mazzocchi, Willan,Walton, Tomkins, Charpentier, Marais, Dunstable, Purcell. Les Voix Baroques, Stephen Stubbs, director. Les Voix Baroques. ATMA-classique. ACD2 2503.
This album brings us to the present, a new release from ATMA, which like many of their earlier ones, is an anthology or bouquet of (mainly) early music with a theme. The theme of this program, drawing on the popular "Song of Songs" from the Old Testament and its celebration of the close ties between earthly and divine love, is precisely that. Love as sung about here is involved with spring and rebirth, sometimes with religious overtones, sometimes not, their closeness, many of us believe, to each other in origin being the point. This is music written to explore the feelings common to both 'kinds' of love: the territory where they overlap or, as Christians tell us, where one evolves into the other. The musicians are all new to me. The soloists, who when singing as a group in Montreal call themselves Les Voix Baroque, do not seem to be Canadian, which is a new development for the label. Their resumés feature considerable international experience—and their voices reflect this. I do not know about the instrumental musicians but would guess that they are Canadian. The recording was made in the Church of St. Augustine in Quebec.
An anthology which depends as much as this one does on its theme to hold together must be attended to with some concentration for the program to be appreciated as more than a musical floral arrangement—and, unlike many 'concept albums,' this one repays close attention. While the focus is primarily on renaissance and baroque composers, both Healey Willan (Canadian composer, 1880 - 1968) and William Walton of the twentieth century appear, disrupting our musical expectations in curiously effective ways. The album notes are excellent and help to bring out the theme.
Systems used for these auditions: Audio Note CDT3 transport and Dac 4.1 Balanced Signature with both Blue Circle SBT/SBM separates, Blue Circle BC6000 line conditioner, and Jean Marie Reynaud Duet speakers; and also with Audio Note M6 preamplifier, Neiro monoblock amplifiers, and E/SPX SE speakers. Audio Note Sogon and AN-Vx interconnects, Audio Note Lexus and SPx speaker cable.
Bob Neill, in addition to being an occasional equipment and regular music reviewer for Positive- Feedback Online, is also proprietor of Amherst Audio in Amherst, Massachusetts, which sells equipment from Audio Note, Blue Circle, Manley Labs, and JM Reynaud, among others.