Power conditioning has long been a controversial topic in high-end audio. While proponents of power conditioners cite claims of reduced background noise and enhanced transparency, detractors counter with tales of truncated dynamics and diminished immediacy. With the introduction of its flagship adeptResponse aR12 High Resolution Power Conditioner, Audience claimed to have addressed any negatives to AC conditioning, and myriads of consumers and critics agreed, extolling its virtues across the board. However, this kind of performance doesn't come cheap. The 12-outlet aR12 costs $4100, a price that is simply beyond the reach of many audiophiles, especially those whose total system investments aren't much greater than that. Even the smaller six-outlet aR6 costs a substantial $2800. Recognizing this, Audience has gone back to the drawing board and come up with the subject of this review, the adeptResponse aR1p High Resolution Power Conditioner, which, at its retail price of $495, is much more tenable for budget-conscious music lovers.
Unlike its larger stablemates, the Audience aR1p contains just one outlet. Audience foresaw customers using it for single-component conditioning, or for whole-system conditioning in conjunction with a power strip or other AC distribution solution. To minimize costs, the aR1p is small, measuring 6" wide, 3" high and 2" deep (not including the AC plug), and weighing just 1.5 pounds. The aR1p is un-prepossessing in appearance, being a black plastic box with nothing more than an AC outlet on one side, a gold-plated AC plug on another and an integral plastic footer bracket for added stability when the aR1p is mounted on a wall or ceiling. As is the case with all Audience power conditioners, the warranty for the aR1p is 10 years.
Internally, the aR1p is built to the same design and contains the exact same components as the larger aR12 and aR6 conditioners. The aR1p is hand built without employing any circuit boards, and contains high-quality parts, such as Audience's own Auricap capacitors. The aR1p employs wide-bandwidth RF filtration to reduce AC line noise. The wide-bandwidth, low-impedance design of the aR1p's filtration solution allows the conditioner to respond instantaneously to music transients, with no dynamic limiting. Additionally, the aR1p provides surge suppression for voltage spikes up to 20,000 amps. Unlike many power conditioners, however, the aR1p does not make use of MOVs (Metal Oxide Varistors), which can, over time, wear down with use, and eventually fail. The surge protection solution employed by Audience in the aR1p is said to be mechanically and sonically superior to MOVs and silent in its triggering. The aR1p is rated to handle 1,800 watts.
So, if the aR1p is built to the same design and exacting standards as Audience's aR12 and aR6 conditioners, why wouldn't everyone forego the larger models for the much less expensive aR1p? Well, aside from possessing multiple outlets, the primary advantage the aR12 and aR6 conditioners have over the aR1p is AC isolation between the individual components plugged into them. The aR12 and aR6 conditioners prevent the listener's digital and analog components from polluting one another via hash and grunge thrown back down their AC cords.
Per Terry O'Neal of Audience, the aR1p requires a lot of time to break in, so I first installed it in another room powering as many computer and TV components that I could plug into a power strip. I let the aR1p break in for more than four weeks prior to incorporating it into my system. Installing the aR1p was a snap - I simply plugged the aR1p into the wall outlet, and my system component's power cords into it. During the course of this review, I utilized the aR1p to power individual components, and in conjunction with a Blue Circle BC606 power strip / conditioner, my entire system. During the course of this review, my system consisted of the SimAudio Moon Evolution SuperNova CD player, Ayre AX-7e and conrad-johnson CA200 integrated amplifiers, Blue Circle SBT preamp and SBM monoblock amplifiers, EgglestonWorks Fontaine II and Focal Electra 1027Be loudspeakers, ASC Tube Traps and Studio Traps. Cabling was by Audience, Blue Circle and Ecosse. Power cords were by Audience, Blue Circle, Custom Power Cord Co and Ecosse.
Whether used to power a single component or my entire system, the Audience aR1p power conditioner made a readily discernable improvement in the overall sonic presentation. There were noticeable gains in transparency and detail retrieval that transformed long-familiar pieces into newly-discovered gems. Yes' Big Generator CD (ATCO 7 90522-2), with its lifeless and grainy presentation, represents a torture test for high-end systems. Listening to "Almost Like Love" and "I'm Running" with the aR1p in place, I heard less grunge, greater dynamic swings and more lifelike presence and imaging. No, the Audience conditioner didn't quite succeed in transforming that cow's ear of a recording into a silk purse, but it did render it eminently more enjoyable. Turning to better recorded fare, the aR1p proved itself to be no less a sonic boon. Playing "Feel Like Going Home" from Muddy Waters' seminal Folk Singer CD (MCA / Chess CHD-12027), the silences between notes were quieter than I'm accustomed to hearing, and as a result of this lowered noise floor, I could hear further back into the soundstage and more clearly delineate the subtle vocalizations of Waters as leaned into the microphone to sing.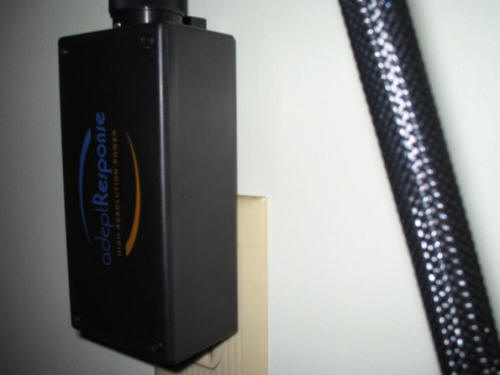 The foremost complaint I hear from audiophiles regarding power conditioners is reduced dynamic impact. With the Audience aR1p in my system, I listened critically to numerous recordings in an attempt to discern any dynamic limitations. I'm happy to report that, regardless of amplifier used (even the mighty conrad-johnson CA200 control amplifier), I heard no curtailment of dynamics whatsoever. From the bombastic, over-the-top strains of King Crimson on the construcKtion of light (Virgin 49261-2) to the subtle micro-dynamic acoustic guitar interplay of the California Guitar Trio on Yamanashi Blues (DR 9301-2), my system's dynamic expression was unfettered.
To get a feel for how the Audience adeptResponse aR1p stacks up against its competition, I compared it to the Blue Circle BC606 Music Bar. Appearing to be nothing more than a multi-outlet power strip, the BC606 manages to also squeeze in two power conditioning circuits and a premium Neutrik connector for the power cord. The BC606 contains six AC hospital-grade Hubbell AC outlets, and while not expressly designed to do so, does provide some isolation between components plugged into it (e.g. separating digital gear from power amps and preamps plugged into the same circuit). Pricing for the BC606 varies depending upon accompanying Blue Circle power cord selected, and ranges from around $400 to $600. While both the Audience aR1p and Blue Circle BC606 succeeded admirably in cleaning up the grunge riding my power lines, offering improvements in focus, clarity and transparency, there were some sonic differences. The aR1P had a more upfront, immediate and bold presentation, while the BC606 was more subtle, with a more laid-back feel. Via the aR1p, the soundstage was a little more forward, with images that were a shade more focused and dimensional. The BC606, conversely, moved the soundstage a little further back, with images more diffusely rendered. Whereas the aR1p did not constrict dynamics at all, I could just discern the slightest diminishment of dynamic expression via the BC606, especially with high-current components like the conrad-johnson CA200 control amplifier. The Blue Circle BC606 does have one distinct advantage over the Audience aR1p, with its multiple AC outlets being able to power an entire system.
At its asking price of $495, the Audience adeptResponse aR1p has to be considered one of the true bargains in high-end audio. Evincing no sonic compromises that I could detect, the aR1p improved the performance of my audio system across the board, with noticeable gains in transparency, insight and immediacy, all of which translated into increased musical involvement. Whether used to power individual components or, in conjunction with a power strip, an entire system, the aR1p provides advanced conditioning and surge protection that every audiophile can afford, even those of us with real-world systems. Audience's aR1p is a winner, no matter how you slice it.
Postscript: when Audience's Terry O'Neal and I discussed reviewing the aR1p, he suggested that I also try out their powerChord high-resolution AC power cord. The powerChord is a low resistance, low impedance design, and is compatible with all components, from front-end sources to high-current amplifiers. Unlike most power cords, the Audience powerChord is not shielded, as Audience posits that shielding can lead to audible colorations and a lack of transparency. In addition to high-quality conductors, the powerChord employs premium Wattgate IEC and Marinco connectors. The Audience powerChord has a lifetime warranty.
I found the Audience powerChord to be refreshingly flexible and easy to install. I used the powerChords that Audience supplied with a variety of components, both with and without the Audience aR1p and Blue Circe BC606 power conditioners. The powerChord really excelled in the areas of temporal and spatial coherence. I was amazed at how well my system timed with the powerChords in place. I've listened to bill frisell with dave holland and elvin jones on CD (nonesuch 79624-2) many times over the years, and I thought I knew it inside and out, but the powerChords afforded me additional insight into the incredible timing that Holland and Jones display in playing together on this recording. I heard this same uncanny coherence in listening to "Starless" from King Crimson's Red (Virgin CDVKCX7 7243 8 49937 2 6), where the band seemed to be playing together in a more closely-knit fashion. There was excellent dynamic snap to Bruford's drumming, and Wetton's bass was propulsive in driving the song's aggressive middle section along. More importantly, nothing was temporally out-of-place; the cymbal work was not ahead of the snare work, the bass playing did not lag behind the guitar and violin, and the entire presentation was very much of a piece. Likewise, the powerChords were stunning in their ability to create dimensional images in a soundstage that was unfailingly realistic and coherent. Listening to the aforementioned Muddy Waters "Folk Singer" release, I reveled in the ambience retrieval and soundstaging continuity of the powerChords.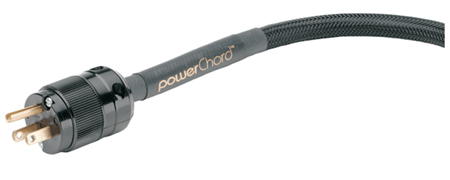 Tonally, the powerChord was very neutral with perhaps just the slightest hint of warmth in the lower midrange. The overall presentation was one of smoothness, and while dynamics had plenty of impact, the powerChords never became overly aggressive or unruly. The treble range was pristine and airy, and the bass was extended and well controlled. I did find the effects of the powerChord to be cumulative as more were installed into my system. With powerChords feeding my SimAudio SuperNova CD player and Blue Circle's SBT preamp and SBM monoblock amplifiers, the resultant sound was resolving and detailed, yet relaxed and musical.
Audience's powerChord is something special among high-end power cords. Uncommonly flexible, the powerChord is refreshingly easy to install and place. Essentially neutral, the powerChord successfully combines high levels of resolution and coherence with a relaxed, musical presentation that draws the listener into the performance. With its overachieving performance and relatively low price, Audience's powerChord merits an unqualified recommendation. John Acton
aR1p power conditioner
Retail: $495
powerChord AC power cord
Retail: $482 for five-foot length
Audience, LLC
web address: www.audience-av.com