Kuzma
Shipping late April/early May is the new 4 Point pivoted arm from Kuzma. The arm is offset mounted on a substantial and rigid VTA tower that allows mounting on a 9" mount yet provides an 11" effective length. VTA can be adjusted during play with .01 mm of precision and zero play. Azimuth features repeatable adjustment via allen screw, also with zero play. Separate vertical and horizontal damping troughs allow independent tuning of horizontal and vertical resonance or they can be removed altogether. VTF is controlled via a main counterweight and a small secondary weight that allows fine VTF adjustment. Cartridge connection is via standard pins but the head shell is detachable. The head shell locking system is said to provide the same rigidity as a fixed head shell.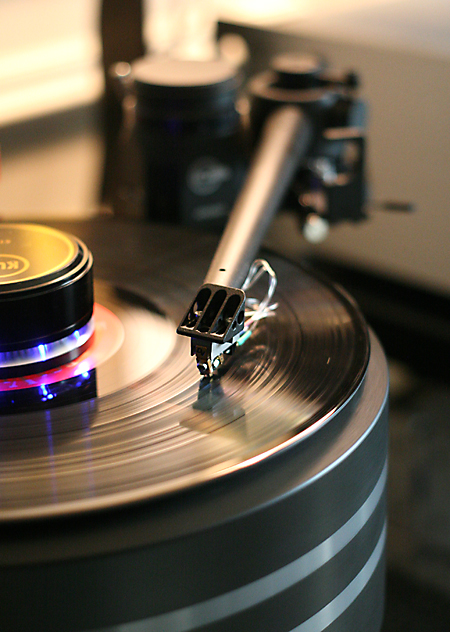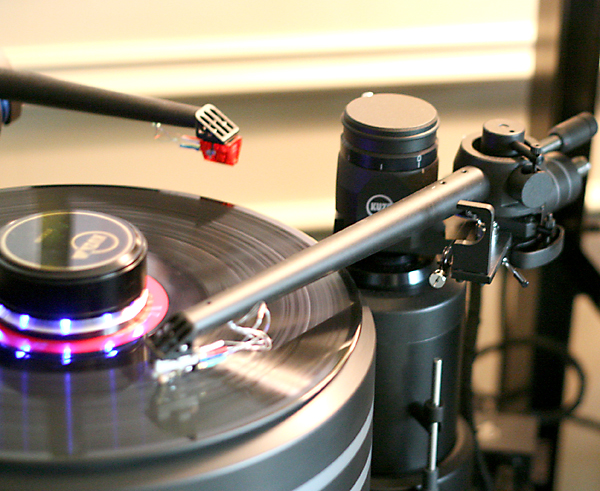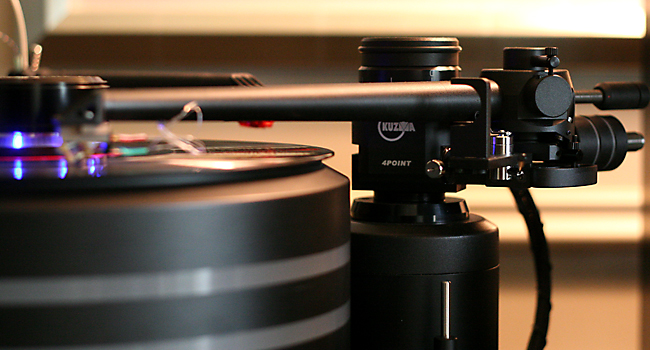 The arm comes equipped with two sets of internal wiring. One terminates in a box providing female Cardas RCA connectors, the other terminates at the end of a 1.4m tone arm cable' featuring male silver Eichmann bullet RCAs in one unbroken length. It can also be bi-wired. The build quality and precise and repeatable adjustments on this arm should make cartridge set up a snap. $7450
Loiminchay
From designer Patrick Chu, founder of Loiminchay pens comes a line of finely crafted loudspeakers. The cabinets for the floor standing Chagall loudspeakers are carved from Baltic Birch ply which is first laminated together to form a solid block. The speakers were both beautiful to behold and gorgeous sounding, detailed and highly resolved without a hint of etch. Chord provided CD playback and amplification was from Nagra. The price is $35,000, $48,500 with the optional diamond tweeter. They come standard with a clear lacquer finish and are available in piano black for an additional $5000.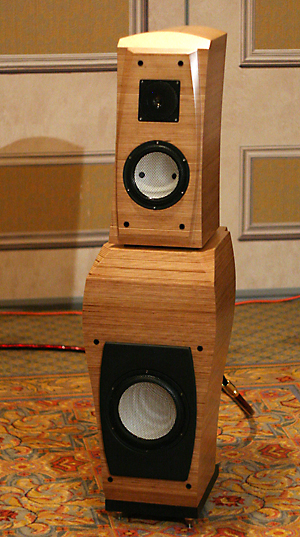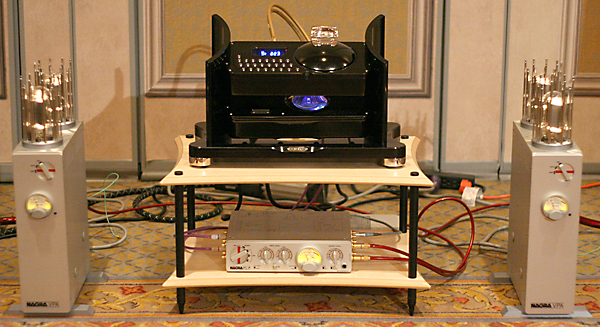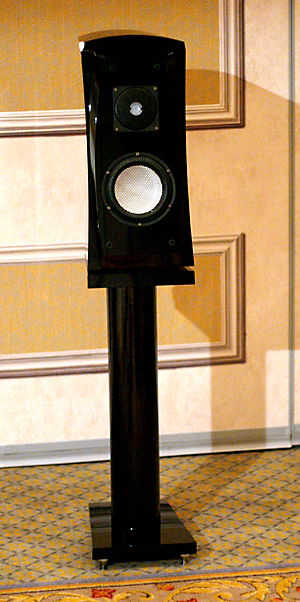 Also on display was the stand mounted Degas. They are $15,000, $30,000 with the optional diamond tweeter. Piano black lacquer adds $2500 and the dedicated stands add $7000.
Magico
The new Magico V3 floor standing loudspeaker, $25,000, was on display but much to my disappointment I never did get a good listen as the room was constantly packed. I will have to schedule some after hours time at the next show. Also on display, but not playing music was the Magico M 3.5 which will be shipping sometime in the second quarter of 2008. The price will be somewhere in the mid $60,000 range.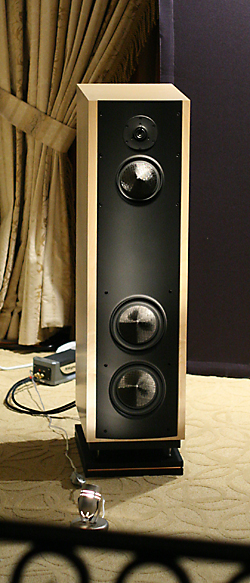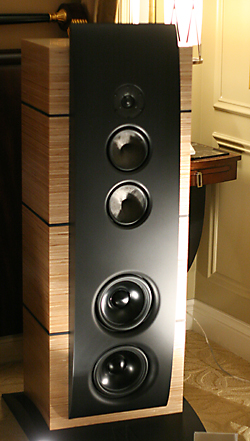 Manley
New from Manley is the Stingray II integrated amplifier which sports an iPod doc and an RF remote. It puts out 40 wpc in ultra linear mode and 22 watts in triode. It also includes a headphone jack and S VHS out. It will be shipping at the end of February, $3400.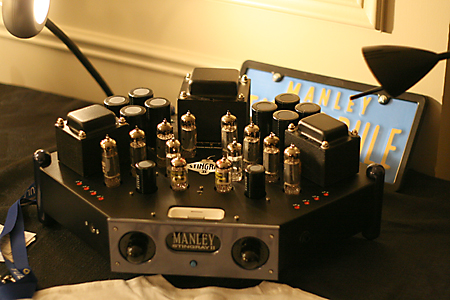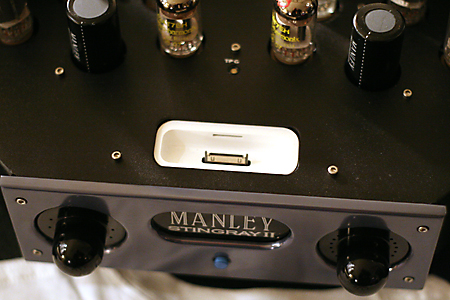 Morel
Israel based driver manufacturer Morel has been building drivers for the last 32 years. Their first loudspeaker, the Fat Lady features a carbon fiber cabinet and drivers, a down firing port and 20Hz extension. On display was a very promising early prototype that was ready a week before the show. The Fat Lady will be shipping this summer, $25,000.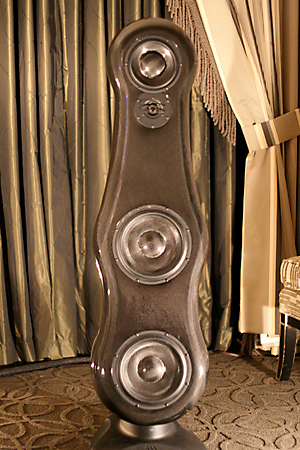 Navison audio.
Driving the Bastani Apollo open baffle loudspeakers was the Reference-228 CD Player from Navison along with the NVS-211PSE SET monoblocks using 211 output tubes in parallel and producing 40 watts per channel. The sound was rich, articulate and fast with an uncanny sense of immediacy. Among the best of the show. $21,800/pair for the amplifiers.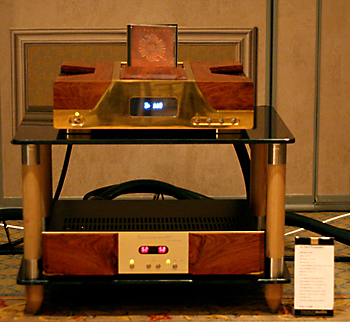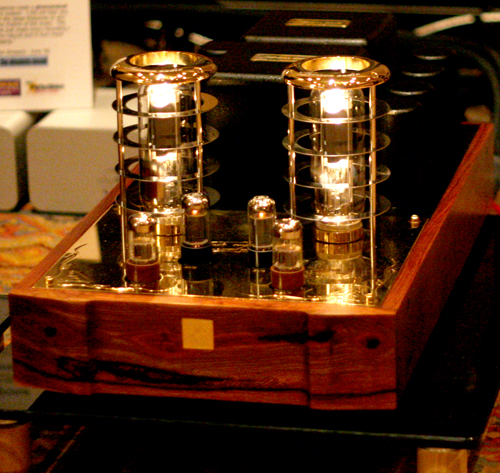 Power Modules
David Belles has developed a new higher end solid state preamp and pair of monoblocks. Known as the Statement line it is available in Silver or Black and is shipping now. $6750 for the preamp and $6750/pair for the monoblocks.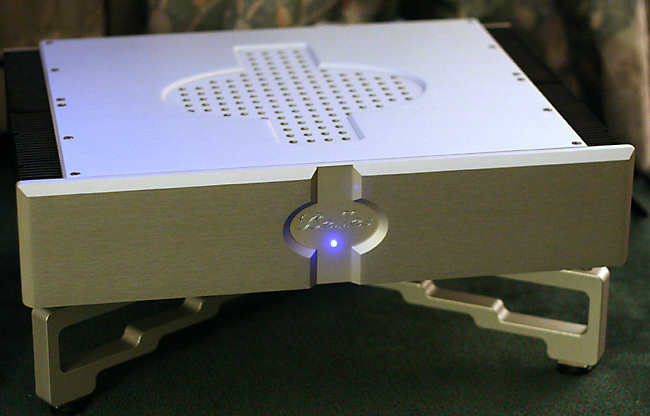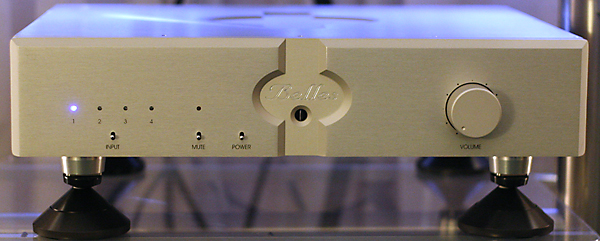 Prima Luna
Designed by former Goldmund engineer, Marcel Croese, the ProLogue Eight CD player is a dual mono design and features a SuperTube Clock in place of a solid state oscillator which is said to reduce jitter. It also features dual 5AR4 tube rectification and replaceable, upgradeable op amps. The unit is available now at $2499.
Reference 3A
Reference 3A was making some very nice sounds with the Grand Veena Loudspeaker. These were among the best in the price range. $7995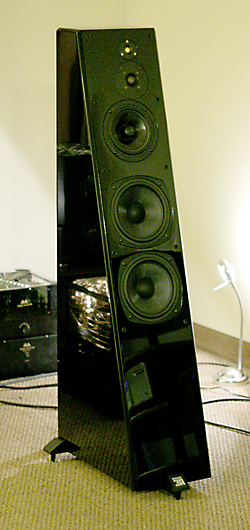 Renaissance Home Audio
Mikhael Shabani, former partner in driver manufacturer Morel, now president of Renaissance Home Audio was displaying the Chorus, an 11" x 11" x 11" cube that sits unobtrusively on the floor and can even be hidden in a corner or behind a sofa or a chair without sacrificing sound quality. Technically a floor stander, albeit a very small one, the Chorus produced remarkably good sound and the price is hard to beat; $1195/pair. They are available in Black Woodgrain, Black Lacquer, Cherry and Oak.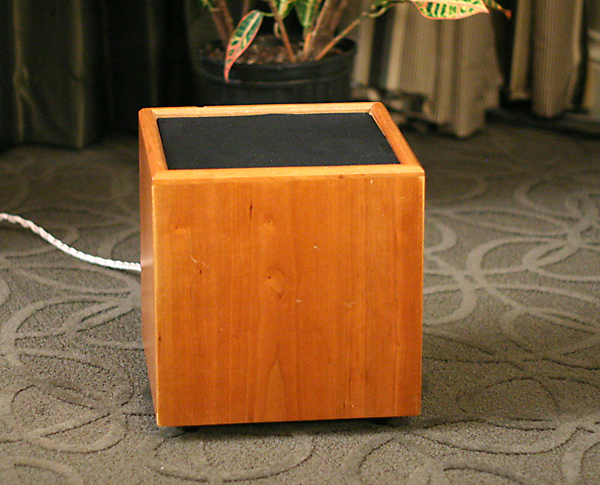 Rockport
New this year from Rockport is the Ankaa, an imposing 200 lb floor stander that is 88dB efficient and has a 4 ohm impedance. It is a 3 way design with 10 in. side firing carbon fiber woofers. The cabinet is made of constrained layer damped mdf with 3 inch thick sides and a five inch thick baffle. The sound was powerful and effortless. The cost is $26,500/pair and they are shipping now. Seen, but not heard was the Ankaa's big brother, the Aquila. $44,500/pair.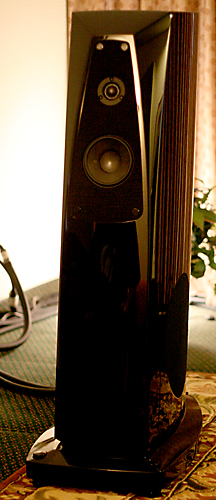 Sleek Audio
Mark Krywko has been manufacturing hearing aids for over 20 years and knows better than most that putting something in your ear dramatically changes the ear canal acoustics which vary widely from ear to ear. In other words, one size does not fit all. With that in mind, he created the SA6 customizable in-ear monitors which allow the bass and treble response to be tailored to suit each unique ear. Adjustments are made using interchangeable ports to change acoustic loading and boost or attenuate either the highs or lows. They also feature a detachable cable and a polycarbonate carrying case. A pair arrived at my door shortly after my return from CES and these things sound excellent. A full review is forthcoming. They are available now, $249.99
Sonist Audio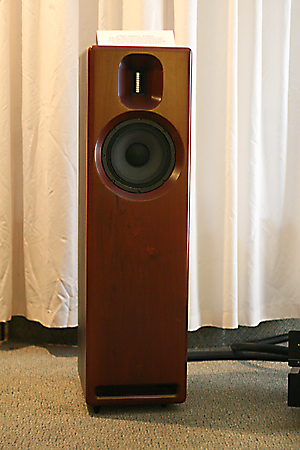 Let's see, Goertz Alpha Core air core inductors, Cardas binding posts and inductors, Auricaps and Auric internal wiring, 2" thick solid poplar baffles, these things have got to be the high end bargain of the century. The Sonist Concerto 3 floor standing loudspeakers are the brainchild of Randy Bankert. With an efficiency of 95dB and 8 ohm impedance they are a great match for SETs (I heard them with the deHavilland GM70s). They are a two way design utilizing an 8" paper cone and Fountek JP 3.0 ribbon tweeter set deep in cut outs in the poplar baffle. The cut outs are shaped into waveguides which increase efficiency and control dispersion. They go down to 35Hz (-3dB) and I had to ask several times if I heard the price correctly, $3495/pair. These sounded seriously good and better than anything I've heard at that price.
Soundquest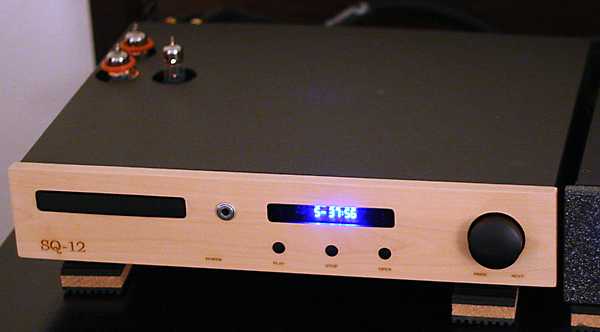 New from Soundquest is the SQ 12 GT CD player. Sporting a handsome wooden faceplate, it features balanced solid state output and single ended tube output designed by Granite Audio. It also includes tube headphone output. $3000 shipping in February.
Spiral Groove
From Alan Perkins of RPM fame comes a new turntable, the SG2 which will be shipping in March at a cost of $15,000. It was shown with the Wheaton Tri-planar arm. Also shown was the SG1 fitted with the new Continuum Audio Labs Copperhead arm. Current owners of the SG1 will be able to update their tables with some of the technology developed for the SG2. New SG1s with the new technology already on board will increase the cost of the table from $20,000 to somewhere between $23 - 25 thousand. A Spiral Groove tone arm is in the works for later this year.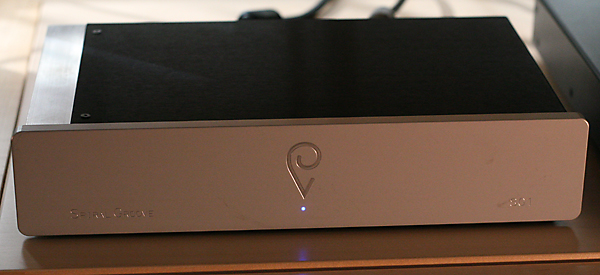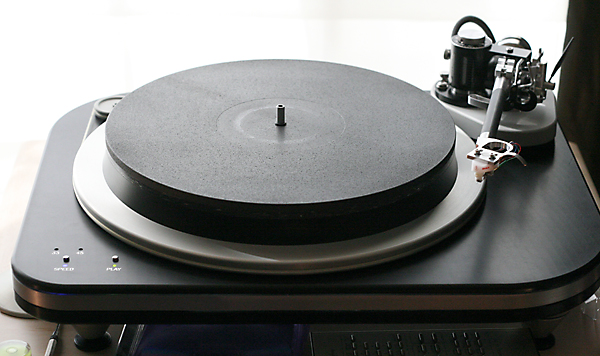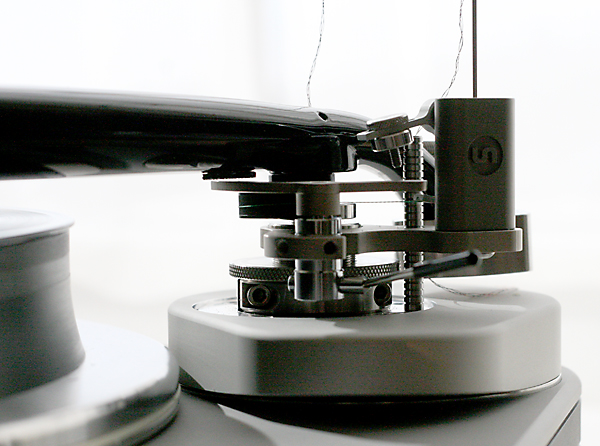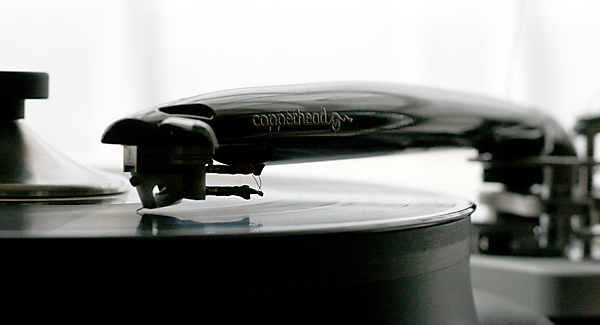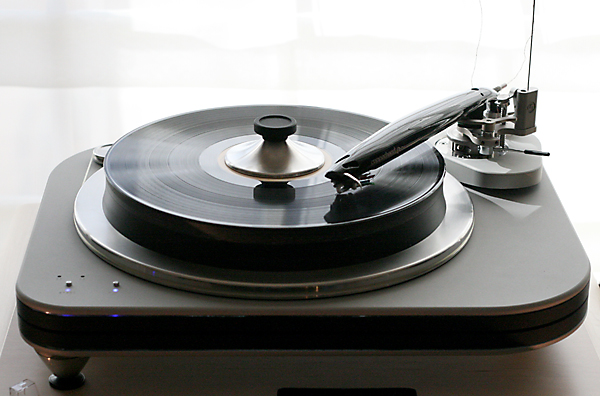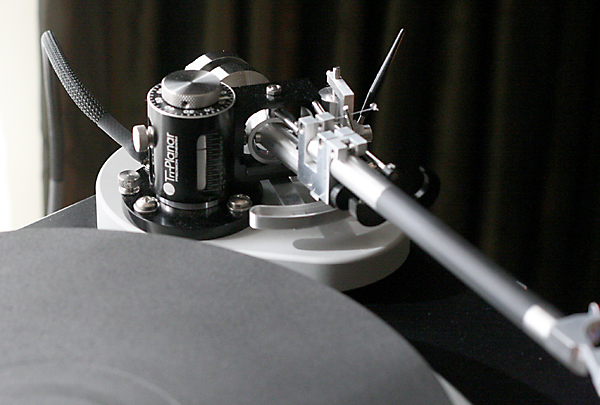 Studio Electric
David Macpherson is no stranger to the world of pro audio having designed sound reinforcement for Lincoln Center, Disney and the QE2 among others. He is now taking what he has learned and applying it to high end audio. His unusually styled T3 speakers feature a wide range driver handling frequencies from 50Hz to 4kHz coupled with an 8" side firing woofer that handles a single octave from 25 - 50Hz and a silk dome tweeter. Overall frequency response is reported as 39Hz to 18kHz +/- 2dB and 34Hz to 22kHz +/- 4dB. The sound was extremely punchy and dynamic with an effortless flow usually only heard in more expensive designs. $7900.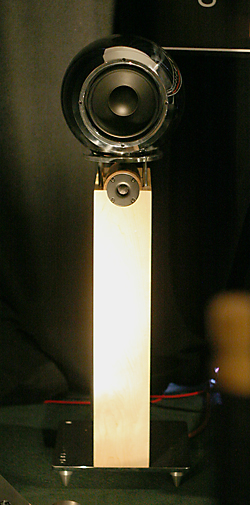 The Electrodyne amplifier was originally designed for the mastering studio. It delivers 275wpc into 8 ohms and 410wpc into 4 ohms with a damping factor greater than 300. It is a hybrid featuring Siemens E88C tubes in the first gain stage and MOSFETS for power. The base price is $5950 and can go up to $10,000 with available options.
Thiel Audio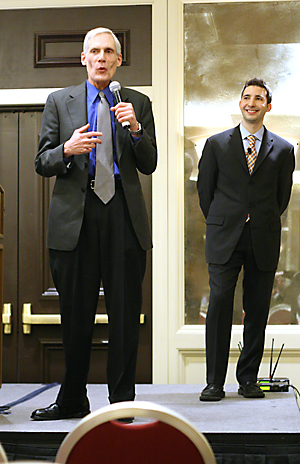 Thiel was demonstrating THIELnet™, the result of a partnership with Bicom, a technology firm with over 20 years in the telecom industry. Thielnet consists of the dB1 pre-processor that can deliver up to 8 zones of 5.1 channel surround sound over Cat 5 cabling or a single zone of 5.1 sound wirelessly. Wireless capability will expand to 3 zones and HDMI support will be added.
Each speaker is identical and symmetrical so that it can be used as a main, surround or center channel simply by setting a switch on the speaker to let it know what role it is playing. The built in amplifier can receive a wireless audio signal so all you have to do is plug it in to a power source.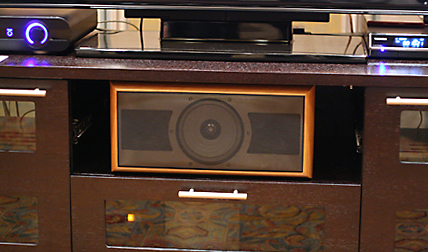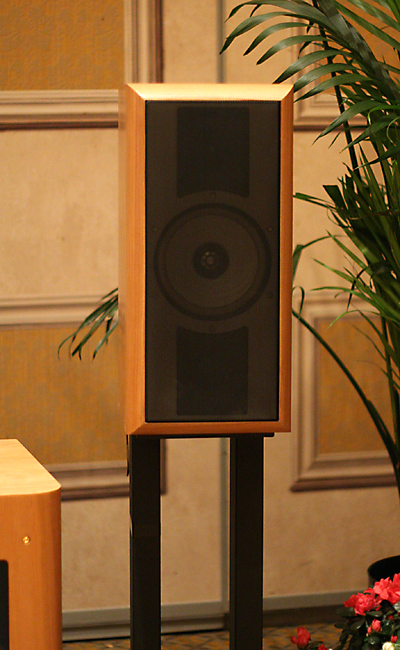 The THIELnet™ system is comprised of the following components:
1) The THIELnet dB1 – IP addressable audio distribution processor (capable of running up to 64 loudspeakers) with a decoding DSP to handle Dolby® Digital, Dolby Pro Logic II/IIx, and DTS audio inputs. The dB1 can be controlled by a remote control, web browser, or through its front panel. The audio output of the dB1 is digital packet based transmission to any of the following components
2) The THIELnet SCS4D – IP based digitally powered high-performance full-range bookshelf loudspeaker with digital crossover networks
3) The THIELnet dS1– IP based digital speaker module with built-in audiophile grade amplifier that allows the connection of any standard speaker to the THIELnet™ digital audio network
4) The THIELnet SS1D – IP based digitally powered high-performance subwoofer
5) The THIELnet Streamer – PC software application providing the user with one-click capability to stream audio from their networked PC directly to the THIELnet™ system .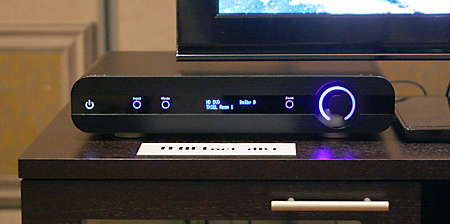 Each THIELnet™ component is assigned its own unique IP address by the dB1 distribution processor. The dB1 outputs audio signals digitally instead of using standard speaker terminals. The dB1 distribution processor is a Dolby® Digital compliant unit that has both analog and digital audio inputs, and a network switch output that resides on the user's home network. The consumer can plug each of their THIELnet™ powered speakers and/or dS1 digital speaker modules either directly into the dB1 distribution processor or anywhere they wish on the home network to set up their audio system. The THIELnet™ digital speakers and speaker modules are each powered by an audiophile grade amplifier to further preserve and simplify connectivity.
The THIELnet™ dB1 distribution processor has an IR input on the front to support the supplied IR remote control. There is also an RS-232 port, +12V DC for trigger in and out, and IR in and out to allow for custom configurations. The dB1 distribution processor also incorporates a built-in network switch allowing direct connectivity to broadband Internet service, enabling easy firmware updates that could add future functionality (such as internet radio, etc.) as well as new DSP decoding algorithms should they become available from companies such as Dolby or DTS. Pricing is not yet available.
New from Usher is a dedicated subwoofer pedestal to compliment the BE-718 mini monitor. The total system cost including the 718s will be around $5000. A matching center channel speaker is also coming. Both should be out this summer.
VAC was showing a number of new additions this year including the somewhat less expensive Phi Alpha line of components. The Phi Alpha preamplifier is now available at a cost of $4700. An optional MM module adds $800 while MM/MC adds $1600.00. It is also available in a balanced configuration for an additional $800.00.
The Phi Alpha 160 Musicblocs, are 150 wpc mono blocks, $14,000/pr. The Phi 300.1 150wpc stereo amplifier features balanced input and goes for $18,000. The top of the line Phi Beta Preamplifier includes a remote control and external power supply unit. $14,500. MM/MC adds $4000. Also new is the Phi Alpha D/A converter with volume control. $7500. It accepts Coax or USB input and is available with AES-EBU which adds $100.
The VAC electronics were driving the Gershman Avante Gardes and the sound was easy, effortless and sounding very much like music and capable of producing incredible dynamics. I may have to ask Kevin Hayes for a piece to review!
One of my first stops on the tour was the VTL room where the VTL 185 monoblocks, the new TP-6.5 Signature phono preamp ($8500) and Continuum Criterion turntable and Copperhead arm were driving a pair of Wilson Audio Watt/Puppies with seemingly unlimited dynamics. A full dcs stack did digital duty.
The real eye-popper though was the Siegfried Reference 800 watt all tube monoblock. These beasts feature automatic biasing of all tubes, intelligent fault sensing, balanced input, multi-stage soft start and constant idle, user diagnostics including session run time, tube run time, AC line voltage and bias voltage, a tube change time reminder and tetrode/triode operation switchable on the fly from front panel or remote. This is state of the art tube amplification with a state of the art price of $48,000/pr.