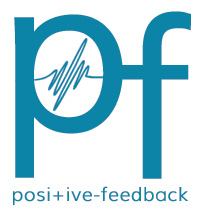 You are reading the older HTML site
Positive Feedback ISSUE
36
march/april
2008
Nick Drake, Fruit Tree 3 LPs plus DVD Box Set Universal/Fontana 74570
by Tom Gibbs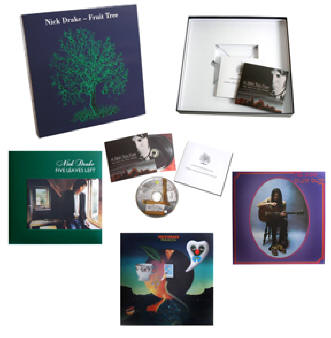 The music of Nick Drake has been a fairly recent discovery for many; his first LP, Five Leaves Left, was released in 1969 and didn't generate much buzz in terms of critical or commercial interest. He released two subsequent LPs, 1970's Bryter Layter, followed by Pink Moon in 1972; two short years later, he was dead at only 26 of an accidental prescription drug overdose. He suffered from crippling episodes of stage fright and an escalating bout of depression; subsequently, he only toured for a very limited time in support of his first album, and that lack of exposure negatively impacted his record sales and limited any following he might have built during his lifetime. Virtually unknown while alive, his record sales have steadily grown over the last three decades; silly as it sounds, much of Nick Drake's popularity is due to Volkswagen's use of the song Pink Moon in a television commercial. This LP box was originally released by Island in the late seventies, and by Rykodisc in the early eighties, but has been out of print for at least two decades. When Joe Boyd, his original producer, sold the rights to Drake's catalog in the eighties, it was with the agreement that his music would always remain in print, and it has been available on the individual CDs ever since. The box set originally contained his three LPs, a later CD version of the box also included a fourth disc with unreleased out takes and preliminary tracks for a proposed fourth LP that never materialized. This new set includes all three original LPs, and a DVD of the excellent BBC documentary on Nick Drake, A Skin Too Few.
2007's holiday season presented a difficult decision for Nick's fans; for the first time in ages, all three of his LPs were being made available as limited edition Japanese reissues, and this box set was announced for delivery around December first. With the individual reissue LPs priced at around $40 each, and the box set priced at $60, I took a chance on the box set. I guess true fans would have ponied up the $180 and just gotten all available choices to cover their bases. Regardless, this was a rare opportunity to own vinyl issues of any of these albums; the pressings are difficult enough to find on the used market, and generally command high prices if in good shape. Few enough of the originals were released, anyway—good luck finding one of those!
Nick Drake's music has been described as "beautifully melancholy," and he's often been referred to in the music press as a "doomed romantic." Both quotations seem to suit his music well, and are apt descriptors of what one could logically expect from the music. An amalgam of folk, jazz and classical influences, his first two albums are sparsely accompanied acoustic guitar-based affairs that only contain the occasional inclusion of piano, bass or drums. A few songs, such as Time Has Told Me, include some delightful electric guitar work from then Fairport Convention member Richard Thompson. Flute and saxophone are also employed to great effect, such as in the heavily jazz-influenced At the Chime of a City Clock, a perfect song for late night listening. In fact, it's been suggested that much of Drake's compositions evolved in the early morning hours, and could explain the very "late night" quality that so much of his work exudes. Many of the songs on the first couple of albums also include string arrangements from Drake's Cambridge associate Robert Kirby; his spare, string quartet arrangements lend an air of classicism to songs like Way To Blue that simply transcend anything that other folk singers of the day were doing.
His final album, Pink Moon, showcased Nick's work stripped to the bone; the album features only Nick Drake and his acoustic guitar, with the exception of the title track, which features a brief overdubbed piano part. The psychosis that was gripping Drake's life was in full force by this point, and he wanted to eliminate any of the extraneous elements that he felt had impeded the success of his earlier albums. While there are some harrowing moments contained within Pink Moon, many seem to feel that this may indeed be the finest representation of Drake's work. Just take a listen to the song Road, with its intricate finger picking and superbly sparse and effective lyrical content about taking the road less traveled—Nick Drake seems totally on top of his game, and not at all teetering on the edge of madness. Clocking in at only 28 minutes, Pink Moon was his poorest commercial outing from a sales standpoint, and essentially sealed his fate with his record company, but it remains a sublime statement of folk music.
In terms of the overall package, the new Fruit Tree box set is, unfortunately, a mixed bag. While I was quite happy to see that the individual albums had all been packaged in facsimiles of their original sleeves, the packaging is obviously sourced from scans of original albums, and the artwork is slightly less than crisp, although still pretty good for a reissue. The pressings are standard weight 140 gram vinyl, and contain some variations in the pressing quality throughout. For example, the opening track on Five Leaves Left contains a repeated groove modulation scratch that carries on for about thirty seconds; after that, the rest of the album is relatively pristine, as was true for the remaining pressings. The surfaces were not the quietest I've ever encountered, either; but in more positive terms, all three LPs contained a musicality that I've always found to be lacking on the CD versions. Nick Drake's vocals, in particular, were more firmly focused in the LPs; I've always felt the CDs were a bit distant sounding. The LPs seem to remedy this, and Nick Drake seems to have much more of that "in the room" quality I've always felt was lacking somewhat from the CDs.
Another qualm I had with the packaging has to do with the accompanying booklet, whose inclusion was one of the big selling points in advance of this set. I was expecting a large, coffee-tableish affair; the actual book is CD-sized, and contains not one photograph! While there's plenty of excellent information contained within, the booklet was nonetheless underwhelming, to say the least. On the positive side, the included DVD was superb; I'd stumbled across a bootleg version of this same disc a while back that had some playback issues, so it was really great to get a pristine copy. The features are informative and interesting; there's one segment where some young club patrons are waiting outside to get in, and an interviewer asks them all about Nick Drake. They all wax enthusiastically about his music, speaking about him in the present tense, and most are somewhat dismayed to discover that he's been dead for thirty-plus years!
This 3 LP box set has many strong virtues; however, had I the wherewithal to do it all over again, I'd probably have sprung for the limited edition Japanese 200 gram pressings. For half the money, this set proved to be very satisfying, though, and the inclusion of the documentary DVD is a definite plus. Very highly recommended, to hard-core fans and newbies alike.