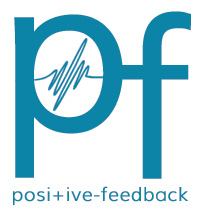 You are reading the older HTML site
Positive Feedback ISSUE
36
march/april
2008
More classical musical enjoyment
by Karl Lozier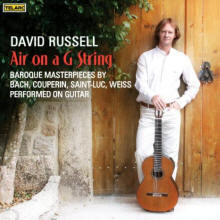 David Russell, Air on a G String. Baroque Masterpieces by Bach, Couperin, Saint-Luc & Weiss. Acoustic Guitar by Matthias Dammann. Telarc CD 80693
The list of honors and awards for David Russell is lengthy as expected, and then some, for probably the greatest acoustic guitar master currently performing classical music. I shall name only three. Fellow of The Royal Academy of Music, 2005 Grammy award winner and Vigo, Spain's new Auditorium named "Auditorio David Russell." The music heard here is simply or perhaps not quite so simply as transcribed for guitar (instead of lute) by David Russell. He had hundreds of selections to choose from. So the selections are personal perfect choices by Russell. The seemingly relaxed performances can not be faulted, the mark of a master at the height of his career. The harmonically rather simple pieces and melodies are chosen for listening pleasure and should be thought of as relaxing in nature. Perhaps a perfect combination here. The simply elegant and excellent sound provided by Telarc is probably as good as CD gets. I believe that everybody has room to accommodate a guitar player in his or her living or listening room—enjoy it! However Telarc can and regularly does do even better with SACD! My guess is that the marketing department does not believe that the even higher quality and all encompassing sound of multi-channel SACD is needed. If you think differently, let them know. You can try contacting executive producer Robert Woods through Amanda Sweet's email :asweet@telarc.com he is interested in good sound quality.
PS! What follows and being written is exactly 24 hours after the above article. I finally realized that I had reviewed a previous solo David Russell release, Art of the Guitar, that was recorded almost a year previously,(#60672). It is listed as using the same recording equipment, right down to the same microphones and location and released in SACD ! YES. Get them both and see/hear what you decide. You can make your decision and perhaps let Mr. Woods know what you think. Certainly let me know.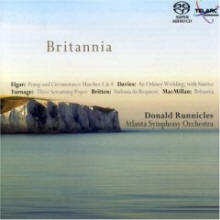 Britannia Elgar: Pomp and Circumstance Marches 1&4. Davies: An Orkney Wedding with Sunrise. Turnage: Three Screaming Popes. Britten: Sinfonia da Requiem. Mac Millan: Britannia . Conductor: Donald Runnicles. Orchestra: Atlanta Symphony. Telarc CD/SACD hybrid multi-channel SACD-60677
It took me far longer than usual to write about this recording. The first and last selections are very familiar to me. Many years ago I used one of them routinely as a backup check on bass response and detail in that range in the heyday of LP recordings. Lost in a deluge of CD, SACD and DVD-A releases it has been a very long time since I have delved into the E-G section of what I still call "records". I found the old reference I just mentioned and it turned out to be a Japanese Phillips release with the back cover completely full of program notes in Japanese. I had attached a round sticker with the word "FIRST" imprinted. That meant I had first precleaned the disk, then cleaned and vacuumed it on my cleaning machine and so on and so on. Do I miss the protocols we music lovers and audiophiles went through to get the last drop of musical enjoyment? No, not really and I wish I could remember how and how long it took to get that Japanese release. At this moment in the eternal continuum we call time I am so relatively satisfied that we all have recording engineers and companies that are becoming consistent in turning out musically satisfying recordings such as the one under review. It is probably appropriate to add my thanks to people such as Allen Wright of VSEI for seemingly continuously improving upon the sound of the few early Sony SACD players that had the inherent physical qualities that allows him and others to show off musically what the latest and greatest in electronic parts and circuit theory can do. At the moment, three of my players are in for the ultimate or is it to be the penultimate upgrade to Level 6. This review is being done with a Level 5 upgrade to the model DVP-S9000ES and I am as happy as that well-known clam.
Forgive the extensive background. Even newcomers to classical music will almost instantly enjoy those Pomp and Circumstance Marches. Most of you enjoying or learning to enjoy classical music have been to one or more graduation ceremonies and the odds are the processional music played was one of those by Elgar. Of course, it may have sounded a bit different by not being played by an outstanding orchestra which the Atlanta Symphony has become. Conductor and orchestra are in sync here and you do not need to search in an effort to find even better. The overall audio quality is seemingly as good as it gets with a smooth and sweet high end and a clearly revealed and felt bottom end while the all important middle ranges are clearly natural and appropriate. These are two very upbeat compositions by Elgar. Like bookends they frame the extensive compilation offered here.
The second selection is An Orkney wedding with Sunrise, by Sir Peter Davies. I admit to no knowledge of either the selection or the composer. I do admit to listening to the selection between ten and twenty times so far. There will be more. I could make a bit of an impression attempting to describe it in musical terms though that is not what I do with my classical music reviews for PFO readers. I do not want to frighten or scare you off; I want you to know a little bit about the music and then see if listening will simply bring enjoyment and repeat listening, even more enjoyment. I am unable to describe this thirteen minute delicacy adequately. It tells a story that shifts between various moods and settings almost all of which are melodic, interesting or intriguing. The Orkney islands are an archipelago of about seventy off the northern coast of Scotland. Davies discovered these islands about thirty years ago, has long lived on the island of Hoy, and composed many pieces inspired by them. Davies has studied, composed or been deeply interested in Indian music, operas, theater productions, works for children and for humorous effects. All are heard here plus the unusual addition of bagpipes (played more harmoniously than I remember ever hearing) by award winning bagpipe player and composer Scott Long. For various reasons, weddings are seemingly not often performed in the Orkney Islands. The composition paints a picture (tone-poem) beginning with the arrival of the guests during very bad weather. After a solemn start, Scotch whiskey is served to all, and audibly the accompanying band tunes up. Dancing of course follows and everything gets a bit wilder and is eventually followed by processional music with the guests leaving after a long night of celebration with the sun rising. It is represented by the splendor of the bagpipes!
Mark Turnage was born in the East End of London and has been described as bringing a so-called punk sensibility to classical music with great energy. He has served as composer or associate composer in the UK as well as in the USA. The title Three Screaming Popes resulted from Turnage's response to an unrelated group of paintings by Francis Bacon that just happened to be hung side by side. Astute music lovers should in no way ascribe similarities to the musical Mussorgsky's famous Pictures at an Exhibition. Perhaps even more difficult to describe in ordinary language than Davies preceding composition I am reminded here of the famous expression, "everything except the kitchen sink." Here in a more modern/contemporary and interesting vein, the kitchen sink is thrown in and perhaps a few parts thrown out. This selection adds to the truthfulness of the adjective very varied to the entire interesting and intriguing release. The audio quality remains at the highest level here.
James MacMillan was born in Scotland and grew up there. He had been likened to Charles Ives because of his allusions to English folk music, Celtic and patriotic music as well as Elgar's Cockaigne overture much as Ives was noted for referencing music of Americana in his compositions. Britannia would be most completely appreciated by someone from the British Isles because of short melodic passages of their popular music and fantasia on patriotic themes including the tune "God Save the Queen". Wide variety and excellent audio quality is conspicuous here, also in a very short composition with the appropriate title for the entire release.
Benjamin Britten's relatively well known, Sinfonia da Requiem could easily be described as a pacificist's antiwar requiem. It certainly had a contradictory beginning as it was a Japanese commission for Britten to honor the 2,600th anniversary of the ruling Japanese dynasty. Britten accepted the commission shortly before World War II broke out and was paid though the Japanese never performed the work as it was critical of the Japanese war movement and obviously a personal statement of Britten's. The powerful composition has connotations in its movements of "Day of Wrath", "Dance of Death" and the numbing calm of "Eternal Rest". This powerful and relatively brief modern requiem may seem to be out of place in this release though this release is varied in the extreme.
Do I need to repeat the words or phrases, great variety and outstanding musical audio quality? Probably not, but that describes this outstanding release of more than 70 minutes with the well known Michael Bishop as the recording engineer. I would like to know Bishop's thoughts about the use of the new Sanken CV-100K microphones, the first professional microphones with frequency response to at least 100kHz and what effects he heard. I need to take time to compare with other recent Atlanta releases to see what conclusions I might reach.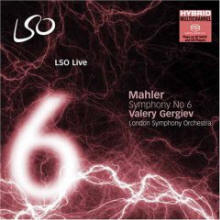 Mahler Symphony No. 6. Conductor: Valery Gergiev. Orchestra: London Symphony (LSO). LSO Live hybrid CD/multi-channel SACD. LSO 0661
Symphonies by Mahler and Bruckner tend to scare off newcomers to classical music. Do not let the aura or mystery surrounding Mahler and his music dissuade you from being introduced to its melodic beauties and shifting mood swings often while hearing musical colorations of a master orchestrator. A movie version of part of an artist's life was the subject of the film "Death in Venice" and featured Mahler compositions in the sound track. An excellent and famous conductor, he was not shy about showing off his formidable skills orchestrating his often lengthy compositions. Unlike most of his major compositions, neither chorus nor vocal soloist is heard here. My usual suggestion is for novices to start with Mahler's first symphony (almost traditionally classical in nature) and for his sublimely beautiful fourth symphony. That symphony number four can be described simply as "pastoral" in nature as easily as Beethoven's sixth is usually characterized. The unforgettable highlight of Mahler's fourth is the hauntingly beautiful soprano solo. Beware of any version that features a very mature sounding woman's voice; the composer specifically calls for the singing to be "child-like". Strange as it may seem, particularly after reading my next paragraph, Mahler originally subtitled this sixth symphony, "Tragic". Even stranger perhaps, it has been reported that Mahler often reversed the order of the second and third (Scherzo) movements when performing (conducting) it.
Enough background information or digression. At the top of my list is the desire to introduce more of our readers to the lifelong beauty and enjoyment of classical music and its composers. Once introduced, I shall try to get them to try some expansion of those beginnings. Mahler's Symphony No. 6 is often referred to by musicologists with the one word, "enigmatic" and you can use any synonym you desire after listening to this outstanding symphonic composition. Though longer than usual by far at seventy-seven minutes (often released on two disks in LP days) the first three movements seemingly are traditionally "Classical" almost as if from
the "Romantic" period. In addition, the first movement and much of the third have a propulsion and exuberance that is exciting, immediately appealing and with true excellence in continuing higher standards of audio quality in this fine SACD release. As in earlier classical compositions, the traditional slower second movement contrasts with adjacent movements with beautiful extensive melodic lines clearly revealed by Gergiev and the recording. The deep bass response is excellent, detailed and palpably powerful without being the least bit overdone or overblown". The higher frequencies or so called treble range betrays no hint of harshness nor digital edginess. If it does not sound that way to you, make sure your SACD player (or your CD player) is not sabotaging your music system and personal enjoyment. Players continue to drop in price but faults such as harsh or irritating high frequency sounds and bass notes that are too fat, bloated or rather indistinct are still too common in many players. So be aware of that and pay attention to our reviews of players and companies that modify them to eliminate or ameliorate those flaws that interfere with musical enjoyment. The middle or so called mid-range is where music lives and here it is alive, well and very detailed! If you were in the concert hall you might choose to move a few rows closer to or further from the orchestra or even to the front of the balcony. Here we seem to be closer than middle hall. Now the LSO's Principal Conductor, this is Gergiev's first release on the LSO Live label. This release is the first in a complete Mahler symphonic cycle. Music lovers in Switzerland, Italy, Germany and the United Kingdom can attend live concerts with this pairing in August or September of 2008. In the meantime, the rest of us will be able to more fully than ever enjoy the LSO performances now that the LSO Live audio engineers have almost completely mastered the less than ideal recording acoustics of their home at the Barbican Center. This is evidenced in this fine release though brass lovers will still probably complain that their favorite instruments do not cut through the orchestral fabric as startlingly clearly as they often do live in the concert hall.
If I were forced to answer what the enigma is in this Mahler composition, if there is an answer, I would ask. Did Mahler intend to completely tie the composition together in the epic finale movement or did he almost skirt round a resolution? In any event, we can enjoy an excellently performed, enigmatic symphony presented in truly outstanding SACD audio quality playable on any CD player anywhere we care to listen. A top recommendation obviously and a particularly superb and probably unsurpassed first movement to gladden the heart of any Mahler lover.