If you haven't looked over the line of loudspeakers from Thiel lately you probably haven't noticed that they've done a lot of consolidation over the course of the last year. They still offer a wide variety of different speakers designed for different purposes and installation requirements, but in terms of the traditional floor-standing or stand-mounted speakers, they've reduced the number of available models significantly. The long-awaited CS 3.7 is Thiel's flagship speaker and it replaced three speakers in the line—the CS7.2, CS6 and CS3.6. The SCS4 speaker replaces both the PCS and the SCS3 within the line of stand-mounts which now includes only the SCS4 and the larger and more expensive MCS1.
In real dollars and at $1980/pr the SCS4 may represent the least expensive Thiel loudspeaker ever. I've seen enough Thiel speakers to know that something is a little bit out of character and the SCS4's enclosure is a little different. Notice I said different, I didn't say inferior. It may shock some to learn that Thiel, one of the companies that lead the industry away from cheap vinyl wrapped speaker boxes and into beautiful furniture grade enclosures, has gone off shore in an attempt to contain costs on its littlest Thiel. The parts for the SCS4 are manufactured in China to Thiel's specifications. That includes the enclosures as well as drivers and crossovers—all said to be manufactured to Thiel's specifications and highest quality standards. Then the enclosures are finished and all the parts are assembled in Thiel's Kentucky factory where final QC testing is performed.
The SCS4 starts with a 6.5-inch metal mid-woofer coaxially mounted with a 1-inch high-output tweeter—a tweeter very similar to that used in the flagship CS3.7. In fact, the mid-woofer combination is the same unit as used in Thiel's PowerPoint speaker. As with all Thiel drivers, the motor assembly utilizes what Thiel refers to as a "short coil/long gap" design. Most motors involve the use of a voice coil (a wire-wound bobbin) that is placed inside a magnetic field at the throat of the driver. Once the signal is applied the voice coil moves forward and back within the magnetic field in accordance with the signal. Generally, the voice coil is long and it moves within a fairly short magnetic gap, which means that the coils routinely move outside the magnetic gap and beyond its control and are therefore subject to distortions. What Thiel does is use a very short coil that moves through a longer than usual magnetic gap that thusly ensures that the coil is never outside the gap and beyond the control of the magnetic field. More control over the voice coil means less distortion.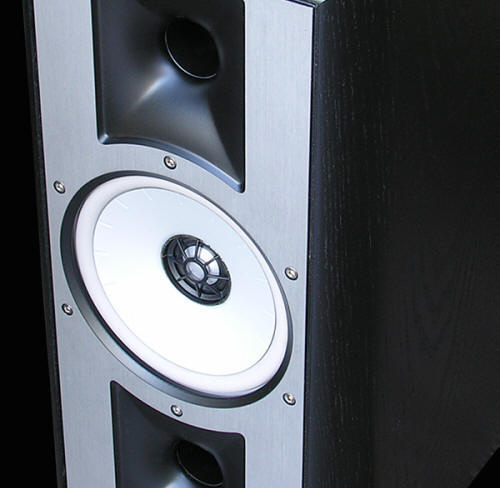 Coaxially mounting the two drivers ensures time alignment—the output of both drivers will reach each listener's ears within the room at the very same time. The acoustic first-order (6dB per octave) crossover is said to be phase accurate ensuring exceptional spatial depth, imaging and overall realism. It is also said to ensure complete accuracy in terms of amplitude, phase, time, and energy in order to cause the very least amount of distortion of the original waveform as possible. Both the high quality mid-woofer and tweeter were designed from the ground up by Thiel. First, as the tweeter is mounted into the throat of the mid-woofer driver, the mid-woofer's diaphragm had to be shaped such as to avoid diffraction of the tweeter's energy. Then there is the first-order crossover that creates a very gradual transition between the drivers as compared to crossovers with steeper slopes. That means that as the drivers will have a slower drop-off and greater audible output past the specified crossover point, they had better be able to perform well beyond their specified frequency range. This spells trouble for most tweeters in particular as they will be required to perform well below the crossover point yet maintain their dynamic linearity as well as musical articulation. The crossover itself is said to utilize high quality parts including polypropylene and custom polystyrene capacitors.
The cabinet is constructed of 1-inch double-laminated MDF with thick bracing for rigidity. For added rigidity and control of resonances, the entire front baffle is die-cast aluminum. My pair was attractively finished in Black Ash but Natural Cherry and Dark Cherry are also available. The perforated metal grills are held in place by magnets and look quite nice lending a sheer black effect rather than the complete black-out imposed by grill cloths. Nevertheless, I elected to do my listening sans grilles as I found treble articulation better without them. A single robust pair of 5-way binding posts adorns the rear of the speaker.
Thiel specifies a bandwidth (-3dB) of 47Hz - 20kHz, a frequency response (+/-2dB) of 48Hz - 20kHz and a phase response of +/- 10º minimum. Sensitivity is 88dB (2.8v-1m, true anechoic). Impedance is 4-ohms with a 3 ohm minimum and Thiel recommends amplifiers rated between 30 and 200 watts. The SCS4s stand 17.6 inches high, 8.4 inches wide and 11.7 inches deep and weigh in at a solidly manageable 25 lbs. Thiel warrants the SCS4 loudspeakers for the period of 10 years—that's one of the best in the business.
One of my favorite monitors has long been the Thiel PCS. I loved the look of the speaker; like a miniature version of the larger floor-standing Thiels. It didn't have tremendous bass or dynamics but within the confines of a smaller room it could be very satisfying and one need only combine them with one of Thiel's Smart Subs for outstanding full-range sound. However, at only two-thirds the price of the PCS, I have to say that the SCS4 is a better speaker. Its sound is bigger. It's bolder. It's more dynamic and while the PCS was a very refined performer, I have to say that once all things are considered, the SCS4 is the more expressive speaker. It's more involving.
In my relatively modest listening room the SCS4 produces bass that is detailed, dynamic and completely satisfying as low, as they go. While 47Hz may not look like a lot of bass extension on paper, if you've got a modest to medium sized room and your primary listening habits revolve around rock and jazz, you'll likely be amazed by the complete sonic picture painted by the SCS4. Tommy Shannon's bass lines on Stevie Ray Vaughn's In Step [Epic EK65874] came across with tonal richness, lots of detail and a palpable sense of power. In terms of bass output and power, I wouldn't want more than what the Thiel SCS4 produced in my room. It was spot-on with what I've come to expect from this CD. It produced all the lowest pulsating purr and full-bodied warmth from "Riviera Paradise" that I could want. Track-to-track bass quality on the CD is inconsistent and the SCS4 lets me know. On "Life Without You" they convey a really good feel for what to expect on a good recording and even within the song the SCS4 lets me hear that the bass lines are of one character while Stevie is singing—it's a little more billowing with less textural detail—and in the middle of the song where Stevie speaks to the audience with Shannon playing in the background. Here the bass is more taut, more textured, and more highly detailed. It's also superbly satisfying and without any of the bloat that I, way too often, see attributed to all ported speakers, of which the Thiels are.
At the other end of the sonic spectrum is a lively and extended treble that does a beautiful job of balancing all that bass power. It's lively, it's crisp and it's honest and it won't shave any edge off of your bright recordings. The SCS4 is going to tell you everything you need to know about the treble on your recording, and possibly a few things you'd rather it didn't. It'll also tell you about your electronics upstream and if you've got cheap or edgy solid-state you'll probably find yourself in the market pretty quickly for something better. But that's O.K. because the SCS4s possess a level of transparency, sophistication and musicality that means the better you feed them the better they'll treat you; and they do deserve to be preceded by the best gear you can make available. Nobody would consider putting a $4000 pair of monitors on a Pioneer receiver but the price of the SCS4 means that it could be well within reach of many a music lover with just such plans. These listeners will never hear the speakers at their best and may never know what they're missing and, worse, they may blame the course treble performance on the speakers.
As far as complaints about the SCS4, that's as close as I can come. Feed it garbage and it'll give it right back to you. The SCS4 is not what I'd call overly forgiving. Is it less forgiving than other speakers? No. And if they sold for twice their price it's not a warning I'd feel compelled to offer. But at their price, I think they run the risk of being underestimated in terms their capabilities and I wonder if they won't be denied the kind of upstream component considerations afforded to more expensive speakers—even if more expensive speakers don't outperform the Thiels.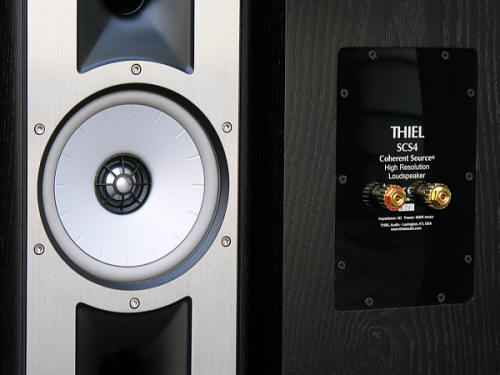 The transition between the mid-woofer and tweeter is, perhaps, one of the SCS4's greatest triumphs. Certainly not laid-back, the little Thiels are anything but reticent through the upper midrange and it blends seamlessly with the treble. In fact, it's the most seamless speaker in and around this class that I can think of with the possible exception of the outstanding and more expensive Usher Be-718 monitor. The Usher is a speaker that I haven't been able to get out of my head since I reviewed it last fall and I confess to being plagued with thoughts on how I can get another pair into my listening room. It's that good. But the moment I fired up the SCS4s I thought to myself that these could be the speaker that puts the issue of the Usher to rest. That's not to say that they sound the same—there really is something about that Beryllium tweeter that Usher uses that brings to mind what a really expensive super tweeter can do for the midrange performance of a speaker-—as counter intuitive as that may sound. The SCS4 doesn't quite achieve that level of sophistication through the midrange as that of the Usher, but it comes extremely close. The SCS4 comes close enough that the issue is rendered almost moot when I consider the price difference between the speakers and how close the overall performance is in other respects. The Usher will set you back another thousand dollars and it'll net you an additional bass extension of about 6Hz, which isn't inconsequential but on most music—particularly rock music—you'd be hard pressed to hear the difference.
The SCS4's midrange performance takes a backseat to nothing in and around its class and it deserves to ride shotgun alongside the very best. It's open, it's detailed and it's full- bodied. It carves out a beautifully open and spacious soundstage with outstanding image specificity and delineation; just as you'd expect from a dynamic speaker that operates as close to a point source as this one. The time alignment of the drivers means that the speakers are fairly non-critical about how they're placed and, if need be, they can be placed on their sides. There are no concerns about lobbing effects caused by the speakers being too high or two low—where ever you need to put them is just about fine in this regard. Of course the speakers will require due consideration when it comes to achieving proper bass balance; too close to the wall and things will get wooly but I can't imagine many users dragging the speakers far enough from the wall to thin out the bass too much. Three feet out worked very well for me.
"Loving The Aliens" from David Bowie's Tonight LP [SJ-17138] had a nice and open presentation. Bass drums came across moderately powerful but tunefully and with good punch. The chirping guitars were located deeply to the right of the stage and were nicely articulated. David Bowie's vocals were reproduced with natural timbre and linearity. The bass lines on "Don't Look Down" and "Tonight" were much more powerfully produced—not that any part of the bass on any of the cuts wasn't satisfying. But the point is that the speakers don't exaggerate; they don't artificially create mountains out of molehills. What was intended in the recording is what you get. "Neighborhood Threat" consists of lots of high-percussion and offered the SCS4s an opportunity to act out and get hard, edgy or bright. The little Thiels resisted all temptation and remained completely composed—lively and spirited—but poised and well behaved. It's rare that I don't have to crank the volume a little on "Blue Jean" as it's my favorite track on the album and so it was on this day. It was superbly served by the Thiels.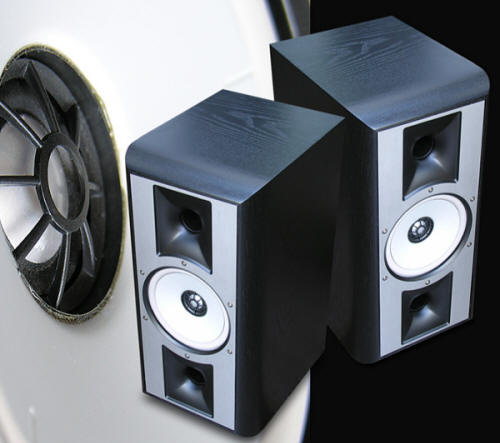 Dynamically, the little SCS4s are really good for a speaker this size. They sound a little more agile than their 88dB efficiency would have had me predict. The VU meters on the Eastern Electric M156 mono tube amplifiers (160 watts each) rarely approached the 30- watt mark but I was getting room-filling sound. Nothing seemed to bog them down either; their micro-dynamics are very good and the speakers are surprisingly rhythmic. Punchy bass, lots of rhythm and an exciting upper-midrange and treble; are you starting to get a picture as to why these speakers are so much fun?
No music was better served by the bold and extroverted personality of the SCS4s than the Brian Setzer Orchestra's self-titled CD [HR 61565-2]. This recording of original and Big Band standards was recorded in the studio but it's got the ambience of a live recording and the SCS4s did a superb job of transforming the front of my room into a bandstand. The soundstage went wall-to-wall and evenly filled in the front corners of my room. Some speakers produce the image of a stage that seems to form an arc that brings the instrumentalists at the sides of the stage forward toward the listener. The SCS4s produce a sharply focused line right across the front of the room and musicians remain on that stage, where they belong. The perception of graduated depth was excellent with Setzer and his Gretsch well forward on the stage and the orchestra obviously well behind. The CD was to be a test of upper-midrange/treble region as it's chock-full of screaming guitar, crisp percussion and lots and lots of brass. I was pleased with how naturally the SCS4s produced a lively but never overly crisp presentation that never bordered on being shrill. On the contrary, the SCS4s sounded superbly balanced, dynamic and, here's the word again, bold. If you're looking for a light and hear-through presentation with more air than body, these speakers won't be for you. These little Thiels are solid and they project an almost visual image. You can see the images they project equally well with eyes open or shut. It doesn't take extraordinary effort to suspend disbelief when such a vivid aural picture is suspended across the front of the room.
I have to confess that I didn't spend much time with the SCS4s at whisper-quiet levels but they sounded so good at some fairly elevated volumes that I half-expected them to go thin and anemic at low volumes. My assumption was that they probably sounded their best at a full gallop. Well, they do. Most speakers will. But they also sound pretty good at very modest volumes. The speaker remains smooth and balanced while the bass is relatively full, which isn't always the case with small two-ways.
Conclusion
Candidly, when I was offered the Thiel SCS4 loudspeakers for review, my first reaction was one of moderate ambivalence. While I've enjoyed every Thiel speaker I've ever had in my listening room, what could I expect from the most entry level speaker in the line? Part of me was braced for a mild let-down. What I heard from the SCS4s right out of the box was anything but. From the moment I fired them up I was impressed with their forthright and exciting character, their big spacious soundstage, their expert delineation of images and their sophisticated and uncolored midrange. They may be smallish bookshelf speakers but despite the fact that at anytime I had the ability to switch in my subwoofers for some hedonistic fun, not once was I even tempted. On their own the little Thiels are that satisfying.
If you are looking for a top-flight pair of monitors and you can stretch your budget to just under two-grand, you'd be making a big mistake to not seek out a pair of Thiel SCS4s for audition. Even if you've got a budget of $3000 or more, I highly recommend that you hear these before you drop your cash because the money you save may be better spent by putting it toward your source or amplification needs.
The SCS4s leave no doubt about it; the cost of entry level speaker excellence keeps coming down as companies instill their most modest offerings with trickle-down technologies as they also take advantage of today's new global opportunities to produce products that keep getting better and better for less and less. This certainly seems to be the case with Thiel's SCS4, which is not only a class leader but one fantastic value—possibly Thiel's best value ever. John Potis
Thiel SCS4 Loudspeaker
Retail: $990 each
Thiel Audio
http://www.thielaudio.com