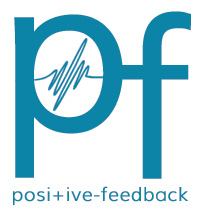 You are reading the older HTML site
Positive Feedback ISSUE
37
may/june
2008
Notes of an Amateur - May, 2008, Part 2
by Bob Neill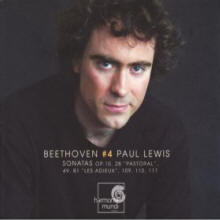 Beethoven, Piano Sonatas, Volume 4. Paul Lewis. Harmonia Mundi HMC 901909.
What exactly makes one pianist's Beethoven Piano Sonatas more desirable than another's? There is always a Beethoven Sonata cycle in process. In addition to British pianist Paul Lewis's series, which I'm reviewing the 3-CD conclusion to here, there is Mitsuko Uchida's (assuming she plans to proceed beyond her two CD's of the late sonatas; Angela Hewett's, Andras Schiff's, and very likely a couple I'm not aware of. And of course there are scores of completed sets by virtually every pianist we've heard of. How do those of us amateurs who aren't students of this music evaluate them?
A lot depends on what we bring to the listening experience: how much Beethoven have we heard over the years? However much, it is what has created our sense of who he is and so what to expect. Or hope for. It is our experience of the composer's music (in all genres) that will reveal eccentric presentations for what they are: stupid, self-indulgent, brilliant—as in Wow, I've never heard him that way but it really works! (Or groan, what was this pianist thinking?) It will also keep us from tolerating boring, unimaginative or just uninspired and insipid performances. We will feel restless where we remember being excited.
The sense of Beethoven I bring to performances of the piano sonatas is of a composer who is bold even when he's at rest, whose heart never ceases to pump at full throttle. Whose smallest, quietest moments are full of the feel of potential energy and emotional purpose. As a result, I would always rather hear his sonatas over- than under-played. I want to feel a performer match the composer's intensity, even at the risk of going over the edge. So Uchida's recent performances, not over the top at all but commanding and full of energy (www.positive-feedback.com/Issue25/neill.htm and www.positive-feedback.com/Issue33/amateur2.htm), grabbed me, whereas Hewett's more reserved approach left me a little cool. (www.positive-feedback.com/Issue35/amateur.htm).
Paul Lewis's, as I reported earlier (http://www.positive-feedback.com/Issue34/amateur3.htm), gives me great pleasure. It is the kind of pleasure that comes from feeling a performer is in total control of a composer's full range and pallet. Not controlling meaning holding it back, but riding it like a bold and knowing jockey. Lewis does not push Beethoven to the edge, but he persuades us he has got all of him. And yes, even the quiet passages, which in hands such as Andrew Rangell's can become a little precious, with Lewis (and Nikolayeva and Uchida) are calm but full of assurance, carrying with them some of the dynamic energy that preceded them and which is sure to follow. One of the commonest clichés used to describe Beethoven's music is to say there are eighteenth and nineteenth century Beethovens. I have used it myself, though not without private reservations that I was short-cutting a more thoughtful observation. Lewis, according to the cliché, is all nineteenth century Beethoven, which suggests that so is Beethoven, when he is properly understood and played right!
Beethoven's last three sonatas, numbers 30, 31, and 32, which conclude both the series and this album, here become the powerful epic poetry they truly are, revealing both composer and performer at their very best. I am not well enough informed or experienced to say how good Lewis' Beethoven is, only enough to say that he is among those who make the greatness of the composer comprehensible and real.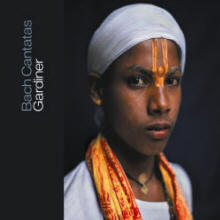 Bach, Cantatas, Volume 3. For the Fourth and Fifth Sundays after Trinity. English Baroque Soloists and Monteverdi Choir. John Eliot Gardiner, conductor. Soli Deo Gloria, SDG 141.
Natalie Stutsmann, the female alto with the strong counter-tenor voice, BWV 24 written for the fourth Sunday after Trinity in the church's ecclesiastical year, and we're off on the latest issue of the Gardiner Bach Cantata series with exactly the right feel. Stutzmann is the star of the first three cantatas in this set, bringing a unique sound that has all of the viola quality of her male peers, in addition to a rich color that is hers alone.
Today is Sunday, July 16, 2000—we must be in Tewksbury Abbey, England, where we'll also hear BWV 185 and 177, also written for the Fourth Sunday. Next week, for cantatas BWV 71, 131, 93, and 88, written for the fifth Sunday after Trinity, we'll be in Blasiuskirche in Mühlhausen, Germany. That's the way this Bach Cantata Pilgrimage works—and what may well be the key to its musical success. The musicians' bodies may be tired but their minds and performing skills are fresh and sharp, greeting new congregations in new churches week after week, all recorded live. In addition to Stutzmann, we get well-known soprano Magelena Kozená, strong tenor Paul Agnew, and a fine bass, Nicolas Taste, who is a new voice to me.
The strings of the Baroque Soloists are in fine fettle on this occasion. Bach must have had good feelings for the Fourth Sunday—all three of the cantatas celebrating it are ripping good music.
And now it is the following Sunday, July 23 and we are in the Blasiuskirche in Mühlhaussen. All new soloists, a few new musicians, though the first chairs are mainly the same. These three cantatas take their character to some degree from the greater number of arias sung by the tenor (South African Kobie van Rensburg) and the bass (Peter Harvey). The eloquence of these cantatas seems to lie farther 'down range' from those sung in Tewksbury. I may be imagining things but even the writing for the full chorus feels especially rich and deep. Is it partly the acoustic of the German church, which is a considerably larger structure? No matter, the effect is moving, set off dramatically on those few occasions when the soprano soloist is given an aria or when, for a few bars, sopranos dominate the chorus. It is as if rays of light suddenly strike through the proceedings.
I am struggling to say something new about Gardiner's wonderful Bach cycle in order to bring a few more of you under its influence. Gardiner opens this music up emotionally as no other conductor I know. His cycle is the one I turn to when I want to be reminded that there is still good in the world.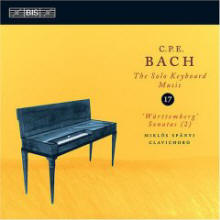 C.P.E. Bach, The Solo Keyboard Music, Volume 17 (!). 'Wurttemburg' Sonatas (2). Miklós Spányi, clavichord. BIS Records CD1424.
I love reviewing issues of this perhaps bravest of all ongoing recording projects, partly for its bravery but more for the wonderful whimsicality of the music itself.
Those accustomed to the steady forward motion of Carl Philip Emmanuel Bach's father, Johann Sebastian's music are generally puzzled on first hearing the son. His solo keyboard music especially sounds almost improvised, and Spányi gets this aspect of it perfectly. (He is also doing a complete set of the keyboard concertos for BIS!) It moves along like thought, pausing, reflecting, then moving on, letting something show through we seldom see in Johann Sebastian's generation just before or Haydn's and Mozart's which followed it. CPE Bach straddled the two generations, which has always made him of interest to those of us fascinated with transitions in cultural history. It's as if we get a special glimpse into what makes the earlier and later ways of being in the world, at least musically, tick. As we might expect, there is more baroque than classical in Emmanuel's style—there is a great deal going on. But it reads almost like a friendly critique of the baroque.
Much wonderful music lies in the byways of music history and CPE Bach wrote a good deal of it. I originally came to his music out of curiosity. I have stayed for pleasure.
System used for these auditions: Audio Note CDT3 transport and Dac 4.1 Balanced Signature, Blue Circle FtTH hybrid integrated amplifier, Jean Marie Reynaud Orfeo speakers. With Blue Circle BC6000 line conditioner. Audio Note Sogon and AN-Vx interconnects and Lexus speaker cable.
Bob Neill, in addition to being an occasional equipment and regular music reviewer for Positive- Feedback Online, is also proprietor of Amherst Audio in Amherst, Massachusetts, which sells equipment from Audio Note, Blue Circle, Manley Labs, and JM Reynaud, among others.