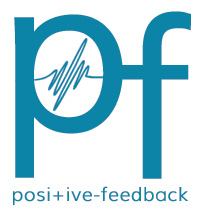 You are reading the older HTML site
Positive Feedback ISSUE
37
may/june
2008
More Classical Music!
by Karl Lozier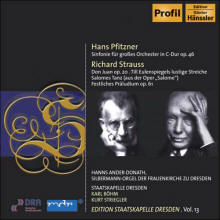 Hans Pfitzner, Symphony for large orchestra, Richard Strauss. Orchestra: Staatskapelle Dresden. Conductors: Karl Bohm and Kurt Striegler. Profil Monaural PH 07010
Color me-embarrassed. I specifically requested this "new release" mainly because of the unknown (to me) Pfitzner's composition, "Symphony for large orchestra in C major". Pfitzner is a fairly well known composer mainly because of one composition, his opera, "Palestrina". His symphony turned out to be a "classical romantic period composition" though a bit unusual in that it turned out to consist of three movements instead of the traditional four. All three movements were in effect merged into one, fifteen minutes long. I had a bit of trouble figuring that out and while thinking I was listening to an interesting, almost traditional, tone poem. More importantly, it became apparent that I was listening to a "historical recording!" No SACD or even stereo here, just music. The performances of the listed very popular Strauss selections were simply quite excellent and almost certainly representative of the best typically available almost seventy years ago. The performance of "Salome's Dance" here is definitely "G" rated for general audiences not "M" for mature audiences and she is rather subtle. The entire "Dance" came through clearly and cleanly with no hints of tape or transfer noises. The recordings were done in 1939 and 1941 and the "plastic surgery" or upgrading was done much more recently, two years ago. The audio quality in plain vanilla mono was surprisingly listenable in many or often most passages, though not in the loudest passages containing a great deal of high frequency energy (trumpets, cymbals and first violins). In passages predominately in the middle, lower middle and upper bass ranges, the audio quality was pleasing and eminently listenable. The organ in the "Festive Prelude" came through surprisingly clearly as did the orchestra for the most part. Treat the above for what it is and not more. Obvious interest would be from music lovers interested in historical music performances transferred to a modern CD and audibly improved while doing so.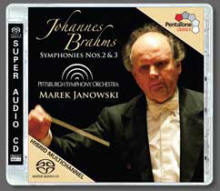 Johannes Brahms, Symphony No. and 2 Symphony No. 3. Orchestra: Pittsburg Symphony. Conductor: Marek Janowski. PentaTone Hybrid Multi-channel SACD PTC 5186-308
It has been quite a long time since I last reviewed a composition by Johannes Brahms, he of the famous 3Bs of classical music (Bach, Beethoven, Brahms). Coincidentally, it has also been a very long time since I have reviewed a recording by the approximately one hundred and ten years old orchestra. A bit of its interesting history trivia is the fact that Victor Herbert was the music director for a number of years starting in 1898! You young upstarts can look him up wherever you lookup what you do not know. Probably because of longevity (24 years) William Steinberg has often been remembered as the most famous Pittsburg music director over shadowing internationally famous conductors Otto Klemperer and Fritz Reiner as well as Andre Previn and Lorin Maazel. Johannes Brahms should need no introduction to classical music newcomers. If you do not have any recordings of compositions by Brahms, you should even if just to have a traditional basic choice. He was not an extremely prolific composer though wide ranging with examples in a great variety of classical compositions.
The musical genius, Beethoven took symphonic music to its ultimate goal or destiny or whatever in many peoples' mind when he passed away after his monumental ninth (choral) symphony. Seemingly for a long time afterwards no composer dared to compose more than nine symphonies. In addition, none seemed worthy to carry on as a successor to Beethoven composing symphonies. It took Brahms fifteen years to complete his first symphony. Then in less than a year later he had finished his second. After performances of his first symphony some music critics and musicologists proclaimed him as the successor to Beethoven and at least one famous critic proclaiming, "at last the tenth symphony", meaning a symphony worthy of comparing to something by Beethoven or similar to Beethoven compositions. Try to put things into perspective; in this point in history, has there been anybody you can think of in almost any field of inspiration or creation that you or others think of as the greatest, the very greatest and beyond comparison with anyone else? Well, long ago that is the way Beethoven was often regarded. I could say that he played with and challenged the gods, not mere mortals. That was the atmosphere surrounding Brahms' first and second symphonies. Referring to Brahms second, critic Eduard Hanslick said, "This work provides the indisputable evidence that it is possible for a composer (although admittedly not for just any composer) to write symphonies after Beenthoven)". Can you even begin to think of anything comparable in this day and age?
The liner notes by Franz Steiger are relatively brief and yet cover the pertinent information regarding both symphonies fairly thoroughly. The second symphony is very relaxed overall and could almost be called, "pastoral in nature" as Beethoven's sixth symphony is often known though the two are not really similar. Brahms second symphony actually builds to a logical outgoing and impressive finale capping a generally idyllic preceding three movements. The more outgoing character of the third symphony exudes a greater sense of power than the second symphony. I find the opening passages of the third movement (Poco Allegretto) scored for strings to be attractively memorable and unique and here aided a bit by fine audio quality.
The liner cover pages indicate this to be a "live recording" and listing only one date. For both, the balance engineer is listed as being from Polyhmnia International and perhaps uniquely, the recording engineer for Symphony 2 is from Telarc and the engineer for Symphony 3 is from Soundmirror. The rear cover packaging lists two recording dates, March 2007, and November 2007 for symphony 3. I have a earlier (2004) release on Pentatone of Brahms symphony 2 conducted by Hans Vonk with the Netherlands Radio Symphony Orchestra. The listed timing for the first movement there is almost two minutes longer than Janowski's reviewed here! Some music critics think that some of Brahms compositions tend to sound a bit "thick or not clearly defined." That is the main reason here why the recording may not sound as detailed as some other releases. I believe the recording is musically just fine and simply reveals Brahm's scoring.
Little of Brahms music lends itself to desirability by so called audiophiles, just to music lovers. In addition to his fine four symphonies, he wrote at least one and usually two or more works of all types and for various instruments including a couple featuring the clarinet as well as those featuring the more commonly heard piano and violin pieces plus many chamber music gems. My particular favorite Brahms' composition is his Academic Festival Overture that I recommend highly. The reviewed release represents outstanding value offering almost eighty minutes of two highly regarded symphonic works with fine, if not quite the very finest sound quality, subtly differing on the two selections. Recommendation is easily earned.
P.S. A clarifying note to those who do not follow such things. The PentaTone recordings descended from the fine Philips Classics group somewhere around ten years ago. Some of PentaTones earliest releases may surprise you. Though correctly identified as SACD/hybrid CD you should be aware that the original recording techniques were done with the then forthcoming future Quadraphonic sound releases in mind! They were not released that way and I believe were held in Philip's vaults. Therefore some of them became 4 channel SACD releases and their quality was in no way diminished. Of course all their more recent SACD recordings have been done in multi-channel surround plus a center channel.
Hector Berlioz, La Damnation de Faust Marie-Ange Todorovitch, Mezzo-soprano, Michael Myers, Tenor, Alain Vernhes, Baritone, Rene Schirrer, Bass, Slovak Philharmonic Choir, Jan Rozehnal, Chorus master. Orchestra National de Lille/Region Nord-Pas de Colais. Jean-Claude Casadesus, Conductor. Naxos CD 8.660116-17 (2 discs)
Here is an old, very old, favorite musical selection of my youth. It is a very pleasant surprise to have a new version for review. This outstanding composition is not a common selection by most regional orchestras and even less common to be performed by a touring group. The rather demanding scoring for four soloists plus chorus puts it out of reach for most musical groups. Here is a brilliantly scored composition of a bit more than two hours length performed mainly (particularly on the first disc) but by no means entirely, by three male vocalists and a large chorus. The well-known tale of selling one's soul (Faust's) to the devil, Mephistopheles, is loosely based on Goethe's tale of Faust with a significant change in location. Much may be familiar to even casual listeners as excerpts of this beautiful composition are commonly performed. Many of the excerpts are truly showpieces for orchestra or orchestra plus chorus.
My introduction to this rather unique composition was nearly 50 years ago in an outstanding and very powerfully passionate performance by Igor Markevitch. His conducting often seemed to range from a bit disappointing to simply outstanding with little in between consistency. I have had no need to search for other performances. This performance is better described as relatively lyrical, lovely and lovingly performed. Not one of the larger and better known orchestra's of the world, this group must have spent long hours rehearsing and rehearsing to get the outstanding results that are evident on this excellent two CD recording. For best results, turning up the volume or gain control, is definitely recommended. The overall perspective is pretty much of the mid-hall variety with some variability and featuring particularly nice reproduction of the horns. I have gotten a bit spoiled by the closer perspective often offered by companies such as Telarc and Reference Recordings, particularly of huge orchestral forces performing large-scale compositions. Berlioz's Damnation of Faust is very definitely a large-scale composition. While very enjoyable, there are times that I would turn up the volume a bit more while at the same time wishing for a slightly closer perspective with an even larger orchestra. That is simply my personal preference and while wishing, I would request the release of a SACD version of this music and with surround sound! This composition can be an audiophile thriller. Here it is more of a music lover's dream. If you are not familiar with this music, you should be! At Naxos' usual bargain price it is very easy to give this a relatively high recommendation. I remain surprised at the overall excellence of this release by performers largely unknown to me. While you are searching it out, I would suggest picking up a copy of another of Berlioz's beautiful compositions, Harold in Italy. Even though Harold is there, neither he nor anyone else is singing on that composition. At this point the reviewer paused! PAUSED for two years!
Once again I received this "new release" for review. Not much has changed, though I have had better SACD/CD players since the original review was written and have not had to turn up the volume/gain control for listening enjoyment. The rich fullness of the vocalists and the choir groups are definitely better than I remembered. The recording is definitely recommended and the audio quality is quite good but a definite step below the best current releases.