Audiophiles who once owned Dual turntables may not be aware that they're still in production today—and in improved form. The second from the top of the modern Dual range is the CS-505-4, a fourth-generation model that, according to its US distributor, is made largely by hand on individual workbenches in Germany under the supervision of Alfred Fehrenbacher, production manager at the old Dual before the company went through various incarnations/bankruptcies/acquisitions.
In today's turntable market, the CS-505-4 is something of an odd duck. At $1279, it occupies a unique niche between the cheap 'n cheerful "starter" models from Pro-Ject and Music Hall, and the more expensive perfectionist designs of Basis, Clearaudio, Rega, Thorens, VPI, etc. It's one of the least expensive spring-suspended turntables that I'm aware of, but unlike the Linns and Thorenses, it's semi-automatic.
Opening the shipping carton of a brand new Dual brought back enormous feelings of nostalgia since I once owned a CS-505 and, as a boy, lusted after the CS-5000 in the mid 1980s. (Even then, I was suspicious of the compact disc.) Today's CS-505-4 seems equally well made, with a few noticeably better parts and a modern, black finish on the real wood plinth. It's also backed by a confidence-inspiring, two-year warranty.
Dual aficionados will immediately find the ultra low-mass tonearm familiar. It presents a bit of a problem in today's cartridge market, where low compliance moving coils abound and medium- to high-mass arms rule the roost. Yet there are still many models that will work well with the Dual arm, not the least of which is the supplied Ortofon OMB10 (which is the same cartridge as the OM10; the "B" denotes this is simply the bulk packaged version). And here's a real blast from the past: the owner's manual includes instructions for "wet playing" your records!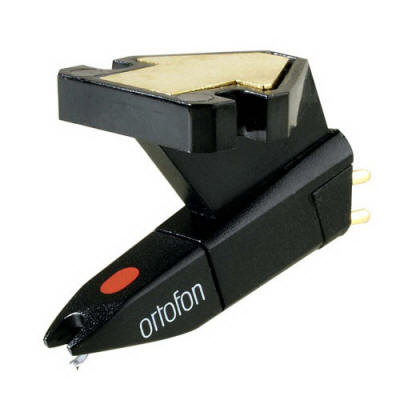 In truth, the CS-505-4 deserves a better cartridge, though it milks a lot of performance from the OMB10. Luckily, Ortofon's OM ("optimum match" for any tonearm) series all share the same cartridge body, so users can achieve higher performance simply by upgrading the stylus unit. Around $170 buys you the 30 stylus, with a nude fine-line diamond that will retrieve additional detail by turning your OM10 into an OM30. About $230 brings home the superb 40 stylus. It features a low-mass cantilever fitted with a Fritz Geiger line-contact diamond. Either is well worth the extra money.
According to the literature, the Dual's tonearm uses a Cardan bearing. Tracking force is supplied by spring. A carbon fiber headshell tops off the arm. The chassis consists of a wood plinth containing a fully suspended chassis. Records ride on an aluminum platter with felt mat. For audiophiles who came of age in the 1970s or early 1980s, it's all very reassuring—especially since the auto lift arm buys you the freedom to fall asleep during late-night listening.
I'd forgotten how special a suspended turntable can sound. The CS-505-4 offers the listener good timing, with a slightly lean yet undeniably rhythmic character. It also offers a lightness, an airiness if you will, that is pleasantly easygoing. Where the Dual most noticeably comes up short compared with some other tables in its price range is a lack of solidity and bass weight. I suspect a cartridge upgrade could cure that to some degree.
While some buyers might be turned off by the low mass arm's inherent inability to properly accommodate many moving coil cartridges, this unit really sounds best when paired with a warm but detailed moving magnet. If I bought one, I'd see almost no reason to jettison the supplied Ortofon cartridge. It's on the warm side of neutral and highly listenable. In fact, I've heard the OM10 on at least a dozen turntables over the years and I've never heard it make better music than on the CS-505-4.
Upgrading to the 40 stylus added substantial additional clarity and transparency along with improved dynamics and speed. In addition, complex musical passages that would cause the OMB10 to lose its composure are handled with aplomb using the 40 stylus. However, since the CS-505-4 is supplied as a complete, plug 'n play package, that's how I reviewed it and my notes refer to the table with the OMB10 in place.
Two things that spring-suspended turntables do especially well are imaging and soundstaging, and the CS-505-4 is no exception. Listening to Keith Jarrett's Solo Concerts (ECM 3-1035/37ST), there was palpable air around each note—from the powerful to the delicate—and surprising aliveness. Like tube amplifiers, suspended turntables have a special quality that sometimes seems to add an extra little breath-of-life to music.
That quality comes in handy on dynamically limited pressings such as my astonishingly dull copy of The Who's Who's Next (MCA-2023). No turntable on earth can extract information that's not there, but the CS-505-4, aided and abetted by the supremely listenable Ortofon cartridge, managed to gloss over its deficiencies. It adding a teeny tiny extra dollop of presence in the vocals that made up somewhat for the veiled and dynamically stunted overall presentation, as well as a bit more air around the cymbals. Surface noise was commendably low.
Don't get the wrong idea. The CS-505-4 isn't an embellisher. If you want to sit around all day listening to audiophile crap instead of music, the Dual will abide. I suffered through a few obligatory 180-gram virgin vinyl blah blah blah recordings by "solo female vocalists" who you'll forgive me for not naming. Reproduction was accurate by most objective standards, and the Dual's shortcoming again proved to be of omission.
Truth be told, I was expecting a reassuringly vintage sound. That was simply not the case. The CS-505-4 sounds completely modern. It was a smart design then, and it is still a smart design now. Perhaps its most notable quality is that it manages to sound good across all genres of music and despite the quality of a given pressing. Strangely perhaps, it reminds me most of the original Rega Planet CD player: pleasing, warm and easy to live with but never less than musically engaging. Chin-scratching audiophiles may disapprove of the lack of inner detail but music lovers will delight in it for fuss-free years to come.
The platter—which I was initially concerned about—could maybe use some damping or perhaps a Ringmat. However, the same could be said of the platters on some much more expensive tables. Since I don't own the review sample, I resisted the urge to tinker with any irreversible tweaks but the ExtremePhono None-Felt mat, now sadly discontinued, did seem to tighten up the presentation. I've seen mats that look to be made of similar material available on eBay. They, along with the Ringmat, are worth looking into as possible upgrades, particularly if you live in colder climes where static electricity is an issue.
Since the Dual is a full-featured turntable, it's worth taking a moment to talk about its functionality. Using it is a pleasure. Place a record onto the platter and select the speed—45 and 33 are available without requiring the user to manually move the drive belt to a different pulley, as on minimalist designs. Position the tonearm above the record and the platter turns automatically. Lower the arm and enjoy. The arm lifts and the motor shuts down at the end of the record. The arm lift is damped both up and down, and though the table's mechanics are a far cry from the silent slickness of a vintage Bang & Olufsen RX, they're quiet enough and certainly precise.
If it's the first time you're using your Dual, you'll need only about ten minutes to get it up and running. A transport screw must be disengaged to free the sub-chassis, and the dustcover and hinges must be installed. The cartridge comes (properly) mounted and aligned, and the pitch and drive belts are installed at the factory. All that's left to do is screw the counterweight onto the back of the tonearm until the arm is balanced, then set the tracking and anti-skating controls to 1.5g. A strobe disc is thoughtfully supplied to help owners fine-tune the pitch, as well as a Thorens-style plastic cartridge alignment tool should you decide to change cartridges.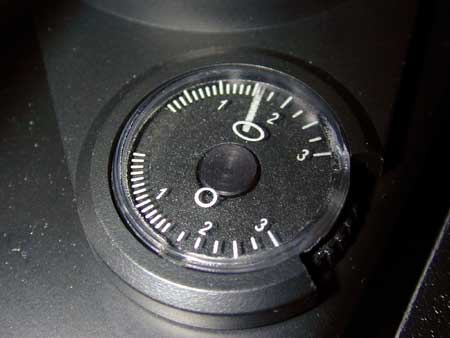 While it may not be a bargain, the modern incarnation of Dual's ubiquitous 505 series is competitive in many respects with models in the same price range, especially for listeners who value timing and spacious imaging over bottomless bass, extreme treble extension and ultimate musical heft. Is it twice as good as a $545 Rega P2? Judged on its musical talent alone, the answer is no. But then again, it's a completely different animal. Suffice to say that if the Dual appeals to you, you should give it an audition.
In summary, the Dual CS-505-4 is a very nice turntable that, for the right buyer, has a lot going for it. Recommended for those who need semi-automatic convenience with one caveat: listeners expecting four-figure performance must immediately upgrade the stylus on the supplied cartridge. That aside, the Dual's German quality, traditional styling, handsome wood plinth, and auto lift arm will be pleasant departures from the bare-bones look and function of today's popular models. All in all, a welcome blast from the past and still competitive after all these years. Ed Kobesky
CS-5-5-4 turntable
Retail: $1279
Sintron Audio
web address: www.sintron-audio.de
Distributor Information
NAT Distribution
web address: www.natdistribution.com