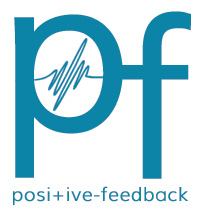 You are reading the older HTML site
Positive Feedback ISSUE
37
may/june
2008
Two Classical Classics
by Robert H. Levi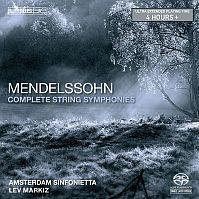 Mendelssohn Complete String Symphonies BIS-SACD-1738. Amsterdam Sinfonietta, Lev Markiz Conductor
This is probably not my last shocking music review. It just may be that I'm the last to know about this disk or I'm breaking the news for PFO's readers worldwide. Here it is: this single, one sided SACD only silver disk, contains all 12 Mendelssohn String Symphonies [one of them twice with added winds], sounds divine and natural, and lasts 4 hours, 15 minutes, and 55 seconds! That's right. Over 4 hours of stunning music on one single SACD disk. Holy cow! Plus, you pay the price of only one SACD disk!
Where did this technology come from? Why hasn't anyone else done this? OK, there is no CD layer or surround layer, but I have dozens of Sony SACD only two channel disks that cost plenty and last less than one hour. We been robbed!
BIS explains that providing only two channel SACD you have room for all this music without compromise. They transferred all this PCM music to DSD and loaded it uncompressed onto an SACD disk. All I can say is thank you BIS! Thank you EastWind Import http://www.eastwindimport.com/ for bringing BIS to America!
Mendelssohn wrote these 12 String Symphonies between the ages of 11 and 15. They get more and more complex, but are beautiful and delicious from the first to last note. They start out Mozartian and end up with a bit of Rossini combined with Schubert. Lovely!
This BIS disk is the perfect way to get them all and enjoy them without ever getting up to change disks for over 4 hours.
Sonically, I have no real criticisms to note. The violins are smooth, mellifluous, and realistic on my ModWright Sony 9100 with tube power supply. There is broad right to left staging and excellent depth. I hear no digital graininess or crispness. There's no hint of compression and attack/decay is very natural. These could have been analog recordings from the lush sound, but they aren't. Come to think of it, BIS recordings are very natural and warm like Decca used to be and this disk is no exception.
The Mendelssohn String Symphonies were first heard in Berlin in Pa Pa Mendelssohn's home for guests like Paganini, Spontini, Spohr, Hegel, and the scientist Von Humboldt. Even Goethe was a fan! Many great music collections lack these gems and here's the best way to own them assuming you have a top SACD playback machine. Go on line and order this BIS disk now. You'll love it and what a fantastic value!
Performance A
Sonics A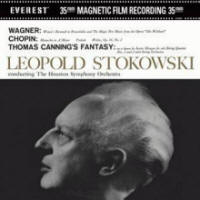 Classic Records Everest 35mm HD-AD of Stokowski's Wagner/Chopin/Canning Recordings HDAD 2029
I just want you all to know up front I paid full price and cash for this HD-AD. No deal or accommodation was given. That said, I am from Houston and remember the Stokowski years as a young lad of 10 enjoying his concerts with my father. He was a spectacular conductor and exceedingly creative. I saw this 2 disk set and ordered it post haste!
Every trick of the trade to create real recording purity and nuance was employed here. Bernie Grundman and Len Horowitz, two of the best audio supermen in the business today, worked on the original 35mm masters to fulfill at last the promise of their dynamic splendor. Not only was the original Westrex film recorder restored but an all tube playback chain was employed. Four versions are included: 1. DVD-A at 24/192 2 channel 2. DVD-A at 24/192 3 channel 3. DVD-V 24/96 2 channel 4. CD. Very nice!
CD
The CD tracks were done separately and are not down-sampled from the DVD-A to get maximum purity with minimum errors. The sound is stunning. It is just about as good as it gets. I heard an alive, luscious, bold, clean, and oh so dynamic sound. You'll hear a giant soundstage and prodigious depth. Plus, the mass string sound is very analog! This is one of the most quiet CDs ever. Played on my EAR Acute and ModWright 9100, you are there. This is a time machine to 1959, the Music Hall in Houston. I will be using this as a reference disk from now on. You hear none of that old fashioned darkness that's prevalent on two track tape recordings of the era.
DVD-V
The higher sampling rate of DVD-V is noticeable and fun to hear. The CD layer is so very good that the differences are not huge. Both are very enjoyable. The DVD-V is a bit bigger, bolder, and a bit cooler than the CD layer. There is increased midrange definition with the DVD-V. This is obvious in a sophisticated system but not so obvious in a lesser system. In my two way SET system the two sources were very close. I am so stunned by the CD layer, that the DVD-V layer is fun to hear but not essential. It will depend on how good your DVD Player is on which layer you will prefer. Overall, the DVD-V layer is a major success and the best I've heard to date..
DVD-A
With only a Denon 2200 available in two channel, I could not give this source full justice.
I have no comment really other than it sounded as good as this Denon has ever sounded with any source. Try it if you have the machine for sure.
The music is delicious. The Wagner is fabulous. The Chopin is luxurious and fun. The Canning is lush and overwhelmingly romantic. This is vintage Stokowski at his creative peak!
Quibbles
A few. When it arrived, the packaging was partially broken internally and only one hinge held the two disks. The DVD-V skipped a few times in one of my two ModWright DVD players. The CD and DVD-A layers never skipped. I have no sonic criticisms whatsoever.
These disks are amazing and some of the most natural, musical offerings yet seen in the digital world. To Grundman, Horowitz, and Hobson …we are in your debt. WOW.
Performances A
Sonics A