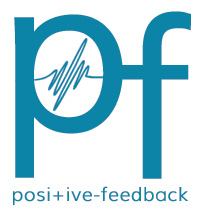 You are reading the older HTML site
Positive Feedback ISSUE
37
may/june
2008
Two Stellar SACD Classical Music Releases from Pentatone
by Oliver Amnuayphol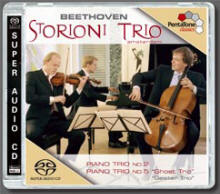 Ludwig van Beethoven: Piano Trio's Nos. 2 & 5, "Ghost Trio". Label: Pentatone Records. Catalog Number: PTC 5186 071. Format: Hybrid SACD. Release Year: 2005. Wilhelm Hellweg, producer.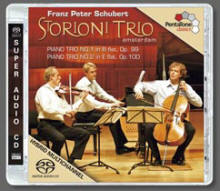 Franz Peter Schubert: Piano Trio's Nos. 1 & 2. Label: Pentatone Records. Catalog Number: PTC 5186 050. Format: Hybrid SACD. Release Year: 2007. Wilhelm Hellweg, producer.
Common to both: Storioni Trio Amsterdam, performers. Bart van de Roer, Piano, Wouter Vossen, violin, Marc Vossen, violoncello
Naming your ensemble after a relatively famous violin maker from Cremona can lead to some pretty high listener expectations. Thankfully, these two sublime recordings from the Storioni Trio Amsterdam—Beethoven's Piano Trio's nos. 2 & 5, and Franz Schubert's Piano Trio's nos. 1 & 2—deliver the musical goods in spades. One listen to these discs is all it takes to know why NRC Handelsblad has called The Storioni Trio "The flagship of Dutch culture."
So what makes these recordings so special? With the Beethoven disc, it's the Storioni Trio's ability to refrain from unnecessary embellishment or ornamentation so the full measure of Beethoven's creative genius can shine through. Listen to the gentle push of the staccatos and smooth-flowing pull of the legatos in the "Largo con espressione" from the E flat trio: Instantly the listener hears how precisely locked-in these players are with one another, the ensemble maintaining excellent control over pace and tempo. The Storioni ensemble also makes great use of dynamic color, such as in the "Largo assai ed espressivo" from the trio in D. Fortes, pianissimos, and every dynamic gradation in between are applied with great care, making this somewhat dark and introspective movement entirely captivating.
As good as the Beethoven disc is, the Schubert is even better. Here the Storioni Trio imbues Schubert's masterful melodies with an unbridled optimism and youthful vigor while never detracting from the musical message. Right from the first notes of the B flat "Allegro moderato," we hear more of the Trio's keen sensitivity to dynamics, and each musician is always mindful of the music's textural and tonal balance. But it's the Storioni Trio's way with the 2nd work on this disc—the E flat trio—that really showcases this group's impeccable musicianship. Each movement is played with a fine balance of artful sincerity and technical prowess, full of all the rhythmic tension and melodic counterpoints Schubert is known for.
Sonically, both the Beethoven and Schubert discs are stellar, having been recorded directly to DSD, with separate CD and SACD layers. The signature Pentatone richness is present, imbuing the instruments with a lovely, full-bodied sound just to the warm side of neutral. Imaging is very natural and not al all overblown, with fine delineation between instruments and just a touch of natural decay. And if you have a multi-channel SACD set-up, lucky you: the 5.0 mixes on both of these discs are very tastefully and subtly done. The extra channels add more air, depth, and ambient information to the mixes, expanding the soundscape in all directions for a more realistic sense of scale to the instruments and the environment. It's obvious great care has been taken to produce recordings that emphasize the musical experience over sonic pyrotechnics—kudos to Pentatone for producing another pair of fine-sounding SACDs.
If you're used to a more virtuoso style of playing, these slightly more austere renditions may at first seem mildly threadbare. But keep listening and no doubt the Storioni style of music-making will win you over: The ensemble plays together with such musical poise, grace, and sensitivity you'll want to listen to these works again and again. Their unpretentious and supremely elegant performances are a joyous delight, and their ability to consistently communicate the musical message in a vibrant and refreshing manner is highly addictive. If you appreciate the intricate and intimate art that is chamber music and want great performances coupled with stellar sonics, do yourself a favor and pick up these discs.