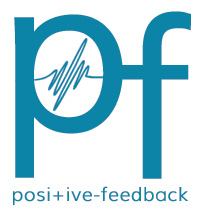 You are reading the older HTML site
Positive Feedback ISSUE
37
may/june
2008
Sergei Prokofiev: Symphony No. 5 and Lieutenant Kijé Suite The Cincinnati Symphony Orchestra, Paavo Järvi, Cond. (Telarc, SACD-60683), 2008.
A Fresh Look and Review
Max Dudious
I wish I could tell you this review was of a really mistaken reading, one where the conductor sets out with a faulty major premise, and sticks with it until he's driven a stake through the heart of a perfectly wonderful piece of music. That would be a clever conceit. But I can't. This is another great performance of a major 20th century work, Prokofiev's Fifth Symphony, and another homerun by Conductor Paavo Järvi and his forces. Not a solo homer, but a homer with a man on; in this case, Lieutenant Kijé. [And speaking of baseball, this morning's newspaper reported the Orioles were still in first place. Some guys will stoop to anything.] Both readings of these pieces are quite of the "scorched earth" strategy, following Sherman's "March To The Sea" where he burned everything in a sixty mile swath as he marched the Union army from Atlanta to the Atlantic, bringing the Confederacy to its knees. If this Telarc recording, with their usual excellent recording engineering (that really allows us to hear all the notes, all the time), mated deliciously with the interpretive excellence of Maestro Järvi, and the tight ensemble playing of the Cincinnati Orchestra, leaves anything for future recordings to discover, I can't imagine what that might be.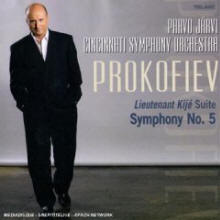 This symphony, it is said, was delivered after a longer period of gestation than usual for a Prokofiev symphony. Prokofiev, arguably among the most facile of composers since Mozart, attended with a stopwatch the daily screenings of the rushes to Eisenstein's epic film, Alexander Nevsky (1938). There he broke down the action so he could write music to fit the changing images. Imagine! Film scores, by the clock, to the second. He must have enjoyed this style of composing, as he wrote the scores for six films. It is hard for (procrastinator) me to imagine someone with that much facility, that much self-assurance. For sure, he was no time waster. The body of his work was prolific, including many individual works considered masterpieces.
In an unattributed paragraph about Prokofiev in The Concise Oxford Dictionary of Music (1980 edition) is written: "Though regarded as impossibly dissonant and avant-garde in his youth, Prokofiev can now be seen as in the direct line of Russian Composers, embodying the bold and colourful strokes of 19th-cent. nationalists into a 20th-cent. style strongly marked by its brittle wit and capacity for pungent dramatic characterization. Like Walton and Poulenc, he was fundamentally a romantic melodist and his style is formed like theirs from a reconciliation of the 2 strains in his personality, the tough astringent modernist and the lyrical traditionalist. He was successful in a wide range of works: War and Peace is a great opera on the largest scale; the symphonies and concerti are fine music, at least 3 of his ballets are masterpieces, the piano sonatas are crucial to the 20th-cent. piano repertory; and in Peter and the Wolf he created the most enduring, touching, and instructive of young persons' guides to the orchestra."
His score for Nevsky (including the 14 minute "Battle On The Ice," which still stands on its own as a miniature masterpiece) was a triumph of the genre, and is still played and recorded as a concert suite. I was lucky enough to see the film a few years ago, accompanied by the Baltimore Symphony Orchestra conducted by Maestro Yuri Temirkanov, and it was an event I never shall forget. For his fifth symphony Prokofiev collected many notebooks filled with sketches—for fourteen years!
When he finally decided to write these sketches into symphonic form, it took him only the month of May 1944. (I started this little review last Thanksgiving.) Of his Symphony No. 5, he said it was "the culmination of a larger period of my creative life." In other words, he (not unlike Dvorak) was in his 50s, with a track record of composing many, many successful pieces of music (operas, ballets, film scores, piano music, chamber music, as well as symphonies) for over three decades, before he produced such a late masterpiece, considered by many critics his "richest and most heroic symphony." (Concise Oxford Dictionary of Music)
My personal familiarity with this symphony goes back to my college days, in the early years of stereo, when I became entranced by Eugene Ormandy's conducting The Philadelphia Orchestra, an orchestra that frequently visited Baltimore, only 90 miles away. I was then (late '50s and early '60s) an adoring fan of Ormandy and his orchestra. I think they played Prokofiev's 5th Symphony on one of their visits to town, and I was so enraptured I ran out and got the LP. Today, it has become a cliché to say of Ormandy, "Never a bad recording: Never a great one." As a conductor, Ormandy was much more "risk-averse" than Bernstein or Szell (companions in arms under the Columbia & Epic labels), and his interpretations have fallen away as too "tepid." My BBC recording, with Gianandrea Noseda conducting the BBC Philharmonic (2003) is more gripping than Ormandy's, but not as exciting as Paavo Järvi's. Noseda, who is considered an up and coming conductor, is good; some say, very good. I'd say that makes Järvi a notch above very good, perhaps excellent. How does that manifest itself? Based on their comparative readings of this symphony?
I'd say there is a very finely grained intelligence guiding Järvi's hand. Using his bag of conductor's tricks to its fullest extent, his well-honed baton can cut through to the essentials, or it can bring forth some effects that can enhance the actual notes on the page. For one example, in the second movement (at about the 2:40, 3:30, and the 3:40 minute marks, and following the 7:00 minute mark to the end) there are certain ascending and descending arpeggios played by the violins. Maestro Järvi takes it upon himself to nearly transform these arpeggios to glissandi. That is not to say the violins actually slide their fingers up and down the fingerboard (they do at 3:30 and 3:40). But they take the passages at great speed, and when they are not performing true glissandi, they inflect the arpeggios as if they were glissandi. This is a nice effect, and I had to go back and listen to that movement a few times to separate when the violins were and weren't, in fact, using the glissando. This brings forth an earthy peasant, perhaps gypsy quality to the passage, suggesting the Red Army was made up of farm boys, which, in large measure, it was.
In any event, it is another of the many "touches" that Järvi elicits from his musicians the likes of which I've not noticed in other readings. You have to have a great (SACD) recording, a superior rig, and the inclination to listen with all your might. If you can put all that together, you can catch what makes this reading sensational. There are similar touches all through each movement. At the 10:00 mark, and following, of the third movement there are similar rising figures, performed in a similar way.
At the end of the first movement Prokofiev has a dissonant chord resolve into a major chord. In the Romeo and Juliet Ballet Suites (1936), Prokofiev builds a similar dissonant "Monster Chord" at the beginning of the second suite (soon after the deaths of Mercutio and Tybalt), pauses a moment and then repeats it with even more ghastly touches, as if to suggest the horror that is to come to the young lovers and their families. In his Symphony No. 5, Prokofiev was pretty much accommodating the state by resolving the dissonant chord (the bloody battle) with the sunny and optimistic (major chord) sound of the eventual Russian triumph over the Germans, which was still playing out (as the Russians crossed The Vistula) the same day as the symphony was enjoying its debut. Järvi certainly understands this and handles it well, with just a bit—though not too much—irony. Little sparks like these punctuate his reading throughout.
Some of you might remember that I gave Järvi's reading of Prokofiev's Romeo and Juliet my writer's award for "Recording of the Year" when it came out. I wrote an overly long review trying to justify my high opinion of that recording. If you'd know more, check the archives at http://www.positive-feedback.com/Issue10/music.htm. It is enough to say that all the sympathies Järvi has for Prokofiev (as displayed in his reading of Romeo and Juliet) are on display in this SACD, both in the Symphony No. 5 and in his tone poem, the Lieutenant Kijé Suite. As you might expect, I recommend this SACD wholeheartedly, though I've tried to be brief about it this time.
This recording by the Cincinnati Orchestra conducted by Maestro Järvi marks the latest in a string of exciting and thoughtful releases by this Orchestra. I don't know how many great recordings an orchestra has to make before we concede that it no longer has to be called "up-and-coming." This one does it for me. The Cincinnati Orchestra has arrived: So sayeth Max Dudious.
If you're in the market for a great Telarc recording to find out how they've been pushing the envelope in the art and science of recording technology for decades; or if you want to hear what gets me to gushing about how a great recording can spin us off into another time and place; or if you're a Prokofiev fan and you want to hear the latest SACD that confirms your judgment; or if you're unfamiliar with Prokofiev and want to hear why he is considered one of the major musical figures of the 20th century; or if you want to hear the great Cincinnati Symphony flexing its muscles, I suggest you phone up your favorite vendor and order this one.
Right Now! Do it!
And tell 'em Max Dudious sent ya'.
Meanwhile congratulations to everyone associated with this recording. It was a pleasure to listen to from the opening bars. To the Maestro, to the Orchestra's players, to everyone in the Cincinnati organization, to the Telarc gang (including Sweet Amanda) who have done it once again: THANK YOU.
What else can I say?
That's it from here, adrift in cyber-space, where we shrink from faint praise.
Ciao, Bambini.