Renaud de Vergnette has been chief designer and President of Triangle Electroacoustique of Soissons France since 1980. Beyond that, I would imagine the brand needs little introduction as they've been sufficiently featured in Stereophile magazine for years. Nevertheless it's a brand that I'd not personally heard. And having lived with a pair of JMlabs Mini Utopias I thought I may have had a handle on French tastes in speakers; after all, JMlabs (now Focal) and Triangle are two of the most successful speaker brands in the country. Well, that was as silly as thinking that all French wines taste the same. As it turns out, the Triangle Trio's sound couldn't be less like that of the Mini Utopia.
The relatively new Genèse line falls just below the company's top tier; the Magellan line. The Trio is the smallest and least expensive speaker within that Genèse line, which includes a roster of three speakers; the Lyrr, the Quartet and the Trio. While the Lyrr and Quartet are both floor-standing models, the Trio is the only stand-mount. Measuring 18.3 inches tall by 9.2 inches wide and 14.6 inches deep, the two-way trio weighs in at a surprisingly nimble 22 pounds. While nicely constructed with a high degree of fit and finish, the Trio isn't designed with one of the most inert cabinets I've encountered despite its use of internal bracing and construction details that include ¾-inch MDF construction and a front baffle almost 1½ inches thick. Lest the reader think otherwise, this is not necessarily a negative; it's a design decision. Not all designers agree that a completely inert cabinet is a significant key toward musical bliss. Some designers think that the control and optimization of a cabinet's resonance is a more rewarding target than eliminating it completely.
The Trio utilizes Triangle's new TZ2500 tweeter, which is said to be designed using expertise trickled down from the flagship Magellan project. Compression chamber tweeters are used as they allow better regulation and control of the tweeter's off-axis behavior in an effort to ensure a wider array of listening positions within the room. The tweeter is also semi-pod mounted to allow further control of radiation and the phase plug is said to even further optimize the tweeter's off-axis performance. The TZ2500's motor assembly is smaller than those previously used in order to allow that pod mounting scheme. What all of this adds up to is a tweeter that maximizes control and dispersion in order to optimize image definition and soundstage breadth for listeners seated both in and outside of the sweet spot. The Trio's mid-woofer (the T16EF100SMR2), is a 6-inch driver constructed from a light cellulose fiber diaphragm with a polymer half-roll suspension system.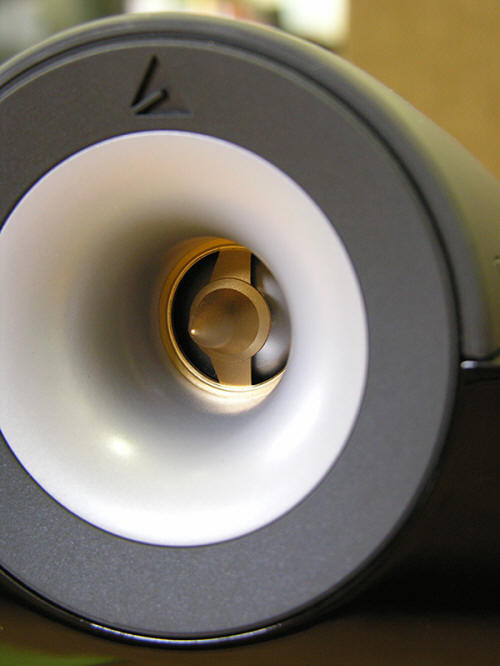 Triangle specifies a sensitivity of 90dB—making the Trio fairly efficient for a stand-mounted two-way; a bandwidth of 45Hz - 20kHz (+/- 3dB); an impedance of 8 ohms (4.4 ohms minimum) and a repetitive power handling of 120 watts. Triangle uses a 24 decibel per octave crossover with a center frequency of 2500Hz. The Trio uses a large front-mounted port for bass tuning and around back are dual sets of nice quality gold-plated binding posts to facilitate bi-wiring or bi-amping.
Triangle warrants their speaker for five years; parts and labor. And since Triangle makes all of their drivers I'm told that they can often repair speakers to original specifications.
I find the Trios quite handsome speakers. The veneer is stained a deep dark cherry and there's not a lot of wood grain to be discerned but they have a nice satin finish and the curved cheeks gather a fair amount of reflected light giving them a conservatively dark yet elegant presence in the room. The front of the speaker is finished in high-gloss black for an attractive accent and as the speaker grills are attached magnetically to magnets beneath the speaker's fascia, even without the grills the speaker has a neat and finished appearance. I can't wait until all manufacturers stop drilling mounting holes for grills in the faces of speakers that spend most of their time without grills!
Renaud de Vergnette makes no secret of the fact that his speakers are voiced for musical expressiveness above all else. It can't be denied that there's a lot of science behind the speakers and all of their drivers are designed and built in house, but after all the nuts and bolts are aligned with engineered precision, Triangle speakers are voiced by ear. This was very obvious to me upon firing the speakers up for the first time. They don't have the sound of a speaker designed strictly by the book.
Despite its size and driver compliment, the Trio has big bass. If you think small speaker/ small bass, think again. In fact, I wouldn't recommend the Trio for rooms much smaller than mine (12' by 16') as bass-heavy material and the Trios came dangerously close to overwhelming my room. I can't say that such material sounded totally natural in my smallish room but there are two advantages to the Trio's voicing. First, thin recordings get extra meat on their bones and in my experience these types of recordings are in abundance. Second, the big nature of the bass wasn't of the sort that infringes on the clarity or musicality of the midrange, which means that, more often than not, the Trio's balance made the music fun to listen to. They have lots of physicality and drive but they never get bogged down or sound bloated, lethargic or excessively boomy.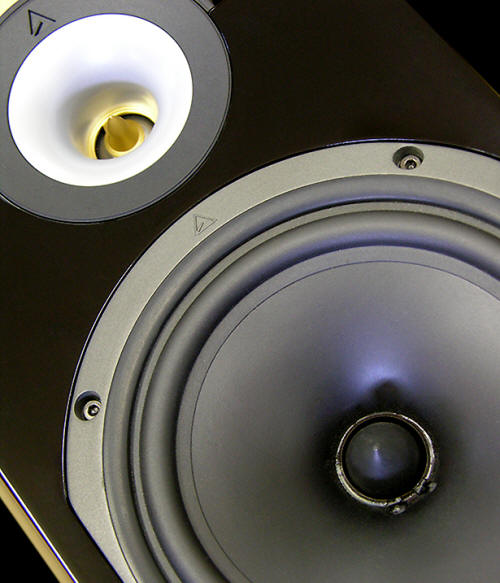 Midrange performance was very good. Any colorations or deviations from neutrality escaped my notice, which is to say they were minimal to non-existent. The Trio is open and musically detailed but never to the point where it approaches sounding stark, edgy or excessively hifi. This came as the biggest surprise for me. I had been lead to believe that Triangles were somewhat forward and bright—particularly in the upper-midrange—which would lead to an exciting character but one that could possibly be fatiguing in the long run. Nothing could have been further from the truth. The Trio is as natural and linear sounding through the mids and upper-mids as any speaker I've heard. They have a pleasingly smooth character with good body and appropriate warmth. Interestingly, while the Trio is both highly expressive and quite musically detailed and at no time did I ever feel as though they were concealing anything in the music from my view, I never felt as though they were the most transparent to the components upstream. In fact, this was not entirely true as I used the speakers, among others, to review the Bel Canto e.One CD2 and Dac3 components and I found them to do a nice job revealing changes I was making to the system. But when listening to music for enjoyment rather than reviewing purposes, I never found myself listening past the Trios—or more importantly, past the music. Now, before conspiracy theorists start thinking that this is code for anything untoward and before you start reading between the lines, let me just tell you that this is not code and if you try to read between the lines you should find nothing but blank space. What I'm trying to get across is that as I listened to the Trios my focus was generally taken away from the gear and directed toward the music. And not only is that a good thing, that's a very good thing. Unless you're a reviewer for whom never switching out of reviewing mode is a priority, it's a damned good thing to be put in the position of just enjoying the music for its own sake. That should be what this is all about. It's certainly what the Triangle Electroacoustique Tio seems to be about.
Through the treble, the Trios continue with this expressive personality. If the midrange performance of the Trio doesn't telegraph high-rez, the treble actually does. In general, I find myself attracted to speakers that produce a treble presentation that seldom calls attention to itself, but that doesn't describe the Trio very well. Fortunately, if and when the Trio calls attention to the treble, it's usually to throw light on something within the recording that was captured extraordinarily well. It's not that the treble is tipped up or over-active; it's that the Trio uses a high resolution tweeter, that's all. When the recording is up to it, the Trio can produce a highly-detailed rendering and if the rest of the system is game, it can produce some stunning resolution and spatiality. I wrote in my review of the Bel Canto digital components that switching to balanced connections brought about much greater treble detail including a beautiful separation of instruments that lead to an extremely focused and almost visual depiction. I observed this over the Trios which, when everything else in the system is in line, can be resolution machines. And what of the other side of that coin? Surely such high resolution will exacerbate problems upstream? I can report that this didn't seem to be the case. There is no rising frequency response that adds problematic energy to hot recordings or any other such malady that I could discern. It wasn't like that. The Trio's tweeter doesn't achieve pseudo resolution through exaggerated output or by speaking louder, it achieves it the way it should—with superior articulation.
In all other areas of performance, the Trios performed as well as most any other speaker I can think of. They throw a very stable and highly-delineated soundstage with images chiseled from granite. The dimensions of the soundstage will be determined by the recording—and the rest of your components—and when everything upstream falls into place, the Trios can produce as tall, wide and deep a soundstage as I've heard in my room—not that I found it to take any special magic; this is generally what I heard. Everything about how the Trios created a soundstage and populated it with musicians was completely satisfying.
Dynamically, I found the speakers more than competent. They are both rhythmic and fleet of foot. They spent a lot of time tethered to the Eastern Electric M156 mono amplifiers and I was able to monitor their appetite for power via the amplifier's VU meters and I was consistently surprised to see how rarely the meters registered output exceeding 10 to 15 watts. I think a quality 50 or 60 watt amplifier would be all that is required for most sane listeners in anything but the largest rooms.
Downsides? None, really. While the Trios are certainly different from other stand-mounts I've been using of late, when taken as a whole, they are inferior to none. Perfect? Well, no speaker is perfect and that's where comparisons to other speakers can be helpful in filling out the big picture.
Over the last several months I've had two other very fine stand-mounted speakers in my room and, frankly, I've been feeling a little like Goldilocks and the three speakers. Each speaker taken on its own has had many virtues and I could live with any of them. But they are all certainly different.
The first of the series was the G7.1p from Genesis Advanced Technologies. The Trio is a larger speaker and about $700 more expensive and it produces a much heftier bass output with a claimed extra 10 Hz of bass extension as well as much greater dynamic output down there. Bass fiends will demand a sub for use with the G7.1p, but will find it merely an option with the Trio. Through the midrange the two speakers are both very good and of similar character—both very agile and very musical with the G7.1p being just slightly more transparent. However, the Trio produces the more solid and harmonically saturated presentation with more meat on their bones. Through the treble the speakers sound very different. As good as the Trio's tweeter is, it's not as sophisticated as that of the circular ribbon in the G7.1p, which is just a wonderfully articulate tweeter. However, some may find that the G7.1p's treble performance is just a little more conspicuous and a shade less natural than the Trio's which tends to escape attracting attention a little better than the G7.1p. In short, bass lovers eschewing an add-on subwoofer will likely be satisfied by the Trio and while the G7.1p's tweeter is spectacular, reasonable people with different tastes, priorities and rooms will disagree on which speaker floats their boat.
The Thiel SCS4 costs $900 less than the Trio. Aesthetically, it's not as well finished as the Trio and while the Thiel's rated bass extension is in the same ballpark as the Trio, it doesn't produce as much of it as the Trio, which is clearly better suited to larger rooms or tastes that insist on a prodigious bass output. Again, both speakers are very expressive through the midrange and both are as musically involving and satisfying as any in their class. At first blush the Thiel's treble may sound a little better integrated as it never calls attention to itself, but it doesn't have the moments of brilliance that the Trio's does, either. When swapping between the two speakers the Trio's treble is a little more in evidence than is the Thiel's, but after a very brief period of acclimation the Trio's treble falls completely in line and sounds completely natural. Overall, the Thiel is slightly more forward with greater upper-midrange energy than the Trio which is very neutral.
In terms of the three bears, I tend to look upon the Trio as the Daddy Bear in the bunch. It has a bigger, bolder and more full-bodied presentation than the other two speakers and it's the Trio's bass response that really sets it apart from the other two. The Thiel SCS4 would have to play the part of Momma Bear with its less muscular demeanor and its even-handed approach—it differentiates itself from the crowed in neither the bass nor the treble but as a beautiful across-the-board performer. It would therefore not be inappropriate to fill the role of Baby Bear with the Genesis G7.1p. It's the smallest bear, er, speaker in the line and it doesn't speak with nearly the growl of the other two bears. The G7.1p is designed for much smaller rooms and what sets it apart is its excellent tweeter performance, even if it can't speak as loudly or with the same degree of authority.
The title cut from Laurie Anderson's Strange Angels [Warner 925900-2] superbly demonstrated the Trio's ability to throw a huge soundstage. Her voice was well focused at center stage but its reverberated echoes spread across the front of my room like rings on a pond. The opening high percussion on "Monkey's Paw" peppered the front of my room as fireworks paint the sky on the 4th of July—they were everywhere in front of me and they varied in location on both the lateral and horizontal planes, just as intended. Instruments and vocals were located across the stage with many located beyond the right and left speakers. Further evincing the image of fireworks was the myriad of explosive bass notes that erupted with transients that were evocatively concussive. Starting at 3:50 into the song there's a sustained low-frequency rumble that actually shook my floor! That's some excellent power produced by a relatively small two way! Ditto for the opening bass lines on "Coolsville" and "Ramon" that didn't shake the floor as much as produce a tactile sensation that penetrated both me and my chair. Anderson's voice sounded lovely without thinning or thickening or any another noticeable colorations. "Baby Doll" is a song that propels itself along using quick popping rhythms. Its melody doesn't flow from note to note but rather each note literally pops at you like a series of miniature melodic explosions. Maximum enjoyment will come from a speaker that gets the whole timing thing right with good transient response as well as a properly clean decay. The cut sounded particularly good over the Trios.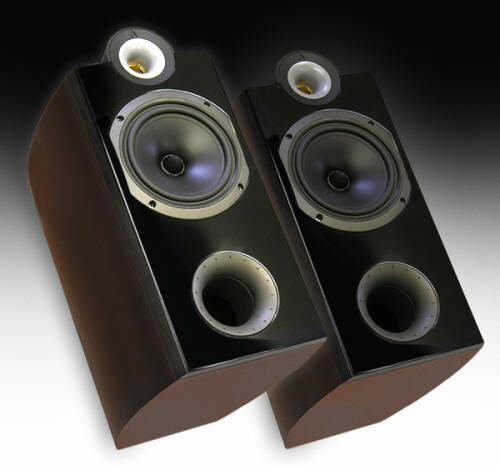 Speaking of concussive drums, they came through with unusual panache and power on "Neighborhood Threat" from David Bowie's Tonight LP [EMI SJ 17138]. Ditto on "Blue Jean" and both songs evidenced excellent PRAT. The Trios produce lots of bass and it's the way that they let go of those bass notes that makes them sound so rhythmic. If they didn't dissipate energy so well it could lead to a bloated and somewhat constipated sound, but this was never the case. What I was hearing were dynamic contrasts that were sharply reproduce with very good focus. The bass literally pops forth at you and then, in a flash, it's gone and the speakers have moved onto the next note or percussive strike. Listen to the snapped bass strings on "Tumble And Twirl", which are conveyed with a sharply articulated initial transient quickly followed by the body of the note. This album doesn't produce much in the way of soundstage depth or even height, but images are solidly placed wall-to-wall in my room and they're very solidly presented with saturated tonal colors. In terms of speed and articulation of dynamics, this was a great demo for the Trios. "Dancing With The Big Boys" was exceptionally expressive as explosive bass came together with bouncy rhythms for a presentation that really swings.
"St. James Infirmary" from Satchmo Plays King Oliver [Classic Records Reissue] just saturated my room with the recording's venue and one of the most natural sounding—if a bit up-close and intimate-- soundstages I've ever experienced. Trummy Young and his trombone were ever-so-clearly standing just beyond my left speaker; Peanuts Hucko and his clarinet; just beyond my right. For a moment I thought Satchmo, himself, was standing in my room right in front of me with Mort Herbert and his bass immediately to his left. By the time "I Want A Big Butter And Egg Man" cued up the entire band had taken several large steps backwards to give me a little breathing room—thanks guys. Herbert's bass was just a touch overly ripe on this one but it was infused with life and tonality. Danny Barcelona's cymbal work on "I Ain't Got Nobody" gave the Trio's tweeters an opportunity to demonstrate their skills as they were reproduced with rare articulation and the metallic timbre of real brass. Satchmo's trumpet had beautiful tone and a completely non-aggressive bite. The bass on this recording is just slightly over-done but once again, the Trios resisted being dragged down or mired in the murk. They're just unfailingly rhythmic performers.
Conclusion
The Triangle Genèse Trio loudspeakers are very enjoyable speakers. Those with larger rooms and tastes for smaller speakers will appreciate their relatively prodigious bass output. These reasonably efficient speakers always sound larger than they are and for a lot of buyers I suspect that this will give them a leg up on much of the competition. But their virtues don't start and stop there; their musicality and midrange purity will continue to impress and if the rest of the system is up to the task, the Trios will produce a very sophisticated performance. Throw in handsome good looks and the kind of rhythmic agility that'll behoove all types of music and you have a very balanced performer that'll win a lot of hearts and minds. John Potis
Trio Loudspeaker
Retail: $2795
Triangle Electroacoustique
web address: www.triangle-fr.com