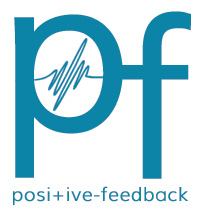 You are reading the older HTML site
Positive Feedback ISSUE
38
july/august 2008
An Analog Lover's Adventure in Digital Land
by Teresa Goodwin
Part One: My journey to high resolution Digital
Before buying my first CD player I collected only audiophile cassettes. I sold my Nakamichi 480 cassette and all 150 of my audiophile cassettes to afford the $900.00 for Sony's "perfect sound forever" machine the CD-101 in the spring of 1983. I fell for Sony's ad ...hook, line, and sinker. The magazines were saying the reason that digitally mastered LPs and Cassettes sounded so bad was because they were not pure digital and CD would fix that. Big, big lies from both Sony and the press. I sold the CDP-101 within six months as the sound was killing me; the only thing that didn't sound absolutely terrible were Telarc CDs. It was so bad I totally quit listening and collecting music for over a year!
I didn't get another cassette deck at the time but thanks to the Absolute Sound magazine and interviews with many famous anti-digital artists, engineers, and new record care products that promised to keep LPs sounding new longer, I finally ventured into Vinyl LPs seriously for the first time. I have a love/hate relationship with LPs, I love the sound but hate all the fussiness, care, and maintenance so I keep falling victim to promises of improved by makers of CD hardware.
In about 1987 got an early Yamaha player which I quickly sold because it was fatiguing although much better sounding than the Sony CDP-101. Next I got a Sony LD-210 LaserDisc/CD player for playing movies. Some LaserDiscs were fantastic especially using the stereo analog tracks. When Dolby Digital was introduced it used the right channel of the Analog Stereo tracks. So any LaserDisc with Dolby Digital only had mono for the analog tracks. I sold my LaserDisc player as Dolby Digital ruined the format for me! CDs of course sounded terrible not really any better than the Yamaha.
I swore off Digital until Reference Recordings announced they were not going to be release LPs any more. In January of 1996 I bought an Audio Alchemy Digital Drive System III transport and an Adcom GDA-700 HDCD D/A converter in order to properly decode Reference Recordings HDCDs. I liked the Reference Recordings HDCDs and discovered that a few other labels such as FIM, Linn, and Acoustic Disc also made enjoyable HDCDs. I found that Reference Recordings HDCDs were the most realistic sounding. So I listened to mostly audiophile LPs and Reference Recording HDCDs with hopes that other record labels would do HDCD right, it never happened.
Then came 24 bit 96kHz DVDs. In April 2000 with the premature death of my Audio Alchemy transport I purchased a Sony DVP-S330 DVD player that proudly proclaimed 96kHz 24 bit D/A converter on the front panel. I wanted a DVD player so I could play the 24 bit 96kHz DVDs from Chesky and Classic Records. I plugged the Sony DVD into the Adcom HDCD converter using coaxial cable but the Adcom only decoded 44.1kHz and 48kHz. I tried the 24 bit 96kHz DVDs straight through the Sony at full resolution versus down sampled to 48kHz through the Adcom. Through the Adcom they had more bass but directly through the Sony they blossomed with more air and ambiance and a delicacy I had only previously heard from analog sources. It was at that moment I was hooked on high-resolution digital. This little $350 DVD player playing 24 bit 96kHz PCM sonically outshone even my best sounding HDCD disc through Adcom's $1000 D/A converter, truly amazing! Of course regular CDs sucked either way. So now I was collecting audiophile LPs, HDCDs, and 24 bit 96kHz DVDs. If the industry had adopted this format, which everyone could play, 24 bit 96kHz DVDs would be my format of choice. But no the industry ignored it as it had no copy protection and there were afraid of releasing high quality unprotected digital to the public.
The next announcement was in 1999 about the new SACD format that was to eventually replace CDs and they were even higher resolution than the 24 bit 96kHz Digital I loved so much. The first players, however, were very expensive.
Finally in December of 2000 there was an almost affordable player. I thinned out my LP collection to raise the needed cash and purchased the Sony DVP-S9000ES SACD/DVD player for $1500. That was the most I had ever paid for a single component but like I said I was hooked on high resolution digital and in that 8 months I had purchased every 24 bit 96kHz I wanted, very few new ones were coming out. SACD was a dream come true! Here finally was a format with all the precision of digital combined with the warmth and ambiance of analog sound. It was truly amazing, I didn't think digital could be this good. To my ears the difference between Redbook CDs and SACDs was gigantic! The wonderful pure DSD Telarc's are magnificent as are many other audiophile SACDs. As I type this I am listening to the new Reference Recordings SACD "Tutti!" and it leaves the HDCD version in the sonic dust. For me SACD is LP without the surface noise and distortion, just pure beautiful, exciting sound.
I thought SACD was going to be it, it was going to replace crummy sounding CD no problem. I am still shocked it didn't replace CDs, especially when Universal Music priced most of their SACDs at the same price as the CD versions, then the RCA Living Stereo CDs were everywhere for $10 or less. I mean these all have a CD layer, there is no reason that CD didn't totally disappear. One unexpected fly in the ointment was downloading. Sony never figured this into their plans. But for those of us who prefer physical formats SACD/CD Hybrids should have completely replaced single layer CDs I believe every music lover should have an SACD player and demand their favorite recordings be released on SACD until the day that all CDs will be SACD / CD Hybrids.
My most recent player the Yamaha DVD-S1700 was purchased January 2007 and it sounds even better than the Sony DVP-S9000ES playing SACDs, it also plays DVD-Audio and my 24 bit 96kHz DVDs superbly and I found it to be quite comfortable playing Redbook CDs. Here is my original review: http://www.positive-feedback.com/Issue31/s7100.htm

Part Two: Maybe one needs a full frequency system to hear the gigantic improvement SACD brings to digital sound?
My speakers are flat to within 3dB to 45kHz, my preamp to 80kHz and my power amp to 100kHz, so I am reproducing SACDs ultrasonics up to 45kHz which makes me wonder how SACDs sound on frequency response limited systems which cannot reproduce SACDs ultrasonics?
With any high-end manufacturer making SACD players, and there are now a lot of them, the SACD playback is always superior to the CD playback. To suggest CD playback can even come close to SACD playback is ludricous.
In April 2000 I started collecting 24 bit 96kHz DAD DVDs from Chesky and Classic Records with their usable frequencies up to 44kHz. These were such a giant step in resolution from even the Reference Recordings HDCDs decoded on the Adcom HDCD converter I owned at the time. And the Reference Recordings HDCDs by contrast were miles ahead of Redbook CD in resolution.
Next came SACD. In December of the same year the recording that proved to me that even HDCD was not enough to fix Redbook CD was Claire Martin's Take My Heart (Linn AKD 137). When I compared the HDCD version to SACD the difference was so pronounced in favor of the SACD especially in the realism and projection of Claire's voice I sold my HDCD decoder on eBay and all my HDCDs.
I believed at the time that SACD would wholesale replace CD as I was sure everyone could hear the difference and want SACDs only going forward. I never believed there would be a strong backlash of CD supporters who grabbed a stronghold on Sony/Philips outdated and low resolution CD format based on the propaganda of a few high end companies who refused to pay the licensing fee to manufacture state-of-the-art SACD players.
As I have said before if there is a CD player that a listener thinks sounds good, just get the manufacturer to add SACD compatibility to it and be totally blown away! As on every single player ever manufactured SACD always, without a single exception, sounds better than low resolution CD.
My stereo system has a high frequency limit of 45kHz, the limiting factor being my EMIT tweeters that are down 3 dB at 45kHz. However 45kHz is high enough to reproduce the ultrasonics on LPs, 24 bit 96kHz DVDs and 24 bit 96kHz DVD-Audio. The frequency response of SACDs can go out to 100kHz although only a few microphones go out the far. Also DVD-Audio at 24/192 can go out to 88kHz. Someday perhaps I shall try one of those new super tweeters that goes to 100kHz. Then my limiting factor would be my tubed preamp that goes out to 80kHz.
Now to really appreciate any high resolution music on any format: SACD, DVD-Audio, or LP look for acoustic music recorded in a real live acoustic space such as a concert hall, jazz club, or church. Look for pure DSD or analog masters preferably tubed analog 2-track 15/30 IPS masters especially from "audiophile" companies. In my opinion the best SACDs are the Classical recordings from Telarc.
And not only are CDs low resolution but so are SACDs from low resolution PCM masters. No new recording should be made with anything less than 88.2kHz PCM, DSD or 2 Track 15 IPS analog. Anything less is a crime to the music.
The original Redbook CD was a high crime against music lovers and Sony should have waited at least a year for 50kHz PCM or five years for 100kHz PCM card as recommended by Soundstream in 1980 when the specs for the upcoming laser read analog format were being worked out. CD didn't have to be low resolution and I blame Sony for rushing it to market too soon. After decades I have finally gotten 44.1kHz CD playback that is not painful and to think this could have all been avoided if Sony had only waited a year for consumer lever 50kHz sampling.
In my experience with 24 bit 48kHz on both SACD and DVD-Audio the resulting sound quality is not much better than Redbook CD and nowhere near the level of the Soundstream 16 bit 50kHz on both SACD and LP. This is why I consider 50kHz PCM the absolute minimum resolution for realistic sound quality; of course 192kHz PCM, DSD, and analog are even better.
With my last essay (Issue37 downloads) I reveled how 44.1kHz 16 Bits from 192kbps MP3 files upsampled using AIFF and burned to CD-R can sound as good or better than a pressed Redbook CD. While I have got enjoyable playback sometimes with excellent sound they are still missing the sonic realism of the higher resolution SACDs and DVD-Audios.
Part Three: Why I Import CDs using Apple Lossless and no Error Correction
This part is a follow-up to "An Analog Lover's Adventure in Downloading" (Issue37 downloads) concerning uses for my MAC Mini other than downloading music files. One of my favorite modern classical compositions of the twentieth century is Johan de Meij's Symphony No. 1 The Lord of the Rings which is only available on CD. I have tried three versions and finally settled on the one with René Jolly conducting the Ensemble Vents et Percussion de Québec on Disques Atma ACD 2-2139 as the least objectionable sonically. But it still sounds digital, I even tried applying Gruv-Glide which seem to help a little. This strident sounding little CD helped me find the perfect settings in iTunes to remove as much of the CD'ness from it I could. Here is my journey:
iTunes has two uncompressed formats: AIFF and WAV and one lossless compressed format APPLE LOSSLESS. In the test I ran with the above Atma CD plus a Telarc CD and Reference Recording CD I determined all three to sound identical from the lowest to the highest frequencies, soundstaging, ambiance, and air. However I found the APPLE LOSSLESS was "warmer" and more analog sounding. Since AIFF and WAV are uncompressed music files I expected them to sound close to or identical to CD version and I believe this is so. APPLE LOSSLESS is bit-perfect and reduces files sizes almost 50% sort of the way a "zip" document files work, it compresses them on recording and expands them on playback. What I did not expect was the gain of analog warmth by using APPLE LOSSLESS, it must be a side effect but nevertheless it added the missing something 44.1kHz digital just does not have and any analog format does.
Next I imported all three CDs twice using APPLE LOSSLESS, once with error correction on and once with error correction off and burned three temporary CD-Rs and compared the sound on my Yamaha DVD-S1700 SACD/DVD-Audio player. The CD-Rs made from the imported files where I used error correction just sounded decent much like the original CD. But when I turned off the error correction on importation, magic! The CD-R copy sounded like "music" still low resolution but the emotional involvement was there.
Finally I tried two different burn speeds: 1X and Maximum Possible and I liked the sound of the CD-Rs burned at iTunes default "Maximum Possible" speed. They seemed to sound smoother, maybe it's not a good thing to give a CD burner too much time? In the analog tape world real-time duplication is vastly superior to high-speed duplication so this result seems to me totally illogical and goes against everything I believe, but I do trust my ears. I didn't try the in-between speeds as I liked the sonic results with Maximum Possible speed.
Here is how my iTunes is set up:
Streaming Buffer Size: Medium
Import using: APPLE LOSSLESS Encoder
Error correction: Off
Burning - Preferred Speed: Maximum Possible
Gap between songs: None
Crossfade Playback: Off
Sound Enhancer: Off
Sound Check: Off
I believe it is error correction as implemented in standard "pressed" CDs that kept me from enjoying CDs. Thanks to the Yamaha's smoother sound with CDs plus Apple Lossless using NO ERROR CORRECTION during importing I can now actually enjoy CDs. I still of course prefer the SACD, DVD-Audio or LP version if available but it is good to have an additional option. Plus I have back-up copies in iTunes in case anything ever happens to the CD-R.
Part Four: BitTorrent downloads and a word of caution
I didn't mention free 24 bit 96kHz high resolution downloads available using BitTorrent as I am very cautious on the Internet and refuse to use them. A BitTorrent is a peer-to-peer file sharing (P2P) communications protocol. So check these out at your own risk.
I have discovered there are media servers with displays that can be turned off overcoming one of my objections to listening to music files direct from a hard drive. Basically you use the menu display window to pick your music and then you can dim or totally darken the display once you start playing the music. There could be one of these someday in my future but for now I'll be burning "dirt cheap" CD-R's.
Happy and safe listening everyone!