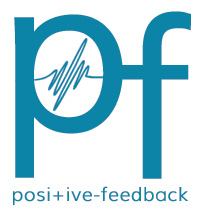 You are reading the older HTML site
Positive Feedback ISSUE
38
july/august 2008
Final Impressions: The Teac Esoteric DV-60 Universal Player - Part Two, Video and Surround Performance, with notes on the Oppo HM-31 HDMI 3-into-1 Switch
by David W. Robinson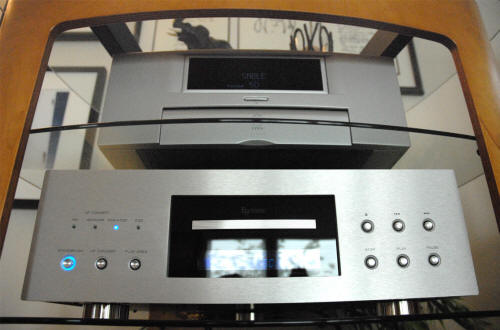 [Images and processing by Robinson, unless otherwise noted]
Time shift: back in PFO Issue 34 I gave a very favorable review of the Teac Esoteric DV-60. Its SACD and CD performance in stereo mode was commendable, and the flexibility of the native DSD processing for SACDs and PCM à DSD for CDs made it a particularly attractive universal optical format solution. The new VOSP (Vertically alighned optical stability platform) transport was stable and sure, operating without flaw during the time of the review, and the ergonomics of the remote control and front panel were exemplary. The all-important quality of the sound in stereo mode, especially when paired with the exceptional JENA Labs Model ONE power cord, was truly first-rate …and all of this came gift-wrapped at a full MSRP of USD $6000, quite a bit less than some other models in the Esoteric line.
You can understand my enthusiasm; there was an awful lot to like in the DV-60's stereo playback.
To wrap this project up, though, I decided to give the surround sound and video performance of the DV-60 a whirl. I've been using my Linn Unidisk 1.1 as my main DVD and surround player for a handful of years now (video output via component BNC à RCA adapter). It's done a very fine job, and has handled a ton of SACDs, DVDs, and even some DVD-As for me. I was therefore very curious to see how the DV-60 would stack up as a home base for video and surround playback. The Unidisk 1.1 is a tough act to follow.
True confessions: I had intended to have the second phase of my review comments done by the end of February. I was sure that I would be able to get the job done by then. Uh-huh. You know how that goes, the best-laid plans turning out as they usually do. I won't bet on that horse again…
The Setting
Shifting gears to surround sound and home theater meant moving the Teac Esoteric DV-60 downstairs to our great room, where we keep our home theater system. I pulled my trusty Linn Unidisk 1.1 out of its place, setting aside the component outputs and the six RCA audio cables for surround. In its place went the DV-60. The six audio cables went back in, but in place of the component output connections I ran the excellent DH Labs Silver Sonic HDMI cable, a 2007 Brutus Award winner (see Issue 34, ), which is HDMI 1.3a compliant, providing maximum bandwidth for latest generation audio/video I/O. (See here for more information about this cable.)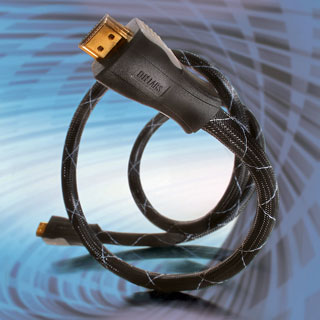 The DH Labs Silver Sonic HDMI cable [image courtesy of DH Labs]
There were two problems on the HDMI front, however. The first was that the Linn Kisto surround processor, an otherwise exceptional component, had no option for handling HDMI video I/O, or for processing audio feeds directly via HDMI. At the time the Kisto was developed, HDMI wasn't in play. This meant that I would route the sound to the Kisto (plenty of audio I/O there), but that video would have to go directly to the Panasonic Plasma.
Second problem…adding the DV-60 to the mix meant that I now had three HDMI video sources: a Panasonic DMP-BD10 Blu-Ray player (upgraded recently to firmware revision 2.4, the latest as of the date of this article), my Comcast high definition cable box and digital video recorder (DVR), and the Teac Esoteric DV-60. My new Panasonic TH-65PX600U 65" plasma TV has three HDMI inputs, but only two are in the back and out of view. The third is up front, where it would stick out like a wart on Mona Lisa. This sort of thing is becoming a big problem, too; with the proliferation of HDMI high definition devices, and a number of older HD TV sets and monitors having only one HDMI port, things are already starting to cramp up. How to get around the bottleneck?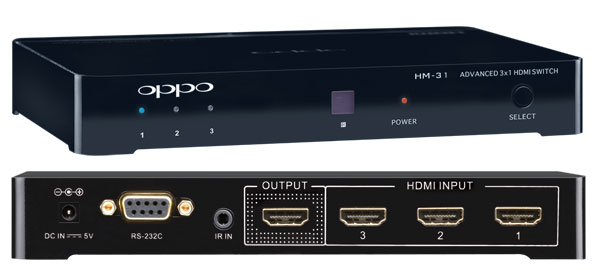 The Oppo HM-31 HDMI Switch [image courtesy of Oppo]
Fortunately, the folks at Oppo have provided an excellent and cost-effective solution, and had sent it to me for review. The Oppo HM-31 3-way HDMI switch is an HDMI 1.3-certified device that provides three high-bandwidth inputs and one high-bandwidth output, thus slicing the Gordian knot. Support for longer cables with an integrated equalizer is included, very important for those of you who have longer distances to traipse with your HDMI runs. Furthermore, the HM-31 is auto-sensing and auto-switching on its inputs, as well. Turn on an HDMI device, and the HM-31 will automatically switch to that port. If you have multiple devices live, the last port activated will be the one that it will switch to. There's also a credit-card-sized remote control, to allow manual switching of the inputs. And the fact that the HM-31 is HDMI 1.3 certified means that it will properly support 1080p, 1920 x 1200, and Deep Color. I suspect that readers who have been experimenting with SACD surround via some HDMI-equipped players and surround processors would appreciate the ability to do multi-source switching—this should get the job done.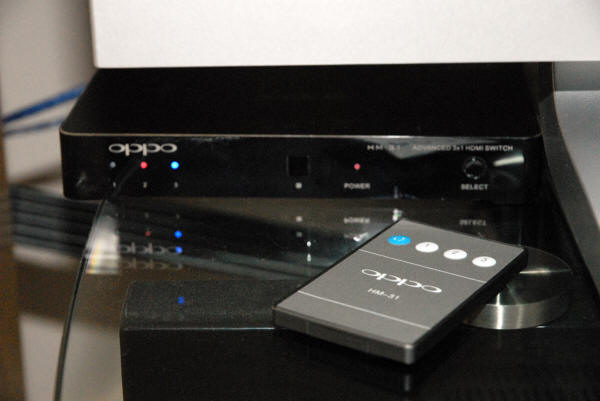 Oppo HM-31 with its remote control (foreground) for input switching
At a price of only USD $99, there's nothing to complain about on the shekel front, either. It works exactly as advertised, and has been flawless ever since its deployment months ago. Oppo really seems to be cornering the market on bang-for-the-buck products, particularly its handy universal players.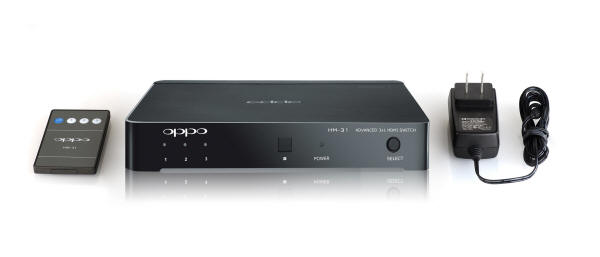 The Oppo HM-31 components [image courtesy of Oppo]
And yes, you can consider this to be an enthusiastic recommendation for Oppo and the HM-31, on the fly.
Notes on Video Setup
I covered the basics of the DV-60's transport and chipset back in my earlier review of the SACD playback, referenced at the beginning of this article. Check that for notes on the new Esoteric VOPS drive, for the I/O set, and the remote control. I won't be going back over that ground here.
The DV-60 has a very helpful manual, which made the video configuration reasonably easy. (To view the general specifications and download the .PDF of the documentation, go to http://www.teac.com.) In general, I configured the DV-60 to support a 16x9 display, which itself was already optimized for quality playback. Without going into setup minutiae, the main parameters that I used with the DV-60 are as follows:
Audio output was set to multichannel playback via the analog outputs, bypassing audio processing by the Kisto, since I had extended experience with the excellent audio playback of this design, especially with PCM sent to DSD. SACD multichannel enthusiasts (of which I am certainly one) should note that the HDMI interface on the DV-60 that I reviewed is version 1.1. This means that the DV-60 will not output multichannel SACD. I have recommended to Teac Esoteric that they upgrade the HDMI interface to version 1.3a or later; we'll see if this change is made in time.

I set the video output of the DV-60 to HDMI 1080p, naturally, to take full advantage of the video upsampling of standard DVDs provided by the Anchor Bay Technologies ABT1018 chipset, and the superior display of the Panasonic TH-65PX600U HD Plasma in 16x9. This feeds the 14-bit video-out section which uses the Analog Devices ADV7324 with its Noise Shaping Video capabilities, together with the Faroudja's I/P (Interlaced/Progressive) processor and its DCDi® functions. (DCDi® = Digital Correlation De-Interlacing, a video algorithm that smooths the jagged stair-stepping effect that video interpolation can cause; for more, see the very helpful white paper by Spears and Florian at http://www.gnss.com. Even on paper, and before viewing, this is a powerful and impressive combination of technical specifications for a video playback system. Jaggies, stair-stepping, moiré effects, and other video nasties are significantly reduced with this excellent chipset implementation.

Finally, on the recommendation of Esoteric, I re-set the HDMI mode from "Normal" to "EXP" (Expand). This engages a special proprietary black enhancement capability in the Anchor Bay Technologies upconversion chipset, which is then piped into the 14-bit processing/output section. (See page 29 in the DV-60 documentation referenced above for the procedure.) As it turns out, this is a veryy important configuration setting to make.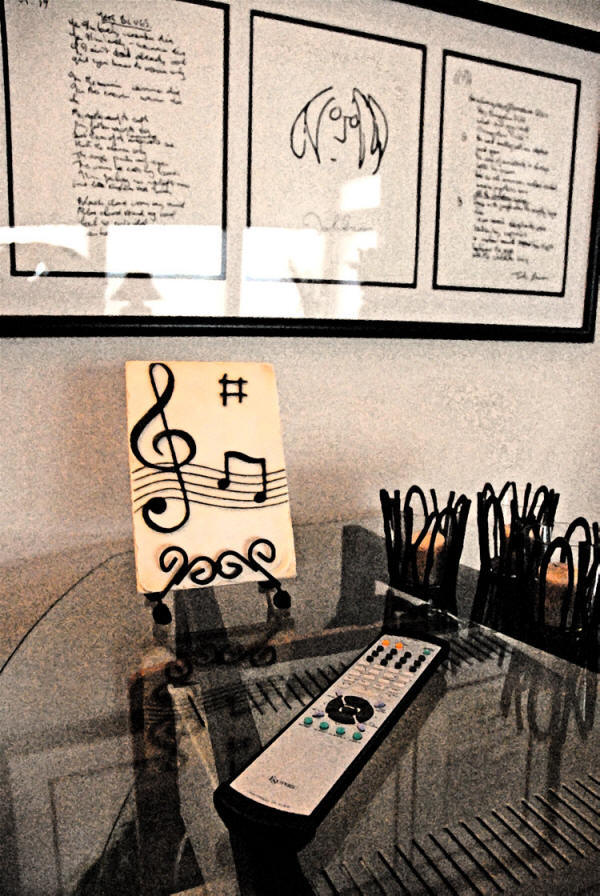 The DV-60 remote made all aspects of video/audio setup and control very easy to perform; the ergonomics are exceptional.
The setup of the DV-60's audio and video capabilities for surround sound and DVD was reasonably straightforward, and worked exactly as outlined in the documentation. Anyone with significant experience knows that this is not to be taken for granted; more than once, I've been frustrated by unclear/incomplete user manuals, or "undocumented features." Thankfully, this was not the case with the DV-60; Teac Esoteric has produced a clear and well-illustrated guide. In a relatively short time, I was connected, configured, and ready to go.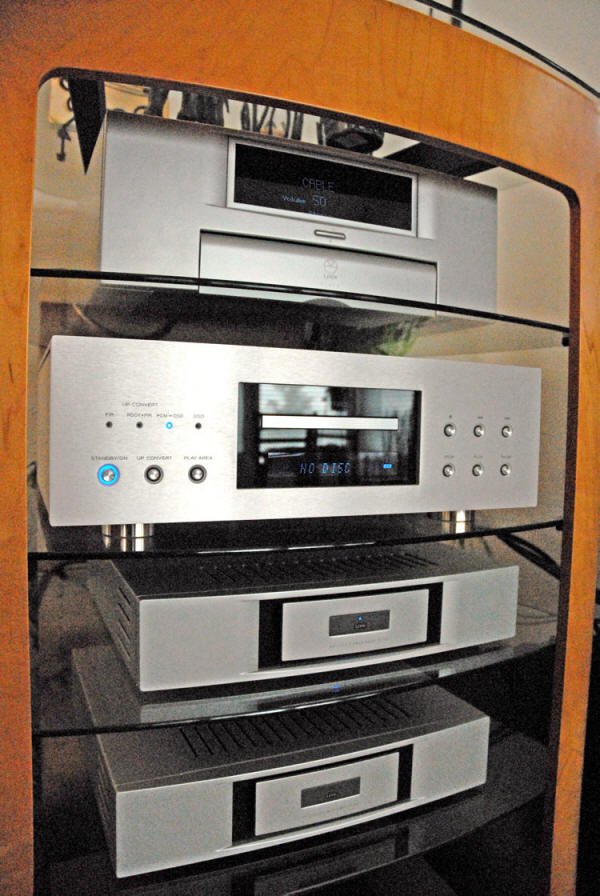 The Teac Esoteric DV-60 (second shelf down) with the Linn Kisto processor (top shelf) and a pair of the Lin 5125 5.1 amplifiers (below).
The Video and Audio Verdictss
Having completed the video setup and the HDMI cabling/switching, I fired up the Teac DV-60 and then started to run a steady diet of DVDs and SACDs in surround mode through the player. Even a select few DVD-As with surround made the trip …some good titles were issued in that format since WEA refused (foolishly in my opinion) to essay DSD/SACD.
For comparison on the DVD video I referenced my Linn Unidisk 1.1 in component output mode. My Panasonic DMP-BD10 provided Blu-Ray for higher-resolution format quality comparison at 1080p via HDMI.
Quick confession time: I have had a long-standing love affair with film, video, and home theater, with my essays in HT going all the way back into the early '80s with VHS and early cable, with the later '80s bringing laserdisc players, of which I ended up going through five or six units. Two of them are still with me …so are somewhere over 1,000 laserdiscs. My VHS has morphed into a very fine Mitsubishi D-VHS (Digital VHS, HD capable)/S-VHS player/recorder, with a separate VHS/DVD+/-R unit in my bedroom. Next to that dual unit is a brand new Sony Playstation 3, which gives me Blu-Ray and gaming, plus LAN and Internet access via hard-wired Ethernet. (Wireless Ethernet just isn't up to it yet, if you care about performance and securing your pipeline at all.) In the fullness of time (around 1998 or so), I started into DVD video. The early stuff wasn't so impressive …I got tired of many of the artifacts…but there have been some decent improvements since then. My DVD collection has grown to shelf after shelf and stacks and stacks and stacks; and now Blu-Ray titles are already approaching 100.
"The sickness! It's the sickness again, Captain!"
Anyway…let's just say that I've been enjoying home theater for quite a while now.
The folks at Esoteric were sure that I'd be impressed by the quality of the upsampled DVD video at 1080p, especially when I shifted to EXP mode. They claimed that it would move the perceived performance of DVD noticeably closer to that of HD-DVD (that now deceased and unlamented format), or even Blu-Ray. That was strong stuff; could the DV-60 deliver?
As a matter of fact, it could.
I used a number of favorite DVDs to evaluate the performance of the DV-60's video performance in both color and black and white. Among these titles were Pitch Black, The Relic, the Bourne series, Citizen Kane, The Third Man, Vertigo, a number of science fiction flicks from the '50s (e.g., Forbidden Planet, The Day the Earth Stood Still, plus many of the lesser titles), Errol Flynn's Robin Hood, Bullit, Judgment at Nuremburg, several different versions of Dune, including the recent mini-series…the list goes on and on for many dozens of entries, and is presented in no particular order. (I'd have to be retired and have little else to do to go deeply into all the reasons why I would put titles like these on my reference list. Serious home theater enthusiasts and film lovers will know their worth.) In every case, I was looking to see how the DV-60's claimed enhancements stacked up in my experience.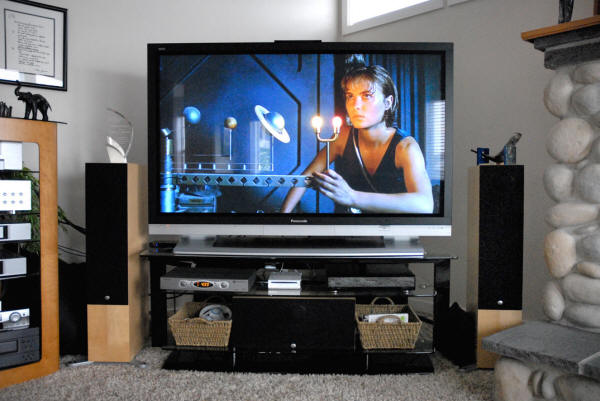 Some films push the edge of video color performance at the high energy end of the scale, both for video and for audio. For example, Pitch Black's opening crash sequence is incredibly dynamic, with an incredible soundtrack and brilliant blasting hot yellows and whites. The desert sequences almost make you wince and test the ability of a DVD player to render glare convincingly …and then the plunge past blue-white into darkness after the setting of the alien suns tax a player at the other end of the spectrum. The DV-60 handled both ends so well that I very nearly stood and cheered; it was the best that I'd seen, and certainly bettered my previous yardstick, the Unidisk 1.1.
On the other hand, The Relic spends most of its time in subdued settings, shading off into reddish-black. In fact, the amount of deep black and red is very hard for any player/monitor to render without tempting the viewer to crank up the brightness to the point of nonsense. A good friend of mine once came over to watch this movie, which I had on widescreen laserdisc, via my Theta Data III (component output) and my old rear-projection Toshiba first generation HD set. At the end of the film, he looked and me and said, "Clear as mud." It was too dim, I'll admit …but the set had been carefully calibrated with the Video Reference Disc (laserdisc version), and was "correct."
It just wasn't satisfying.
But The Relic on the DV-60 via HDMI to the new Panasonic 65" Plasma was a revelation. The blacks were deeper than ever, but there were more gradations of black, allowing black to be black, but opening up the shadows and allowing me to see details that had been buried before. Furthermore, the reds weren't noisy; they didn't generate the kind of video fuzziness/flare that I've seen on less resolving players.
I have a deep love for great black and white movies, but have been bothered for years by moiré patterns and the kind of "colored" rendition that complex plaids, for example, can cause in black and white playback. There was no problem with the DV-60/Panasonic combination, however; every black and white DVD that I viewed shed those sorts of video nasties. The gray scale seemed quite extended over prior systems that I've viewed, from blackest black to whitest white. The EXP mode that Teac Esoteric recommended did seem to deepen the foundational black, increasing the contrast range quite nicely. Whether I was watching Citizen Kane or Perry Mason, the rendition of black and white was exceptionally smooth and extended…and no more distracting moiré on Paul Drake's jackets!
Another significant blessing with the DV-60 was its freedom from the worst of the video blocking, pixelization, and motion artifacts that I've seen in so many other sources. The combination of excellent video upsampling to 1080p, 14-bit video processing, the handling of aliasing, and the more capable HDMI standard, all seemed to contribute to an exceptional improvement in standard DVD video performance. Video blocking is an inherent problem with compressed video sources, particularly in extensive sections of smooth color of very similar values. You'll see it on walls, panels or doors if you've got a static shot that allows those values to sit in one place for a while: a kind of flickering blocking of values, so that a wall or a door doesn't look smooth in texture, but instead looks like a series of flickering blocks. Once you notice it, it's very annoying…sorry if I've just spoiled your viewing life.
And motion artifacts: these were the bane of early DVD. Every time there was rapid panning in a shot, squarish blocking of pixels would break out all over the image, as the image processing in your typical DVD player croaked over processing the data stream properly. This is one area in which well-mastered laserdiscs did a much better job overall; they kept the look much more analogical. Overall, while the DV-60 wasn't able to completely eliminate the limitations that are inherent to the DVD video standard, I'd say that the DV-60 reduced blocking, pixelization, and motion artifacts more than any other DVD player I've used.
I should say in passing that the folks at Teac Esoteric mentioned that they believed the DV-60, configured as they recommended, would be "very close" to Blu-Ray level quality when playing back DVD video through its chipsets. Is this hype, wishing thinking, or was it an accurate prediction? Based on what I saw over many months, I've concluded that Esoteric's claim is not hype; my DVDs have never looked better, and the best of them really narrowed the gap with Blu-Ray. That's not to say that they equaled Blu-Ray, which is an absurd claim in my book …anyone who says that must leave his or her credibility at my doorstep …but the degree of DVD video playback improvement with the DV-60 is highly gratifying, and will definitely increase your viewing pleasure with your DVDs, even if you are (as I am) a very demanding audience. Ultimately, only Blu-Ray with its 1080p standard and new lossless audio standards really take the game to the next level on the best monitors…but I really would like to get some more use out of my DVDs, eh?
On the audio side, the surround sound performance of the DV-60 with DVD videos, SACDs, and DVD-As was simply superb. All SACDs run in native DSD mode, which sounded natural and relaxed…no surprise, since the sonic quality of the DV-60 was well known to me from my extensive stereo experience with the unit. But the addition of the full surround soundfield with such excellence of rendition made the DV-60 a real step up from even such a fine performer as the Linn Unidisk 1.1. I also listened to a number of DVD-A's in surround mode, with their PCM playback routed to the PCM → DSD mode of the DV-60, which I prefer for PCM sources. The results made these discs much more pleasurable to me…a good thing, since I happen to have a great affection for the work of artists like R.E.M., David Crosby and Graham Nash, and Aaron Neville. Too bad that the WEA music catalog never made it to SACD…"The horror! The horror!"…but the DVD-A's are rendered much more palatable in surround mode via the DV-60, I'm pleased to say.
DVD video soundtracks sounded better than I've heard them with the DV-60. I'm no friend of compressed audio or video…Dolby Digital is a sadly deficient audio standard…and so I made sure to listen to all DVD video soundtracks through 5.1 analog feeds directly from the Teac unit, avoiding an S/PDIF feed for 5.1 digital to the Linn Kisto for processing. The DV-60 does a fine job with the conversion to 5.1, and the sound was better than anything the Kisto can do with the benighted DD 5.1 feed. Listening to music videos like the new Foo Fighters live and unplugged DVD was a terrific experience with the DV-60, and reminded me again as to why music videos have become so popular. Why wouldn't they be, when they sound this good?
Every aspect of the audio performance of the DV-60 in surround mode is sterling; this is the real thing for lovers of surround sound.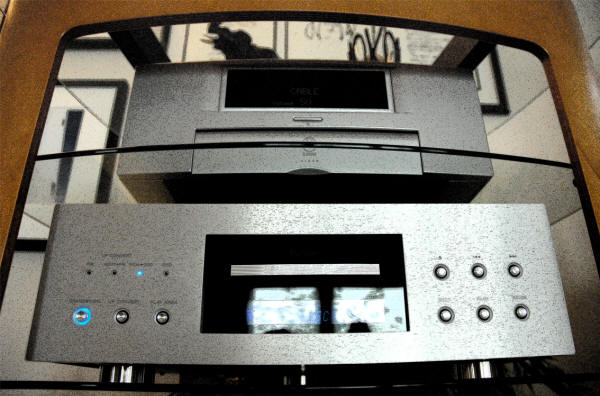 Conclusion
"Blow me down!" said Popeye—and so do I about the Teac Esoteric DV-60.
Over the past year, I've lived with this superb universal player, and have gotten to try it with just about everything you could feed it on an optical disc. It has been flawless in operation, is impeccable in ergonomics and fittings, and is glorious for both video and audio playback. In every test, the DV-60 passed with flying colors, and impressed not only myself, but also every visitor that I've had in my listening room and home theater room with its unusual collection of virtues. When paired with a JENA Labs Model ONE power cord, it rose to the top tier of SACD stereo players, with very fine CD playback as well; when placed into a demanding home theater setting, it pulled ahead of my previous standard, the Linn Unidisk 1.1, for both DVD video and audio surround playback. And the Unidisk 1.1 was no slouch.
So far as I can tell, there's only one drawback to the DV-60, and that's the fact that its HDMI interface at this time is version 1.1. Potential purchasers who are looking for multi-channel SACD or Dolby TruHD over HDMI, requiring HDMI 1.3 (remember that this also requires a surround processor or amp with HDMI 1.3 ports and support), will either have to continue to run in Dolby Digital 5.1, or will have to look elsewhere if they prefer the lossless TruHD. I have strongly recommended to Teac Esoteric that they update the DV-60 for this next step in audio playback standards…lossless beats lossy every time …and hope that they will act on my comments in the near future. We'll see.
Otherwise, this superlative universal player, with its moderate price tag of USD $6000, is an absolute steal for the serious audiophile/videophile. The combination of quality and value is remarkable, in my book, and it's certainly the finest and most flexible universal player I've ever encountered. Until I see something better, the Teac Esoteric DV-60 is my new reference standard in multi-format playback. It's an exceptional design, done by one of the best names in fine audio, and should bring years of audio and video delight into your life. It has definitely done so for me.
If you're in the market for a universal player, amigos, this is the one.
I therefore award the Teac Esoteric DV-60 a "Ye Olde Editor's Highest Recommendation!" with real enthusiasm.
Teac Esoteric USA
web address: http://www.teac.com/esoteric
email address: esoteric_info@teac.com