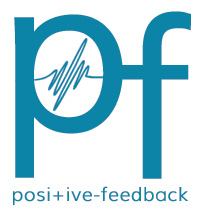 You are reading the older HTML site
Positive Feedback ISSUE
38
july/august 2008
Premiere Recording: Helene, A One Act Opera by Camille Saint-Saens, plus Nuit Persane, Orchestra Victoria Conducted by Guillaume Tournaire,
by Robert H. Levi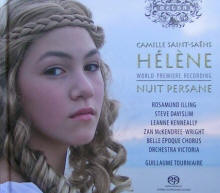 Melba Records MR301114-2, SACD Hybrid
Written for Diva Dame Nellie Melba the namesake of Melba Recordings and premiered in 1904, this melodious and deliciously romantic one act opera is a Saint-Saens gem! It is an homage to love, feminine beauty, desire, and all things exotic in ancient Greece. How wonderful it is that Melba has restored this operatic feast to us once again.
Saint-Saen wrote 14 operas and few are performed today. Helene was not a big success though it received much notice with Nellie Melba in the title role. When it debuted, settings of ancient Greece weren't hot right then …and verisimo was all the rage. That does not change the fact that the music is sumptuous and melodic and very sophisticated. Saens-Saen was in top form and you will be stunned by the richness of the score and the lovely singing.
The star struck lovers of Helene and Paris are sung by beautiful young soprano Rosamund Illing and tenor Steve Davislim. Both sing with youthful sweetness and confidence. Illing has quite a big voice, but manages to finesse the notes like a lyric soprano. I fell in love just listening to her. Davislim reminds me of the late Jerry Hadley.
He offers true expression and ardor in his voice with much sweetness and delicacy. It is conducted by a brilliant young French conductor, Guillaume Tournaire, who has Saint-Saens perfectly in his musical sights. He is quite agile and maintains an exciting tempo.
The opera comes with a 100 page color booklet with tons of notes, information, and complete libretti nicely illustrated. The choral singing is magical and angelic. The Belle Epoque Chorus is always on key and very precise ala Robert Shaw. Supporting vocals by Zan McKendree-Wright and Leanne Kenneally were sensational and dynamic. I have never heard this opera before and this top cast takes it from obscurity to a war horse.
The recording offers SACD Surround, SACD Stereo, and CD Stereo. The notes indicate the use of the Sadie H64 work station, but that's that. Recorded in 2007 at South Melbourne Town Hall, Producers include Maria Vandamme and Ian Perry plus Engineer Phil Roland. I do not have SACD Surround available so I listened in SACD Stereo and CD. I used three different reference players and preferred the CD layer most of the time. The SACD layer was chock full of extra ambience that swam around the vocals like Harry Potter fog effects and made images fuzzy. The SACD depth perspective for the singers was also a bit too distant. The CD layer was consistently more intimate and realistic if slightly less detailed. CD instrumental tambors were much closer to analog as well. The venue was quite live and this probably enhances the surround sound…you can be the judge. Overall, this is a solid recording effort and very enjoyable, my nit picking and all.
The second offering premiered in 1897 and is a sumptuous orchestration of a decadent Armand Renaud poem. Nuit Persanne is divided into four parts and includes harem visitations, loves tribulations, an amazing dream, with all finally lost in the passion of the whirling dervishes. It's very, very exotic even for Saint-Saens though musically delightful with very sexy dialogue. I enjoyed this tone poem immensely.
The recording of Nuit Persanne is a cut above Helene. Less hall ambience and closer mic'ing gives the listener a more realistic perspective. The vocals have more warmth and body and the violins more sweetness. This is recorded, subjectively, more center hall perspective versus rear of hall perspective for Helene. It was more involving for me. Again, I still ended up preferring the CD layer a bit more than the SACD layer for Nuit.
Melba Recordings has come to our rescue and brought us rare Saint-Saens masterpieces and glorious performances yielding sheer musical pleasure. The unearthing of Helene and the tone poem Nuit Persanne are true delights for the ears. They combine superb singing and conducting from start to finish. If you have a love for Saint-Saens like me, these are a must own. Recorded in three formats, one is sure to ring your bell. Well done Melba Recordings and highly recommended.
Helene: Performance A Recording B+
Nuit Persanne: Performance A Recording A-