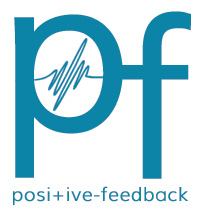 You are reading the older HTML site
Positive Feedback ISSUE
38
july/august 2008
Mendelssohn Complete Concertos
by Robert H. Levi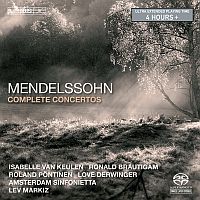 BIS-SACD-1766. Amsterdam Sinfonietta, Lev Markiz Conductor
Here's another shocking music review. This single, one sided SACD only silver disk, contains 8 Violin and Piano Concertos plus three show pieces for piano and orchestra and lasts 4 hours, 15 minutes, and 55 seconds! That's right. Over four hours of gorgeous music on one single SACD disk. Plus, you pay the price of only one SACD disk! This appears to be the companion disk to the earlier Mendelssohn String Symphonies I reviewed last month.
BIS explains that providing only two channel SACD you have room for all this great music. It was originally released on four CDs! They transferred all this PCM music to DSD and loaded it uncompressed onto an SACD disk. Once again, thank you BIS! Thank you EastWind Import www.eastwindimport.com for bringing BIS to America and stocking both super long releases!
Mendelssohn wrote these incredible violin and piano concertos when he was in peak creative form. The only downside is the soloists are virtual unknowns on these shores though fully up to their charge. They play with lots of energy and expression. It was a delight to hear an original interpretation here and there that was unexpected. What fun!
This BIS disk is the perfect way to get Mendelssohn's finest melodies and enjoy them without ever getting up to change disks for over 4 hours. I was entranced.
Sonically, I have no real criticisms as I enjoyed the sound quality as much as I did with the first edition. The recordings are all modern and were made between 1994-98. The violins are smooth, elegant, and realistic on my ModWright Sony 9100 SACD with tube power supply. Sound staging and imaging are spot on. I hear no digital graininess or crispness. There's no hint of compression and attack/decay is also quite natural. The BIS recordings are very natural and warm, very analog like overall. Plus you can just relax and listen for an entire afternoon for the cost of one disk. Forget iTunes, buy this!
Assuming you have a quality SACD playback machine, go on line and order this four plus hour BIS disk today. They are both in stock at EastWind. It contains the music of a truly great genius at his best. What a fantastic value! Attention Sony, BMG, EMI, Telarc, DG, et. al., offer value like BIS and you'll jump start the business again!
Performance A
Sonics A