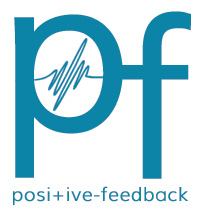 You are reading the older HTML site
Positive Feedback ISSUE
39
september/october 2008
Notes of an Amateur - October, 2008, Part 3
by Bob Neill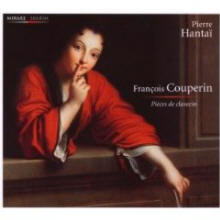 François Couperin, Piéces de Clavecin. Pierre Hantaï. Mirare MIR 027
Getting French baroque keyboard music right begins with getting the trills—the grace notes—right, especially Couperin. Getting the trills right means getting them to sound like an integral part of the note upon which they are intended to lend… well, grace. Rather than as an adornment, which invariably comes across as an affectation. Trills are the vibrato of a plucked keyboard, designed to give the note more extension. Pierre Hantaï, one of the world's finest harpsichord players, gets the trills right. He gets them so right I didn't even notice at first why his Couperin sounds so good.
The other things that distinguishes Hantaï's Couperin is his 'style.' He is strong, direct, clear, and crisp with a steady pace—the opposite of one might expect from a French musician. His Couperin leans toward Bach in this performing style. The obvious contrast is Canadian Kenneth Gilbert, whose Bach sounds French! Gilbert's Couperin is less forceful, more lyrical, more deliberate and ruminative; and Gilbert also gets the trills right. (His recordings on Harmonia Mundi may be hard to find these days.)
Whose interpretation of this great keyboard composer you prefer will be more about who you are than about the musicians or the composer. Both treat Couperin as Bach's equal as a composer for the keyboard, which he surely is. If you don't know this music, you have a treasure trove to explore. I have heard there is a complete Hantaï in the works.
The Mirare recording is state of the art digital: all of the harpsichord is here. Turn the volume down and relish it.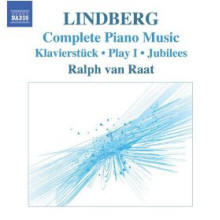 Lindberg, Complete Piano Music. Ralph van Raat, piano. Naxos 8.570542.
Contemporary modernism (or late modernism or post-modernism—we can call it what we like so long as we understand by the terms an extension of the new music of the early twentieth century (Stravinsky, Bartok, Shostakovich) rather than a reaction to it) is heavily represented by Finnish composers. One of the most striking and lauded is Magnus Lindberg, who along with Kaija Saariaho is probably the 'furthest out.' Out beyond where most of us, even the most curious, music lovers live. Lindberg's modernism is of the European variety—read Pierre Boulez. His music for solo piano reminded me, at first, of the playful, abstract paintings of Paul Klee, but it got past that fast.
1
In the earlier music represented on this album (1976-78), Lindberg makes a point of using space (silence) as an element of expression. Once we see what it's up to with that, it is actually quite effective. We could mistake this music for minimalism, but we would be wrong. It is far more moving than that. I found what I had to do was just let him have his way with me if he could. And he did. I can feel that pianist van Raat is key to the success of this recording. Playing this music without understanding what it is would turn it into junk. How to describe it? Clear black brushed images on white rice paper: curls, short wavy lines, dots? Water falling in drips and groups of drops, some large, some very small into a silent black pond? This sounds New Agey as hell, I know, but this music is not at all New Agey, not music that wanders about aimlessly while you do something else. It is… Far Eastern…stripped to its aesthetic essence?
2
By the time we get to 1979 and a longish work called Play I, there are more notes on the page – now we have a sense of musical narrative, albeit still fairly abstract. It's the same musical world but it is filled in a bit! This is more like dance—something Twyla Tharp could choreograph with enthusiasm. The music swings, darks about, jumps, thrusts, swirls.
There is a lot of contemporary music in the world that behaves like this that I find pretentious and unlistenable. This delights me. What is the difference? I don't know, anymore than I know why some artists have the gift and others don't. They know the difference and we can hear it, if we will. Some of this music is written for two pianos and Maarten van Veen strikes me as with the music as van Raat is, insofar as I can distinguish them. Stereo helps!
3
Jubilees (2000) takes several more steps toward continuous narrative—it could almost be a long improvisation by Keith Jarrett. Not jazz but looking at it, as he sometimes does. It makes me feel—working my way to it from the earlier works—that the early pieces really have this more cohesive and continuous music in sight from the beginning. Programming this album chronologically is fascinating. Van Raat, who writes the program notes, hears Scriabin and Debussy in Jubilees and the even more contemporary Etudes (2001, 2004), where I hear Jarrett, which probably means that I hear the early, more abstract works, in my head when I listen to the later material. And van Raat concedes that there is more continuity in Lindberg's oeuvre than some will notice.
That said, you will do this composer a disservice if you listen to the entirety of the album at a sitting. Take your time with it and let each work weaves its own particular spell, which it will. Your aural memory will connect the early music to the later if you ask it to.
A jewel of an album and an eloquent introduction to one of the modern music world's most compelling composers.
Note: The Finnish label Ondine, has released a fascinating and rich collection, A Century of Finnish Chamber Music, which features composers from the generation of Silbelius on up through the present: Merikanto, Englund, Kokkonen, Rautavaara, Sallinen, Saarhiaho, Kaipainen, Lindberg, and many others. I am working my way thorough it (six discs) and having a wonderful time.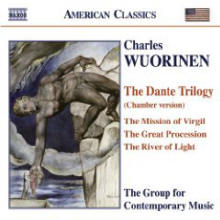 Charles Wuorinen, The Dante Trilogy . The Group for Contemporary Music, Oliver Knussen, conductor. Naxos 8.559345
Charles Wuorinen, in my modernism-loving opinion, is at least the equal of the more highly esteemed Elliot Carter (whom I also admire) and generally a lot more fun. So I am especially grateful to Naxos, both for rescuing his earlier recordings from the files of (defunct?) Koch International Classics (as they have rescued other modern Americans from the back list of Delos); and for issuing new ones. This recording combines a previously released work with its two sequels.
Do not be put off (or attracted) by the title of the album. It may well mean something to Wuorinen and Wuroinen scholars (as the program notes set out to explain); but to my ears (which are attached to eyes and a brain which have read Dante), it is irrelevant. This is spirited high modernism, inspired by a lot of other modernism (Stravinsky, Shostakovich in his merry moments) and also jazz. The first work is for solo piano, the second for a sextet of winds and strings, and the third for 13 instruments, including a piano, harp, and celesta. So the instrumental texture grows more complex as we progress through the program, but the rollicking spirit stays constant.
This is a far cry from Lindberg but the twentieth century is already a long time ago.
Systems used for this audition: Audio Note CDT3 transport and Dac 4.1 Balanced Signature, Blue Circle FtTH integrated amplifier, BC3000 II/GZpz preamplifier and BC204 hybrid stereo amplifier, new Jean Marie Reynaud Offrande Supreme stand-mount speakers. With Blue Circle BC6000 line conditioner. Audio Note Sogon and AN-Vx interconnects and Lexus speaker cable.
Bob Neill, in addition to being an occasional equipment and regular music reviewer for Positive- Feedback Online, is also proprietor of Amherst Audio in Amherst, Massachusetts, which sells equipment from Audio Note, Blue Circle, and JM Reynaud, among others.