Many of you may have seen or, better yet, had an opportunity to hear, the remarkable Audience adeptResponse 12, the $4100, 12-socket, line conditioner from Audience. Mine arrived in mid-January 2005, and in absolute honesty, it is simply the most effective device of its kind I have ever experienced. In fact, it was so very good that it earned my Writer's Choice award for 2005.
The original aR-12 uses only the finest in conducting, filtering, and transient suppression components. Even the power switch is something exceptional, and is, in fact, not a switch at all; it is instead a very high quality magnetic circuit breaker. The choice to use a magnetic rather than the more conventional thermal circuit breaker was based on the understanding that resistance in a thermal breaker increases as power demand increases. This would cause heat dependent, resistive modulation of the incoming voltage, effectively reducing the power available to your equipment at the precise times you need it most.
The state of the art inductive components used contribute no significant series resistance, maintaining a low impedance power path to your playback system. Audience provides measurements to support this claim. The aR-12 also performs a partial power factor correction, helping restore natural dynamics by bringing the AC voltage and current into a better phase relationship, furthering yet more efficient transfer of power.
Each of its 12 high-grade IEC outlets is first individually filtered, and then double filtered from every other outlet in the device, providing for maximum component-to-component isolation. This highly effective isolation allows you to power your entire audio or video system from the same conditioning device, including everything from digital components and phonograph preamplifiers to your power amplifiers.
However, as good as the original aR-12 is (it is truly exceptional), the gang at Audience just wasn't content at leaving well enough alone. Enter the nearly twice-as-expensive ($8000) adeptResponse 12-T. What's the diff'? The ONLY difference 'tween the two is that the internal capacitive components are fabricated from Teflon®. Yes, that is it.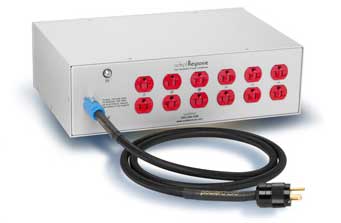 Yet, to hear the two, both broken in (give it some 400 hours plus), and one immediately after the other as I have been privileged to do, you might be tempted to think that someone was playing some elaborate trick, there is THAT significant a difference between the two.
First, the aR-12 T (to denote the Teflon® components) is even quieter, allowing for the formation of darker backgrounds and the rendering of more vibrant, lifelike images, all with cleaner edges and spectacularly realistic depth and width. You are treated to layer upon layer of intricate detail, all with NO glare or edge, unless it should exist in another component or the recording under examination. Be warned, you will hear the true voice of your system with the aR-12 T in place.
Music is released with even greater dynamic contrast (both macro and especially micro), abounding with complete harmonic structure, affording more enunciate pitch definition and more fully realized and complexly textured overtones. Timbre is overwhelmingly honest, simply blustering with life, rich in detail, and full of harmonic bloom. The entire musical spectrum is recreated with an inescapable sense of ease and warmth, a delicate coherence, a lucid dimensionality, a tangible presence, a wholeness of texture and a spooky immediacy that is so evocative of the live event that I consistently found myself wondering how such an unassuming change in component composition could be so remarkably significant.
The sonic results of the two sibling aR-12s are not even close. Where the original raised the bar and set a very serious standard, the Audience aR-12 T creates an entirely new benchmark. If I were to try to describe the result of installing the Audience aR-12 T in just a single word, that word would have to be transparency. Not the faux transparency that some less experienced listeners may think that they perceive when confronted with a system that somehow accentuates or elevates HF definition. No, this is true transparency; the kind associated with resolving inner detail, fleshing out the subtlest of nuanced inflection, of listening thought the electro-mechanical system back to the recorded event.
While $8000 is not "cheap" by any measure, the degree of elevation in transparency and musical relevance the Audience aR-12 T affords in my reference system (roughly $135,000 MSRP) is, in a word, unparalleled. I've been in and around this hobby/sport/disease we call fine audio since 1969, and I can tell you that I have never experienced anywhere near such a remarkable leap forward in transparency by the addition of any single component, or group of components, in that entire time.
The Audience aR-12 T is a landmark product, one that I can assure you that you will be hearing much more about, and soon. Further, in my experience, this degree of overall system improvement simply cannot be achieved with ANY other individual investment, regardless of the amount—$8000 or $80000. In fact, I am convinced that it would take spending something on the order of half again what I have invested in my current system to even approach the level of performance the new aR-12 T offers me currently, and it would need to be achieved by upgrading each individual component in the system. By that criteria, and given its subsequent degree of accomplishment, the Audience aR-12 T is a MUSICAL STEAL. Most enthusiastically recommended if you REALLY want to hear what is in your recordings. Greg Weaver
adeptResponse 12T
Retail: $8000
Audience
web address: www.audience-av.com