About ten years ago, I called one of the biggest hi-fi dealers on the east coast to see if I could buy—of all things—a new turntable. "A turntable, huh?" replied the voice on the other end of my massive 1990s-era cell phone. "Geez, buddy, I haven't sold a turntable in years. I don't even know who to recommend that you call." I just checked that same dealer's website and they now carry not only VPI, Basis and McIntosh turntables, but also Grado, Benz Micro and even Koetsu cartridges. How things have changed.
Never one to get left behind, Danish cartridge manufacturer Ortofon has recently revamped its moving magnet range to reflect the latest trends in turntable design. The completely new 2M series is designed for the modern marketplace, where entry-level sources (and amplifiers and speakers) are more resolving then ever before, and medium-mass tonearms have become the norm rather than a curious exception known only to the high-end buyer.
The 2M series is available in four different iterations, which are divided into two tiers. The 2M Red ($99) and Blue ($199) share the same plastic cartridge body and engine, but where the Red uses a standard elipitical stylus, the Blue employs a polished, nude elipitcal diamond. The second tier is comprised of the Bronze ($389) and Black ($669), which share an advanced Noryl/glass composite body and a more sophisticated engine. The Bronze sports a nude fine-line diamond, while the Black has a top-of-the-line Shibata profile. Both the Bronze and Black also use silver-plated wire internally instead of copper. Styli are interchangeable within both tiers, so the buyer of a Red can cost-effectively upgrade to Blue for only the price of the stylus unit. Ditto with the Bronze and Black.
Ortofon supplied me with the $199 2M Blue for this review and I liked it before it ever touched a record. First of all, it's a great-looking design, smartly executed. All of those straight lines on the cartridge body aid in the alignment process, and the angular, wide body means less fumbling when affixing it to the headshell. Threaded holes are a pleasant surprise at this price point, eliminating the need for nuts and further simplifying installation. I had the Blue installed and "roughed in" within 10 minutes. It tracked fine at the recommended 1.8g.
I have only two complaints: one, my review sample came with only one set of rather short screws; owners of thicker headshells could be SOL. Two, the removable stylus guard is awkward to use. The release is at the very back of the cartridge and it comes off at an awkward angle, and affixing it after the cartridge is mounted requires a deft touch to avoid snuffing the cantilever. I didn't use it.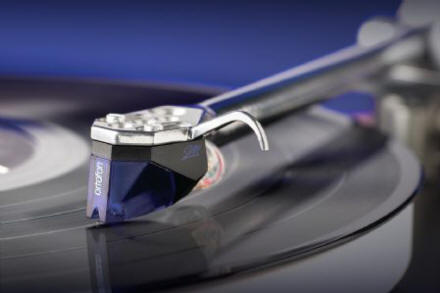 The first side of Elvis Costello's new Momofuku (Lost Highway 001110901) sounded a little rough and gritty but by side two, the Blue was hitting it stride. By the end of the second record, the cartridge was well on its way to breaking in. After 20 hours or so, it was a blissful musical companion that I only fully appreciated after a few months of listening. That's because nothing jumped out at me immediately in terms of specific strengths or faults. This isn't a showy cartridge that knocks your socks off at first listen, but later on has you itching for an upgrade. It's just solidly, unpretentiously good.
In terms of character, the Blue doesn't scream "moving magnet" the way some others do. There's nothing particularly warm or romantic about the sound, nor is there much hint of the easygoing nature that marked popular moving magnets of the past. This cartridge really goes after the music, warts and all. Matched to the wrong components downstream it could potentially be a trying listen, but by the same token, you'd have to go out of your way to assemble such a system.
What impressed me most with the Blue was the way it handled individual instruments. On most records, each one retained a unique and distinct timbre. It also managed to place them properly within the soundstage, and with correct scale. It didn't break a sweat with any folk or light rock so I broke out Nine Inch Nails' "Things Falling Apart" (Nothing B00005087X) which is packed with gut-wrenching beats, fuzzy guitars and slam after slam of the drum machine. I'd be lying if I said I enjoyed listening to this record but it does serve a purpose. In this case, it proved the Blue's mettle in terms of remaining cool and resolving under fire.
Orchestral music doesn't fluster the Blue, either. Glockenspiels slash through the mix and bass drums have proper dramatic impact on Carmina Burana (Columbia Quadrophonic MQ 33172) yet pianos and woodwinds retain their delicacy. The 2M Blue also shows remarkable finesse at the frequency extremes, which are neither as extended nor layered as more expensive cartridges, but at least they are there and highly listenable. Many other cartridges simply omit the tough stuff altogether.
Even in a dense cluster of instruments, the Blue remained discriminating and insightful. It didn't track the most heavily modulated passages as well as the best, but that's what the more expensive Bronze and Black models are for. Pay more, get more. Still, this is as unshakable a cartridge as you can buy for under $200.
It was only when I started swapping cartridges that the Blue's talents became fully apparent. Compared to the identically priced Audio-Technica 440MLa, the Blue delivers more refinement at the top end. Both cartridges offer unusually detailed highs for the money. The difference is, the 440MLa can be distractingly bright whereas the 2M Blue simply seems to resolve more detail at the upper registers. It's silkier yet no less informative with a weightier overall sound and more substantial bass. In fact, the Blue reproduces bass with a quantity and quality that I would not have expected.
The $180 Denon DL-160, a high-output moving coil, has long been my reference at this price point, and it remains a sentimental favorite thanks to its big (some might say larger than life) soundstage, crystal clear midband, superb detail retrieval and excellent transient response. Yet here comes the 2M Blue and it challenges the DL-160 point by point. While the DL-160 is more delicate and transparent, the Blue offers a midband that's richer and with more presence, especially on vocals. It doesn't quite have the Denon's Cinemascope soundstage, but by the same token, it's plenty wide and deep and probably closer to accurate. Its ability to handle transients also doesn't quite match the Denon's, but the tradeoff is more inner detail. It also delivers deeper bass that's every bit as orderly and defined.
Originally, given the low price point, I thought the 2M Blue might be a great upgrade for owners of older mass-market turntables. Fat chance. The 2M Blue reveals their shortcomings with the ruthlessness of cartridges costing far more. It sounded choppy and strident on two eBay clunkers that have been gathering dust in my closet. Not surprisingly, it got on well with my Sony PS-X600 thanks in large part to its sophisticated Biotracer tonearm. It performed best on a Rega Planar 3, where the overachieving RB300 tonearm squeezed every last drop of performance. No other moving magnet cartridge I've ever heard in this price range delivers more—and I've heard just about everything.
Ortofon's 2M Blue catapults moving magnet performance into the modern era. It delivers the high resolution audiophiles expect from cartridges at any price, and does so with remarkable affordability. Like any revealing component, it requires special attention to setup and system matching, but it rewards those efforts in spades. If you're looking for a warm and relaxed cartridge, look elsewhere. If, on the other hand, you're in the market for insightful state-of-the-art performance and moving magnet flexibility on a budget, I can't imagine a more attractive package for around $200. Highly recommended—a bargain. Ed Kobesky
2M Blue cartridge
Retail: $200
Ortofon
web address: www.ortofon2m.com