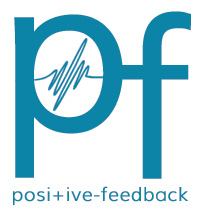 You are reading the older HTML site
Positive Feedback ISSUE
39
september/october 2008
How I Spent my Summer Vacation
by Francisco Duran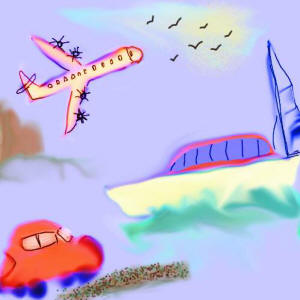 The summer was long, my day job was getting to me, and the home were wearing us thin. So a well deserved vacation was in order. Planes, trains, and big huge cruise ships were out of the question for us this year, especially after the local hardware store took a good hunk of our hard earned pay. So up the California coast we drove leaving our beloved Los Angeles for greener pastures; our family decided on a road trip to Monterey, California. Actually settling down in a beach front hotel in Monterey Bay was my idea of an excellent time. The added bonus of being greeted by dolphins, sea lions, and surfers in wet suits for breakfast right out of your hotel window confirmed our decision that we were in the right spot for some serious relaxation. But after cruising Cannery Row a few times, taking more pictures of the 17-mile drive than Associated Press, and people watching on the Santa Cruz boardwalk, something was missing.
Besides having a great set of ears, we audio nuts are a sharp eyed lot. Driving back to our hotel after dinner in Cannery Row on the first night of our vacation I spied none other than two record shops on the same street. Now things were getting interesting. Instead of wading through a myriad of gaudy trinkets and stupid tee shirts at the umpteenth gift shop, this was a chance to bring home something worthwhile. Vinyl! Before I go on, I have a confession. Since we had planned to make a day trip to San Francisco before we even left, my son and I made a promise to visit Amoeba records in Haight Ashbury. Time constraints took the Berkley store out of the equation. So a couple of days into our Monterey vacation, we headed up to San Francisco. After doing the usual tourist sites such as the Golden Gate Bridge, Fisherman's Warf, and Lombard Street, we made a beeline to the "Haight". After all it was getting dark and lets face it, that part of the city doesn't exactly look like downtown Disney.
Inside Amoeba SF, the layout was as familiar as Amoeba Hollywood, another favorite haunt. It looks as if they took over an old movie theater for this one though. Because the floor sweeps down as you walk from the entrance to the end of the building. Realizing we didn't have as much time as we would have liked, I went straight for the vinyl section. I picked up almost without much searching 4th of July by X, It's my Life by Talk Talk on 33 1/3 LP single, and the double LP History of Eric Clapton. While my son picked up some Electronica on CD. My wife always has a hard time pulling us out of record stores, so she went back for some coffee at a nearby shop. This gave me some more time to slip back in and grab a Pat Metheney, Christian McBride, and Antonio Sanchez CD Tokyo Day Trip EP Live. There is nothing like a little bit of PM's music for traveling through the hills of Northern California. Before we left the sun was going down and I wanted to take a few snap shots of the front of the store but I just couldn't bring myself to do it. You see on vacation and much to my wife's chagrin, I am usually clad in an old pair of Levis and a well-worn tee shirt. But on this day of all days I decided to dress up those old pair of Levis with the ubiquitous Hawaiian shirt! I stuck out like Doris Day in a mosh pit. Needless to say we didn't get a picture of Amoeba San Francisco. I just couldn't bring myself to play the total tourist. Especially since we were getting some hardcore stares from some colorful locals as we left the place. Actually the two big trees in front would have made any picture taking of the façade very difficult. And the sun was going down. I was loosing light! But our yellow and red Amoeba plastic bags were filled with vinyl and plastic. Yeah!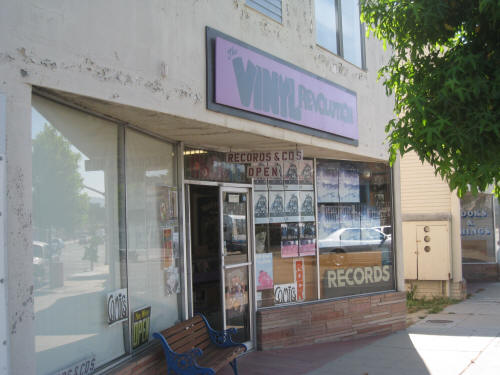 A few days and overpriced dinners later we finally got the chance to visit the two record shops in Monterey. Boy what a different shopping experience that was. The motley crew that was in front of Amoeba was replaced by an elderly lady walking her little dog and some locals walking by in no particular hurry. The first shop we visited in Monterey was Vinyl Revolution. I love their Day-Glo business cards. Inside there was a relaxed atmosphere with plenty of record bins to look through. Although the records were filed more or less by category, after flipping through a few bins, I quickly realized that there was no telling what treasures lay in said bins! For instance I didn't know actor Keith Carradine put out an album! With this sort of categorizing, one quickly realized that it would take a great deal of time to really look things over to find that special vinyl treasure. Being on vacation, time wasn't something that was in abundance. So I let my fingers do the walking through the record bins. The treasures I found for myself there were Supertramp's Free as a Bird. A later release Under the Gun by one of my all time favorite country rock bands Poco, and the album Asia by that synthesizer genius, Kitaro. This is the first recording I have owned by Kitaro. I will have to file this next to my Vangeles collection. The store was about as big as a Jack in the Box. But it was packed from wall to wall with Vinyl, CD's, cassettes, posters, videos, and more. The breakfast with the dolphins and surfers was cool, but now we were having some real audio fun.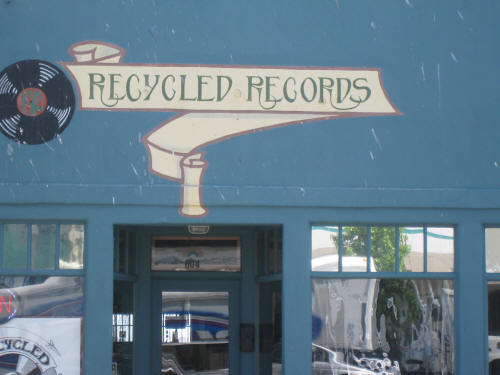 A few blocks away and you enter the threshold of Recycled Records. Even though the bins looked somewhat more organized than at Vinyl Revolution, it was still somewhat of a crap shoot to find that special album. This shop was also about the same size as Vinyl Revolution. Like VR, Recycled Records not only recycles vinyl but CD's and DVD's as well. I mean a music lover's gotta make a living! I didn't really see as many "collectibles" in there as in VR but it was still a kick to shop there. My finds were, The Pretenders Learning to Crawl and Men at Work's Business As Usual. Soon we were running out of time. In the back of my mind I knew there was a pressing engagement with another over-priced dinner and a late evening walk on the beach.
The time we spent at these three record shops was way too short. My son and I could spend literally hours in each one. And this from a young guy who spends a considerable amount of time "downloading". When our family goes on vacation, we literally cram as much as we can in the time we have. This time I was content to just lie around the beach and be lazy all week. I even went so far as to try and talk everybody out of the day trip to San Francisco. That didn't happen. I guess I am glad we did the usual and stuffed as much as we could into the week. If not we might have missed Amoeba, SF or not made time for the two Monterey Bay record shops. We really had genuine fun just record shopping in those places. It made our trip that much better. I know it is convenient to shop on the net or the mega corporate store down the street, but the real fun is in the mom and pop shops. Since we have been back my son has been hounding me for a run to Amoeba Hollywood or Rhino Records in Claremont, CA. While the world moves closer to downloading everything but the kitchen sink and toilet paper, I am glad that there is still room for Indie music stores like these. This proves there is just as much fun in shopping as there is in listening.
Amoeba Music
San Francisco
1855 Haight St.
415-831-1200
Vinyl Revolution
230 Lighthouse Ave.
Monterey, Ca. 93940
831-646-9020
vinrev@sbglobal.net
Recycled records
604 Lighthouse Ave.
Monterey, Ca. 93940
831-375-5454
mplunt@mbay.net