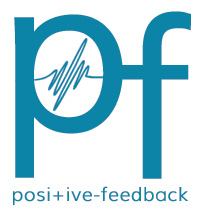 You are reading the older HTML site

Positive Feedback ISSUE

39
september/october 2008
Livin' With the Blues in Salina, 2007
by John Volk and Dave Glackin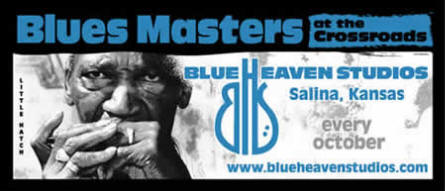 Text by John Volk (guest writer and musician) and Dave Glackin, and photos by Dave Glackin
Like the artists who come to Kansas to play every year, Chad Kassem's Blues Masters at the Crossroads festival has itself become legendary. Audience members come from far and wide (including Europe) to bask in the glow of two days of blues, and nothing but blues. Chad is doing a tremendous service to his community, and blues fans and musicians young and old by putting on this festival every year. Chad is shown here receiving an award of appreciation in reaching his tenth year of Blues Masters festivals from Dawayne Gilley, a well-known figure on the blues scene in Kansas City. Here's to many more outstanding years to come, Chad!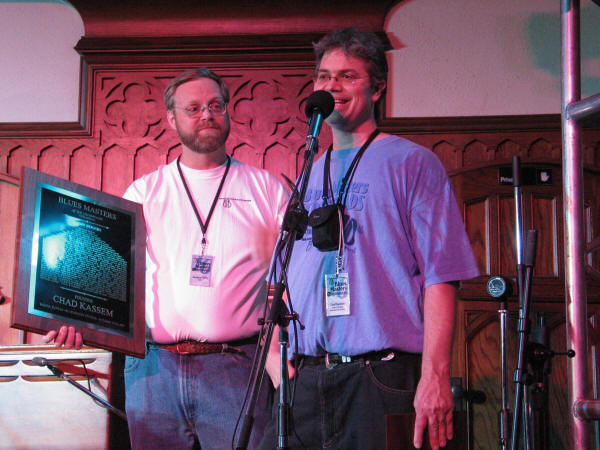 Dawayne Gilley and Chad Kassem
The 10th Annual Blues Masters at the Crossroads festival was held in Salina, Kansas, on the weekend of Oct. 20/21 2007. The festival was graced this year by beautiful sunny and warm weather the entire weekend. Those familiar with the festival put on by Salina blues-lover, historian and music entrepreneur Chad Kassem know to expect two evenings of full-on blues—from legends to the up-and-coming, from roots delta blues through Motown. The 10th Blues Masters at the Crossroads was dedicated to artists who have performed in previous years, who have passed on since the last shows. Entering "Blues Heaven" in the last year were Snooky Pryor, Robert Lockwood Jr., Carey Bell and Homesick James.
In its tenth year of Blues Masters, the shows are evolving into a format largely of groups of musicians morphing into different ensembles tailored to featured artists. This format allows for more featured artists and minimizes the number of supporting artists required. This also minimizes setup time between artists, which can cause shows to lose momentum. Other than logistical advantages, it also is a very engaging format, allowing the supporting musicians the opportunity to stretch out, as well as opportunities to group featured entertainers in compelling combinations. This does not preclude some acts, such as Thornetta Davis, from bringing their touring bands. Even in her case, other featured artists were included. This also offered the opportunity for some combinations of performers to spontaneously put a timely arrangement together. Another benefit is its consistency with Chad's wonderful effort to showcase "twilight" artists who may be in semi-retirement, and may not be working with a regular band.
In summary, the format gave a great vibe of "Blues Community," and the flow of music was wonderful on both nights. Many of the artists that graced the "Blues Masters" festival in this and other years have done stints with legends "Howlin' Wolf" and "Muddy Waters" bands.
An added benefit this year was the phenomenal painting artistry of Tami Curtis-Ellis. She is seen here with two of my (DG) all-time favorite Blues Masters artists, Wild Child Butler (left) and Harry Hypolyte (right). Watching her create these was a joy.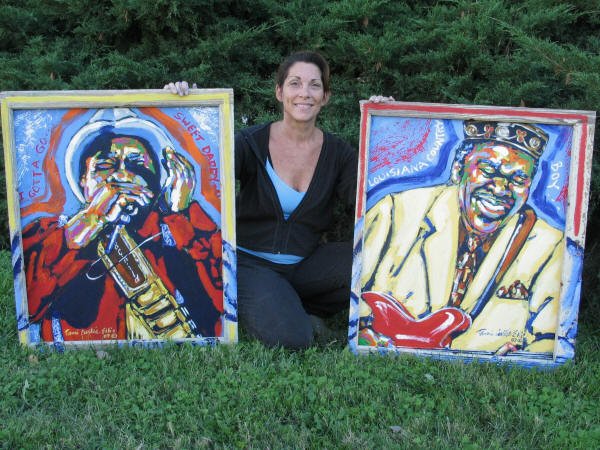 Artist Tami Curtis-Ellis
Friday
Eddie Cusic kicked off the Friday show. Eddie was the only solo performer this year at Blues Masters—however he was the perfect man to set the stage for the two-day event. Eddie, born in Wilmot, Mississippi, in 1926, has played the blues his entire life. He carries the tradition of the Delta Blues—Muddy Waters style. He did not make his professional debut until 1998, at age 72! This man is truly fueled by blues—his genuine love of the genre established an immediate rapport with the audience that built during the set. At 81 and in frail health he still puts on a very compelling and strong performance. He gets a very big sound and great tone with his Taylor acoustic guitar, traditional thumb/index finger picking style and with very pleasing vocal accompaniment. The overall feeling of this set was of a man joyful to spread his music—Eddie really charmed the audience with humor, warmth, and a solid roots blues performance.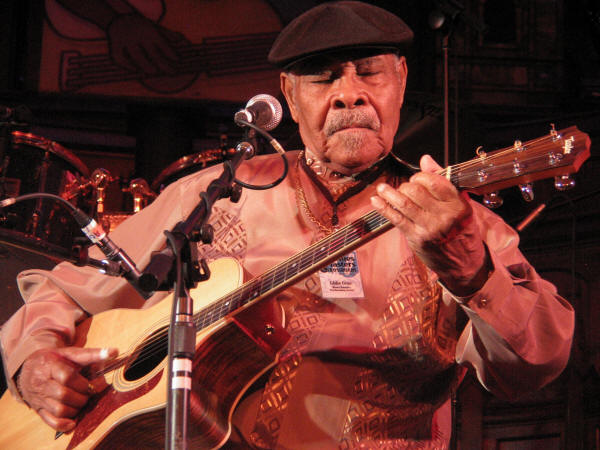 Eddie Cusic
Next on stage was piano & vocal legend Henry Gray, born in 1925 in Louisiana. As did many blues greats, Henry migrated North for better career opportunities in Chicago in 1946. He soon caught the attention of the blues community and eventually was enlisted in the Howlin' Wolf band for a 12-year stint (1956 – 1968). He has participated in recording and music festivals ever since. The set started with a piano instrumental, then two numbers with vocal accompaniment including "Little Red Rooster." Subsequently, he was joined by former Muddy Waters band members 'Steady Rollin' Bob Margolin1 (bass) and Willie "Big Eyes" Smith (drums) for a few numbers including "Sweet Home Chicago." Muddy Waters band member Calvin "Fuzz" Jones took over on bass, with Bob Margolin moving over to guitar. Henry Gray left the stage with the adulation of the audience and the "Muddy Waters Trio" started a 4 song run beginning with "Going to Chicago." Bob Margolin delivered a stunning guitar solo on this number. Your author is a guitar player—and all I (JV) have to say is the right guitar found the right man—the '51 Fender Telecaster sings like no other and Margolin just shreds—this is a marriage made in Blues Heaven. Margolin dedicated his "Lonely Man Blues" to Muddy Waters. After the Jimmy Rodgers tune "Sloppy Drunk?" the senior statesman of the Muddy Waters Band, Pinetop Perkins, joined on piano to complete the ensemble. Folks—it doesn't get much better than this. I need to find some synonyms for "legend" because there are so many at these performances, however Pinetop, at 94 and still fully rockin' tops them all. By looking at Pinetop you can believe the distinguished legend is in his tenth decade, however his voice and piano chops are remarkably strong and his timing still impeccable! On the first three numbers Pinetop did the piano and lead vocals, then shared vocals with Bob Margolin for two more numbers. A seemingly fatigued Pinetop was being motioned off-stage, and then seemed to rally strongly. Maybe a bit of showmanship, and probably more so the response of the wildly enthusiastic audience, energized Pinetop into a double encore including "Big Bad Mama."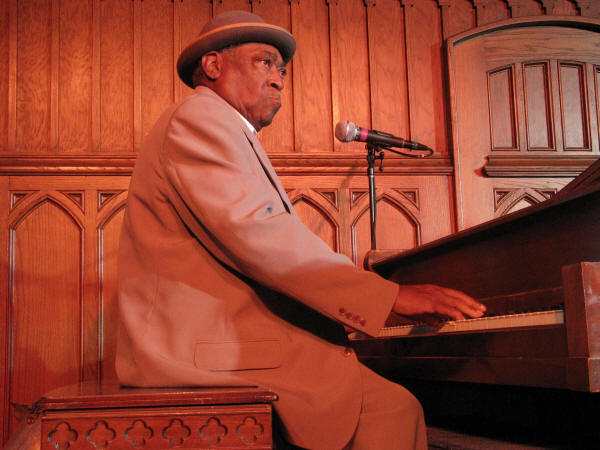 Henry Gray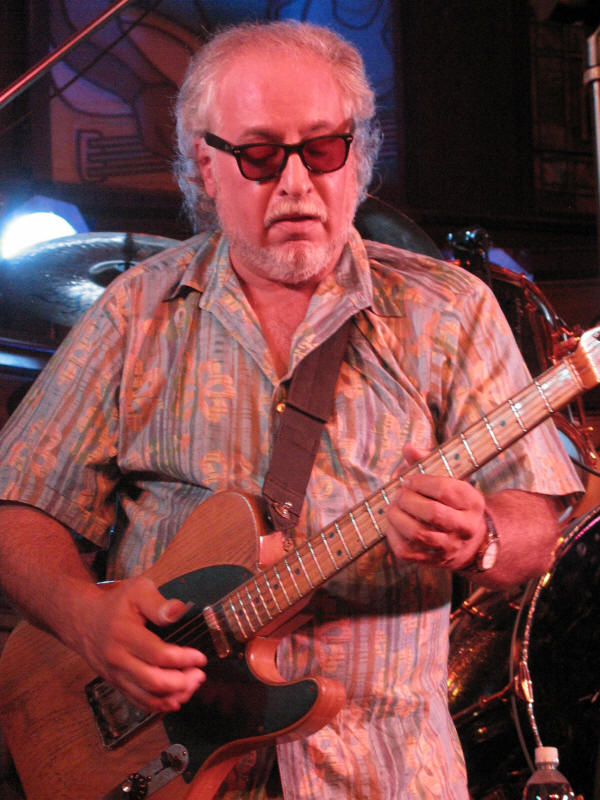 Bob Margolin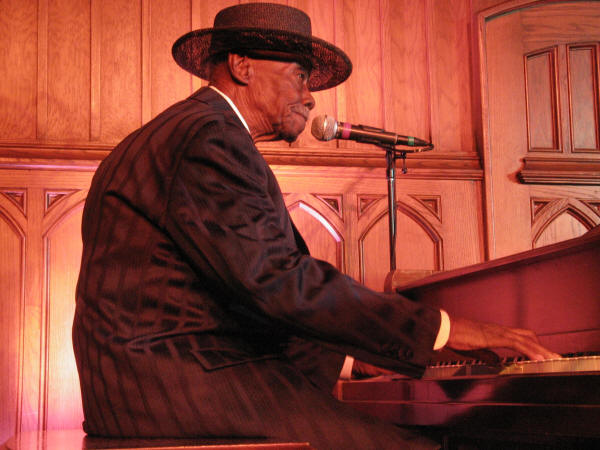 Pinetop Perkins
In a display of Chad's booking and lineup brilliance the attention jumped to special guest Marquis Knox2—at 16, almost 80 years the junior of Pinetop! The youngster from St. Louis is considered a blues prodigy (guitar and vocals) both musically and as a showman. Marquis was initially accompanied by Bob Margolin, Russell Sims on bass, Big Eyes on drums, and Lazy Lester on harp. Only the first number showed slight tentativeness by the young Marquis—then he segued brilliantly into "Spoonful" where he began to show full confidence in his performance. His compelling style was reminiscent of B.B. King, among others. This included an amazing guitar "call and response" segment with the master, veteran and "Blues Masters" mainstay Bob Margolin. The flamboyant young showman showed excellent versatility in technique, strumming and soloing with his thumb (a-la Wes Montgomery), as well as excellent finger style playing. He also demonstrated some exciting technique and showmanship by placing his Telecaster on one knee and playing both pedal steel slide type solos as well as playing with a hammering technique, as one plays a piano. Marquis really got the crowd fired up—one would have thought he had 20 years of stage experience! Among the many high points of the night, Marquis' youthful display was probably the most inspiring.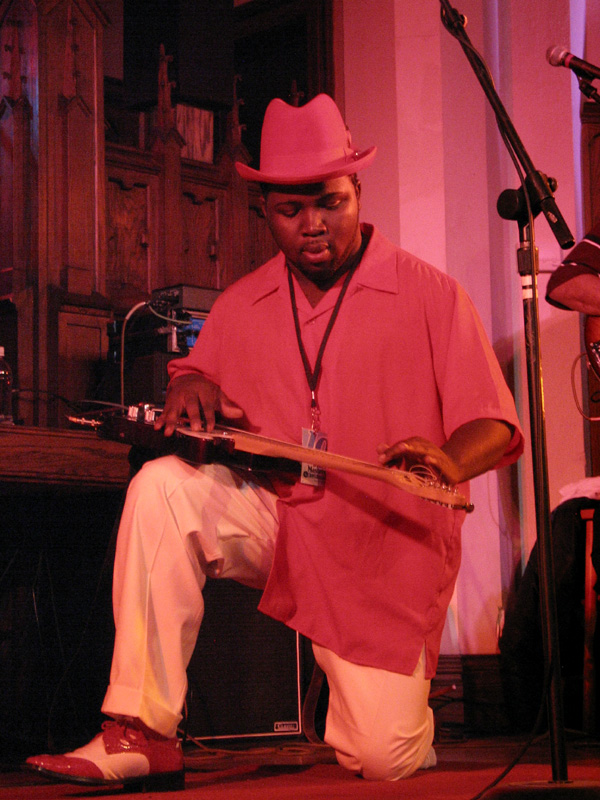 Marquis Knox
Subsequently, Lazy Lester was featured on guitar and vocals, giving a wonderful country-blues flavor to the show. Next, jovial showman Chicago Bob Nelson joined the party, lighting up the crowd with a smile that was all sunshine. The flamboyantly dressed harp virtuoso and vocalist demonstrated his abilities with the Chicago Blues style with upbeat standards such as "'Morning Miss Brown." The Delta Blues roots were also felt in his performance. After five numbers accompanied by Lazy Lester, the "Muddy Waters Trio" backed Chicago Bob for four more good old Chicago Blues numbers. Chicago Bob entertained the crowd while searching for the proper key harp for each number, explaining how airport security personnel jumbled up his set of harps, not knowing what to make of this mass of metal!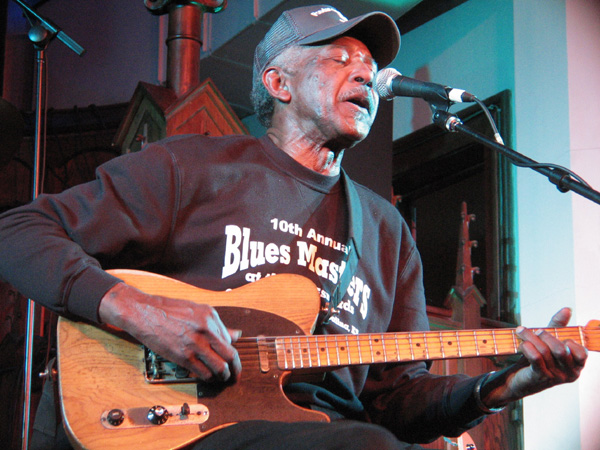 Lazy Lester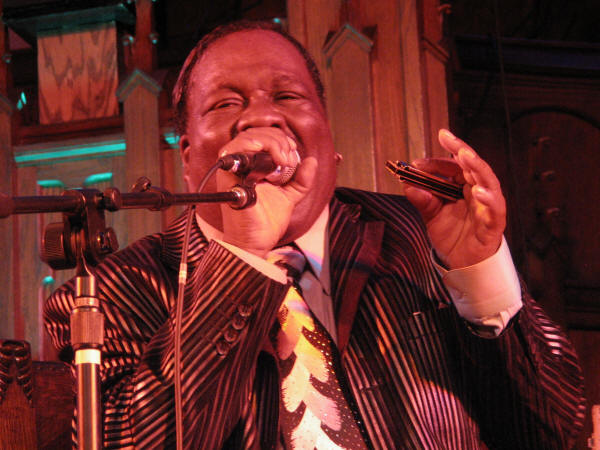 Chicago Bob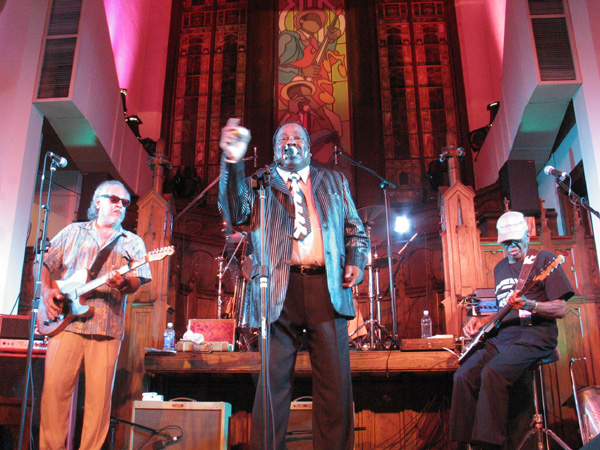 Bob Margolin, Chicago Bob Nelson and Russell Sims
Talk about harp legends, James Cotton, the full-on "Harp Master," was up next. Initially, the set started with Bob Margolin accompanying on Telecaster and vocals. Although James' voice is pretty much shot, he was soon puffing like a bullfrog and "talking" through his harp. The range of sounds he generated was simply amazing, including wonderful voice-like tones. After ripping through a couple classic numbers the rest of the "Muddy Waters Trio" joined in for a few more to conclude the set. The "missing in action" MC resulted in an impromptu and much appreciated double encore. With decades of blues performing, Bob and James had no trouble coming up with a couple great numbers. Talking to him after the show I (JV) gave him a chuckle by telling him of my seeing him when I was a youngster in a tiny club in my hometown of Cleveland, Ohio some 40 odd years ago. Believe me, he is still on fire.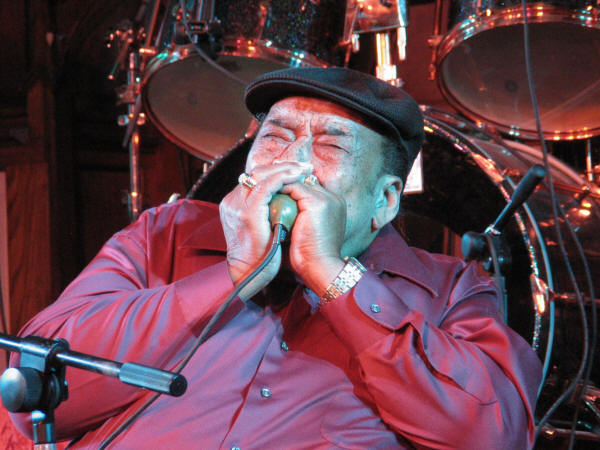 James Cotton
The night was topped off by Michael Burks and his band, adding R&B and stinging electric blues to the palate of musical styles of the evening. In Blues Masters tradition, the loudest was saved for last. Bandleader Burks was lead vocalist/guitar, and alternated between his arsenal of Les Paul, Flying V and Stratocaster axes. Burks is a powerful and expressive vocalist and guitarist, with a biting and dynamic style, sometimes reminiscent of Albert King. He was accompanied by a band comprised of Hammond organ (superbly played!), drums and bass guitar. Although well played, the bass was disproportionately and annoyingly loud (we were buffeted by the pressure waves!) and probably contributed to the substantial dwindling of audience during this set, albeit it was late and a VERY long show. A great night of blues was capped off by Burk's last number, a heartfelt, electrified version of "Amazing Grace" that didn't quite hit the mark.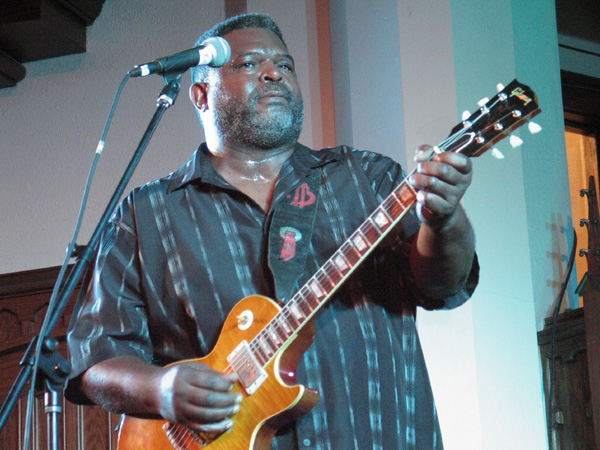 Michael Burks
Footnotes
Kudos to Bob Margolin who is the "Rock of Gibraltar" of "Blues Masters." Omnipresent, backing or co-lead on many a set, Bob knows about every blues standard there is. He can play them all on guitar, bass or do vocals in about any key. Late or sick sideman?—no problem, Bob can fill in! When backing, Bob is quick to bring digressing songs back to their groove and form with subtle technique, style and leadership. Bob's sound with his '51 Telecaster is legendary. Thanks, Bob

The authors had the good fortune of enjoying a casual lunch with Marquis Knox on the day following his show. Marquis is astute, congenial and articulate. He is home schooled and started playing seriously at age twelve, coming from a musical family. While reluctant to list "mentors", Marquis stated that playing along with Lightnin' Hopkins recordings was an important part of his musical education. Many young "prodigies" fade quickly into oblivion for a variety of reasons, however Marquis has all the elements to grow to be a solid professional, if not a star. He excels in musicianship and showmanship, and is hard working and aggressive. Most importantly, he has an incredible insight into the music business, given his age and experience. Marquis is going to be in the forefront for a good long time!
Saturday
Saturday evenings festivities started out with another "Harp Master", Mojo Buford, last of the harp players from the "Muddy Waters Band." Mojo is another joyous player with wonderful stage presence, adorned with a monogrammed "ammo belt" to hold his harp arsenal. Mojo was joined by other former Muddy Waters Band members Bob Margolin, Willie "Big Eyes" Smith and Calvin "Fuzz Jones." It was a nostalgic reunion, as Mojo was instrumental in getting Bob Margolin hired with Muddy Waters, his big break into being a top tier blues player. The wonderful story of this event illustrates how being in the right place at the right time can set the destiny of a career. Mojo was a powerhouse of harp and vocals during the set, predominantly in the Chicago Blues style, with some nice rock flavoring to several numbers. The set took off with an upbeat number, went on to "Hootchie Cootchie Man", and a wonderful trademark song "Woke Up This Morning." The set concluded after seven numbers with a rousing standing ovation.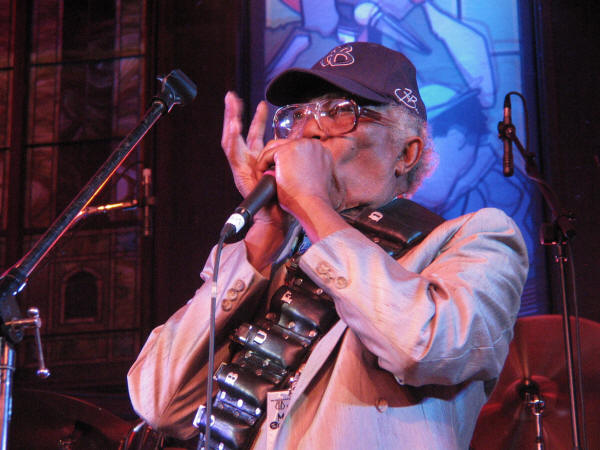 Mojo Buford
Big George Brock is a big man who does everything in a big way. Big George came to the stage with a massive gold cape and adorned with jewelry the size of Kansas. His hands are the size of Texas, with rings the size of wristwatches. When clutching his harp it was barely the size of one of his massive fingers. Big George was accompanied by Bob Margolin, Willie "Big Eyes" Smith and Calvin "Fuzz" Jones. What really matters with this blues harp man and vocalist is his big sound and big heart. Born into a Mississippi sharecropping family, Big George did field work, was a formidable boxer, blues performer and blues club owner. He has lived a colorful, rough-and-tumble life and is the father of 43 children. This man is the blues—he touches you way down – his timing is unreal, with rhythm like a locomotive with deep, penetrating vocals and harp work. Too me, a magical moment came on his fourth number "Burnin' Down", a gospel blues he learned some 60 odd years ago at age 12. The imposing, flamboyant, brutish looking figure absolutely melted the crowd with this number, which touched your very core. This musical moment epitomized what is really great about "Blues Masters"—a special performance that makes the audience truly feel the life experience of the artist. Big George absolutely brought the house down.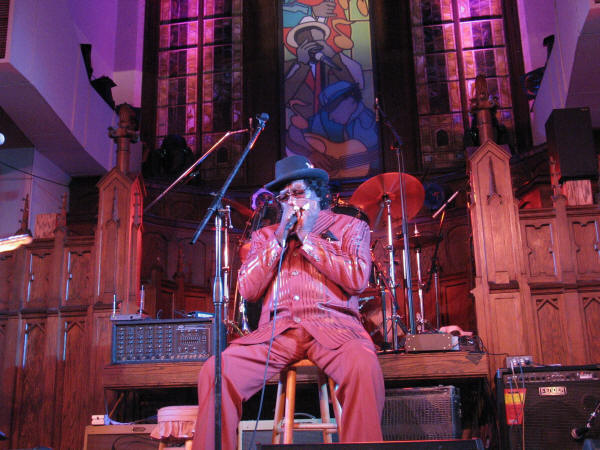 Big George Brock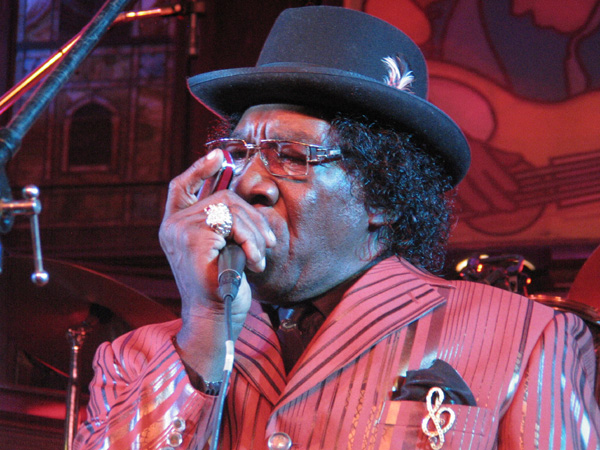 Big George Brock
Members of the Buckwheat Zydeco Band were on next to back upcoming vocalist Robert Parker and Jean Night. This included Buckwheat Zydeco on Hammond organ, Li'l Buck Senegal on guitar with bass, drums and a nice horn section. The band started with a tight, up-tempo R&B flavored blues— the renowned Li'l Buck Sinegal getting his Stratocaster to "do–the-talking" on his solo. On the second number vocalist Robert Parker joined in the party. He is New Orleans born with an R&B emphasis to his music. Early on in the set Parker's voice was lost somewhat in the mix, but by the time the third song "Walkin' to New Orleans" was performed the band layed back and Parker's great voice came through. This number really fit his style and the band was smooth and steady—a very strong performance. After one more number, exit Robert Parker and enter Jean Knight, with the same backing. Jean is also New Orleans born—with an R&B, soul and pop twist to her blues. I (JV) was fortunate to have seen James Brown perform in the 80's, and Jean's performing style and sound is reminiscent of Godfather of Soul. The first two songs also suffered from her vocals being low in the mix, but when she got to her third song "Stand by Me" the band again adjusted and all was good. She closed with her big hit "Mr. Big Stuff", that is still on the money after 35 years, and finally "My Toot Toot (Don't Mess With!)", a classic that also got her on the charts in the 80's.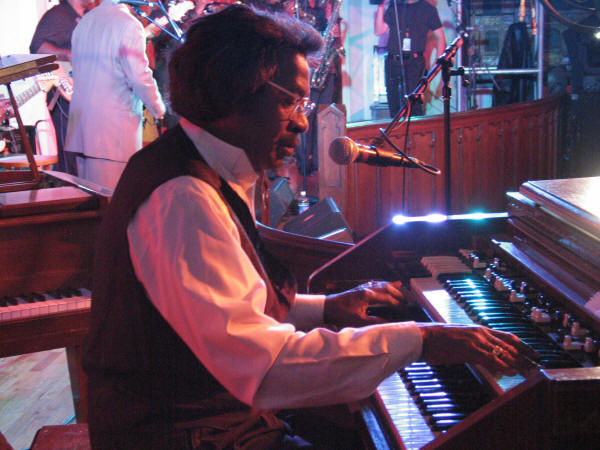 Buckwheat Zydeco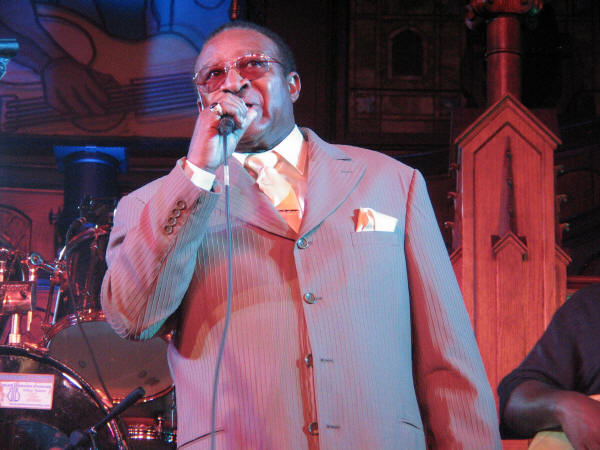 Robert Parker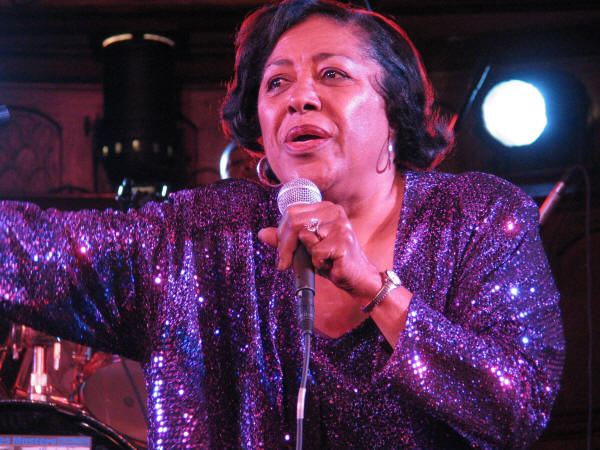 Jean Knight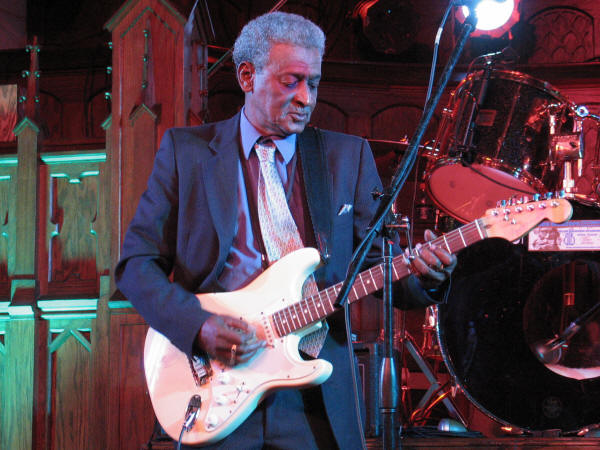 Li'l Buck Sinegal
Now enter Major Handy, Zydeco accordion and vocalist. The same backup band continued on with the addition of horns and rub-board. He started with an energetic number, then moving to a slow blues with nice interplay between the Hammond organ, accordion and vocals. Subsequently he performed his version of "Jolie Blond." This set sometimes suffered from the vocals and accordion being lost in the mix, but overall a performance with nice energy, good showmanship and lots of humor.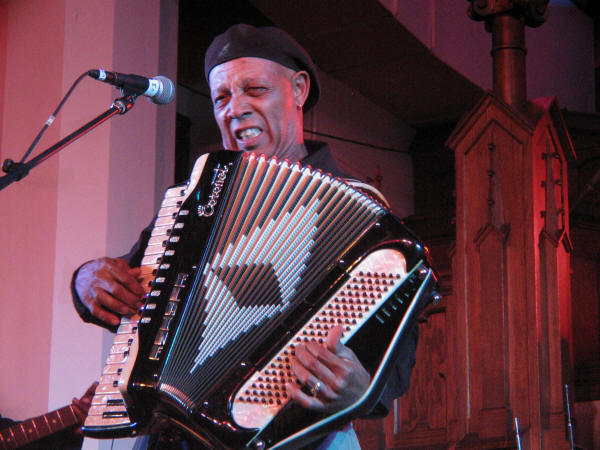 Major Handy
Guitarist and vocalist Johnnie Basset took the stage next. This artist came on with a new band comprised of Phil Hale on keyboards, Brett Lucas on guitar, James Simonson on bass and Dave Marcaccio on drums. Lucas and Hale are regular members of Thornetta Davis's band (see next section), with the other members having backed her in the past. This blues man incorporates solid blues with a light funk and R&B feel—consistent with being based in Detroit. The ensemble had a very nice balanced sound—nice listening! Johnnie was very personable and connected well with the audience. One of his trademark numbers "I'm Gonna Do What I'm Gonna Do" was well received. Johnnie provided a very solid performance with a really nice groove—the audience really dug this cat!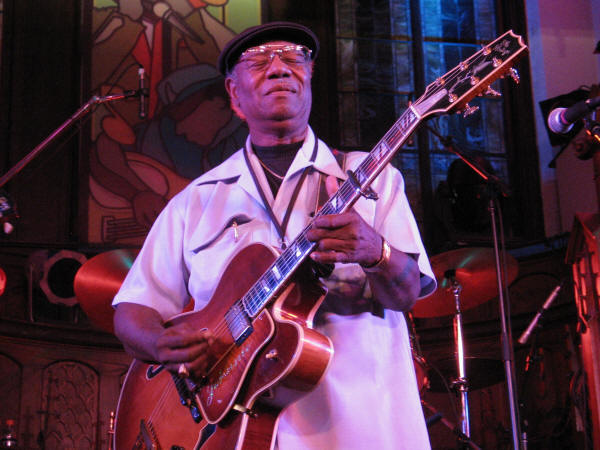 Johnnie Bassett
Thornetta Davis was next on the bill with an electrifying set. Thornetta is another Detroiter – with the sound to match. The previously mentioned band backed her with the addition of a conga player. Thornetta has an awesome stage presence and took in the audience with both arms extended. The band played 10 great songs from fast blues to ballads, including "Hound Dog", a Chad-requested number "Damn Your Eyes For Taking My Breath Away" and finishing with a mesmerizing version "Piece of My Heart." She really showed her class on bringing up Johnny Bassett for "Blues Prayer" toward the end of her set. Thornetta gave a very gracious introduction to his guitar solo, which probably contributing to him totally nailing it! This was probably the strongest overall set of the Blues Masters 2007—there was great energy start-to-finish with really wonderful song selection. The backup band was tight with much captivating and superlative guitar work by Brett Lucas. There was a rush to the basement to purchase CD's as the performance ended!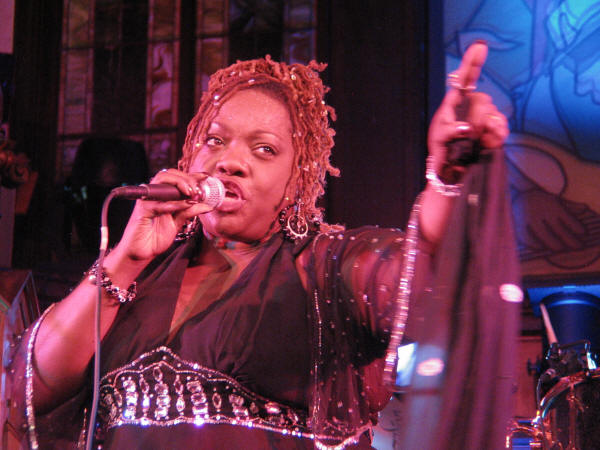 Thornetta Davis
Well the fun was really starting with Clarence "Frogman" Henry up next. The New Orleans born vocalist was a young star on the R&B and Pop charts in the 50's and never looked back. "Frogman" was backed by Li'l Buck Senegal, Buckwheat Zydeco and a three-piece horn section. "Frogman" is the archetypical showman with a beaming smile of pure joy. His style was a touch of Doo-Wop, a touch of Fats Domino and a little Zydeco all wrapped around the blues. The sound mix was superb and the backing just right. As one might suspect from his nickname, "Frogman" has a novelty aspect to his vocals with a croaky toned falsetto. The 70-year-old "Frogman" had some impairment walking, but didn't miss a beat with his energetic set. It didn't stop him from struggling over to the piano to show his prowess on the ivories while belting out the hits! Yet another shining star of the evening, "Frogman's" lighthearted set was just right to remind us not to take life to seriously, and let's just go make some fun music!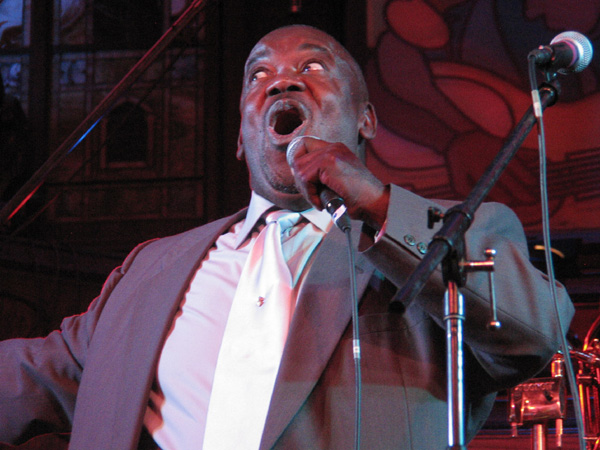 Clarence "Frogman" Henry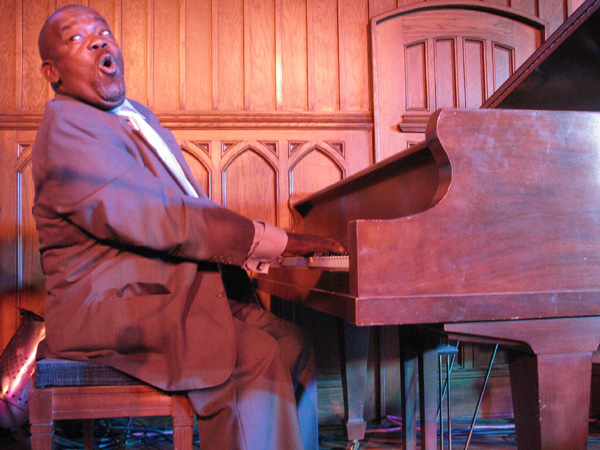 Frogman at the Piano
A Buckwheat Zydeco set ended a great night and the Blues Masters 2007. The band that backed "Frogman" stayed on with the addition of his groovin' rub-board player. Buckwheat started the set on accordion, of which he is really a master. The band started with a high energy Southwest Louisiana style number that got the crowd rockin' with lots of audience participation. Next was the traditional number "Jolie Blond" that included an awesome rub-board solo. Following was his 2005 album title track "Jackpot!", a number with the catch phrase "I've been lucky all of my life, but when I met you I hit the jackpot you". This was a big hit with the still energized crowd. Buckwheat ended the set moving over to his second love after the accordion—the Hammond organ—showing his prowess with a tasteful solo. A short closeout number ended Blues Masters 2007 on a high note indeed!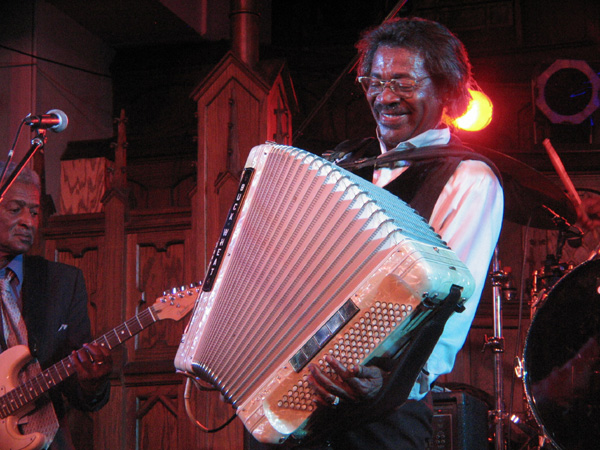 Buckwheat Zydeco
One of your authors (DG) was fortunate enough to catch Myra Taylor, the Queen of Kansas City, preparing for Halloween. If you don't have it, you need her album My Night to Dream from Blue Heaven Studios and Acoustic Sounds.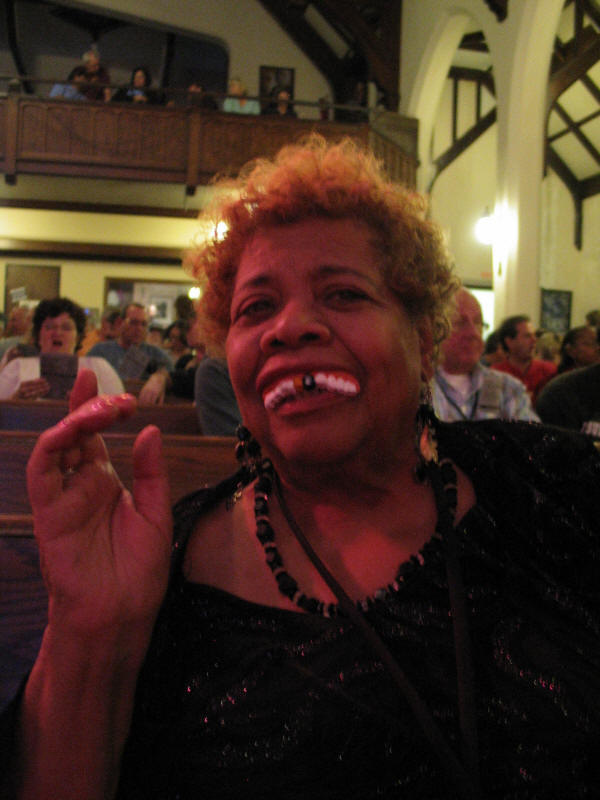 Myra Taylor in a not so rare moment of silliness
Toward the end of the show, we caught a beaming Chad and Lydia Kassem in the front row, with Myra Taylor and the Connie "Crash" Humiston to Myra's left.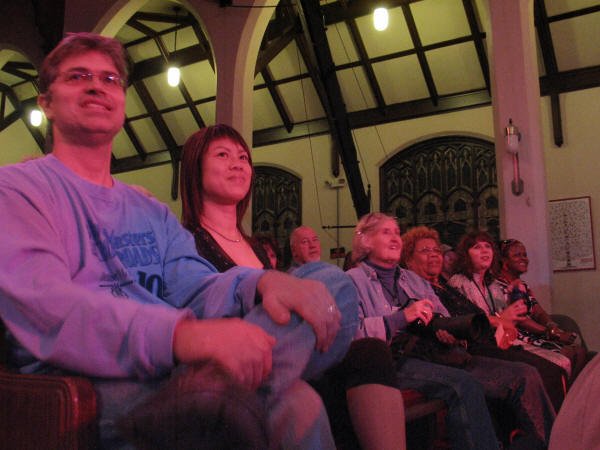 Chad pulled out all the stops for this tenth anniversary show. This is the one annual event that is permanently on both authors' calendars. We can't wait to see what Chad has in store for 2008!
This article is dedicated to the memory of Harry Hypolyte, shown here with his wife Margaret post-Katrina. Godspeed, Harry, wherever you are.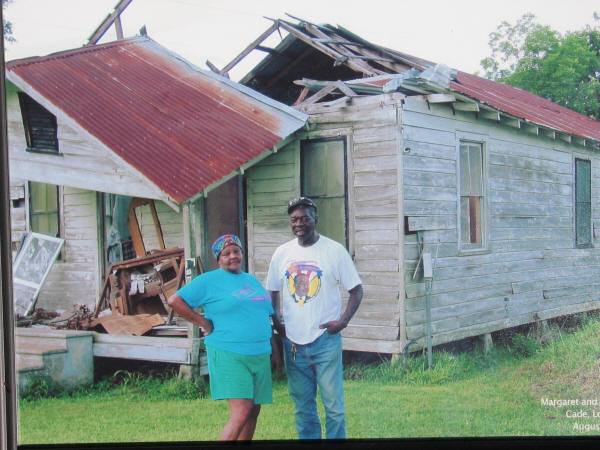 Margaret and Harry Hypolite