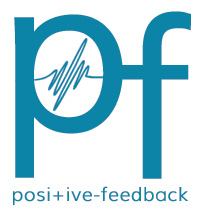 You are reading the older HTML site
Positive Feedback ISSUE
4

december/january 2003
Three SACDs from Fidelis Records; One from First Impression Music
by Max Dudious
Three new SACD releases from Fidelis Records and another from First Impressions Music (FIM) found their way over or under my transom this past week.
| | | |
| --- | --- | --- |
| | | |
Fidelis sent an hour's worth of cello music, some with piano, and some unaccompanied, entitled Violoncello: Vivaldi, Bach, Kodály (FR006); another forty-five minutes of Astor Piazzolla's work, titled, Piazzolla: Histoire de Tango, Libertango, & Etudes 1-6 (FR002): and Tchaikovsky's suite of the twelve calendar months, titled Tchaikovsky: The Seasons Arranged for Piano Trio (FR001). FIM sent the most expoobident version of Antonio Vivaldi's The Four Seasons I've heard yet. They are all distributed on SACD hybrid discs, which are backwardly compatible and can be played on any standard CD player, though they sound a noticeable notch better in SACD–less bowing and scraping noises, purer tone, crisper, cleaner, with larger sound stage.
All of these works are chamber-sized, and they are a test of the recording engineer's skill. As with all recordings of small forces in a small venue, one misstep and the individual musicians are left unprotected, with no other musicians to mask errors in playing. The corollary is also true: one little miscue in the venue selection, setup, microphone placement, microphone selection, indeed even microphone cable selection, and the recording engineer has no one to cover for him. In this case the engineer is Paul Weitzel, and my hat is off to him. These are all dutifully, beautifully—nay, even wonderfully recorded sessions, and the venues in and around Niagra Ontario are noted in the literature. As I read the liner notes, I began to suspect that the recording equipment, microphones and cabling may have a lot to do with the success of the sound. Tube Research Labs, Inc. provided the recording equipment. Cable Research Labs, Inc. did the cabling. I'd guess this means, at the very least, the analog side of the gear is tube driven, and great care has been taken in cable selection.
My hat is off to the entire team. Before these sessions were ever envisioned much time and money was spent on getting matched recording gear together. And it was time well spent. These are truly audiophile-grade recordings. Briefly, they are exquisitely balanced, with string tone neither too wiry nor too woody; piano tone neither too pearly (fortepiano) nor too percussive (xylophone-like).
The album Violoncello is beyond unusual. It is a recital of the instrument, as the title suggests, not of the composers, nor even the soloist. The album features three different composers and two different cellists, and explores the range, timbre, shadings, voices, and nuances of the cello. This in keeping with Fidelis's statement of purpose: to provide "an unrivaled level of sonic excellence, and a 'you are there' at the performance experience." If I have a gripe with these albums it is this: the producers supply woefully inadequate notes. For but a few small nits to pick: while they inform us the Kodály sections are from his Op.8, they don't bother with opus numbers for either the Vivaldi or the Bach selections. Neither do they tell us who built (and when) the cello to which we are listening; indeed, if we are listening to the same instrument on all the tracks. Nor do they bother to offer brief biographies of the musicians. These are really minor cavils and niggles for an otherwise auspicious maiden voyage, but we hope Fidelis can do better on offering information pertinent to their albums in the future.
The Vivaldi Sonata in A Minor, here played on modern cello and piano, was probably written for viola da gamba and harpsichord. Vivaldi (1678-1741) left such a prodigious legacy it is hard to catalogue and date all his work (450 violin concerti, for one example). The Sonata is good music, if not the most familiar Vivaldi, and it shows the cello in its baroque form, without much of the counterpoint Bach would bring to it just a while later. The Bach Suites for Unaccompanied Cello are from the Bach catalogue numbers BWV 1007-1012, and they should be quite familiar to those who love Bach (1685-1750). They represent the higher catalogue numbers, the more mature of Bach's works. In his hands the cello becomes a solo instrument, and in Nata Belkin's hands we are able to grasp just how advanced were Bach's polyphonic ventures in the mid 1700s.
The selections from Zoltán Kodály's (1882-1967) Sonata for Unaccompanied Cello (1915) show the technique of modern cello playing at its most demanding. The soloist, Ludovit Kanta, does a super job on this bravura showpiece. For a comparison performance, see Yo-Yo Ma's Solo album; Sony Classical (SS 64114). Of the Kodály sonata Yo-Yo Ma has said, "Not since the Bach suites did someone stretch the limits of the cello as much as Kodály did." Kodŕly's Sonata is considered so difficult only the bravest of the world's cellists will perform it live, in concert. That aside, we have in this collection of pieces some featuring the long singing line of Vivaldi; some featuring the contrapuntal technique–unique to music, of saying two things at once comprehensible–of which Bach was a master; and some featuring Kodály's virtuosic compilation of various difficult techniques, developed largely in Hungarian folk music that express the full emotional range of the cello, all on one extremely well-engineered SACD.
Highly recommended for cello lovers
The Piazzolla album features Atis Bankas (violin) and Simon Wynberg (guitar) playing the first half, "Histoire du Tango," and "Libertango" as a series of songs or a dance suite named after certain times and places suggested in their titles: "Bordel, 1900," "Café, 1930," "Nightclub, 1960," and "Concert d'aujourd'hui." These pieces are extraordinarily charming, as is "Libertango." Again the playing of the guitar and violin is a wonderful tour de force demonstration of how good recorded sound is getting. Here, the combination of SACD's faster sampling, smoother presentation, and the tubes involved in the microphones and the mixing board, make the sound ravishing. There is a very realistic mix of violin and guitar sonorities, that rightness that makes you feel you might be in a room with the performers.
More telling to me is the minimizing of bowing and scraping noises. It is not eliminated, as might be the case with some notch filtering: rather, it is down to its appropriate place in the mix. It is accurate reproduction of the noxious fumes that arise whenever the playing gets this hot. Atis Bankas is quite able to meet the considerable demands of the more difficult pieces, and falls back on his rich tone in the less difficult ones. Simon Wynberg is comfortable in the role of accompanist, and able to take the lead when the music calls for it. He has full command of his instrument and can coax little harmonic whispers from it, or open its throttle to a more full bodied sound as the music demands.
To be honest with you, I'm not as enthusiastic about the Piazzolla Čtudes. They are interesting chromatic exercises, and perhaps should have been so named. By using the word "čtude," Piazzolla hints at the kind of "studies" that Chopin wrote for his piano, or the caprices that Paganini wrote for his violin. I must say, these Piazzolla čtudes do not explore the limits of the violin, or develop new techniques for playing it. They are interesting in their harmonic explorations, while remaining in tango rhythm. And if you bear that caveat in mind you might be able to enjoy them as beautiful excursions into the sonority of the violin. You will seldom hear such bell-like tones.
Listening to this SACD, I was starting to think of the violin as a living organism. Well, almost. But certainly the range of sounds possible to make on the violin are here well documented. In all, I'd say, a charming first half (about twenty-one minutes) followed by a beautiful demonstration of violin sounds in the Piazzolla idiom (about twenty-two minutes). This is a strangely haunting record, and as such it might make good dinner music. Again, we are not given any album notes to speak of. Are the čtudes a youthful or mature work? And, who made the unusually beautiful sounding guitar and violin? I guess, if you're a Piazzolla fan, or a tango fan, or want to hear a breathtaking recording of a violin, this one's for you.
Pyotr Ilyich Tchaikovsky's The Seasons (1875-6) was originally written for solo piano and is here presented in Alexander Gedike's arrangement for Piano Trio. It is played by Atis Bankis, violin; Teymour Sadykhov, cello; and Galina Zisk, piano. Their performance has the benefit of the excellent recording engineer, Paul Weitzel, who deserves another mention for his wondrous light touch. The piano version of this work was published a few years before Tchaikovsky was to debut his opera, Eugene Onegin (1877), so it represents the work of an artist into his middle period. That is to say, the work is an example of a musician in full command of his idiom, not that of a tyro, or a newcomer out to prove something to the world. This is the Tchaikovsky of Swan Lake(1875-6), after all. As such it demands we treat it as we would the most well-known of Tchaikovsky's works.
Tchaikovsky did write an excellent piano trio, Trio in A minor, Op. 50, 1881-2, (in memory of a great artist), that is still performed by well-established musicians, in such esteem is it held. [For example, see Itzhak Perlman v., Lynn Harrell vc., and Vladimir Ashkenazy p. EMI LP (ASD 4036)] Gedike's arrangement of The Seasons seems to bear this trio in mind.
A few items about Alexander Gedike (1877-1957) bear mention here. According to Grove's, Gedike was a Russian composer, organist, and concert pianist. In 1909 he was made professor of piano at the Moscow Conservatory. While teaching there he also studied composition and chamber music. He came to be "regarded as guardian of strict classical traditions in Russian music." It is likely that he studied Tchaikovsky's Trio in A minor, likely in the 1920s, or some forty years after its publication. [A great recording of Tchaikovsky's Trio in A minor is that of the Borodin Trio, Chandos (CD 8348). It features the great passion that typifies many Russian ensembles, and the playing is highly rhapsodic.] Following his studies of Tchaikovsky's Trio in A minor, Gedike went on to write an arrangement of Tchaikovsky's solo piano piece, The Seasons, for piano trio. The score is less elegiac than the A minor trio, more like a divertimento, bringing the result to sound something like The Nutcracker scored for piano trio—which is to say, it becomes a charming suite of pieces, the sort you might have heard in a Viennese restaurant about a hundred years ago.
The sixth track, "June, Barcarolle" has a very familiar melody, the sort of piece FM stations program to fill five minutes between longer works. If it appears I'm implying the piece is improved upon by being scored for piano trio rather than piano solo, you've caught me. Gedike's re-arranging may have been with an eye on Tchaikovsky's later Piano Trio, and hence, in service to the music. The result is a bit dreamy, a bit balletic, a bit light, and a bit heavy. Truly, an unexpected and lovely treat for me.
The sound, like the aforementioned discs, is quite extraordinary. Here the task is to arrive at a realistic balance between the instruments without featuring any one at the expense of the others. This is handled quite nicely. The microphone placement is neither too close nor distant. We still have the feeling of being close enough to the players to hear the rich sonority of each instrument, without being so far away the three instruments blur into one. I can't say I've never heard better, but the engineering on this recording is certainly of the highest echelon. The piano is well defined with correct balance between the attack of the felt hammers on the strings (which can sometimes be too obviously metallic), and the sustained tone (which captures the resonance of the instrument's spruce sound board). Galena Zisk has a controlled technique that is shown to good advantage in the more pianistic passages. The violin is appropriately brilliant and woody by turns in the score, and has a nice projection. Atis Bankis draws lovely sounds from the instrument. And cellist, Teymour Sadikhov, produces the appropriately autumnal sonority that seems to have been instilled in every Russian cellist as a little kid. From the names of the musicians (biographical notes would have been helpful here), I'd say the Russian conservatory system has really produced some fine instrumentalists. It's hard to imagine much better musicianship.
Highly recommended
But there I go again, Mr. President, praising the efforts of the independent record labels. I have explicitly stated my support of their efforts. They bring to market exceptionally fine music-making of very interesting, if little-known, works—as in the case of The Tchaikovsky Chamber Music Society playing in Canada. If you like Tchaikovsky, fine playing, excellent recordings, then you should definitely take the opportunity to hear these recordings for yourself. I think these three recordings can be ordered online at www.fidelisrecords.com, or via your usual online sources. Ye Olde Editor confirms that they're available at Elusive Disc www.elusivedisc.com in their SACD section; I didn't find them at either Red Trumpet, Acoustic Sounds or www.superaudio-cd.com.

About First Impression Music offering an SACD of Vivaldi's The Four Seasons, I know what you're thinking. Been there, done that. Bore-Ring!! This music pops up in spy flicks and on the weather report. What else can you show me? And I felt that way, too, with at least five pretty stylish performances in house: Pinchas Zuckerman and the English Chamber Orchestra, 1974 (Columbia M 31798); Alice Harnoncourt, Concentus Musicus Wien, 1977 (Das Alte Werk 6.42500); Joseph Silverstein, the Boston Symphony Orchestra, 1982 (Telarc DG-10070); Jörg-Michael Schwarz, The Connecticut Early Music Festival Ensemble, 1992 (Chesky CD78); and Gil Shaham, The Orpheus Chamber Orchestra, 1994 (Deutsche Grammophon G2 39933).
I felt, "What can another performance of this work, no matter how well done, possibly show me?" until I actually popped this one into the SACD player and heard what the digits had to say. It was gangbusters from jump street. Er, um, that is to say, it was immediately apparent by the brisker than usual tempo that the Italian musicians, Sonatori De La Gioiosa Marca, (Musicians of the Joyous "Marca" [boundary marker district near Venice]) Giuliano Carmignola solo violin, (and presumably leader) were out to kick ass. Pardon me, but there is no more polite way of saying that. They come at the music like the Shaq and Kobe Lakers of a few years past, slam-dunking the listener to start with, and revving it up from there.
The players, individually and collectively, have studied in the best conservatories in Europe, have played with the most renowned performers of ancient music, and have specialized in the great Venetian tradition of the 17th and 18th centuries. So their credentials are impeccable. Though the Sonatori include nine players, it seems this 1992 recording of Vivaldi's LeQuattro Stagioni didn't call for all of them (There is no part for a woodwind.). It is not specified which instruments played, but the ensemble was likely no more than eight: three violins, one each viola, cello, bass, arciliuto (a double-necked guitar), and clavichord (the smaller, less forward little sister of the harpsichord).
Perhaps it was the small size of the group (no doubling or trebling of the players in each part) that permits such bravura playing, that allows the listener to follow each of the parts so effortlessly, but I found I could hear all the subtleties even at breakneck pace. Perhaps it is the SACD recording format. Perhaps this stunning clarity is why this particular recording of The Four Seasons has been referred to as "... One of the 10 greatest recordings of the century," by Heuwell Tircuit, of IN TUNE magazine, Japan & USA, December, 1994. For me, that kind of "We're #1" thinking is a trap we should all strive to avoid. (That's something we've been led into by our DNA, seeking dominance in the masculine hierarchical structure, as a mating strategy and a means of getting our DNA into the next generation. It permeates our thinking to the extent of rating recordings as if they were prize-fighters. But I digress.)
I will go so far as to say, "It's one helluva record." And I agree with Tircuit when he says, "You've got to get this!" Well, that is, if you like your Vivaldi.
Just what is it that you get on this disc? Oddly enough, you will get a digitally mastered (44KHz/16-bit) recording, Michael Seberich engineer (1992), that has been re-mastered via Sony's DSD re-mastering equipment, with Winston Ma as the producer and Paul Stubblebine at the controls as the engineer (2002), releasing an SACD disc of the highest quality. (It's amazing how good even PCM masters sound when they're re-done to via DSD to SACD. Something very encouraging is going on here.) You will get the music of Antonio Vivaldi (1678-1741): The Four Seasons, 4 concerti Op. 8, No. 1-4; Concerto for 3 Violins, Viola & Bass in F Major RV 551; and Concerto for Strings in D Minor RV 128. You will also get a lead violin performance about as electrifying as they come. Carmignola starts out at a fevered pace one that fears he can't sustain, and gradually increases the tempo. In a manner reminiscent of the young Glenn Gould, he seems to revel in his own ability to keep complex music accessible, to keep the musical lines distinct, and to make the music joyful.
With merely mortal ensembles, when we hear the violins trilling in the opening of the La Primavera section, we hear birds; with the Sonatori not only do we hear birds, we can imagine them fluttering in a fountain, backlit by sunlight; we can sense how their little hearts beat at a rate triple or quadruple of ours, so quick are their motions. Similarly, we hear the other programmatic sounds to which we are alerted by the four Vivaldi sonnets published in the album notes. We can find Vivaldi's portrayal of bird songs (particular bird songs), annoying flies (two different species), rolling thunder, a barking dog, a drunk, some hunters shooting, a dying beast, ice walking and sliding in the severe cold, windstorms, and summer squalls, all offered within the heavily researched stylistic practices of the period. Carmignola's delving into the then-recently discovered original scores, and the literature on the technique of the baroque violin must have helped. Playing a Pietro Guarneri violin (Venice, 1722) certainly didn't hurt.
This truly ear-opening performance is one worth having even if you already have a half-dozen versions of the work. This may well prove to be a definitive recording. If it becomes the one studied in the conservatories, the one many musicians come to own, then we might say our hunch has come about. Only time will tell.
Personally, I haven't been as excited about a recording of this work since I heard the Harnoncourt version a generation or so ago. Most highly recommended.
For online purchasing, see First Impression's web site at www.fim.biz, or check out your usual online sources. We've confirmed availability at www.elusivedisc.com.
Until next time, I remain your humble servant.