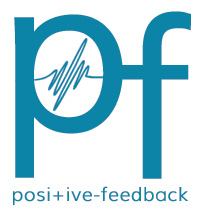 You are reading the older HTML site
Positive Feedback ISSUE
40

november/december 2008
Notes of an Amateur - November, 2008, Part 1
by Bob Neill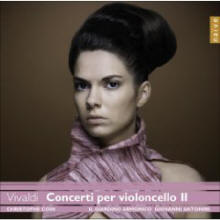 Vivaldi, Concerti for Violincello II. Christophe Coin, II Guardino Armonico, Giovanni Antonini, conductor. naïve 30457.
Christophe Coin is back. Il Gardino Armonico is back. But something essential feels different. Volume I was predictably great musically—how it could it not be with these performers—but sonically it was unexceptional. In looking back to my review of that release, I see that I passed over its sound quality in silence. Didn't I notice it? Or was it okay but not worthy of notice? Volume II is absolutely wonderful in all respects. What's up? I put Volume I on again and yes, compared with this new release, while the music is as well played as I remember, the sound is strictly ordinary. No magic. So I did a little simple homework and I now see that Volume II has a new recording engineer, a new recording venue, and even new recording equipment! Somebody at naïve noticed and, more important, knew what to do. Again, Volume II of this very promising series is a sonic delight. And that makes a huge difference to our enjoyment of it.
Christophe Coin is master of this repertoire. He performed many of Vivaldi's cello concertos with Christopher Hogwood and the Academy of Ancient Music years ago in analogue days for Decca, most of which were reissued on CDs. But now, with his splendid new band, state of the art digital recording techniques, and the new engineer, he is better than ever. With an apparent commission to record all of the concertos—and let's hope the cello sonatas as well, the prospects for more great recorded Vivaldi are rosy indeed.
I love the literature for cello and consider Vivaldi's contributions to it second to none. His fast outside movements are exhilarating; his slow inside movements are edible. Coin gets all of the warmth and inflection his 1720 instrument possesses; Il Gardino Armonico are warm, clear, and lithe. This is as good as Vivaldi gets. One of the best CD's, both for musicality and sound, I've ever heard.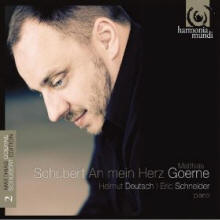 Schubert, An mei Herz. Schubert Edition 2. Matthias Goerne, baritone; Helmut Deutsch and Eric Schneider, piano. Harmonia Mundi HMC 902004/5.
Every time I review an album of lieder, I feel obliged to make a case for the kind of music it is—probably because it's the last music I came to and so assume everyone else comes to it last as well. It is the farthest from where we live now: I doubt there is any way we can relate to this music as Schubert's contemporaries did—in salons and other sorts of semi-private but formal venues, listening to a much-loved and popular classical music form. We listen to it in public recital halls, more often in our living rooms. And there, a century and a half away from its 'time' and the tradition of song recitals, what makes this music work for many of us is simply the sound of it: the sound of a baritone 'instrument' and a piano. Nothing in our world sounds quite like this. And so, in a very real sense, we hear it more absolutely and freshly than Schubert's audience did. With virtually no cultural context to provide a frame, listening to lieder can be a very nearly existential musical experience.
And listening to Matthias Goerne sing Schubert's lieder in this second release of the new Harmonia Mundi series is about as existential a musical experience as I can imagine. This album shows us how the greatest lieder we have is supposed to sound, through both the incomparably rich and lithe baritone voice of Goerne and the flowing, melodic sound of the piano from his two accompanists—one on each of the CDs in this two CD set.
This is a dream project. There is no more important and inspiring recording enterprise going on in the world today than this one. Hyperion's 'complete' set of Schubert's lieder, which reached the finish line several years ago, like all of their multi-volume issues (Purcell's and Vivaldi's sacred music, Haydn's symphonies among the best) has the obvious merit of comprehensiveness—and it includes several issues which succeed brilliantly, including appearances by Goerne. But this one is different. This says—and is demonstrating—that Matthias Goerne is this generation's Dietrich Fischer-Dieskau. He can overpower, mesmerize, transport, even if you don't know a word of German. He has the sheer authority to persuade us that this lieder is the reason Schubert is one of a handful of the truly major composers.
Even if you don't customarily listen to lieder, trust me on this one. When the brilliance and stature of a performer match the genius of a composer, everything in our lives should come to a stop, at least for the length of these two CDs.
Systems used for this audition: Audio Note CDT3 transport and Dac 4.1 Balanced Signature, Blue Circle FtTH integrated amplifier, BC3000 II/GZpz preamplifier and BC204 hybrid stereo amplifier, new Jean Marie Reynaud Offrande Supreme stand-mount speakers. With Blue Circle BC6000 line conditioner. Audio Note Pallas, Sootto, Sogon and AN-Vx interconnects and Lexus speaker cable.
Bob Neill, in addition to being an occasional equipment and regular music reviewer for Positive- Feedback Online, is also proprietor of Amherst Audio in Amherst, Massachusetts, which sells equipment from Audio Note, Blue Circle, and JM Reynaud, among others.