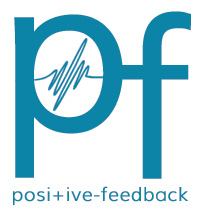 You are reading the older HTML site
Positive Feedback ISSUE
40

november/december 2008
Notes of an Amateur - December, 2008, Part 3
by Bob Neill
For the Holidays
In working up my Baker's Dozen of favorites for 2008, I left out two box sets that have been playing nearly around the clock in our house for a few months in one case—Finnish Chamber Music; and for a week in the other—Music @ Menlo, just released. They really belong on the 2008 list but didn't quite fit, being box sets. So here they are, ready for holiday giving—and receiving. One of the best things about both sets (which were recorded 'live') is that they are arranged in programs, so listening to them is really concert-like. Not like trying to enjoy five Vivaldi cello concertos in a row, no matter how good they are!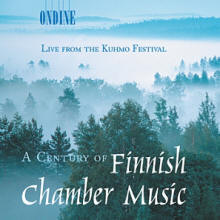 Live from the Kuhmo Festival: A Century of Finnish Chamber Music. Ondine ODE 984-25. (6 CD's).
Modern Finnish classical music is startlingly good, especially music written in the last twenty years or so, though as this set reveals, a lot of good music preceded it. The Finns have found something that has escaped most other modern musical cultures, which has to do with being thoroughly modern without becoming overly intellectual. The Eastern Europeans have done well at this too, though without the extraordinary variety Finnish composers exhibit. The Finns all have 'the modern spirit,' but each seems to have his (and in the case of Saariaho, her) own version of it. More and more fans and students of modern music are coming to recognize Finland's central role in the evolution of contemporary music especially.
And here we have the truly fine Finnish recording label Ondine with a monumental release—A Century of Finnish Chamber Music—six CDs (at a reduced price), which take us from the early twentieth century to the present. These recordings were recorded 'live' over two years at the annual chamber music festival referred to in the album's title. Kuhmo, we are told, is a small city 36 miles or so north of Helsinki in a lakes and forest district near the country's eastern border.
Most of the 'big' modern Finnish names are here: Merikanto, Sallinen, Englund, Kokkonen (not Jorma!), Rautavaara, Kaipainen, Lindberg, and Saariaho. But also such unknown (to me) stars as Rautio, Hämeenniemi, Meriläinen, Nordgren, Heininen, Hakola, Pulkkis, and Puumala—composers you are highly unlikely to hear anywhere else. And their music is very powerful stuff. Strong, emotionally engaging, fresh, and genuinely new. Listening to this album is like wandering around in a rich orchard of familiar but never before tasted fruit. Sound, as it always seems with Ondine, is state of the art: great clarity and presence.
This is modernist music that any music lover can enjoy. I love this little blue box of prizes and urge it upon you. You may have to hunt a bit—I recommend MDT in England, who are easy to reach and whose service is the best. www.mdt.co.uk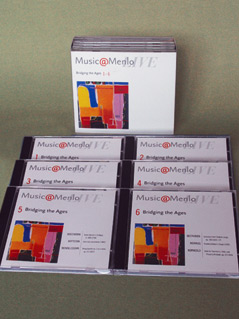 Music @ Menlo LIVE. The Unfolding of Music II. Music from the Menlo Music Festival, 2008. www.musicatmenlo.org
They're back! With five live chamber music 'recitals.' The musicians of Menlo, convened by artistic directors Wu Han and David Finckel, in this their sixth issue of festival recording. The programs, which take place in Palo Alto, California each summer, continue to be interesting, the musicians audibly up for the performances, and the sound—always extremely good—is better than ever. Pressed on this last point, recording engineer Da-Hong Seetoo smiled (he is one of the few men who can smile in an email) and gave credit to "a new version of my editing software as well as some other fancy new software I started to use this year." Da-Hong says software, I say the engineer who uses it, places the mikes, and sets the balances. He is one of the very best.
There are no clunkers among the five CD's of performances and several show-stoppers, including a world premier that had it been on vinyl I'd have worn through by now. The usual Menlo mixture of old and new, familiar and un.
Among my favorites:
Britten, Phantasy, Opus 2 (!) (1932). William Bennett, oboe; Jan Swensen, violin; Paul Neubauer, viola; Andrés Díaz, cello. The best performance I've ever heard of this wonderful little work.
Kenneth Frazelle, Piano Trio (2008). (World premier recording.) Jeffrey Kahane, piano; Joseph Swenwsen, violin; David Finckel, cello. Irresistible.
Bach, Brandenberg Concerto No. 4 (1721). Erin Keefe, solo violin; Demarre McGill, Sooyun Kim, flutes; Arnaud Sussmann, Adam Barnett-Hart, violins; Hsin-Yun Huang, viola; Laurence Lesser, cello; Daxun Zhang, bass; Kenneth Cooper, harpsichord. Fresh, crisp, and sweet, altogether.
Hugo Wolf, Italianische Serenade (1887). Escher String Quarteta; Adam Barenett-Hart, Wu Jie, violins; Pierre Lapointe, viola; Andrew Janss, cello; Joria Fleezanis, Jan Swensen, violins; Paul Neubaur, viola; Andrés Díaz, cello. ). A remarkable surprise.
Brahms, Horn Trio (1865). William Vermeulen, French horn; Joria Fleezanis, violin; Derek Han, piano. Spellbindingly beautiful.
Tan Dun, Elegy: Snow in June (1991). Andrés Díaz, cello; Daniel Kennedy, Florian Conzetti, Christopher Froh, Tom Kolor, percussion. The music of Tan Dun that I'm most familiar with is his music for film, but even the stand-alone works I've heard seem to be a part of something else that's not present. That said, I find this piece for cello and percussion very effective, a sonic and musical treat.
Discs are available singly or as a full set. Check details on the Music @ Menlo website, which is the only source for them. www.musicatmenlo.org
System used for this audition: Audio Note CDT3 transport and Dac 4.1 Balanced Signature, Blue Circle BC3000 II/GZpz preamplifier and BC204 hybrid stereo amplifier, Jean Marie Reynaud Orfeo speakers. With Blue Circle BC6000 line conditioner. Audio Note Pallas, Sootto, and Sogon interconnects and Lexus speaker cable.
Bob Neill, in addition to being an occasional equipment and regular music reviewer for Positive- Feedback Online, is also proprietor of Amherst Audio in Amherst, Massachusetts, which sells equipment from Audio Note, Blue Circle, and JM Reynaud, among others.