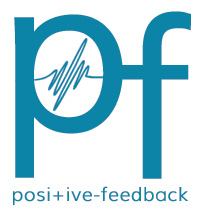 You are reading the older HTML site
Positive Feedback ISSUE
40

november/december 2008
Max's Products Of The Year (POTY)
Interconnects From Wireworld

Last year I named some of the Wireworld's Eclipse line to my POTY list, and this year they have re-designed their line to include new RCA plugs and insulation. These plugs, together with a new "Composite Dielectric Technology" insulation, kick performance up a big notch. The new "Equinox" copper interconnects are a genuine audiophile product, with thorough materials-engineering, and proven conductive-geometry, which gives great "bang for the buck." The "cost-no-object" Platinum Eclipse cables sound a lot like the Equinox line, only with more of everything that sets cables apart—good-better-best. They beg comparison with anything I've heard.
High efficiency speakers (Lowthers, horn-drivers, or PA installations) that love softer transients and low colorations will adore the new Equinox interconnects, because they will make any system sound "gorgeous." Equinox cables use aluminum RCA plug shells, rather than "technicolor" brass, to shield from hum and other noise. All contacts inside the RCA plugs are silver-clad O.F.C. (Oxygen-free Copper). The contacts are kept tight by a patented silicone rubber, impedance reducing, tensioning device. The result is a cleaner, more neutral sound. The use of Wireworld's proprietary dielectric insulation (a new "cocktail" of polymers), eliminates the "tracer bullet" effect often experienced as "masking" or "smearing," which in turn improves low-level resolution, micro-dynamics, or the ability to pick up details "down in the mix." Finally, the four flat ribbons (two for signal and two for return), configured as a "double helix," further reject hum and minimize skin effect, hence phase-shift, revealing more spatial cues. The overall effect is entry level interconnect cables ($200/one meter pair) with design details usually unavailable at this price. Equinox copper cables deliver reasonably priced, stunning performance. And that's why I choose them as my "cost/benefit" Product of the Year. They're Senbleepingsational.
The Platinum Eclipse line doesn't use brittle, hard-to-machine platinum in its construction: rather, it uses universally acclaimed Ohno Constant Cast solid silver of 99.99997% (6N) purity in its ribbons. Wireworld's exclusive Carbon Fiber RCA plugs eliminate eddy currents and stray field effects caused by conventional metal connector shells. The new RCA plugs, together with the silver ribbons, and new insulation, are startlingly accurate. The rest of the design is much like the copper Equinox, above, only better. Silver crystals are measurably and audibly a better conductor largely because silver oxide acts as a resistor at the crystals' interface, while copper oxide acts as a tiny diode. In the signal path, "dioding" sucks. Eclipses are soprano-friendly, have no sibilance, but have greater dynamic impact (I had to cut my volume pot much more than expected.), inkier black backgrounds, freedom from colorations, bigger bass, better texture, better sonority resolution, bigger sound stage, better spatial cues, etc. etc. They are the flagship of Wireworld's "house sound" with due cause. At a Manufacturer's Suggested Retail Price (MSRP) of $2995 for one meter pair, these cables are vastly expensive as well as vastly superior, and might be called the Emperor series. To those with the deepest pockets I say, "They're worth it." I've reviewed many very expensive cables that were somehow compromised. Wireworld's Platinum Eclipse cables do everything exceptionally well, and make the fewest compromises of the scores of cables I've had in my system. They've taken aim at being "King of the Hill," and it's arguable they've made it. And that's why they're my "cost-no-object" Product of the Year. Unbebleepinglievable. POTY-Mouth Max Dudious
Max's CDs Of The Year (COTY)
Telarc's La Bohème and Leon Fleisher's "Core Repertoire"
One of the great things about living in recent times is the access we have, via recordings, to great musicians' performances back to nearly a century ago. Of course the earliest (1927-1948) electronic, not acoustic, recordings are not the best, but they are highly instructive about performance practices and musicianship of the soloists, like the Louis Armstrong recordings with his Hot Five. With the availability of magnetic tape (1948 on) we have analog recordings we can process once in the digital domain, and have them sound as if done in recent years, much like digital revitalizing of old photographs. Leon Fleisher's Columbia recordings of 1954-1963 have been collected by Sony and are available on-line through www.ArkivMusic.com. They are remarkably well-engineered, and well-played. They are of great interest to piano students and teachers as they represent a virtuoso pianist whose teachers passed down performance "secrets" from Beethoven himself. There are solo recital CDs of Mozart; Schubert; Debussy & Ravel; Liszt & Weber; Copland & Sessions & Rorem &Kirchner; plus the Brahms Piano Quintet. This collection is an example of the over-used word, "revelatory:" But, that word really fits. Representing a decade of Leon's greatest work, it certainly deserves to be a CD of the year in 2008, though nearly fifty years since their release. For more information see my detailed review at http://positive‑feedback.com/Issue39/leon_fleisher.htm. Bleeping fabulous.
The recent recording of Pucini's La Bohème (Telarc 2SACD-60697) stands among the best of this "World's Most Popular Opera" due to exceptional recording engineering and exceptional performances by all the musicians. Through my system, in my room, through my aging ears and brain, it offered an exceptional listening experience. It was arresting! It grabbed me like a cop, sat me down, and made me listen from the first bars. And it was drop-dead gorgeous. The singing made as life-like a facsimile of performers in the room that ever I've had coming from my system. My jaw dropped in disbelief. This is what was promised in 1983, when CDs made their commercial debut. Robert Spano conducts the Atlanta Symphony Orchestra and Chorus in a performance that demands great flexibility, from braggadocio to tenderness on the part of the tenor Marcus Haddock as Rodolfo; from falling in love to anticipating her own oncoming death by the soprano Norah Amsellem as Mimi; to the recognition of her own sexuality by Georgia Jarman as Musetta. Robert Spano and his forces accompany youthful hi-jinx, love affairs, and tragedy by playing Puccini's masterpiece with as much ease, grace and panache as if they were the house band at La Scalla. For veteran opera-lovers, this is opera at its best. For newbie opera buffs, hearing this recording will explain why La Bohème is the Super Bowl Champion of operas. Telarc's glorious engineering can make your listening room into an opera house, and makes this recording another of my choice CDs Of The Year. If you don't believe me, catch what the recent TAS has to say. Plainly, it gives me goose-bumps. Ciao Bambini!