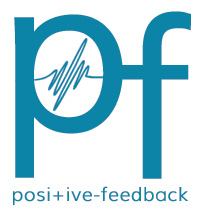 You are reading the older HTML site
Positive Feedback ISSUE
40

november/december 2008
A Pair of Very Dissimilar Releases by Naxos
by Karl Lozier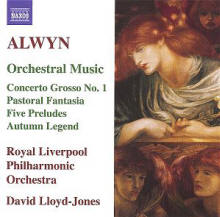 William Alwyn, Orchestral Music. Overture to a Masque, Concerto Grosso No.1, Pastoral Fantasia, Five Preludes, Tragic Interlude, Autumn Legend, Suite of Scottish Dances. Orchestra: Royal Liverpool Philharmonic. Conductor: David Lloyd-Jones. Naxos CD 8.570704
If you read the Naxos Corrobee review first you should forget any and all descriptive terminology I used there. Remember that rather old-time phrase "diametrically opposed"? Well, consider it used here. There is nothing primitive, forceful, stressful or even irritating about Alwyn's music. That leaves words or phrases such as melodically appealing, relaxing, interesting, tuneful and attractive. All the selections listed here present the aforementioned attributes. It would take a great deal of writing to describe what often tends to be rather slight differences between his appealing compositions. For the most part, Alwyn is not trying to scale majestic heights or create and transfer profound thoughts or insights. Here is music and melody presented for enjoyment from relatively subtle to directly forthright. The size of the orchestral forces vary greatly. As an example, the last group of brief compositions, the Suite of Scottish Dances is deliberately scored for small orchestra and the smaller forces clearly reveal every small and subtle detail inherent in the music.
Audiophiles as well as music lovers may have great interest in this excellent release. The Pastoral Fantasia is written to feature the solo viola to a great extent. The viola is seldom featured in classical music. Here it is, very cleanly and clearly recorded so listeners can learn how it sounds and then never confuse it and the rather similar sound of the violin. Falling between the violin and cello, the viola could be thought of as a "tenor violin" and played here by Philip Dukes. In the Suite of Scottish Dances the Cor anglais, a not generally used name for the English horn, is beautifully recorded with Rachael Panhurst. It is generally considered to be a tenor oboe and it sounds exactly like that. It too is seldom featured in classic music. Alwyn's Five Preludes, here receiving its world premiere recording, is colorfully scored for large orchestra. Here careful listening will clearly reveal the xylophone, at times with muted trumpets, side drum and tuba also chiming in. The excellent audio quality is not quite the same as the aforementioned Corroboree release. Somehow, here there is a bit more of a relaxed atmospheric quality as if it were presenting a slightly more distant perspective such as being heard from a half dozen rows further from the stage. Chalk this up as another fine CD release by Naxos. It would be nice if music lovers would petition Naxos to release some of these in SACD for even greater enjoyment. All in all this release is a good introduction to Alwyn's music and if you want more, his symphonies would be a good choice.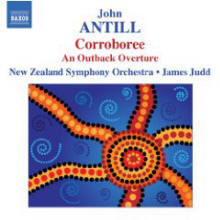 John Antill, Corroboree, An Outback Overture. Conductor: James Judd. Orchestra: New Zealand Symphony. Naxos CD 8.570241
John Antill's life and career spanned much of the twentieth century. Born in Sydney, Australia much of Antill's fame evolves from his studies on Aboriginal music and his attendance at an Aboriginal Corroboree a kind of ritual ceremony. Those studies and notes eventually led to his highly successful and extremely popular ballet, Corroboree. This composition is considered a landmark in Australian music history. His many previous compositions, including a dozen string quartets, have not survived and so existing scores are all from compositions completed after Corroboree. Written in the nineteen forties probably automatically puts the composition into the contemporary or modern category. The Outback Overture actually opens the recording though it is listed second on the notes and album cover. Somehow in slightly less than eight minutes it contains both hints of the main composition, Corroboree, and excerpts as well as hints or snippets from works by other composers, mainly British ones. I find these Antill compositions difficult in the extreme to describe. Any of our readers that are familiar with Igor Stravinsky's famous Rite of Spring whether from recordings, the concert hall or its memorable use in Walt Disney's film Fantasia, will definitely hear extremely similar music or passages in Antill's music being reviewed here. Therefore it is rather easy to describe much of his music as powerfully primitive as the composer had been exposed to the music and dancing of Aboriginal ceremonies in the Australian outback. Those activities are definitely primitive! Stravinsky's use of seemingly similar music is also primitive as used by Disney to accompany some very early creatures such as dinosaurs stomping around areas of planet Earth. Fortunately there is substantial melodic and beautiful harmonic materials interspersed with powerful primitive rhythms. In many of those melodic passages, various solo and duo instruments are effectively used and realistically recorded. The seven movements or sections of Corroboree are fairly logically titled, such as "A Rain Dance", "Rising Sun", "Morning Star" and the frenzied dance finale accurately described as chaotic, "Procession of Totems and Closing Ceremony."
Conductor James Judd (familiar to me from his years with the Florida Philharmonic Orchestra) and the New Zealand Symphony Orchestra are fully and beautifully up to the demands of this large-scale composition. So is the recording; easily the equal of Naxos' best recent recordings. Naxos at their best is difficult to surpass—no, they are not all equally good, though surprisingly because of the many various recording venues and other variables, consistency is rather common. My guess is that microphone brands/models are fairly standardized and placement/distances are a bit closer than with many companies in other parts of the world. Here the excellent results offer natural details, fullness and solid palpable bass from the tympani and bass drum to satisfy audiophiles as well as true music lovers. Topping all that off is the absence of any harshness or irritating treble distortions. I partly attribute that to the extended smooth low distortion response of my latest VSEI upgraded older Sony model CD/SACD players. Do not pay attention to old myths that better or upgraded players more clearly reveal/add to harsh distortions. The really top models or upgrades have lower distortions and do not add distortions or harshness; they are smooth and sweet.