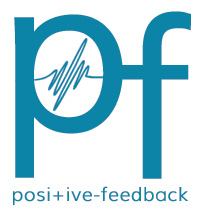 You are reading the older HTML site
Positive Feedback ISSUE
40

november/december 2008
RMAF 2008 Show Report, Page 2
by Adam Goldfine
Half Note Audio
Earlier this year I reviewed the Chalice Audio Grail SET Monoblocks which were picked up by distributor Half Note Audio. Having fallen in love with their sound, but with a price ($80,000/pr) a little beyond my reach, my first stop was the Half Note room hoping for another listen. An unfortunate occurrence prevented the Chalice guys from making the show but instead I was greeted by Half Note's Daniel Barnum and the Tidal loudspeakers that Chalice co-founder Pres Edmunds had raved about.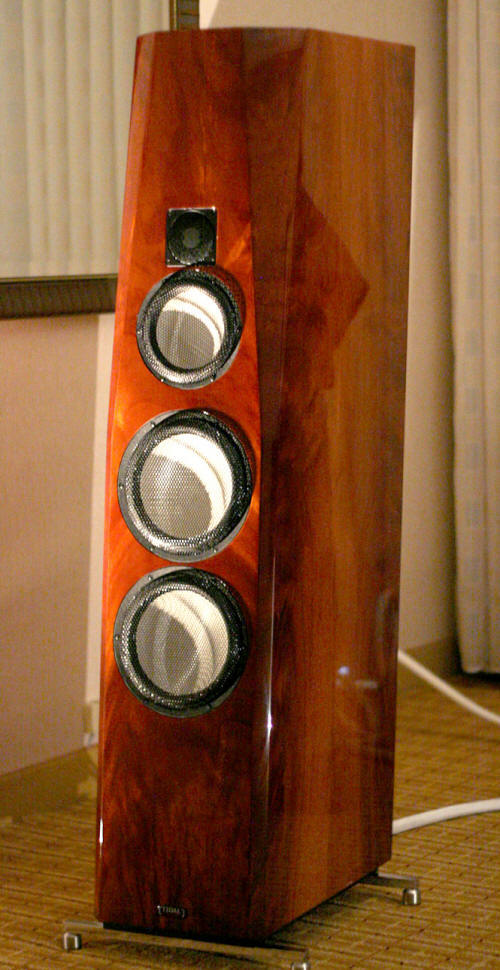 I sat down for a listen to the Tidal Contriva loudspeakers, $52,900 - $60,900 depending on finish, a large floor stander featuring a ceramic tweeter, one 7" and two 8" ceramic drivers. The sound was as fast and clean as I've heard with deep authoritative bass with the kind of speed and detail Wilson Benesch is known for. The dynamic range and pinpoint imaging was exceptional. Driven by the Tidal Impact amplifier, $40,900, and Preos preamplifier, $42,900, the sound was among the best of the show. I made many return trips to this room.
Krell
Krell was displaying their new the Modulari Duo loudspeaker system. The speakers consist of a two way monitor sitting atop a bass module with three 8" drivers. The cabinets are machined from solid billets of aluminum and weigh over 300 pounds. With all Krell Evolution electronics driving the speakers, the sound was authoritative in the extreme. Words that came to mind include realism, presence and dynamics that were so life like they were scary. I've never heard speakers with dynamics like this. They are available now at $65,000/pair.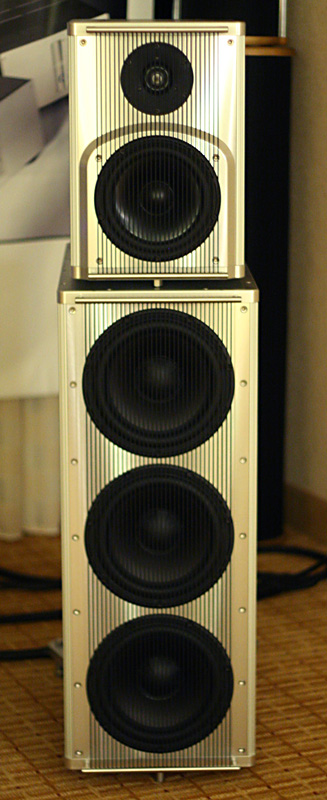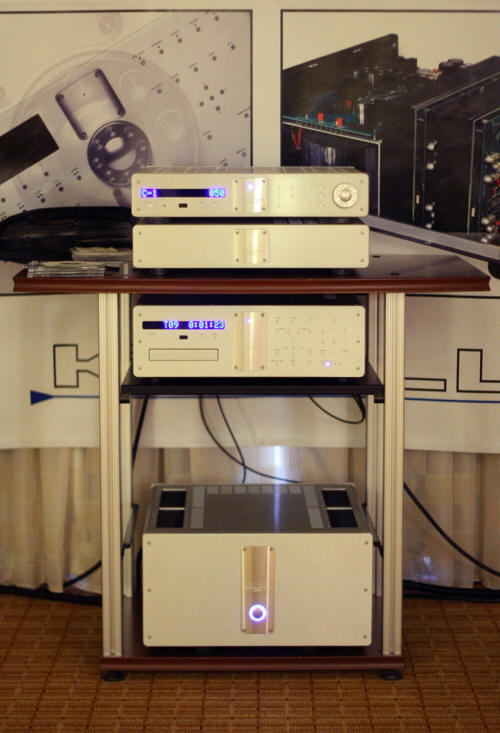 Lyngdorf
As I mentioned above, I'm becoming convinced that as music servers take hold, giving us access to high resolution files that are not tied to a single format, speaker and room correction, once shunned by purists, will become an integral part of high end audio. It stands to reason that if the typically lumpy bass response of most rooms as well as the frequency and phase errors in many speakers can be smoothed out in a transparent manner while dramatically improving the sound, audiophiles will flock to it.

Since all servers output a digital signal, many only a digital signal, the issue of analog to digital conversion becomes irrelevant, leaving only the question, does this stuff work and how does it sound. In the A/B comparisons I've heard with less than optimally set up systems the difference that room correction has made has been profound, smoothing out boomy bass and making the unlistenable listenable. But that has been under show conditions in unfamiliar rooms and systems. The real acid test will come when I get my hands on a unit and test it in my own system.
If it lives up to its promise, then in my opinion, the Lyngdorf DPA-1 is the future of high end audio preamplifiers. It has three single ended and one balanced analog input, five digital inputs; three coaxial, one AES/EBU and one Toslink, two sets of balanced analog outs, two sets of single ended analog outs and one digital coaxial out. It functions as a DAC for your digital sources, a line level preamp, provides digital room correction utilizing a set up wizard and included measuring microphone, can work as a digital crossover with adjustable crossovers and slopes in a bi-amped system, and can output a high passed signal for a set of main speakers and low pass for subwoofers. Since it replaces your existing pre-amp it eliminates the need for another set of cables and an additional box in the system.
Lyngdorf claims that the DPA-1 is sonically the most transparent pre-amp on the market. While I hope that is true, I will reserve judgment until after a critical listen. I suspect this device and others like it will cause a paradigm shift in what is considered purist audio. With any luck I will have one here for audition soon. $5700.00
Moscode
New from Moscode is the 402Au tube input, mosfet output hybrid amplifier. It outputs 200 wpc into 8 ohms and provides the user with a number of choices for its four input tubes. It is available in Silver or Black and the $6495 factory direct price includes shipping. You have 33 1/3 days to audition the amp and if you decide to return it, Moscode will pick up the amp at its own expense and refund the full purchase price.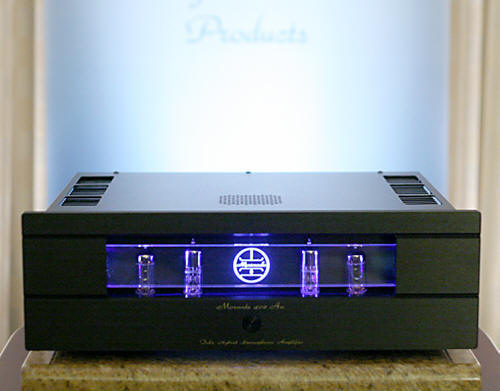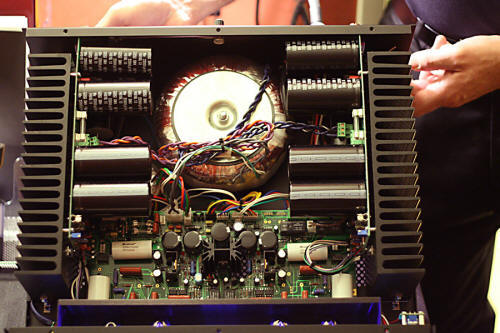 NSR Sonic Research
The D3 Concerto Sonata is the latest offering from speaker designer John Tabernacki. Featuring the somewhat idiosyncratically styled Acoustic Projection Lens and finished in a bold metallic red, the speakers sounded quite pleasing during my short audition. They are available at an introductory factory direct price of $4995/pr which includes shipping. Regular price is $5995 or $6995 with the Reference Crossover.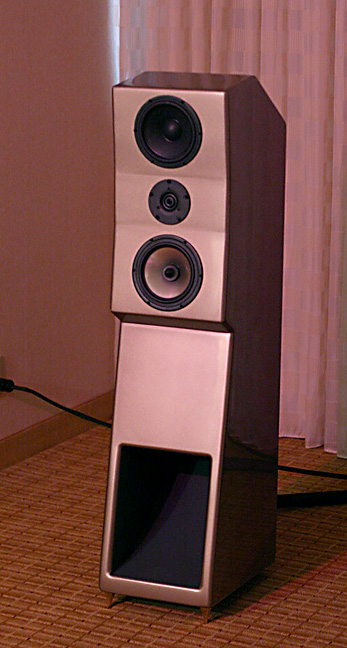 Occam
Another new name for me is Occam Audio, a company offering low cost, high quality loudspeakers in either kit or finished form. I heard the MTM 4, a small two way monitor powered by the Virtue Audio Audiophile One integrated amp. The sound was excellent and way better than the $399.90 kit price or $559.90 finished price would indicate. These are definitely worth checking out!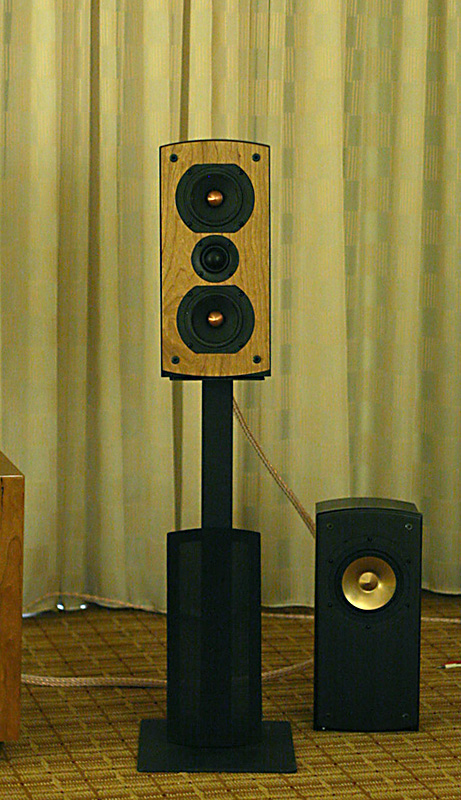 Qsonix
The Qsonix Q110 music server is a four zone system that includes a wired touch screen control panel, internal DACs and on board storage from 250 GB to 1.5 TB. Each zone is output to one of four sets of stereo analog outputs that can be independently controlled with its own playlist and volume setting. The unit also features an S/PDIF coaxial digital output for use with the DAC of your choice. Pricing varies with options and storage capacity.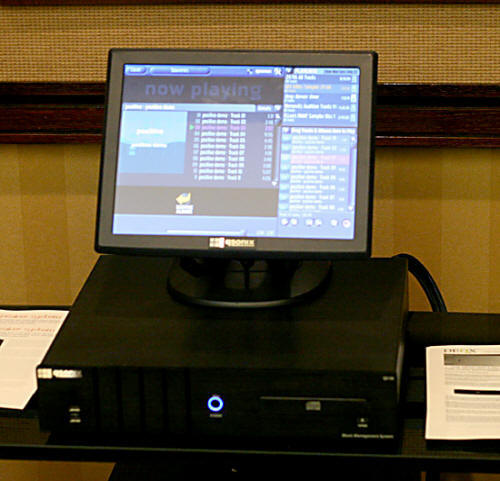 Quantum
There seems to be some mystery surrounding Quantum, a Santa Monica, CA company that distributes its proprietary Quantum Resonant Technology units through Nordost. What it does exactly is anybody's guess, though the official explanation is that it "imparts greater degrees of order, coherence and noise reduction to any associated electronic circuit" through Electro Magnetic Field Stabilization. Two models are available, the Qx2 ($1700) and the Qx4 ($2500) with the Qx4 claimed to have twice the power of the Qx2. (Nordost's own Thor power conditioner contains a Qx1 module.) The units plug into the wall and your power distribution box or component(s) plug into the unit's single outlet. The effect of using multiple units is said to be cumulative.
Though the explanation of the technology is ambiguous, the effect on the sound is far from it. I only heard a far too short audition, but the impact was anything but subtle. Instrumental lines that were previously hidden were suddenly apparent and I'm not talking about barely audible sounds hidden deep in the mix. In fact my thought upon hearing the suddenly revealed instruments was, "how could I have possibly missed that before?" I've obsessively been trying to get my hands on a review unit.
Soundsmith
Another highlight of the show was the time I spent with Peter Ledermann, president of Soundsmith, and Ralph Bagge, director of sales. I had been invited to a private, after hours audition and was looking forward to the hearing the Strain Gauge system I had heard so much about but never heard.
Upon first meeting him it was immediately apparent that Peter is passionate about what he does and at the same time takes a no nonsense, yet unique, craftsman like approach. A soundsmith if you will. Across the board his products are just a little (and sometimes a lot) different from what everyone is doing. Seeing and hearing his products my first thought was, that's brilliant, why haven't I ever seen that before.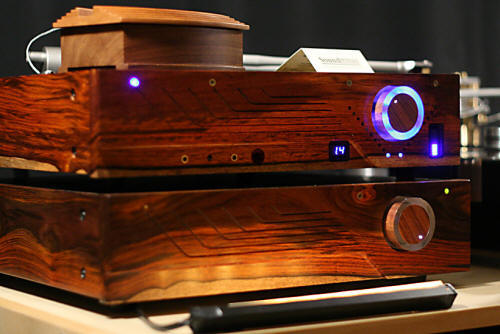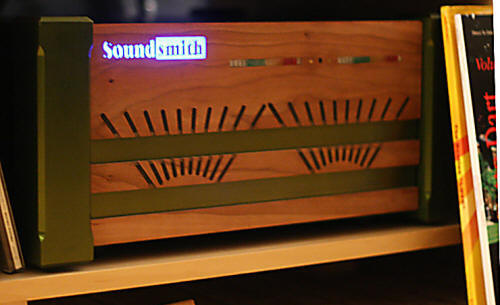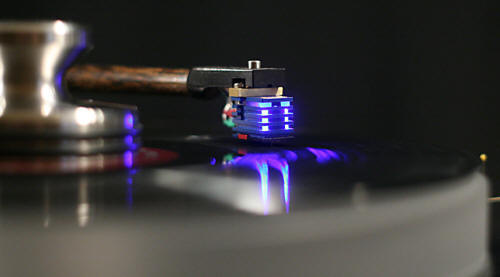 The Strain Gauge system is an ingenious cartridge and preamplifier combination, designed to work together, what a concept! To fully detail how it works is beyond the scope of this report, but you get mute on cuing, tracking force and channel balance displays on the preamp and even a G force indicator telling you how your cartridge is responding to record warp. The sound was fast, articulate and gorgeous. Prices range from $7,499 to $14,999 depending on configuration.
To demonstrate his Monarch bookshelf speakers, Peter played me a raucous version of The Firebird Suite conducted by Antal Dorati, one of my favorites. I'm not ordinarily fond of listening to large scale orchestral music on bookshelf (14" x 8.5" x 12.5") speakers but Peter cued the cartridge to the most demanding section, the Infernal Dance of All Kastchei's Subjects. I was blown away by what I heard coming from these little stand mounted speakers. While they didn't have the effortless deep bass of large floor standers, they did reproduce the full scale orchestra with satisfying authority. The fact that they are $1,999/pr makes their performance even more incredible.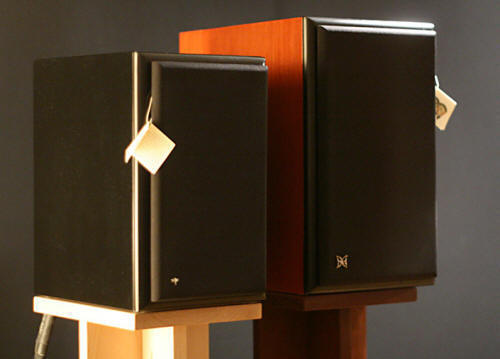 DirectGrace Records, Peter's recording project, releases original direct to disk vinyl with the proceeds going directly to breaking the cycle of poverty that leads to child labor. Inspired by Len and Georgia Morris' documentary "Stolen Childhoods", each album is a purist recording using a single matched pair of AKG microphones with no EQ, compression, editing or processing. The sound was exquisite on the cut I heard from the forthcoming album by John Pousette-Dart. I highly recommend you check out these disks. For more information or to order albums visit www.directgrace.org.
Spiral Groove
The new Spiral Groove tonearm from Allen Perkins has been a while in the making. It features a 10" pivot to stylus distance, unipivot bearing and easily adjustable overhang, azimuth, VTA and zenith. The aluminum/carbon fiber arm tube is said to dissipate excess energy more effectively than any other material. The version pictured is very close to the final production version lacking only an anodized finish on some of the parts.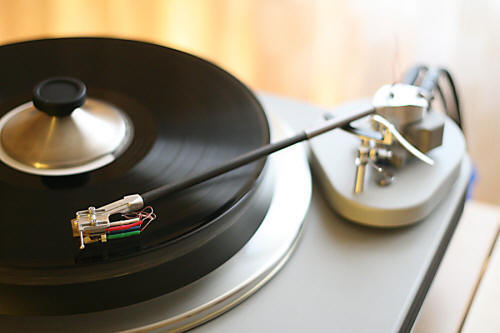 The sound was fast and articulate mounted on an SG-1 turntable. The arm will be available at the end of the year at a price of $6,000.
TAD CR-1
Adding to their TAD line of high end components, Pioneer introduced the CR-1 Compact Reference loudspeaker. The CR-1 is a large stand mounted 3 way featuring coincident beryllium high frequency and midrange drivers and an 8" tri-laminate bass driver. The claimed frequency response is 45 Hz to 100 kHz. Driven by bel canto electronics, the sound was open, dynamic and revealing, though not quite as well sorted as the nearly twice the price Tidal loudspeakers. They will be available sometime in Q1 or Q2 of 2009 and the price will be somewhere around $30,000/pair.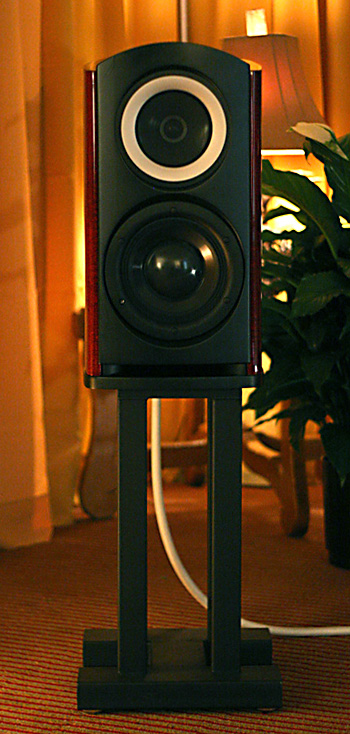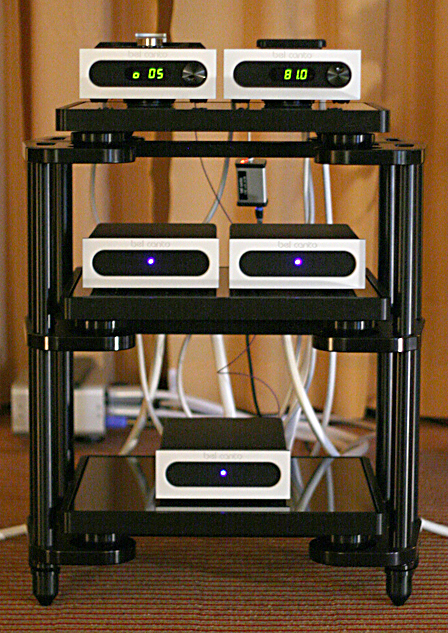 Valve Amplification Company
A man I have come to admire is Kevin Hayes, founder and chief designer of VAC. His love and knowledge of audio and a shared interest in photography always make for engaging conversation.
Making its debut at the RMAF was the Phi 200 stereo amplifier, $9,800. The amplifier produces 110 watts from one pair of KT88s per channel and is switchable from single ended to fully balanced operation. Kevin claims that the Phi 200 is bettered only by the Phi 300.1. A review sample has been promised.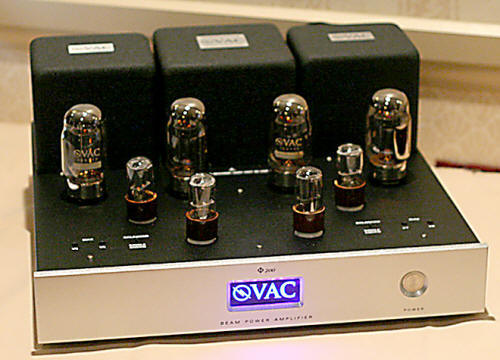 The set up included VAC's Signature Preamplifier MKII, $14,000 line stage only, $18,000 MM/MC phono version and the Phi Alpha D/A Converter first seen at CES earlier this year. The sound through a pair of Von Schweikert VR-9SE loudspeakers, $90,000/pair, was exquisite as was the sound through a pair of Gershman Acoustics Avant Gardes, a particularly synergistic combination.
Veloce Audio
New from Veloce is the idiosyncratically styled LS-1 line stage. The well built unit runs on rechargeable batteries driving two 12AU7 dual triodes and two 12AT7 dual triodes and features balanced and single ended input and output connectors, though it is not a true balanced circuit. The unit will run for 100 or more hours between charges from the included power supply. It is available in a choice of three finishes and is shipping now, $12,500. A 180 wpc, true balanced amplifier will be shipping in the first quarter of 2009 and will be priced similarly.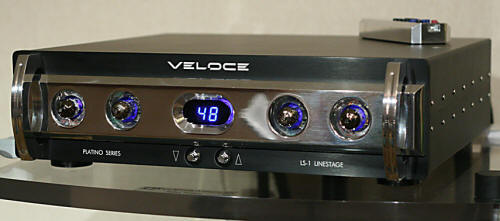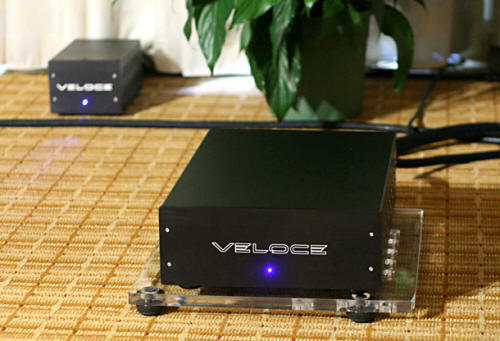 Virtue
Another value leader at RMAF was the Audiophile One integrated amplifier from Virtue Audio. Engineered by Roger Sheker of Audience (which explains the box of cables I just received), the small, well built unit is available in five colors and with a choice of three different power supplies. It features one single ended input, a pair of propeller binding posts and a subwoofer out. The unit drove the Occam MTM4 loudspeakers effortlessly. And at a price of $249 with the standard power supply, this thing is a steal. I have a unit here for review.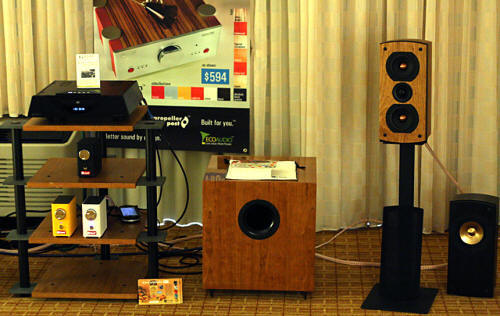 ViV laboratory Ltd.
Another value leader at RMAF was the Virtue One integrated amplifier from Virtue Audio. Engineered by Roger Sheker of Audience (which explains the box of cables I just received), the small, well built unit is available in five colors and with a choice of three different power supplies. It features one single ended input, a pair of propeller binding posts and a subwoofer out. The unit drove the Occam MTM4 loudspeakers effortlessly. And at a price of $249 with the standard power supply, this thing is a steal. I have a unit here for review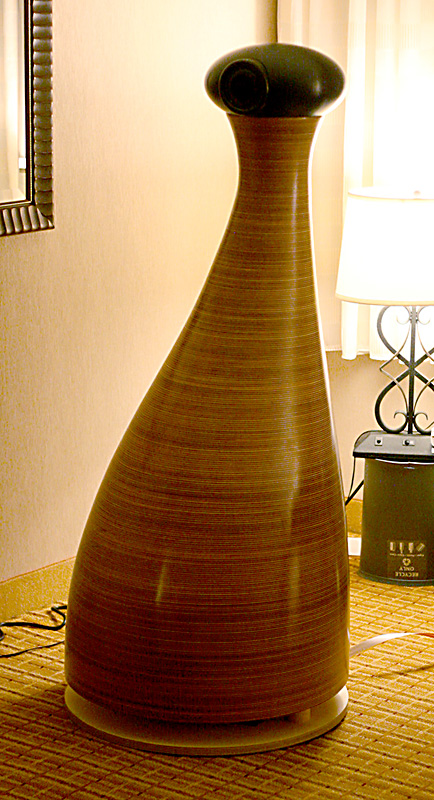 The sound from these uniquely styled and engineered speakers was remarkably coherent. The claimed frequency response is 50 Hz to 30 kHz, (-6dB) with a sensitivity of 87 dB. $60,000/pair.
YG Acoustics
Claiming to be the best loudspeakers in the world is just an invitation for controversy, unless you really are the best. Or as they say, if it's true, it ain't bragging. Well I still can't say if it's true or not as YG has some stiff competition from the likes of Tidal, Hansen and a few others, but this year the Anat Reference were sounding the best I've ever heard them. The tonal colors and presence of instruments were astonishingly real and the dynamics were just explosive. I would have needed the real thing in the room to say for sure, but at one point I heard a ride cymbal that was pretty much indistinguishable from the real thing. I'm still waiting for a review pair.
Recordings
I devoted more than a little time seeking out quality recordings this time and came away with a few gems.
Blue Coast Records
Blue Coast Records is the result of a collaboration between Grammy award winning producer Cookie Marenco and French engineer Jean Claude Reynaud, son of speaker designer Jean-Marie Reynaud. Featuring bluesy folk artists such as Keith Greeninger, Dayan Kai, Jane Selkye and many others, they utilize a proprietary recording process known as Extended Sound Environment, E.S.E. The SACD sampler I received is full of soulful music and sound to die for. Check them out when you get a chance.
Direct Grace Records
As I mentioned above, DirectGrace is Peter Ledermann's recording project aimed at breaking the cycle of poverty that leads to child labor. Current offerings include Jon Pousette-Dart, Mark Cosgrove, Bill Frisell & Doug Wamble and several others. Peter has approached this project as he seemingly approaches everything else he does; with passion and the utmost care. Albums can be ordered online at www.directgrace.org.
M A Recordings
Until Janice Mancuso of Reference Recordings suggested I check them out, M A Recordings was a name that was completely unknown to me. Formed in Japan in 1988, the company is the expression of the unique vision and eclectic taste of Todd Garfinkle. His catalog features Jazz, Latin, World, Classical and many other forms of music recorded using a single pair of omni-directional microphones in an acoustically live environment. I came away with two Peter Epstein CDs and have been enjoying them immensely ever since. For a unique take and a real sonic treat, seek them out.
Reference Recordings
Keith Johnson has, in my opinion, consistently produced some of the finest quality recordings on the face of the earth but I have always wondered how they would sound in a high resolution format. They recently made hi rez recordings available as digital files distributed on DVD as a storage medium but they require loading them onto a high quality music server, leaving us not yet adopters out of the picture. Much to my delight their orchestral sampler, Tutti!, is now available on SACD. Despite some concerns I had over sample rate conversion as none of their catalog is recorded in DSD, the sound is just spectacular. Now if they would migrate the rest of their catalog! Or maybe I'll just get a server.
Seminars
I had hoped to attend several of the excellent seminars offered throughout the weekend but as it turned out I made it to only one, the last one, and I was one of only two attendees. It turned out to be a real eye opener and shifted the paradigm of how I view extracting the full potential from high end systems. It was conducted by Roy Gregory, editor of the U.K.'s hi-fi+ magazine and was a system set up demonstration.
The demo consisted of three separate and identical mid-priced systems; Ayre CX-7e CD players, Ayre integrated amps and Avalon speakers. One sat on a typical glass and steel rack with midpriced power, interconnect and speaker cables. One sat on a Finite Elemente Pagode rack with less pricey cables and a total price tag equal to the first rack. (The speakers were also shifted forward one inch at this point in the demo.) The third system sat on a Stillpoints rack with Vertex cables and Stillpoints component stands under the speakers.
The same music tracks were played on each system so that the differences that just the cables and racks made could be easily discerned. We all know these things make a difference, but hearing the magnitude of the cumulative effect in an apples-to-apples demonstration was jaw dropping. And it wasn't a matter of each sounding a little different, the sound improved dramatically as we progressed from system one to system two, then to system three. But that was nothing compared to the effect of switching on the Quantum Qx4 power conditioner, described in more detail above.
Roy recommends using the same brand of power cables, interconnects and speaker cables to get the most from your system. The power cables will make the most difference in your system, then the interconnects, then the speaker cables. And get a good rack. The demo really sold me on the Stillpoints gear.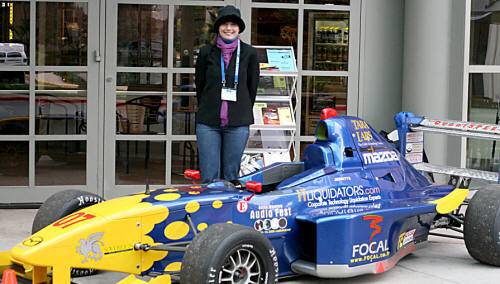 Christine Jerritts
This has nothing to do with audio, well not exactly, but Christine Jerritts is the driver of the #7 Formula Enterprise race car. The FE is a one design, open wheel car with emphasis put on driver skill and mechanical preparation. Her sponsors include Tara Labs, Focal, RMAF and Aesthetix. She stood outside in the cold greeting visitors and cheerily talking about her racing experiences. She can be found on the web at www.quantspeed.com. But you better hurry 'cause she's going fast . . . ha!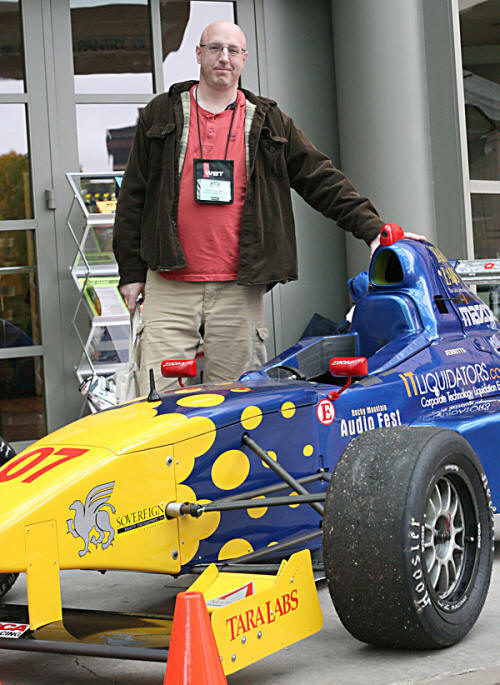 Hey, that's me!