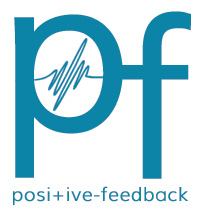 You are reading the older HTML site
Positive Feedback ISSUE
41

january/february
2009
Notes of an Amateur - January 2009, Part 1
by Bob Neill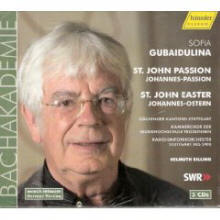 Sofia Gubaidulina: St. John Passion/St. John Easter. Helmuth Rilling, conductor. Hannsler Classic 98289
There is some music that comes to us easily, some we have to go after; and then there is some that we just have to wait for patiently. It will eventually have its way with us, or it won't. I put the music of Finnish Kaija Saarriaho and Russian Sofia Gubaidulina in the last category. And my experience with both of them has been mixed. Sometimes it gets to me, sometimes we simply can't find common ground. I'll get to the latest release of Saarriaho's music next time out.
With Gubaidulina's St. John Passion and St. John Easter it took a while; but now that they've finally to me, I assign myself all of the blame, for impatience. This is extraordinary, albeit challenging music.
Is there a way to tell the story of the passion and resurrection of Jesus Christ compellingly but in a way that must make the spiritual and aesthetic case almost entirely outside the Western musical tradition: that is, without drawing on the traditional 'sound' and forms that have helped to sustain it since at least the seventeenth century? Is it possible to make this old story new—give its offer of meaning new force so that it can confront and startle us moderns with our aesthetic guard down? This is the task that Gubaidulina has set herself in creating her St. John Passion and St. John Easter, the first as part of the same 'occasion' or commission that also brought us Oscar Golijov's St. Mark Passion. And not only does she succeed in delivering this story in a bold new modernist musical style, she also gives it an additional dimension by working quotations from Revelation among the quotations from The Gospel of St. John that make up the rest of the text. The effect is to enable us to 'see' the story from both its temporal and eternal perspectives, and the result is almost surreal.
What goes out of the story as she delivers it to us is any sense of traditional ceremony and the consolations of traditional beauty. What comes in is something approaching existential drama and passion. We have the sense that there is less art between us and the narrative. This is an illusion, of course, there is plenty of art. But it is modernist art: leaner, less lyrical, more confrontational; and there is a great deal more contrast and conflict. The solo voices are powerful, eloquent, and beautiful in a way that suites the style of the work. The ending of the St. John Passion is pure Revelation: the 'Seven Bowls of Wrath' are loosed on the world in response to the crucifixion. The resurrection may be coming but there is unfinished business to take care of first!
The second part, "St. John Easter," is not meant to be the continual of the Passion because the action is already finished. The "Word" completed its earthly course and laid the cornerstone for the eternal kingdom which is accomplished in Revelation. Now there is a glorification of the events. Textually, as well as musically, the levels of the Passion and Revelation are carried over; but they do not "cross" each other; but rather they rise up within themselves. The twelve-movement work has much brighter sound colors, but it still brings elements back into focus that were explored in the St. John Passion. [From the album notes]
St. John Easter uses the same textual technique as the Passion, the interweaving of texts from John and from Revelation, but also makes use of the Russian (Eastern Orthodox) Liturgy and a recurring passage from Ezekiel. Revelation plays a larger role in the Easter than in the Passion, affecting the whole piece with a mystical feel suggestive of Orthodox Christianity. For example, immediately following the disciple Thomas's expression of doubt and insistence on seeing the risen Christ's wounds to convince him of his authenticity, enters starkly "The Rider on a White Horse" from Revelation!
While both works are stylistically more modernist and intellectually more ambitious, the St. John Easter in particular reminds me musically, especially at its emotional peaks, of Benjamin Britten's Peter Grimes, Cantata Misericordium, and War Requiem—and in its quieter, more reflective moments, of his Rejoice in the Lamb. In these passages the works feel most convincingly grounded in human experience, providing a foundation for the more mystical passages that surround them. By the end of St. John Easter, as surreal and real as it all feels, we have clearly arrived at something we can all recognize as Easter; but we are light years from Handel and Bach.
Novelist Henry James said that to understand or appreciate a work of art, we must grant the artist his subject matter and save our response and critique for what he makes of it. This applies to Cezanne's oranges and James' upper class social world, as well as to Gubaidulina's Christianity. And I promise if you give yourselves to Gubaidulina's subject matter, if unbelievers and non-Christians can at least suspend their disbelief, her St. John Passion and St. John Easter will move you as much as any major monument of modernist music. These two works have removed whatever doubts I had about her as a modern composer. This is clearly her crowning achievement, which will frame her other work—and it is a magnificent one.
I would not presume to recommend or urge this recording on you. I aim only to alert you to its presence in our midst. It is surely larger than anything I can say about it. What it should do at the very least is drive out some of the pretentious and just plain bad religious music that surrounds it—by MacMillan and Tavener, to mention the two most flagrant examples I know of.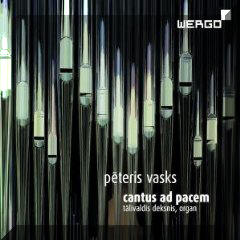 Peteris Vasks, Cantus and Pacem. Talivaldis Deksnis, organ. Wergo 67122.
There is fresh snow on the ground and in the hemlocks out side my clearstory window this December morning in Western Massachusetts—it is in the low twenties (F). And the music playing in my living room is the solo organ music of contemporary Latvian composer Peteris Vasks. Nature is clearly giving the composer an unfair advantage—but he doesn't need it. His musical voice was born for this instrument and he has been writing for it for over twenty years. Both the extraordinary sense of weight and mass an organ can bring to music and the light and reedy airiness it can suddenly whisk in by way of contrast seem to place Viatore, for example, the work I know here in its original version for string orchestra, in a whole new dimension.
What we are most aware of in most of this music is mass and light: emotionally powerful and harmonically rich mountains of musical sound moving across a landscape, lit from above and sometimes seemingly from within by fleeting beams of light. This music is not about counterpoint! In less imaginative hands, it could fall flat into a heap of New Age pretension. In Vasks,' it is pure sonic drama with passages of great beauty. Vasks' music is more immediately accessible than Gubaidulina's, his heart and mind closer to old world sounds than hers. Though his sound is clearly modern, he does not feel her urgent and profound need to break through the old forms and sounds to regain the direct relation to the world's meaning she feels is no longer possible with the music of even the fairly recent past.
All of this said, Vasks does share something deeper than musical style with Gubaidulina, which may, likely does, have something to do with the culture and history that Russia and the Baltic countries share. You can hear this 'thing' in the music of their Polish contemporary, Gorecki, and of Georgian contemporary Kanchelli. It is a strong, dark, and eloquent brew.
The organist, Talivaldis Deksnis, is a life-long friend of Vasks, who has premiered several of the composer's works for organ. He has performed all across the West, including the US, but is particularly esteemed in his native Latvia, to which he returned with his parents in 1956 from exile in Siberia. He is inseparable from this music.
System used for this audition: Audio Note CDT3 transport and Dac 4.1 Balanced Signature, Blue Circle BC3000 II/GZpz preamplifier and BC204 hybrid stereo amplifier, Jean Marie Reynaud Orfeo speakers. With Blue Circle BC6000 line conditioner. Audio Note Pallas, Sootto, and Sogon interconnects and Lexus speaker cable.
Bob Neill, in addition to being an occasional equipment and regular music reviewer for Positive- Feedback Online, is also proprietor of Amherst Audio in Amherst, Massachusetts, which sells equipment from Audio Note, Blue Circle, and JM Reynaud, among others.