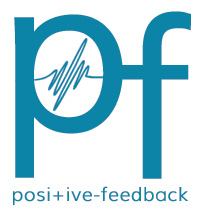 You are reading the older HTML site
Positive Feedback ISSUE
41

january/february
2009
Notes of an Amateur - January 2009, Part 2
by Bob Neill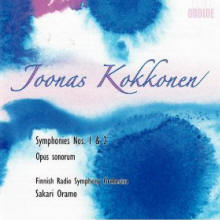 Joonas Kokkonen, Symphonies Nos. 1 & 2; Opus Sonorum. Finnish Radio Symphony Orchestra, Sakari Oramo, conductor. Ondine ODE 11292.
To listen to the Sibelius, then to contemporary Finns Aho, Sallinen, Kaipainen, Lindberg, and Saariaho, and finally to the symphonies of composer, Joonas Kokkonen (1921-1996) is to discover the 'missing link' between two generations of modern Finnish music.
Symphony No. 1. To my ears, which grew up on Sibelius, this music, written in 1960, is the great late romantic Finnish composer plus irony, (serious) flirtations with dissonance, and emotional complexity. That is, plus early modernism. There are other presences here—notably the Bartok of the Concerto for Orchestra – the kind of major work that couldn't help but find its way into the head of an open-minded Scandinavian composer of the mid-twentieth century with ears pointed south toward the continent. And of course a first symphony is likely to be the most absorbent.
But Sibelius, 'the father,' is here and the music may be the better for it. Some of us (in the U.S. especially) have been taught to overprize the absolutely new, the work which has broken free of its predecessors. But there is also art which expressly builds on its forbears, which shows us the way from the past to the present, which confirms and solidifies its tradition as it adds to it. Kokkonen's Symphony No. 1 is not Sibelius, not even close. It pulls in other, bolder, more exploratory directions. But it remembers him. We can hear the continuity, just as we hear Copland in is much of the different music that came immediately after him. This makes fascinating listening.
Symphony No. 2. Kokkonen's second symphony (1961) has the same roots but it has more of its own feel, which is a sardonic, reflective, anxious, and unsettled one. The composer displays eloquent spare use of solo instruments, especially woodwinds, in all of his music that I've heard, and this skill is especially evident here. On the whole Symphony No. 2 does not so much take us forward from Symphony No. 1 as off to the side.
Opus Sonorum. This is a short work (1964) that has qualities of both of the symphonies but also feeling more resolved than Symphony No. 2. Kokkonen uses a piano in lieu of a percussion section here. In this work we begin to hear the composer arriving at an identifiable soundscape of his own, one that has the rich sonorities of Sibelius but the tension and complexity of central European modernism.
Conductor Oramo, who has done a full Sibelius symphony cycle with the City of Birmingham Orchestra, feels very much at home with this music and gives it an effective hearing.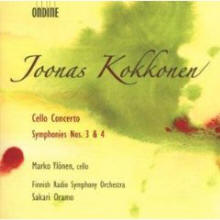 Joonas Kokkonen, Symphonies Nos. 3 & 4; Cello Concerto. Marko Ylönen, cello. Sakari Oramo, conductor. Finnish Radio Symphony Orchestra. Ondine ODE 10982.
Since I have on hand Oramo's traversal of Kokkonen's third and fourth symphonies (along with his cello concerto) issued in 2007, I might as well carry on this story a little further. Symphonies Nos. 3 and 4 and the Cello Concerto also written during this period (1967-1971) are mature Kokkonen. With them, we have stepped free of Sibelius and are securely in the later composer's own musical world. It is a very difficult world to describe, which is perhaps a compliment to pay it. Listening here in 2008-2009 with a full generation of perspective, we can hear the post-modern Finnish music of Lindberg and Saariaho coming. And so it would be easy to play the knowing critic and say, 'ah, this is neo-classic modernism'—lots of dissonance, counterpoint, play. And I suppose if we stand back far enough, that's what his music is. But up close, listened to as music for its own sake, it is a good deal more elusive and interesting than that. I'll leave these remarks as a tease so I can meet my deadline. Let's just say that if you sample his early work and find it interesting, don't stop there!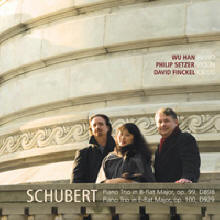 Schubert Piano Trios, D.898 and D.929. Wu Han, piano; Philip Setzer, violin; David Finckel, cello. Artistled 10802.
How would you expect (hope) that one-half of the Emerson Quartet plus Wu Han would play Schubert? With backbone, flair, high energy, and the kind of confidence and command that proclaims that these are major works of a major composer, not mere modest music for the chamber. These trios have not always been treated with this kind of respect. That the Setzer-Finckel-Wu Han trio should remind us of the aesthetic vision of the Emersons serves to show us how deep and consistent that vision is.
I'm sure there are some who will call these performances Beethovenesque—but it would be more just to say that Schubert is too often played gentle and monochromatic in attempts to build excessive and artificial distance between him and his famous contemporary. When we hear these musicians play the first movement of D.898 bold, dramatizing the contrast provided by the quieter, gentler second, we are reminded of the approach to the composer that Alain Planés takes with the piano sonatas, giving us a more complex and more significant Schubert. And they play even the second movement Andante with verve and vitality, refusing to let its lyrical beauty go too soft and polished. Love songs sometimes go best sung strong. This is a refined Schubert but not an elegant one. We hear this distinction with particular clarity in D.898's Scherzo, where in fairly rapid tempo, the bowing and key striking are firm rather than light, resulting in an almost percussive sound in faster sections. The Scherzo drives rather than dances. And then the final Rondo dances, but it whirls about the floor with rapturous vigor. Notable in maintaining the balance between vigor and refinement is violinist Setzer; this music enables him to shine even more conspicuously than he does with the Emersons.
D.929 provides a larger stage for these musicians to present their larger Schubert. Here even more than in D.898, Setzer, Finckel, and Wu Han force us to forget any sense of this music as diversion. Lyricism and drama in eloquent combination—the mood changes from moment to moment. I have never been so taken by this music before.
While these three musicians as a trio are new to the world of recorded music, each has tracked many hours playing with the others. They sound like a brilliant and well seasoned ensemble. There is no other piano trio I know of who are better. A great recording and a plea for more. Beethoven and Schostakovich?
System used for this audition: Audio Note CDT3 transport and Dac 4.1 Balanced Signature, Blue Circle BC3000 II/GZpz preamplifier and BC204 hybrid stereo amplifier, Jean Marie Reynaud Orfeo speakers. With Blue Circle BC6000 line conditioner. Audio Note Pallas, Sootto, and Sogon interconnects and Lexus speaker cable.
Bob Neill, in addition to being an occasional equipment and regular music reviewer for Positive- Feedback Online, is also proprietor of Amherst Audio in Amherst, Massachusetts, which sells equipment from Audio Note, Blue Circle, and JM Reynaud, among others.