There was good reason that the original Audience Au24 cable system was the recipient of my Writer's Choice Award in the winter of 2004. I won't rehash everything in my previous takes on these products here (Audience Au24 Cable System, PFO Issue 19, May/June 2005, PFO's First Annual Writers Choice Awards - 2004, PFO Issue16, Nov/Dec 2004. Audience Au24 Digital cable, On Sound & Music, July 2004), but some points simply deserve mention.
Overall, the original Au24 system provides a remarkably natural and relaxed presentation while sacrificing nothing in detail. They are both darkly quiet and explosively dynamic, and their timing is near flawless across the entire audio spectrum. Everything arrives coherently, yielding an unbelievable sense of "pace" and "drive." Because of their very natural interpretation of timber, they offer a very organic balance. The Audience Au24 is truly a world-class cable product that, given the cost of some of their portentous peers, represents an excellent value as well.
My most recent experimentation with the new Au24-e (for enhanced) series of products has been VERY interesting. Understanding that I no longer have any original Au24s on hand for direct head-to-head comparisons, and that my comparisons are based on my notes and memory, let's look at the Au24-e cables (the interconnects and speaker cables) first.
They offer slightly improved bass extension and tonality, rendering generous detail and remarkable definition, further enhancing this cables ability to distinguish individuality in this region. Their ability to render the resonance and fundamental tone of instruments like the double bass (contrabass) is simply superb.
Midrange has conspicuously more "bloom" than I recall from the originals, one of my minor criticisms about the original Au24 when compared to speaker cables like the Stealth Hybrid MLTs or Dreams, or the new Von Schweikert MasterBuilt Reference or interconnects like the Stealth Indra. They retain their remarkable ability to portray instrumental voice specificity and overall clarity, but they seem to have an enhanced ability to let those voices "breath," yielding a greater sense of reality and life to the musical construct. Refinement and radiance, very desirable!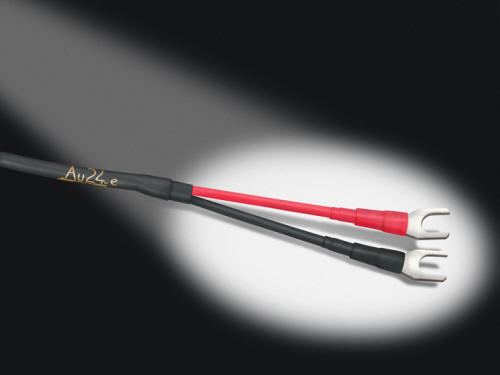 Upper frequency extension is ever so slightly more "creamy" than I recall. Treble, while still quite vibrant and rich in detail, never etched or edgy, unless it is in the recording under examination, is seemingly more "textural" at the same time. Once again, a very commendable enhancement.
The recreation of spatial cues has always been a strong suit for the Au24. However, the greater bloom and more elaborate texture that they present serves to enrich their ability to portray that spatial information.
Moving on to the powerChords, I should begin by saying that from my first experience with them, I have found them to offer an exceptionally high degree of performance for the dollar. Those of you who have experimented with a number of after-market power cords will be thrilled with their flexibility.
Following closely on the heels of the Au24 cables, the original powerChord was remarkable neutral, delivering in an increased "darkness" and an enhanced resolve from any component they powered. They have a spooky ability to ferret out and reveal dynamic energy, enhancing musical pace, infusing it with an irrefutable sense of vibrancy or life, while at the same time permeating the entire musical tapestry with a creamy coherence and sense of relaxation. Yet one of their most remarkable attributes, to this music lover at least, is their unflappable ability to enhance the articulation of soundstaging and imaging.
However capable the original powerChord, a true bargain in the AC cable arena, the powerChord e takes a decided step forward. My few complaints with the original powerChord, perceptible only when compared to much more expensive AC cables, were the slight limiting, or reigning in, of midrange and lower treble bloom and a slight loss of detail and control in the lowest octaves.
The e treatment seems to have made significant progress in these areas, and more. They sound even quieter and more detailed than the originals. Bass is clearer, even richer in detail, and offers slightly superior rhythmic coherence and pitch definition. In fact, the enhanced powerChords are now every bit the equal, and can easily better, many of those other more expensive AC cables in terms of bass extension, clarity, and focus, allowing the powerChord-e to be competitive with much more expensive cables than ever before, and I mean on the order of 4 to 6 times more expensive.
Where they simple crush their competition is in areas like midrange and lower treble bloom, harmonic texture, and "flavor," (listen to any well-recorded horns) and in overall spatial recreation. All these improvements have synergized to elevate soundstage articulation, image focus, and specificity to an unprecedented, and unbelievable, degree. So much so in fact, the powerChord may be the biggest benefactor of the entire e series overhaul. No small feat let me assure you.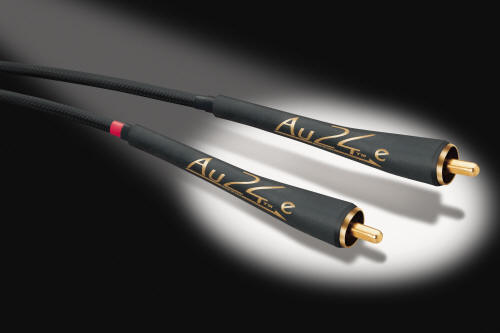 Before I close this evaluation, I feel that a brief sidebar is in order: I simply must address the wider accomplishments of the company know as Audience. Their principals, President and CEO John McDonald, and Designer and Engineer Roger Sheker, are two of the most sincere, earnest, and engaging gentlemen it has been my privilege to come to know in our industry today. The company offers a whole host of remarkable products, from cables, disc treatments, audiophile grade capacitors, power conditioners, and even loudspeakers, most of which are either world class or truly state-of-the-art.
With the introduction of their original power conditioner, the adeptResponse aR-12, first unveiled at CES2005, they raised the bar and set a very serious standard. With the recent introduction of the Audience aR-12 T, they have created an entirely new benchmark. It is the most effective, least invasive power conditioner on the market today, PERIOD.
If you should find yourself at CES 2009 this coming January, be sure to give the latest iteration of their on-going speaker project, the ClairAudient Line Source Array, a listen (Venetian 31-217). Originally designed using the Bandor 50mm driver and NO crossover, Audience has indicated that they are now using a driver of their own design. With cone motion that is said to have less than 1% distortion at 5mm excursion and a cone area that is 20% larger than the Bandor drivers, it still fits within the existing frame. These attributes allow the cones to be mounted more closer together, provide greater power handling, and facilitates their ability to play to a lower frequency (claimed to be flat to 35Hz), without giving up high frequency extension and purity.
This new driver, with its fully shielded neodymium ring magnet in a patented motor configuration (originally designed for a 6-inch driver), promises to offer a leap forward in the already astonishing performance of this speaker. When I heard the 2008 CES iteration, it was able to produce some of the most glorious midrange I've ever heard. Space was reach-out-and-touch real, micro dynamic events were breath taking, and the overall tonal balance was scary.
I'm looking forward to hearing what new heights this remarkable design can achieve with another years worth of development and these new drivers. Further, Audience is also set to unveil both a new Class D switching analog monoblock power amplifier and a switchless tapped transformer preamplifier. I have already asked for review samples!
Back on topic, to say that the new Au24-e is a substantial improvement over the original design would be a great understatement. In fact, I would suggest that the e series betters its predecessor by some 10 to 15% in overall performance. Owners of the original Au24 series take heart; Audience will upgrade any existing pre e Au24 or powerChord to the new e standards for the difference in price between the standard and the equivalent matching new e product. As the upgrade process includes a complete re-termination of your original cable/s, a few inches in length will necessarily be lost. But in most instances, that should present no issue whatsoever.
If you've been around this hobby/sport/disease we call high performance audio very long, you understand the law of diminishing returns all too well. Most often, once you pass a certain level of performance, to enjoy an increase of 5% in sonic performance one has to double their current investment. The "e" series of cables provides proof that, with clear thinking and careful execution, you can get significant sonic improvement for a modest increase in price.
The "enhanced" series represent a significant step closer to the live event—music. My hat is off to the boys at Audience for making an already superb product unquestionably better. While the Au24 series of cables, still available by the way, was already deserving of its world-class rating, the introduction of the Au24-e punctuates that sentence with an authoritative exclamation point.
You owe it to yourself to hear what the Au24-e/powerChord-e system can deliver from your rig before you commit to any other cable products, at ANY price... You'll most likely find yourself hearing some of the most engaging music your system has ever created, while saving some money in the process. Most musically recommended. Greg Weaver
Au24 – 1 Meter Single Ended IC
Retail: $602
Au24-e – 1 Meter Single Ended IC
Retail: $797 ~25% more
Au24 – 2.5 Meter Speaker Cable
Retail: $1254
Au24-e – 2.5 Meter Speaker Cable
Retail: $1554 ~ 18% more
powerChord – 5 foot AC cord
Retail: $482
powerChord-e – 5 foot AC cord
Retail: $647 ~ 25% more
Audience, LLC
120 N. Pacific Street #K-9, San Marcos, CA 92069
TEL: 800. 565. 4390
web address: www.audience-av.com