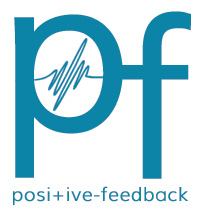 You are reading the older HTML site
Positive Feedback ISSUE
42

march/april 2009
Great Classical Releases... Naxos, Telarc, Reference Recordings, and Chandos
by Karl Lozier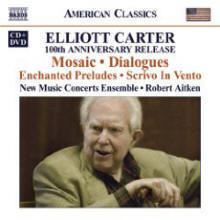 Elliott Carter, 100th Anniversary Release. Mosaic, Dialogues, Enchanted Preludes, Serivo In Vento. New Music Concerts Ensemble. Robert Aitkin, Conductor. Naxos American Classics CD 8.559614 + Included DVD Documentary
By the time I finish this abbreviated review, Elliott Carter will be one hundred years old. Yes, he is still composing! His reputation as one of America's greatest composers has mainly come from his very substantial and wide-ranging efforts in the years post-World War II. That is almost the same as saying during the last half of the twentieth century and up till now in the twenty-first century. It takes a rather full book to do Carter's musical life justice. I shall not attempt that here. Very briefly, he was helped into a musical career by American composer Charles Ives. Then some of his earlier works audibly revealed influences by Stravinsky and Copland among others. He has won a Pulitzer Prize two times so far and is the first composer to receive the U.S. National Medal of Arts.
The Heading for this release boldly states 1OOth Anniversary Release. I am not exactly sure why it does. It seems to me to be a release honoring Elliott Carter's 100th birthday. There are ten compositions included on this new recording. Almost half are compositions from our current century. The others were composed a few years earlier. The two featured and longer compositions are recent works. As with all these selections, each features a specific musical instrument and an accompanying player known and admired by Carter. The initial composition, one of two featured, Mosaic, features the solo harp and seven instruments. The other composition featured on this recording is Dialogues. It is composed for solo piano and eighteen instruments, sometimes referred to as a chamber orchestra. The dialogues are conversation or interactions between the piano and the group. I found some of the passages attractive, interesting and almost melodic at times. If I had to name a favorite from this group of compositions, Dialogues would be my choice. The remaining eight selections very obviously feature the following instruments: Flute, clarinet, flute and cello, bass clarinet, cello, violin, cello again and a repeat for violin. The very excellent sound quality results in particularly fine detail and a very full, rich and luscious sound seldom heard by me from any clarinet (a so-called bass clarinet here). Very unlike his earlier years most of these more recent compositions reveal increasing dissonances and rhythmic complexities while allowing him to further develop his "metrical modulations." Unfortunately I have been unable to really appreciate more "modern progressive classical music" such as these and I feel that I am not qualified to critically write about it here. End of review. Check out the following review of Carter's string quartets that arrived literally as I was finishing this review.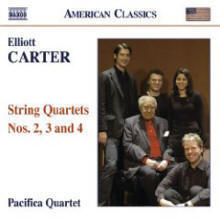 Elliott Carter, String Quartets Nos. 2, 3 and 4. Pacifica Quartet. Naxos American Classics CD 8.559363
I was listening to the previous Naxos recording and finding myself disappointed. Learning that Carter had become even more aggressive in the use of dissonances and rhythmic complexities as he aged toward the one hundred year old mark I quickly requested some older works. Carter, now a hundred years old, composed the above Quartet No.2, fifty years ago and I was certain that was early enough to escape his later embedded leanings. I was wrong. Yes, I would agree that generally speaking, these quartets are a bit less dissonant than his more recent compositions reviewed in my review article above as," The 100th Anniversary" release, Naxos CD 8.559614. Yet, for those of you getting started in classical music listening, I would be surprised (pleasantly so) if these progressive dissonances offered by Elliott Carter would be appealing. I will have to find some of Carter's music from his first fifty years and see if that has a better chance of being more immediately appealing to most or at least many listeners. Unless you are a lover of so-called modern, contemporary or similar descriptive word to place before "music" this is probably not a logical starting point for classical string quartets to be introduced. Check out the following review of music by Telemann for fairly simple, easy going melodic listening. Composers in Telemann's era had to please Royalty, a religious group, a wealthy patron or large numbers of "commoners" or starve. That was quite an inducement to write appealing, melodic or danceable music.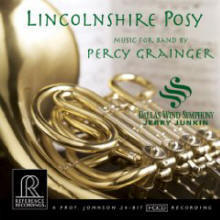 Percy Grainger, Music for Band/Wind Orchestra. Reference Recordings and Chandos. Lincolnshire Posy, Dallas Wind Symphony, Jerry Junkin, conductor. Reference Recordings HDCD RR-117
Starting as a virtuoso pianist, lover and arranger of folk music, Percy Grainger's growing legacy will be his unique compositions that are ever increasing in popularity. To read about his life and unique ideas about many things is truly fascinating and while recommended reading, it is beyond the immediate scope of this review. Some of his background includes a stint in the U.S. Army Band after leaving England. He was one of the originators of music for and the sound of concert bands. He loved to use percussion such as bells, chimes, marimba and so one, plus use of multiple saxophones according to Carol Reynold's notes. He also uniquely began adding piano, harp and "almost whatever" with great flexibility in choosing instrumentation.
Also known for inventions, including musical ones, he also invented (created) words including "fripperies" that he used to describe (belittle) his many lighter popular works. He tended to put many of his compositions into titled categories often with unique descriptive titles. There were so many popular compositions often with touches of humor that this way of cataloging has a great deal of logic behind it. Most of the popular selections on this recording are from either his "British Folk Music-Settings" or his "Room-Music Tidbits." The liner notes reminded me of many of the unique qualities of Percy Grainger. Two traits that tie in to these releases and Grainger's approach to scoring his compositions (and sometimes others when he transcribed) are "The More, The Merrier" and in percussionists' parts he might indicate "two players if possible." Delightful, fun, entertaining and so on are accurate descriptions of the dozen gems offered on this outstanding release. Starting with the "Duke of Marlbororough Fanfare" the title piece "Lincolnshire Posy" is the highlight of this release and far and away the longest as it contains six named songs. Also included are "Molly on the Shore", "Spoon River" and "The Gum-Suckers March"; the last named is a challenge to our dear readers to see if any of them can come up with the real underlying reference of the title.
The audio quality, as usual for Reference Recordings, is outstanding with great detail and an atmospheric dimensional feeling with smooth top end response when used in really good CD players. Audiophiles will get their usual kicks from a few excellently recorded and very solid and dynamic bass drum thwacks and richly recorded horns. That is about as close as you can get this side of multichannel SACD. Though players and receivers that have genuine HDCD decoding are still rare, use of the best of them would give an additional bit of even higher overall quality. Remember these are delightful original Grainger compositions. The Grainger contribution to the Chandos release is his arrangements of other composers' compositions.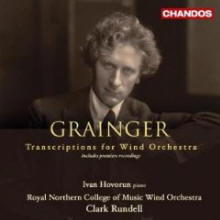 Transcriptions for Wind Orchestra. Royal Northern College of Music Wind Orchestra, Clark Rundell, conductor. Chandos CD 10455
This fine release shows a different perspective of accomplishments by Percy Grainger than the preceding release from Reference Recordings; that features Grainger's unique compositional genius. Here Grainger takes mainly older compositions, five predating Bach plus a couple by J.S. Bach. Other composers that receive Graiger's unique attention include Franck, Faure, Goossens and Franz Liszt. Most of these arrangements were listed under one of his many personal group headings, namely "Chosen Gems for Winds." The overall feeling of most of these selections is somewhere between a bit more formal and simplistic; for some listeners, not quite as immediately appealing as Grainger's original compositions typically are. As would be expected, the greatest appeal is to lovers of music for wind instruments (bands). For what it might be worth, my favorite selections are the transcriptions of the work by Eugene Goosens who worked with Grainger while music director of the Cincinnati Symphony Orchestra (when not composing). My other favorite on this interesting release is the transcription of Liszt's Hungarian Fantasy.
The Liszt transcription is by far the longest selection here and probably the best known. It also is the only one featuring a piano, very adeptly handled by Ivan Hovorun. There are some long piano runs into the upper reaches of the piano's key board that just might test your system's clarity and dynamics in the treble range. Chandos is one of the manufacturers that are deservedly proud of their audio quality. Though they do not use the unique HDCD process, like Reference Recordings they also use 24-bit recording technology instead of CD's usual 16-bit recordings. Almost ten years ago, while sitting next to a well known" expert and lecturer" on the general subject, he told me that in his opinion, anything greater than use of 20-bits is simply wasted and not audible. I do not know if that thinking is still prevalent and true. I can say that the Chandos release is very clean, clear and detailed. The audio quality is not as rich and full as the RR release mentioned though raising the gain control by one decibel makes the difference less. Too many unknown factors here and this Chandos release need not make any apology. The recording venue can be all important. The Chandos site was a studio and the RR site is known to support good recorded sound. Which group features the larger number of players, particularly horn players and so on is all important for recorded audio quality. For audiophiles the occasional bass drum thwack on Chandos is natural sounding for many venues but not at all impressive as is Reference Recording's, but so what. Some of us want both recordings, others will desire one or the other for personal specific reasons.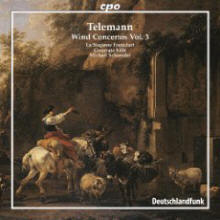 Telemann, Wind Concertos Vol. 3. La Stagione Frankfurt. Carmerata Kolon, Conductor: Michael Schneider. CPO CD 777 268-2
Some background information may be of benefit here and in the liner notes' booklet. La Stagione Frankfort is, as listed, a chamber music orchestra composed almost entirely of string players. Camerata Koln, spelled Cologne in English is a string quartet plus harpsichord. Each group lists the violoncello and that is simply the cello in non English speaking parts of the world. Each group lists a single violone. Violone is a period instrument of varying sizes over time, though always significantly larger than a violin. Each of the six concertos, except for one, includes the fairly large group of strings of the two groups.
First selection features the piccolo, the next concerto highlights the solo oboe. The third selection is actually not a concerto and includes no strings; it features both recorder and horn. They are sometimes playing together as a duet and at other times they are musically playing together as a duet and at other times they are musically opposing each other and at other times they take turns, very successfully as soloists. The forth selection features the flute, with the strings accompanying. Next concerto is highlighted by the trumpeted soloist extremely effectively. The last concerto slightly longer than the others, features a pair of transverse flutes plus bassoon and of course the excellent strings of the two groups. I am usually a pushover for a well played bassoon and so I was particularly delighted here. I also particularly enjoy other well played deep bass range instruments such as the double bass, tubs, sousaphone and tenor and bass trombones, though of course, none are used in this collection. This last concerto, for flute and bassoon, really shows the fine audio quality of the entire disc. The realistic audio quality reproducing the bassoon and flute are no doubt aided by the superb upgraded designs of the Vacuum State Electronics that seemingly add no traces of any distortions to well recorded discs or other sources. Here an added dimension is the excellent sense of depth or three dimensionality is very apparent and probably can be attributed to the recording engineer and the low distortions of the newly upgraded Sony players coupled with very revealing detailed response can also be very helpful. Overall a fine release of music written a very long time ago.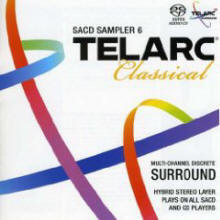 Telarc SACD Classical Sampler No. 6. Telarc Surround Hybrid SACD-60013
This quite well dome sampler will probably play quite well on any player you may have, Period. For the very best audio quality a truly good quality SACD player is a must even if you only desire to listen in stereo. The multi-channel aspect adds another dimension and can be a distraction if the surround channels are set to play too loudly. Correctly done, the general atmosphere or ambience of the recording hall is noticeable, not distracting and adds to the hints of realism much of the time. Once you are become accustomed, it is very noticeable when absent.
I have listened to all of the sampled recordings in their entirely multiple times and have reviewed nearly all of them. You can easily search the past half dozen issues of PFO to read my complete reviews. All the samples seem to be exactly as heard on the complete SACDs. I will simply make brief comments on just a few of them. Fantasia on a Theme by Thomas Tallis—beautiful smooth and sweet string tone and reproduction. If not the way you hear it, double check your player and next your tweeters.
The Garden of Cosmic Speculation—a bit of an obvious audio showpiece of a possibly thematic lacking composition. Prokofiev Symphony No. 5—an audio showpiece that also happens to be a fine composition with plenty of themes. Personally, the included Lt. Kije Suite is an all time favorite of mine with a fascinating brief story line behind it. Also superbly recorded.
Puccini La Boheme—the finest audio quality = natural or realistic, of any opera recording ever in my experience. The audio engineer Michael Bishop is famous for spectacular recordings and effects. This may wind up as his best (at least so far) for his legacy to or for music lovers. This is absolutely one of the easiest operas, along with Carmen, for newcomers to opera, to learn to enjoy. Brahms Requiem—probably the easiest Requiem to learn to enjoy and here it is presented in big, bold, rich, superb sound quality with the appealing massed chorus with smooth detailed audio quality and no harshness, irritations or distortions observed. If it does not sound that way in your sound system start checking everything out the real way by borrowing and substituting components to find where your weak link is and assume nothing.
Albeniz's Malaguena—David Russel on acoustic guitar. Here's the new master for modern times. He makes everything sound so simple, easy and beautiful! As I was writing this review the postal delivery dropped off his newest release—For David a group of new compositions by various composers dedicated to him! Wow, what an honor. The Prelude to Khovanshchina—a beautiful rather subtle composition hides the fact that the other compositions on the disc are well known, well played and very well recorded show pieces!