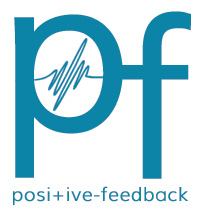 You are reading the older HTML site
Positive Feedback ISSUE
42

march/april 2009
Peer Gynt
by Karl Lozier
Peer Gynt Incidental Music
For listeners who know or think they know, here is some background information regarding Edvard Grieg's famous and immensely popular composition, Peer Gynt :
Henrick Ibsen, the author of the dramatic stage work, Peer Gynt decided after introduction, that it would be significantly improved by the addition of incidental, or accompanying music. Within two years, Grieg's outstanding composition, Peer Gynt (Complete Incidental Music) was introduced and was an instant success; extremely popular not only with the general public but also with nearly all critics. Eventually a few well known critics spoke out negatively simply because the music bore little resemblance to the dramatic story written by Ibsen. The music written for and attached to Peer Gynt took on a life of its own. It has long been one of my all-time top ten favorite classical music compositions. Please forgive me if over time those counting reach a total a few more than ten. My initial attraction for Peer Gynt was created by the still regarded as an outstanding release with Sir Thomas Beecham conducting. I had heard other recordings previous to that though all had been of the suite from Peer Gynt. The suite contains only four selections starting with the seemingly logical "Morning Mood" and ending appropriately I thought, with the rhythmically powerful "In the Hall of the Mountain King". Relatively modern sounding it just might be a miniature forerunner of more extensive similar projects such as "Bolero," In the theater productions, it begins with closed curtains and builds to an unexpected climax by using the voices of the trolls (you did not know about them, did you?) to add a great conclusion. In the theater productions, remember it is a dramatic play with incidental music added, "In the Hall of the Mountain King" is performed long before the end. The play's climax or ending is the subtly beautiful "Solveig's Lullaby", sometimes referred to as "Solveig's Cradle Song". As many have realized from my short comments, the action on stage and what and when musical actions or selections occur, coincide seldom or perhaps incidentally.
Logically, my first recordings of Peer Gynt were of his immensely popular first Suite, with four selections. A few years later Grieg put together a second Suite, again with four selections. Grieg's popularity continued to grow and many conductors added their own favorite selections to the Suites. Back in the LP's golden age, Grieg's Peer Gynt was typically available as half of one side (Suite No. 1), all of one side (Suite No. 2 added to No. 1) or both sides of an LP with a conductor's added choices as well as both Suites. A couple of rare instances found two LPs with music from Peer Gynt filling four sides. I also remember a release with the hugely popular Eileen Farrell's rich soprano voice added on some of the songs from Peer Gynt. Topping it all off, at least for me, was the sometimes legendary conductor Sir Thomas Beecham's unique addition on a only a few selections of a solo voice, a male chorus or mixed chorus as he deemed appropriate—and I agreed fully with his choices.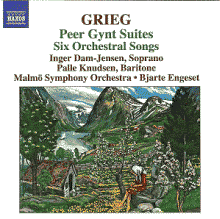 Grieg, Peer Gynt Suites. Six Orchestral songs. Orchestra: Malmo Symphony. Conductor: Bjarte Engeset. Naxos CD 8.570236
Here is the typical Grieg release featuring his famous two suites from Peer Gynt and with no vocals included. The two suites were composed quite a few years apart. The performance by the fine Malmo Symphony Orchestra and conductor Engeset are simply quite good with no obvious failings. The sound quality is very good as is becoming more and more common (finally) with many new releases by many recording labels including Naxos. I could easily use the term "surprising for Naxos" simply because of the extremely large number of recording venues, orchestras and obviously audio/recording engineers involved. The audio quality is detailed without any exaggerations. The track for "Morning (or Morning Mood)" is beautifully atmospheric and the absolutely gorgeous melodic passages in Anitra's Dance are fully satisfying with the repeated pizzicato accents from the strings. In the nit-picking department (of the very small nit variety) in the climactic higher frequency massed passages in "the Hall of the Mountain King" there appears to be a small amount of metallic-sounding compression or smear and probably due to inherent limitations of the recording microphones. Careful listening is necessary to spot it and some CD players or loudspeaker tweeters may exaggerate it; so beware.
In addition to the two Suites this bargain release offers more than a half hour of poems and songs sung by soprano Inger Dam-Jensen and baritone Palle Knudsen. Nothing amiss here to my vocal tastes though comparisons could be easily made with the two songs from Peer Gynt done here, versus the same two from the other following review.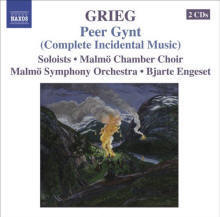 Grieg, Peer Gynt (Complete Incidental Music ). Soloists and Malmo Chamber Choir. Orchestra: Malmo Symphony. Conductor: Bjarte Engeset. Naxos 2 CDS 8.570871-72
For listeners who want more, here it is and them some! It will take a great deal of getting used to. Most listeners are used to hearing "Morning or Morning Mood" to begin Peer Gynt. Not here; it follows much later and is part of the dramatic play. In addition to the songs being sung either by a vocalist or chorus, there is also the spoken word or words. Right there in the ending or climax of "In the Hall of the Mountain King" you will hear spoken voices and you will really be shocked if you are even just vaguely familiar with this music.
The recommended thing you interested listeners can do is to buy both of these value priced Naxos releases. Actually you may then become utterly fascinated. It will not cost you much with Naxos' low prices. It may allow you to solve or partially solve a bit of a musical performance mystery. If you obtain both these Naxos releases and just skim over the recording locations, dates and so on, you just might conclude that there may be some sharing of recorded tracks between the Suites' selections and some of the Complete recordings—or is there? I am not going to mention my thoughts and I have not, at least not yet, requested answers from Naxos. Those of you that are intellectually stimulated by seeming mysteries or unexplained coincidences are encouraged to email me or Editor Dave Clark with your thoughts.
This fine and very interesting release, for the most part seems to offer a very slight overall relaxed feeling and atmosphere; almost as if there was some microphone changes or very slight positioning changes, as being a bit more distant than with the Suites. It also applies to the pair of female solos shared by both releases. Audio quality is solidly very good as are the performances. That leaves unique and rarity with more than two hours of fine music, as low cost extra reasons to buy this, if not these, releases. Admittedly as time passes, different and unique appeal to me more readily they did some years ago while I am still being true to old proven favorites.