The month I spent with JM Reynaud's Duet monitors represented my second encounter with the wares of this well-regarded French loudspeaker manufacturer. In May of 2006, I reviewed both the stand-mount Twin Signatures and the floor-standing Cantabile Signatures for Positive Feedback Online. While my experience with those two speakers was slightly variable—I really liked the Twins, and found the Cantabiles also impressive but very sensitive to partnering amplification—what I said about Reynaud speakers in general three years ago still holds true today.
Specifically, my thoughts then and now are: why the heck aren't these speakers better known in the USA? Or at least better known among American audiophiles? Bob Neill, the U.S. distributor for Reynaud speakers (and classical music reviewer for PFO) has advocated tirelessly and persuasively on behalf of the brand, but by his own account it's been an uphill battle.
Though the audiophile market is super-saturated with more companies and products than any person could totally keep up with, the relative neglect of Reynaud's speakers still puzzles me. Why? Because the Reynaud line would seem, to me at least, to offer the total 'loudspeaker' package to music listeners. They're exceptionally good-looking. They are, among high-performance speakers, quite reasonably priced. And many of their models offer big sound in a relatively small package—that is to say, impressive bass response with a small footprint, something which a lot of speakers these days try to do but don't do nearly so well.
Above all, however, is the sound. Reynaud speakers, at their best and with sympathetic associated equipment, are at once highly truthful to the source and totally unique. Put another way, while they deliver many of the standard ideals of high-fidelity design, they do so in a way I've not heard any other speakers quite manage. As I stressed in my first review, they are the most "live"-sounding speakers in my experience, offering an up-close perspective with the kind of presence and immediacy that are among the chief pleasures of in-person performance. In audiophile terms, they are fast, and when listening to them, you'll often want to move your feet. But their speed and agility does not come, as it so often does, at the expense of beauty—instrumental and vocal timbres are rendered with gorgeous accuracy; warm when they should be warm, piercing when they should be piercing, burnished when they should be burnished.
Of the three JMR models I have now spent time with, the Duets are easily the best. They are basically a replacement for the now-discontinued Twins, but they're a considerable upgrade: actually a little smaller than the Twins overall (an inch wider, two inches less deep), but with a handsome new natural cherry veneer on the outside and a significantly re-designed inside that borrows from the three-times-as-expensive Offrandes. The woofer is now below the tweeter, and the crossover is entirely new. The result is deeper bass and much more refined performance.
I've never given a true rave to any of the speakers I've reviewed for PFO. This is at least partially because I'm so biased toward my own Harbeth Compact 7-ES speakers. The Harbeths have been my main speakers for almost ten years now, while my back-ups are from that other stalwart of the BBC school of speaker design, Spendor (specifically, their 3/1P monitors). These speakers tend to give up a little speed in favor of a very natural but slightly warm tonal balance. Whereas many audiophile speakers divert from absolute neutrality by adding a little "edge" and definition, Harbeths and Spendors go the other way—they tend to take the edge off of bright-sounding recordings. The Harbeths are more subtly warm, the Spendors more obviously so.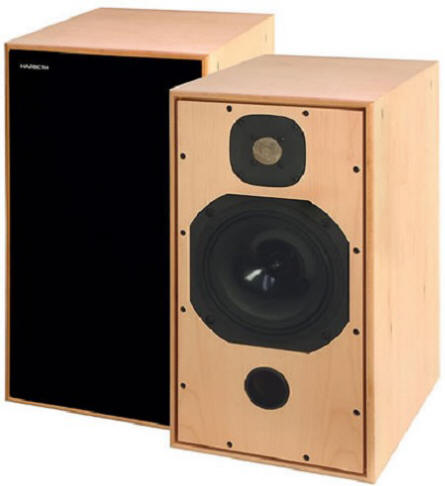 The Reynauds are the only speakers I've heard that offer the best of both worlds—as JM Reynaud himself puts it on his Web site, they are "both fast and warm, as we like." And as you may have already guessed, the Duets will be the first speaker rave of my reviewing career. So, after all of that introduction, let's go back to the beginning.
Bob Neill outfitted me with a complement of gear that he felt showed the Duets to their best advantage: some speaker cables from Audio Note (single-wire Lexus XL; the Duets do not support bi-wiring) and the Blue Circle FtTH integrated amplifier. But as is my usual custom, I began the review process by simply dropping the Duets into my existing system, which I feel is the best way to get a baseline on the item in question.
Right away, I could tell that the Duets were pretty special. Listening to a CD of Vivaldi's concertos for mandolin and lute on the Naïve label placed me front-row center in the concert hall—during the opening mandolin concerto, all of the nuances of the instrument and of Rolf Lislevand's playing of it were strikingly clear and immediate. Working through other recordings in numerous genres over the course of the first few days, it was apparent that the Duets had pulled off that rare trick: they were quite forward and highly detailed while somehow remaining wonderfully easy on the ears.
Even discs with a high propensity for sounding bright—like Aimee Mann's latest, @#%&*! Smilers—were smooth and warm, while retaining superb dynamics and transient speed. My wife, who loves music but is mostly indifferent to audiophilia, stopped in her tracks on this particular CD and commented admiringly—something she very seldom does.
My living room is fairly large—about 14 feet wide and 26 feet long—and the old Reynaud Twins, though terrific little speakers, had trouble filling it to satisfying levels. The Duets were a big improvement in this area. They really punch above their weight in terms of producing a big sound. But while pumping out impressive SPLs, they did strike me as a little bass-shy during that first week. The specifications claim a bottom-end response of 45Hz—lower than the 48Hz spec of my larger Harbeth 7s—and I did not think they were close to delivering it. So my initial impression of the Duets was that of a brilliantly designed monitor, but one with a fairly light balance.
Enter the aforementioned Blue Circle FtTH. This obscurely-named integrated amplifier—Blue Circle declines to explain the significance of the letters FtTH*—is a tube/solid-state hybrid with a hefty external power supply (which actually makes it something less than an "integrated," but so be it). It puts out 95 watts per channel of power into 8 ohms (125 into 4 ohms) and has one 6922 preamp tube per channel. The design is completely dual mono, and follows Blue Circle's custom of having separate volume controls for each channel.
I placed the FtTH on my rack—connecting it to the Duets with the also-supplied Audio Note Lexus speaker cables—and proceeded to be stunned. Even as a reviewer who is well-accustomed to swapping out components and writing about the differences, I was unprepared for the transformation that the Blue Circle brought to the Duets. What had struck me as a beautifully articulate but somewhat bass-light monitor when paired with my reference integrated amp (the Coda Unison, which at 150-wpc, is plenty powerful) now sounded like it had at least an additional octave (or two) of low-end extension—meeting its ambitious 45 Hz specification and more.
In fact the sound, from top to bottom, was absolutely glorious. The FtTH grabbed hold of the Duets and played them like a master. In addition to the vastly improved bass, the amp rendered the Duets' overall tonal balance even sweeter, warming things up without losing any sparkle or bite on the top end. For the next two to three weeks, I threw everything at the Duets/FtTH combo and was unable to identify any significant shortcoming. Yes, I would say that the Duets do prefer classical and acoustic music to hard-driving rock; and no, they are not able to project the scale of a full orchestra. Also, the tendency for images from stand-mount speakers to hover in space—rather than seeming fixed to the ground—was not only present, but pronounced. But none of these factors detracted from my immense enjoyment of what the Duets had to offer, and in any case they are all definitional traits of the small monitor speaker.
In short, this coupling of speaker and amplifier is one of the most perfect I've heard—they Duets and the FtTH are simply made for each other. I'm not sure how many prospective buyers would think about spending $5595 on amplification for $1895 speakers, but I would argue that those with small-ish listening rooms could pair these two and achieve results as good as most cost-no-object offerings. Even in my relatively large room, I seriously considered hunkering down with them for the long haul. In the end I decided that the Duets were not quite enough speaker for my space, but the call was a surprisingly close one.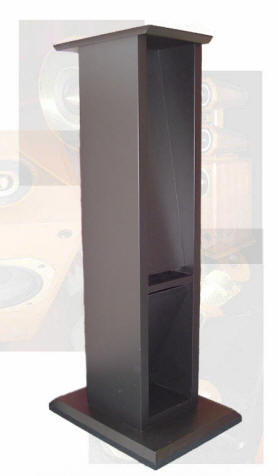 By the way, the Duets really do need to be heard with Reynaud's patented "Magic Stands"—which unfortunately add another $400 to the speakers' total price. These stands eschew the usual custom of heavyweight, sand-filled steel in favor of a fairly lightweight wood (painted black) with a two-tier cutout arrangement in the front. As Reynaud explains it, this sculpted shape is precisely calibrated, according to the principle of the Helmholtz resonator, to optimize frequency response. I would love to say that this is marketing hype and you can save yourself 400 bucks, but in my auditioning the Magic Stands worked exactly as advertised. I briefly placed the Duets on a pair of 26-inch steel stands I had in storage (with their spikes on, the stands were very close in height to the 28-inch Magic Stands), and the differences with the steel stands were immediately audible: much woollier bass, less clarity across the spectrum, and something of an overall deadening effect. So the Magic Stands obviously play a significant role in the Duets' magical sense of live-ness.
As my month-long audition came to a close, I sheepishly turned back to my beloved Harbeth Compact 7s. With every other speaker I've reviewed until now, I've returned to the Harbeths with relief, a sense of "Ah! This is the sound I love." But this time I knew that things were going to be different. Playing the Vivaldi mandolin concertos CD again confirmed it. For one, I was no longer in the front row but more middle of the hall; this is an honest difference between the way JM Reynaud and Harbeth's Alan Shaw like to hear music. But I missed the speed and detail of the Reynauds, the startling sense of presence and immediacy. And overall, to my newly trained ears, the Harbeths now sounded just a little opaque, less alive and less involving.
After a few days of re-acclimation, I was able to love the Harbeths again (and my Unison amp, which the Harbeths actually prefer to the Blue Circle amp which the Reynauds loved so much—matching!) for all of the things that they do so well. There's no question they are great speakers from a great designer. But clearly, JM Reynaud is a great designer, too, and after almost ten years with the buttoned-up British school of speaker design, I may just be ready for a Gallic alternative: a little lighter, livelier, more spirited and voluble.
The Duets were too small for my room, but if I do end up taking the plunge on one of Reynaud's larger speakers (the Offrandes and Orfeos were hugely impressive during a brief audition when I returned the Duets to the distributor), I'll have my time with their little siblings to thank for showing me the way. Within their inherent limitations as small speakers, the Duets are virtually flawless performers offering highly refined and highly involving sound. They worked well with my solid-state reference amp and supremely well with the tube/solid-state hybrid that was loaned to me for the review – like other Reynauds I've auditioned they seem to like tubes in their amplification chain. Properly matched, the Duets will provide truly captivating performance that leaves little if anything to be desired. Tom Campbell
JM Reynaud Duet loudspeakers
Retail: $1895 a pair
Specifications
● Impedance: 4 ohms
● Frequency response: 45 – 25,000Hz
● Power handling capacity: 70 watts
● Peak Power: 140 watts
● Sensitivity: 89dB/W/M
● Distortion: less than 0.7 % (84dB level)
● Connection: Single-wiring
● Dimensions: 17" tall, 9" wide, 11" deep Weight 10kg
JM Reynaud
web address: www.jm-reynaud.com
North American Distributor
Amherst Audio
web address: www.amherstaudio.com
email address: amherstaudio@comcast.net
TEL: 413. 549. 6171
* FtTH stands for 'For the Tube Head'