The PS Audio Duet Power center is a fairly-priced product that gives you exceptional performance. I came to that conclusion very quickly after using the Duet with several components. No need to make this more complicated than it is. The Duet is simple- a small box that features four outlets in two individually isolated zones, and IEC connector for a high-quality AC cord to connect to your wall outlet.
According to PS Audio, the Duet is the world's first passive component-level AC power center to offer true surge protection and outstanding AC filtering in a small, affordable package. I'm not sure about the world's first, but as far as filtering and protection features go, I agree.
The Duet offers both common mode and differential mode noise filtering of the AC line via Nano Crystalline technology, which PS audio claims provides the highest level of AC filtering of any product in the world. It improves performance of connected equipment and provides a safe and noise reduced power source for both audio and video. Passive A/C cleaning and protection devices purify AC and protects connected equipment.
I love the clever shape of the Duet—not just a square box, but flat on top with 45° angle in the back. You can easily put it on a shelf or a rack, and if you place it on the floor you can either lay it flat, or tuck it between the floor and wall at an angle. Great for those really stiff power cords that can be pesky to attach.
The IsoZones, individually isolated zones meant for different equipment such as analog, digital, or video, are an interesting feature. Don't mix 'n' match!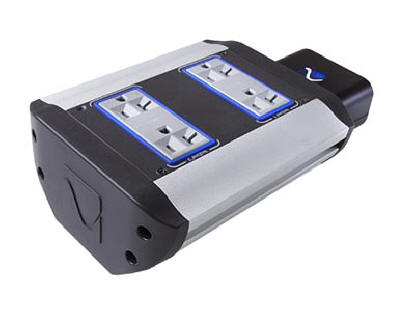 At first, I was looking for a power solution to connect some monoblocks I had coming in for review. My two wall outlets on the amplifier side were just too far away to use with my existing power cords. PS Audio suggested the Duet for the monoblock connection solution; also, they said I would be surprised at the increase in performance the Duet would bring about while using it with a set of monoblocks. They were right.
So, what did I hear? The first thing, while putting my ear up close to the tweeter, was a drop in overall noise level. After using the Duet with several different components, the improvements I heard were uniform: soundstage depth and width increased, and noise floor was lowered. The Duet tamed some higher frequency nasties that were present from time to time. The overall presentation was easier to listen to now, and, consequently, less fatiguing. I heard no dynamic loss. On the contrary, dynamics seem to flow easier.
Fortunately, I did not experience any power loss situations that would generate a power surge so I'll just have to assume that the Duet would do its job had a power surge occurred, and would have protected my treasured components.
Interestingly, a friend of ours, who works in alternative healthcare, was showing us a new method for scanning brain waves. She noticed that in our house as well as most of the houses she goes into, stray AC voltage can skew the results on her computer. Since the Duet had just arrived, I suggested we plug the computer into the Duet instead of straight into a wall socket. She was delighted to notice that the graphical display showed the AC stray voltage had almost completely disappeared. She wants one. Another application for the Duet?
Ultimately here's what the Duet will do for you:
Reduce AC noise - give you cleaner AC than what you started with

Provide you with a convenient 4-outlet AC portal

Improve your soundstage depth and clarity.

Reduce fatigue

Provide your components with real power swell, overvoltage, and surge protection - the Duet will actually shut off power to your equipment in dangerous overvoltage situations.

Give you the ability to place it where you want, even tuck into the wall at 45 degrees.

Perfect for monoblocks and/or speakers like electrostatics that require power, or a speaker with a powered sub.
If you are serious about protecting your system an increasing sound quality the Duet (or its larger brother the Quintet) is for you. The Duet positively outperforms my Monster HTS 200 conditioner at about the same price. Depending on the size of your system and the quality of your room's AC, the Duet may be the only power filter/protector you'll ever need.
At $299 starting price, the Duet is one of the most cost-effective ways I know of to filter AC noise, and provide real voltage protection for your system. Recommended. A keeper. John Zurek
Duet Power Center
Retail: $299.99
PS Audio
web address: www.psaudio.com