This is the second in a series of reviews of power conditioning products. Once considered a questionable tweak by many audiophiles, there is no question that clean power and well designed AC cables can have a profound impact on the quality of music a system produces. And while there are still some holdouts that scoff at the idea that power accessories make any difference, (some very talented and well respected high end designers among them), not only has the idea taken firm hold among audiophiles in general, there are those, myself included, who consider it the foundation of a high performance system.
As I wrote in my Rocky Mountain Audio Fest show report, one of the more compelling demonstrations of the weekend was Roy Gregory's seminar on system set up. He played the same music on three identical systems differing only in their power conditioners, cables (including AC power) and rack systems. The point was that power conditioning and proper support and vibration isolation can make the difference between an okay sounding system and one that is musically satisfying. To say the point was well demonstrated would be an understatement.
But the thing that really caught me by the tail feathers was what happened at the end of the demonstration. Roy switched on a little silver box made by Quantum Resonant Technology (QRT), known as the Qx4 Electro Magnetic Field Stabilizer. While its claim of allowing "energy to change from one state to the next in a more ordered and coherent manner" may sound like mumbo jumbo, the audible difference was undeniable and anything but subtle.
Roy played a live track of Jackson Browne that we had now heard several times on the each system. With the Qx4 switched on, suddenly, from within the clatter of the audience before the concert began I could hear music being played over the PA system at the venue. And it was not at a particularly low level, in fact I wondered how I, and everyone else present, could have missed it previously. But it had been completely inaudible. The announcer could also now be clearly heard over the same PA introducing Mr. Browne. And when the music began it was both more startlingly real and emotionally expressive. I immediately felt compelled to audition one of these little boxes in my system.
QRT, which is based in Santa Monica, California, is now largely owned by Nordost. After several attempts to secure a review unit, I received a call one afternoon from none other than Joe Reynolds, President of Nordost. "I hear you are trying to get hold of a Quantum unit", he said. Unimpeded by my embarrassment that my obsession with this thing had made its way up the chain of command at Nordost I quickly replied, "Yes, I am". Joe happily agreed to send two Quantum units, a Nordost Thor power conditioner and a set of Quantum power cables just to be sure I was getting the best synergy between components. This was going to be good.
The QRT Electromagnetic Field Stabilizers are available in two models, the Qx2 ($1699.99) which contains two QX modules and the Qx4 ($2499.99) which contains, you guessed it, four. The Qx4 is said to be twice as powerful as the Qx2 and a single QX module is contained within the Thor power conditioner. QRT claims the units do not limit peak current capacity or alter source impedance and as a result don't limit the dynamic range or speed of your system.
Each unit is housed in a surprisingly heavy brushed aluminum case approximately 11" wide by 3" high and just less than 8" deep. The gently rounded corners, two tone end caps and impeccable finish quality add up to a first rate looking piece of gear. The rear panel contains an IEC inlet, a 15 amp outlet and a rocker switch containing a small neon lamp that glows a retro reddish-orange when turned on. (Fill in your own innuendo or double entendre here.)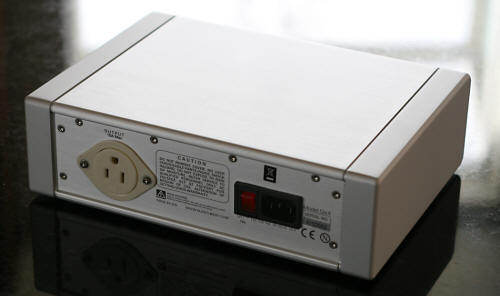 The unit is plugged in between the wall outlet and a star grounded power distribution unit, or in the absence of a power distribution unit, between the wall and the preamplifier. Multiple Quantum units can be combined either in series before the distribution unit or between the distribution unit and individual components with the effect said to be cumulative. My listening tests proved this to be the case as I combined the Qx2 and the Qx4 before the distribution unit adding up to a total of seven modules including the Thor.
The first track up was Diana Krall's "Peel Me a Grape" from Love Scenes, (SACD, Impulse B0002841-36). With the Quantum units in play the bass was noticeably tighter and more defined, its edges less blurred and giving the music a more coherent sense of drive, sounding more of a piece. With the units switched off, Ms. Krall's voice seemed flatter by comparison, not in pitch but in dynamics. Her voice wasn't louder, rather the difference between loud and soft was more distinct; the soft becoming softer and more fully resolved. It seemed that the noise floor had been lowered allowing each note to fully decay into silence.
As I listened to her piano, it occurred to me that what I had been hearing, without the Quantum units, was like clipping in reverse. The signal had been truncated from the bottom of the dynamic range, upward. With the Quantum units in play I could now hear low level detail that had previously been masked making the music sound less electronic, less artificial. It was as if the dynamic range had been expanded downward. And it wasn't just a matter of their being less noise.
Listening to Esperanza Spalding's "I Know You Know", Esperanza, (CD, Heads Up HUCD 3140) it was as if a bit of sludge had been pulled from the leading edge of each note of her acoustic bass. The attack was sharper with no edginess; there was greater punch and slam, greater coherency and articulation. Each instrument was more distinct and focused in the mix, the vocals more alive and real sounding.
Turning to J.S. Bach's "Concerto in d, after Vivaldi", Stereophile Test CD (CD, Stereophile STPH-002-2), the system could now resolve the notes generated by the Flentrop organ pipes distinct from the strong reverberation of the stone surfaced Busch-Reisinger Museum, a small chapel in which it was recorded. Previously the pipe tones and reverberation blended together rendering the system unable to resolve the recorded space separate from the music itself. I could now even hear a slight chuffing of the pipes as each key of the organ was depressed.
You can clearly hear two distinct voices singing the duet he performs with Linda Ronstadt on Paul Simon's "Under African Skies", Graceland, (CD, Warner Bros. W2-25447), even without the Quantum units. With the units switched on, it seemed as if a homogenous quality to the vocals had been removed, leaving two human beings singing together, not just two vocals. The sound of pick on steel left no doubt in my mind that I was hearing a steel string acoustic guitar, not just an acoustic guitar. This is not a great feat for even modest systems when playing simple music, but within this complex track it becomes a lot more challenging. Again, the entire mix became more coherent, the voices more expressive and emotional.
I wish I could tell you how the Quantum units work; but unfortunately, no one at Quantum or Nordost is talking due to ongoing patent and licensing agreements. Joe Reynolds has assured me that a thorough technical explanation and a set of measurements are forthcoming. The instruction manual states that the circuitry acts at the source of the problem (AC Power) to reduce negative EMF and RFI effects as well as improving the consistency of the AC waveform. The online brochure claims that the units will lower the noise floor, provide greater clarity, separation and increased dynamic range. It also claims an improvement in signal to noise ratio by 15% and while I have no way of verifying that, what I heard coincides exactly with what Quantum claims the units will do.
I clearly heard the cumulative effects of using multiple units; the Qx2 and Qx4 together had a greater impact than with either unit alone or with just the single module inside the Thor. Logic would dictate that there is a limit to this improvement or at least a point of diminishing returns. If anyone buys 100 of these units to use simultaneously, please let me know how that goes.
Recent experience has show me that clean power, as well as effective vibration isolation, should be the foundation of any high performance audio system and not an after thought or a tweak to be added down the line. What many hobbyists seek through ever more expensive component upgrades can be achieved through clean AC, a proper support system and careful set up, not to mention dealing with room acoustics. Without a solid foundation on which to build you will be missing the full potential of your system. And that applies equally to modest systems as well as cost-no-object rigs. The Quantum units do what they claim with no down side.
Though not the subject of this review a few words are in order regarding the Thor power conditioner. The unit is the product of collaboration between Nordost and UK power specialist IsoTek Systems. Housed in a full rack width case it features 6 electrically isolated outlets sharing a common ground. It is wired internally with Nordost's own Valhalla power cable with which it is intended to be used. Threaded inserts on the bottom of the unit will accept any 6mm threaded points, such as Nordost's Pulsar or Quasar Points, isolating the unit from vibration and furthering its performance. As I mentioned earlier, the unit also features an internal QX module, the equivalent of a Qx1.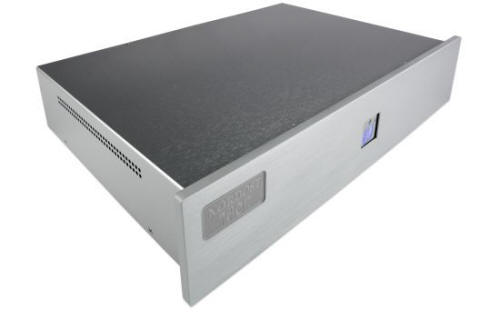 Upon re-wiring my system with the Quantum power cords and plugging everything into the Thor (and before inserting the QRT units) I immediately noticed an increase in transparency and dynamics. A slight tendency of my system to mingle the molecules of individual instruments causing them to blur into one another, was now sorted out. The music seemed to breathe a little more freely; more body, more weight, denser images, and a more effortless presentation.
The system became a bit more forward sounding though not in a bad way and I could clearly hear more detail with no added harshness or etch just more information. Comparing it to the Electric Bamboo I recently wrote about I would say the Thor is more precise, detailed and focused while the EB is more layered and sweet. I slightly preferred the Thor unit, but they are clearly both excellent units and which one is best for you will largely depend on your system. Adam Goldfine
Quantum QRT Qx4
Retail: $2499.99
Dimensions 3.2 x 10.7 x 7.7 inches
Weight 10 lbs
Quantum QRT Qx2
Retail: $1699.99
Dimensions 3.2 x 10.7 x 7.7 inches
Weight 10 lbs
Warranty: 5 years
Quantum Cables
Retail: $549.99 1.5 meters, $599.99 2 meters
3 x 16 AWG Stranded Conductors
99.99999% OFC
Capacitance 9.0pF/ft.
Max. Amperage 15 Amps
Thor Power Distribution System
Retail: $3300
Dimensions 17.4 x 3.34 x 12 inches
Weight 13.2 lbs
Voltage 100 – 260VAC
Surge Protection Yes
Number of Outlets 6
Max. Amperage 18 Amps
Warranty: 2 years
Quantum Resonant Technology
web address: www.quantumqrt.com
Nordost Corporation
200 Homer Avenue
Ashland, MA 01721
(800) 836-2750
web address: www.nordost.com