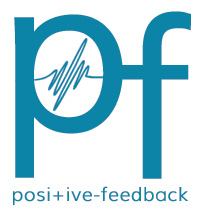 You are reading the older HTML site
Positive Feedback ISSUE
43

may/june
2009
Notes of an Amateur - June 2009, Part 1
by Bob Neill
Flash
Last Haydn String Quartets album by Festetics Quartet to be released this summer on Arcana. Review forthcoming.
"This important period-instrument set of the quartets is now complete, against the odds, just in time for the 200th anniversary of the death of the most neglected of first-rank composers. Against the odds, the Festetics set is complete at last. For a decade, the Festetics have been releasing superbly springy recordings of Haydn's quartets on the Arcana label. But the death of the label's founder and producer Michel Bernstein a couple of years ago left the project one volume short: since then, I have hardly been able to look at my CD shelf, so maddening was it see the sequence of black spines: 1, 2, 3, 5, 6, 7, 8, 9. And now you'll have to excuse me while I head over to the CD player..."
The Daily Telegraph, April 2009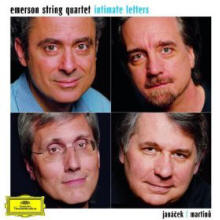 Intimate Letters: Janácêk. String Quartets Nos. 1 and 2. Emerson Quartet, DG 12770.
It doesn't matter what they play—most recently Mendelssohn, Brahms and (well, half of them plus Wu Han) Schubert, to my ears, the Emerson Quartet are often The Ones. I flirt with and sometimes favor others—the Pacificas, the Sorels, the Brentanos, and the Tallichs, among ensembles still active. But I am surprised at how often I come home to the Emersons. Their Haydn is Viennese without being too elegant; their Shostakovich is Russian with just enough the bear; their Bartok is both physical and angular; their Beethoven brings the bold, brilliant, and inspired giant alive, their Schubert is as absolutely Schubertian as Alain Planès versions of the sonatas. Timorous and over bred critics try to stereotype the Emersons as too bold and overbearing, and while I understand that criticism, it really won't wash. Perhaps their recent Mendelssohn, Brahms, and Schubert outings will shut that criticism down for a while.
I wrote the above before their new Janácêk CD arrived, so let's see if I have set myself up for a fall.
My first response to Czech composer Leos Jáncêk's string quartets when I heard them many years ago was, What the hell is this? I have heard them several times since, played by several other ensembles (I can't remember who played them on my first encounter), but not until I heard these performances by the Emersons did I ask that question again. The Emerson musicians seem to feel that the question is essential to the music: meaning, if the question doesn't arise, it's being played wrong.
The first quartet was written in 1908 (first and third movements) and 1923, the second in 1928. Both at the hands of the Emersons sound like gnarled and tortured impressionism composed by someone with nineteenth century roots who has dragged himself into the twentieth, at least partly against his own will. It is definitely music at war with itself, which is probably why many hear in it a level of 'real experience' seldom heard in classical music. The second quartet especially is a fascinating listening experience—its musical mood swings create a powerful Rorschach for whatever experience we may bring to it. We are told it is 'intimate letters' to a much younger woman who did not return his love. That works.
I can see how the anxiety and conflict in this music could be tamed by musicians wanting to place it within one style or aesthetic with which they are comfortable. That would describe some other performances I remember, notably by the English Belcea Quartet. The Talich Quartet, on the other hand, find (or realize) more coherent music in Janácêk's material than the Emersons do, with only a slight loss of tension. Perhaps being Czech, they find more recognizable feelings among the tortured notes.
So are the Emersons 'The One' for Janácêk? Not so convincingly as elsewhere. Janácêk clearly responds to their forceful impersonation of his musical/emotional turmoil. But to me, he responds move movingly to the Talich Quartet's less insistent touch. Whatever this music 'is,' to return to my initial reaction, the Czech musicians seem to comprehend it both stylistically and emotionally with more humanity. They seem more at home with its contrasts and contradictions. By being a bit more suave about the whole thing, they draw me further in. This is not easy music and I'll be curious to see how others, especially Emerson fans like me, respond to this recording.
Note: Also included in this recording is a sonata for violin and viola by Czech composer Borislav Martinu. An excellent choice for filler which is every bit as interesting as the main fare.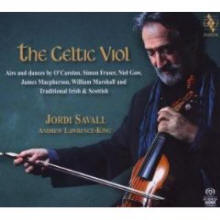 The Celtic Viol. Jordi Savall with Andrew Lawrence King, Irish Harp and Psalterium. Alia Vox. ASVA 9865.
If you love Celtic music, you will be immediately struck on hearing the first notes of Jordi Savall's treble viol, that something odd is going on here. It sounds…different. It's not wrong, it's just… different. So I went to the program notes by Savall himself, who tells us several things that help to explain what we're hearing.
Savall is much aware of the difference between the popular and classical traditions of music. He loves this music and has heard a great deal of it played on fiddles and harps by contemporary folk musicians, which is how most of us have heard it: as joyful, intoxicating, sentimental, pastoral 'folk' music. He has also read manuscripts of much of the music, some of which predate modern performances. Finally, he knows that like the viola da gamba, the viol is an instrument that was played centuries ago but that got essentially lost. So he comes to this music wanting not to reproduce it as we already know it but from the perspective of a classical musician who loves the essence of the music and suspects it was once played on the viol as well as on the fiddle; and that it surely was played and heard differently then.
He writes first of the background of his approach and then speaks of the "deliberately sober approach" he and accompanist harpist Andrew Lawrence King take in their attempt to capture the music's "essential ingredients"—that is, what the music is apart from how it is interpreted through modern folk styles. He concludes, modestly:
I am… very aware of the possibly huge distance between the playing of a musician who was born to this kind music and another who has had to spend several years learning it and knows he still has much to learn. I only hope that my experience with Renaissance and Baroque music has enabled me to offer an interpretation which is different from the interpretations in the modern traditions.
How we feel about this experiment depends on how successful we are in getting the sound and style we're used to out of our heads—or how successful Savall is at driving it out! It took me a while not to miss what's missing and to hear what's present. There is indeed sobriety, as Savall says. But there is a good deal more than that. The greatest revelation I had was when I came back to it after a few days away. What I heard then was a more reflective, yes 'classical' sounding, music, suggesting a time when distinctions between popular and classical music were not so easily made, or heard. The music is not quite as smooth and full of lyric lilt—it is not as overtly charming. But it is considerably more penetrating and thoughtful. Sad becomes melancholy, sentiment and nostalgia become longing. And there is the treble viol, which is a whispier, sweeter sounding instrument than the fiddle.
I do think that if you want to hear what I finally heard, you will likely have to do the same as I did: listen to it to get the shock, then come back later for what's really there. For those of you who care about such things, this is a hybrid CD/SACD release, whose Redbook layer sounds splendid on my Audio Note Redbook CD player.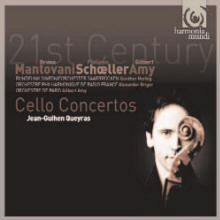 Concertos of the Twenty-First Century, Jean-Guihen Queyras, cello. Concertos by Bruno Mantovani, Philippe Schoeller, Gilbert Amy. Harmonia Mundi HMC 901973.
Fear of music? Flight from narrative? Compulsion to innovate? Great faith in the cello (and cellist) to carry it all through? Carry what through? Sometimes 'music after modernism' does sound desperate. Three very contemporary cello concertos written by highly reputed French composers of today: music that is and was likely intended to be, challenging listening.
Gilbert Amy's concerto, to run this program in reverse, comes across as dreamscape: moments of musical clarity and interest arriving and just as quickly disappearing. Snippets of sense, dramatic ditherings. It is all very earnest and I can do earnest. I'll listen to anything once. I am more curious than most about 'what happens next' in the continuing (hi)story of music. But it does seem harder for contemporary composers of music than writers of literature and painters of pictures. Amy's concerto sounds like notes for a cello concerto or glimpses into a cello concerto. Some of the notes and glimpses are of brief interest, some are not. Maybe only Boulez can write Boulez music. And actually, the last movement works, a rollicking, syncopated stroll that harks back a bit to more coherent music of the modernists. I wish I could say that this finale pulls the whole thing together or at least redeems it, but I don't hear that. I'll come back later. It worked with the Savall CD.
Philippe Schoeller's concerto feels more ambitious and does seem to have more of a sense of direction. It also feels like a dreamscape, rising out of absolute silence. We get the sense of mysterious forces moving about, ghosts, spirits, though they become more substantial as the work progresses.
At about this point in my listening, I had the thought that if you immersed yourself in this kind of music long enough, while you might not become acclimated to it, it would still make the experience of re-entering the world of more traditional classical music an odd one. It would be like coming into a well-furnished room from a wild, uncultivated meadow. There is an aesthetic, and by extension an emotional, freedom to this concerto in particular. It is more a place than story or statement. I realize that is the aim of a great deal of music composed over the past half-century or so, meaning I'm not exactly breaking news here.
The first concerto on the program by Bruno Mantovani, makes the most of the cello and is no dreamscape at all. We are also much aware of the orchestra in this work, of interplay between soloist and instrumental forces and colors. Mantovani is not so earnest as his colleagues. His work is full of shenanigans. I enjoyed it more on second hearing, which is a hopeful sign.
I think what I miss most in all of this music is a sense of consequence, which exposes my principal prejudice. I believe that art takes it purpose from showing us what meaning is or could sound like, look like, be like. To make art which simply mirrors (or intensifies) our (fully justified) anxiety about meaninglessness strikes me as a misunderstanding of what art is and is for. It takes the modernists' pedagogical revolt against musical cliché to an absurd extreme, simply, it often seems, because it can. Compulsion to innovate? This music capitulates before the forces that oppose and resist our creative drive to be. Who needs that? I'll concede that some of the music in this program sometimes makes capitulation sound interesting; but that is not enough, not nearly enough for me.
Say something positive here, Neill. Queyras' cello playing is so good it almost makes this all worthwhile. If you are following this fine young French musician's career, don't let my diatribe scare you away.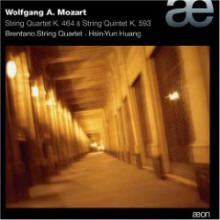 Wolfgang A. Mozart, String Quartet K 464 & String Quintet K593. Brentano Quartet with Hsin-Yun Huang, viola. Aeon. AECD 0747.
This is an album I stumbled upon after hearing the Brentano Quartet play a concert at Amherst College's Buckley Recital Hall a year ago and thought deserved some notice. I was so moved by the concert that I went looking for something recorded by the group and found performances every bit as musically compelling and satisfying as the concert—and sonically the best single recording of string chamber music I've ever heard. When I heard the first few notes, I grabbed the record jacket to see who had engineered the sessions and to my delight but not quite my surprise, I found the name of Da-Hong Seetoo, engineer extraordinaire for the Emerson Quartet and the Music @ Menlo series, which has now run through six annual editions, beginning in 2003. No longer distributed in the US by Harmonia Mundi, this album may be a little harder to find. But do not miss it!
System used for this audition: Audio Note CDT3 transport and Dac 4.1 Balanced Signature. Blue Circle BC3000II GZpz preamplifier and BC204 hybrid stereo amplifier. Jean Marie Reynaud Orfeo loudspeakers. With Blue Circle BC6000 line conditioner. Audio Note Pallas and Sootto interconnects; Audio Note Lexus speaker cables.
Bob Neill, in addition to being an occasional equipment and regular music reviewer for Positive- Feedback Online, is also proprietor of Amherst Audio in Amherst, Massachusetts, which sells equipment from Audio Note, Blue Circle, and JM Reynaud, among others.