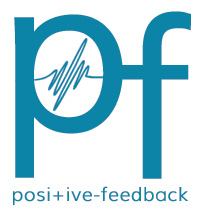 You are reading the older HTML site
Positive Feedback ISSUE
43

may/june
2009
A bevy of wonderful classical releases... oh, and one jazz release too!
by Karl Lozier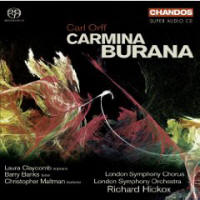 Carl Orff, Camina Burana (Live Recording). Orchestra: London Symphony. Conductor: Richard Hickox. Chorus: London Symphony. Chandos CD-SACD Multi-Channel CHSA-5067
This now widely and at times almost wildly popular cantata keeps reappearing time after time after time. Here it is presented in an outstanding live performance with no interferences due to the presence of an audience. Many people hearing it for the "first time" often remark on its familiarity. It or sections of it have been used for quite some time due to its great and often immediate appeal. The fact is that it has been used in many movies such as "Natural Born Killers," "Jackass" and my personal favorite, the cult classic King Arthur story, "Excalibur".
Leonard Maltin's Movie and Video Guide states, "Spellbinding, Magnificent; A filmmaker at the peak of His Powers." Any mature adult desiring to get it on DVD should look for the longer (139 minute) version. As a real showpiece it is the powerful and at times majestic sort of music that can almost dominate the screen action with films. Less acknowledged is the many minutes of glorious beautiful music and melodies. Something for every listener in this great composition? Yes, though ultimately the power and seemingly unstoppable energy with a hundred plus musicians and choruses (plus fine soloists) totaling close to two hundred singers, is the immediate overwhelming appeal and the short term remembrances. With that said, I think that Richard Hickox with the London Symphony Orchestra, offers a truly outstanding performance that does not try to over emphasize the primitive power aspects of the composition. In my mind, over again many times, the word spritely kept popping up while in no way short-changing the overt power. The more subtle or beautiful melodic passages have not been better handled, in my experience, at any time in my recent memory. An absolutely top or highest possible recommendation to music lovers, audiophiles or those new to classical music! It will take a top quality sound system to reveal all the power and beauty in this outstanding Chandos release (SACD layer of course) and with my listening room and system, the last fifty or so performers had to be a bit crowded in together to fit.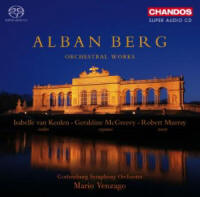 Alban Berg, Orchestral Works. Piano Sonata,Op.1 (Orchestrated). Three Pieces, Der Wein (Wine) Concert Aria (French), Passacaglia. Concerto for Violin and Orchestra. Three Fragments from 'Wozzeck. Symphonic Pieces from the Opera (Lulu). Der Wein (Wine) Concert Aria (German). Wein, Weib und Gesang (Wine, Women and Song). Orchestra: Gothenburg Symphony. Conductor: Mario Venzago. Chandos Hybrid CD-SACD CHSA 5074 (2)
Arnold Schoenberg is probably the best known and most famous composer known as the leader of atonal music. As the leader he had a number of followers some of whom actually were pupils of his. Alban Berg became the most popular of his pupils and major followers and best loved of that entire group by more traditional classical music lovers. As such, he may be the best composer to introduce classical music lovers to that modern phenomenon, atonal music. There is much to know and learn about this Austrian composer of songs and who finally finished his studies with teacher Schoenberg in 1910 after completing his Opus 1, Piano Sonata.
This pair of discs includes and starts with that Sonata in orchestral form and includes some of or at least parts or fragments of most of his best or best known compositions up to and including his last fully completed works. This is actually an ambitious attempt at an important project. It is of great importance to introduce an outstanding and truly important composer with almost eighty minutes of his music on each of the two excellently recorded SACD/CD hybrid discs. To even give you a small amount of the important background to this composer, his life and compositions would take far more space and time than I have available. These fine and very revealing recordings plus Douglas Jamon's musical and biographical notes are really all you should need. Pay particular attention to Berg's dedication of his violin concerto in 1935 to Alma Mahler's daughter, Manon. Before the concerto was first performed, Berg was stung by an insect, and with septicemia (and before antibiotics) Berg died. So many interesting stories—so little time and space. Very, briefly the first disc contains quite a varied mixture from perhaps pre–Schoenburg influences, to some strong hints of influence by Mahler, to definite influences of Schoenburg tempered by Berg's, perhaps inherent desire to melodically please his listeners? Nearly an hour of Disc two consists of excerpts or fragments from Berg's popular operas Wozzeck and Lulu. Disk two seems to be relatively typical of much symphonic music or tone-poems though of course right from the operas. Performances, vocalists and audio quality are all typical of recent Chandos SACD releases and uniformly excellent. That makes reviewing much easier than from the early days of digital and easier for music lovers to not have to worry quite so much as previously about audio quality though of course it is still variable and that is where I and other competent reviewers come in to help or guide.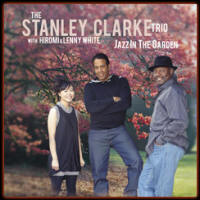 Jazz in the Garden, Stanley Clark Trio. Acoustic Bass by; Stanley Clark. Piano by; Hiromi. Drums by; Lenny White. Executive Producer; Dave Love. Engineered, Mixed & Mastered by; Michael Bishop. HEADS UP CD#HUCD 3155
Keen-eyed music lovers may have spotted some extra credits above that I usually do not mention. Michael Bishop and Dave Love have both worked for Telarc International/Heads Up all now part of Concord Music ( same goes for Robert Woods). They stand tall and respected in their individual fields; now the future may be changing. There may be fewer, perhaps far fewer collaborations in the future. If so, the music world and we listeners will suffer as a result. Three of the songs were written by Clark, two by Hiromi, one by Ellington and one by Davis. As would be expected of Michael Bishop, the sound quality is outstanding with no special effects, ( the reason I mention that is many years ago I publicly dubbed or crowned Michael Bishop "the crown prince of special effects"; newcomers need to dig up those early great releases! ). Bishop's reputation with true music lovers will endure because of superb releases such as this one and the surprise opera release of La Boheme the best, most natural opera recording ever released, not because of over sized bass drums. Here, audio quality is musically natural sounding with great clarity and detail though the cymbals are seemingly muted at times, probably deliberately by Lenny White. This sounds like an old fashion or traditional jazz trio- perhaps the best one you may have ever heard or remember. I admit that from hearing some Hiromi recordings I did not realize she could play so sublimely and clearly. This release is a gem! Do I need to say that it receives my highest recommendation?
Lacking only a SACD release, as if not enough music lovers have requested the very highest audio quality, then the highest quality will not be available—very sad and very logical. In the meantime buy and treasure this great jazz recording!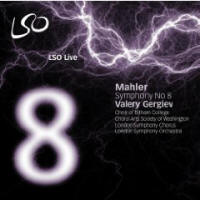 Mahler Symphony No. 8, London Symphony Orchestra. Valery Gergiev, conductor. London Symphony Chorus. Choir of Eltham College. Choral Arts Society of Washington. LSO Live SACD multichannel LSO0669
There are a number of unique or rather unusual events associated with this new CD-SACD hybrid release. First off, the recording site is not the usual. Barbican Center and the less than ideal recording site reputation it has endured. The audio engineers have worked endlessly on the Barbican recording site and the recordings have attained a generally very good level the past few years as well as consistency. When the musical forces reach a high number of performers, it does seem as this release's recording site is a bit superior. This fact seems to reinforce the Barbican's less flattering reputation. Secondly, the recording also features eight soloists. Early performances of this Mahler mega-drama earned it the nickname of "Symphony of a Thousand.". There is some disagreement regarding the number of performers in those earliest concerts; they may or may not have totaled a thousand or nearly so. Mahler evidently, did not like the nickname. Most performances feature closer to five hundred than a thousand musicians and performers. I believe that the main reason I have seldom listened to this grand-scale symphonic work is that I know my systems have had trouble bringing the second or third hundred performers into my listening room – just appears to not be sufficient room for all of them. I have never had the opportunity to hear a live performance.
That is probably true for many music lovers as in many areas there are not facilities or performers to put on such a grand-scale composition. I would not think this composition to be appealing to new comers to classical music. It would best serve long time serious music lovers who would like to hear what Mahler is trying to say with such a grandiose composition. In a rare departure from their usual Barbican Center recording venue, here in St. Paul's Cathedral, the distinct possibility of a better recording site is cleanly, clearly and with great natural detail, heard to outstanding effect, particularly in tracks one and eighteen. Extremely low distortion and signal to noise ratio is the expected reason. Those two tracks, in particular, would be warmly embraced by any audiophile and appreciated by any music lover who enjoys hearing how good recorded music can sound. I repeated track seven, the longest track in this seventy-seven minute release, time and time again for its inherent beauty, melodic and fine (not audiophile oriented) natural sound qualities. Some of the other tracks were a bit of a mixed bag. Perspectives were sometimes very surprising, ranging from typical or expected to extremely distant for example. At times I wondered if the audio engineers were having trouble with the microphones or their placement, as if they were not completely used to working at St. Paul's Cathedral. If I try to provide more specific details I would wind up writing far too much and without really knowing the composer's exacting detailed intentions and Mahler was well known for demanding attention to details.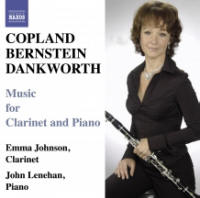 Music for Clarinet and Piano. Copland, Bernstein, Dankworth. Emma Johnson: Clarinet. John Lenehan: Piano. Naxos CD 8.572240
Some months ago, while listening to recordings for reviewing purposes, my attention was attracted to the superb clarinet playing I observed on one of the releases. Investigation revealed the excellent clarinet player to be Emma Johnson. Since then I have been on the look out for any recording featuring her. This release is the first one I have found. Dankworth's Suite for Emma is the disc's first selection. It is basically a varied selection of song-like pieces tempered or emphasized by Dankworth's famous jazz touches. Yes, the title refers to the fact that Dankworth is writing with world famous clarinet player Emma Johnson strictly in mind with this interesting composition. It features a variety of styles and areas of emphasis and I find it most enjoyable as would be assumed. The Bernstein Clarinet Sonata is decidedly more "upbeat" with some distinctly contemporary touches. It has leaner or less full and rich melodic lines in some sections. Even more so than with the other compositions, here the piano is given equality in every respect and sounds as if it should be named a sonata for Piano and Clarinet. Playing and audio quality are simply outstanding. What's so very nice is that nearly all of us have real space in our listening rooms for these two instruments; not all headphone listeners may be so lucky. It is easy and tempting to simply hit the repeat button repeatedly with Bernstein's composition. By comparison, the Copland sonota seems simpler and straighter forward and has distinct hints of introspection. It was originally written for violin. The third (last) movement results in an almost abrupt and significant change—very progressive, out going and with strong hints of jazz. The unique and quite beautiful arrangement of Jeannie with the Light Brown Hair is simply, subtly or sublimely great, though unexpected as a finale. The beautiful clarinet is heard as its best here with a smooth fullness that often escapes instruments such as the oboe. If you desire to hear more beautiful music for the clarinet with both piano and cello added, try Beethoven's early composition, the trio opus No. 11. This is not the Beethoven who battles the gods; this is by the great or perhaps the greatest composer doing something to perhaps "soothe the savage beast" in we mere mortals…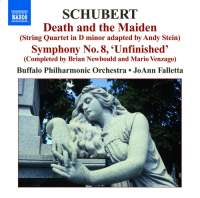 Schubert, Death and the Maiden (String Quartet), (Adapted for Orchestra). Symphony No. 8, 'Unfinished'. (Completed). Buffalo Philharmonic Orchestra. Conducted by: Jo Ann Falletta. Naxos C.D. 8.572051
Franz Schubert was at once a great composer and a tragic figure in the world of music. Just imagine composing more than a thousand works and death at the age of thirty-one. Those listeners familiar with Schubert's music probably now possess the above compositions and have an interest in this recording of the additions, transpositions and so on done to these famous compositions. Newcomers to classical music must have Franz Schubert in their basic collections. At a minimum, Schubert's 8th (Unfinished) and 9th (The Great) symphonies should be in that basic group. On a smaller scale some of his songs, solo piano pieces and chamber music such as the Trout Quintet should also be there. Then, later on add this reviewed recording to your basic Schubert group.
The rather tragic Death and the Maiden chamber music is very well known and appreciated just the way it was written and performed for more than a century and a half. Here the term used is "adopted" or call it orchestrated to allow performance by a symphony orchestra. This version is decidedly different than the "adopted" one by Gustav Mahler. For some long time now (perhaps a year) I have not heard Beethoven's Symphony No. 3 the Eroica. Listening to this adopted Schubert chamber composition adapted for orchestra, kept reminding me over and over again of a "watered down" Eroica symphony. I shall just leave my comments there.
Schubert's justly famous Symphony No. 8 (Unfinished) is particularly beautiful and melodic music making. Schubert had made a few sporadic efforts to finish it and obviously eventually gave up. Many if not most music historians agree that it is a perfect first two movements of a symphony (or a tone-poem) that can go no further by logically building on the first two written and published movements, finally released more than forty years later. After listening to the first two movements of the Unfinished Symphony, here you can decide if any one should try to finish it by adding basically their own last two movements such as Newbould and Venzago have done. It is at least food for thought. It is either very difficult if not impossible to write a review of classical music never before heard. I can say that the playing and the audio quality is simply fine. For myself, I plan to some day compose my Symphony No. 1 and title it as either the Unstarted or the Unbegun Symphony.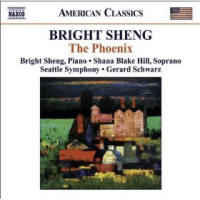 The Phoenix, Bright Sheng, Composer. Red Silk Dance. Tibetan Swing. The Phoenix, H'un (Lacerations). Seattle Symphony Orchestra. Gerard Schwarz Conductor. Naxos American Classics Series CD 8.559610
This release's title is the same as the featured composition; nothing rare about that. Bright Sheng was born in Shanghi, China and later moved to New York soon enough to be an important part of Naxos' American Classics Series. Here he handles the piano part in the The Red Silk Dance and Shana Blake Hill handles the soprano role in The Phoenix. Long ago the "Silk Road" referred to all the roads or trade routes that linked China to Rome and ultimately much of Europe. The Red Silk Dance is one of the most interesting modern or contemporary compositions I have heard in quite awhile. Yes, it can be very loud and dynamic at times but it seems to flow along logically and attractively. It is also an audiophile showpiece at the same time. Gerard Schwarz and the Seattle Symphony Orchestra handle the composition just fine—actually outstandingly well. The brass and percussion have a glorious field day on this outstanding selection. It and two of the other compositions here are their respective world premiere recordings!
Tibetan Swing makes a valiant and somewhat successful attempt at classical music "swinging". Here The Phoenix is inspired and based on a Hans Christian Andersen story. The complete short story is quite interesting and I shall not repeat it here but the climax, if that is the correct term, is that every hundred years the Phoenix bird dies setting fire to her own nest leaving behind a single egg from which arises a new Phoenix. This and the other compositions were all commissioned by orchestras. The soprano part is generally regarded as extremely challenging and very well handled here. The last selection, H'un started Sheng's climb to success and was his first composition as an American citizen. Listeners may have to work a bit to handle the modernistic biographical background in and of this composition. If so, I would remind you that the opening selection, Red Silk Dance is worth the admission price alone; as usual a Naxos bargain, and superbly recorded in excellent and clearly spacious audio quality. Very highly recommended.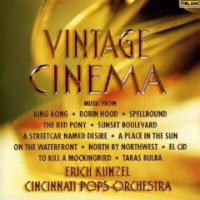 Vintage Cinema. Orchestra Cincinnati Pops. Conductor: Erich Kunzel. Telarc SACD Hybrid Multi-channel SACD-60708
I found this release to be very interesting and downright intriguing. The selections are listed and played chronologically starting with the earliest film release. An almost perfect test for you if you consider yourself a bit of a film buff, or to pull the test on a film buff, or to pull the test on a film buff you know. Test is simple, play the recording of twelve main title themes or brief suites best known from the twelve film's musical scores by nine of the most famous or best or best composers of music for films/movies. As I just wrote those last two words, I glanced up at the shelf holding some of my reference books and half of a certain category's books said "Movie Guide" and the other said "Guide to Films". If you are going to test yourself, read no further so you will not know the titles or even some of them—no peeking-no cheating. I highly recommend this release even if for no other reason than the wide ranging excellence of the choices. The audio quality is fine emphasizing the bold rich sound that movie makers prefer. Included selections start with the original King Kong title theme and entrance of Kong from 1933, 1938's Adventures of Robin Hood., Spellbound, A Place in the Sun, North by Northwest, and so on up to 1962's pair of excellent film compositions, To Kill a Mockingbird and Taras Bulba. Enjoy these movies minus the picture.