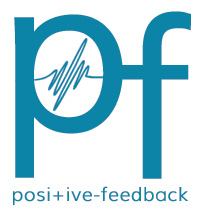 You are reading the older HTML site
Positive Feedback ISSUE
43

may/june
2009
It's A Vinyl World, After All - Educational/Instructional DVD, by Michael Fremer
by Greg Weaver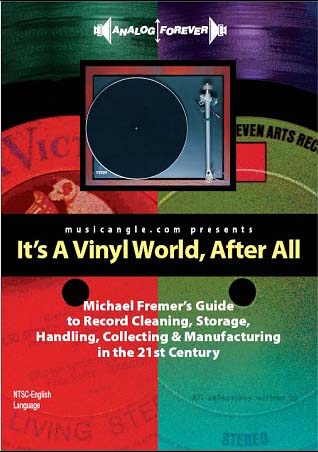 Long time Senior Contributing Editor at Stereophile, principal at the MusicAngle.com, and veteran vinyl advocate Michael Fremer has done it again. Following up his indispensible 2006 release 21st Century Vinyl: Michael Fremer's Practical Guide to Turntable Set-Up, this second release, It's A Vinyl World, After All, addresses how records are manufactured, the necessities and methods of cleaning our collections and offers some meaningful advice on the subject of collecting itself.
With a total running time just seconds shy of three hours (including all the bonus tracks), an AC3 stereo audio track, and a native 16:9 aspect ratio, this is a content-laden disc with 28 chapters, many of which are individually navigable. It offers 7 master breakout headings; A Visit to Pallas, Record Handling & Storage, Record Cleaning, Playing a Record, A Visit to RTI, Record Collecting, and Wrap-Up.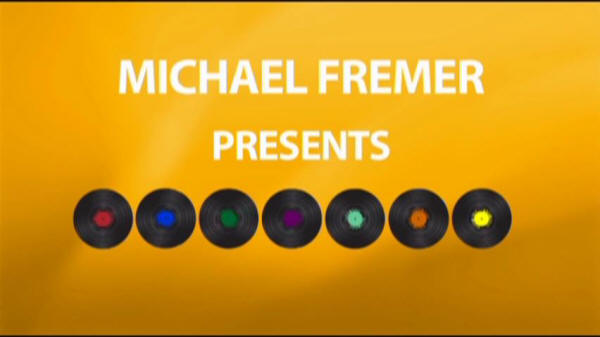 The two pressing plant tours (one in Germany and one in California) disclose in detail the record manufacturing process. Seeing the entire process, starting with the plating of an original lacquer arriving from the cutting lathe, right through the final packaging, we are treated to a clear and comprehensible understanding of this time-consuming and extraordinary process.
While the record making ritual is not new to me, as a lover of vinyl it is still a fascinating process to witness. In It's A Vinyl World, After All, we are granted an all-access pass inside not to one, but two different manufacturing facilities, the Pallas Record Pressing plant in Diepolz, Germany and the Record Technology Incorporated (RTI) Record Pressing plant in Camarillo, California. Though the pressing process is essentially identical regardless of the plant, witnessing the process, with the minor differences in manufacturing hardware between the two plants, yields a degree of understanding that visiting only one or the other could not achieve. This really adds a nice touch, elevating what would have been merely very good content to excellent.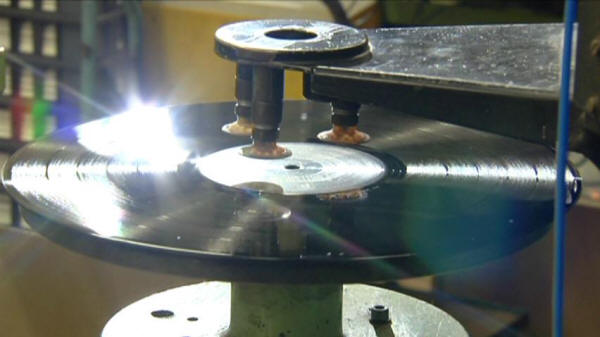 I think that many will find the visit to RTI especially interesting, in particular, the time spent with Steve Hoffman and Kevin Gray of RTI, Joe Harley and Ron Ramback of Music Matters and Don Andes, EMI Music Archives director and keeper of the Blue Note Master Tapes. This segment offers insight into the remastering process, including how some crucial sonic decisions about restoring some of these older recordings are made. It really gives you an appreciation of the subtle art and large degree of craft that go into the process.
Once you are witness to the ridiculous length of time, painstaking effort, and meticulous attention to detail required to create a 12-inch long-play vinyl record, many find that they have a new perspective on record pricing. After a screening in my theater for a small group of audio buddies, one of them announced that after learning what was involved in the process of creating records, he could no longer be upset about the average $25 asking price for a new vinyl release. In fact, he expanded on his original though by saying that he now found it surprising that they were so affordable.

One of the most entertaining sections of this release deals with record collecting. As Michael goes through some of the different reasons why people collect records, showcasing some of his more interesting and obscure records, his affable sense of humor permeates his presentation. He is obviously having fun here, and it shows.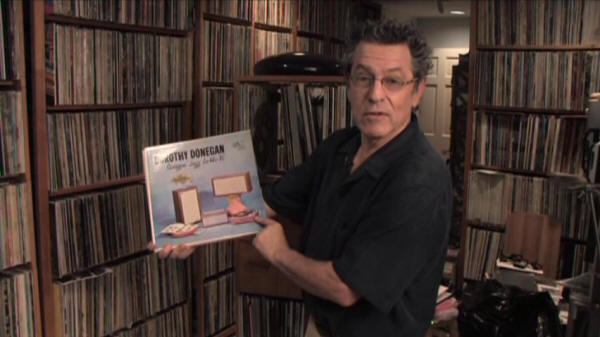 Special Features on this release include an Audio Commentary track, interviews with Holger Neumann of Pallas and Don MacInnis of RTI, bonus record cleaning footage with both the pricey ($3600) Clearaudio Matrix and budget (~$150) GEM Dandy cleaners, as well as a gallery of stills and some home video shot at a 1996 German Hi-Fi show.
Drop the DVD in your computer, and you will have access to a short mp3 and four Portable Document Format files. The mp3, "records," sounds like a snippet from one of Michael's comedy routines, a half hour sampling of which may be seen when you find the "Easter egg" video included on the 21st Century Vinyl DVD.
The four vinyl related PDFs are, The Scanning Electron Microscope: A New Tool in Disc-Recording Research, Performance Characteristics of the Commercial Stereo Disc, The Fascinating hobby of Record Collecting (also viewable on line at http://www.collectingvinylrecords.com/), and What's a Lacquer and Other Stuff You Might Already Know. Honestly, while interesting, there is nothing terribly essential in the lot. Though a pop up in the record cleaning section indicates that a PDF of Zen and the Art of Record Cleaning Made Difficult, by Michael Wayne that first appeared in The Tracking Angle print magazine is included on this release, that file was not on my DVD.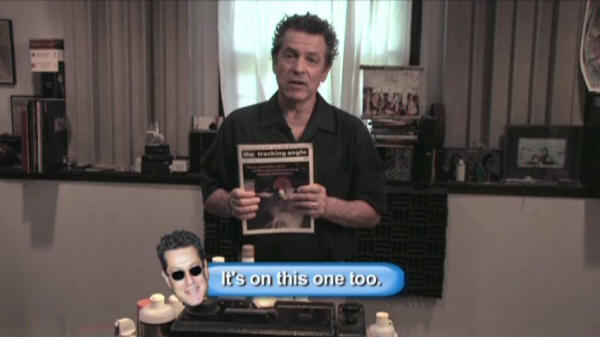 As with the 21st Century Vinyl DVD, any time Mikey misspeaks or omits something in his on-camera spiel, a pop-up appears with text correcting his errors or clarifying his meaning. Overall, manual navigation can be a bit twitchy and the opening and closing of some video chapters revealed choppy audio.
My minor criticisms are relatively small and come in two basic areas. First, his "patter" is decidedly less polished than with his last release. There are times where he clearly stumbles and uncomfortably ad-libs through obviously unrehearsed material, primarily when discussing some of the technical attributes of both vinyl and some of the cleaners under discussion.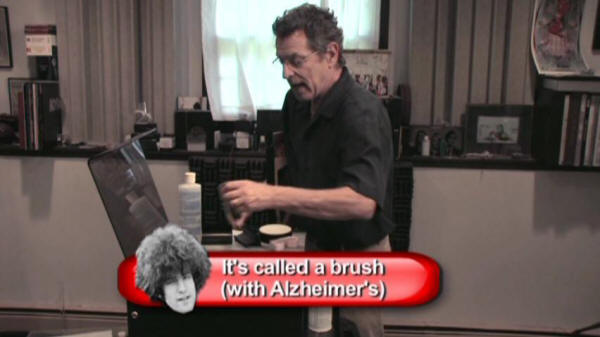 He also never directly addresses manual record cleaning; every demonstration on this video (excepting the bonus footage with the GEM Dandy) relies upon the assistance of a powered cleaning device to spread the fluids on the records and/or to remove them. Though he demonstrates a number of cleaning fluids that were specifically created for manual, non-machine aided cleaning (like Duane Goldman's Miracle Record Cleaner) he fails to mention that you don't need such a machine to clean your precious vinyl. This is a small but disappointing omission to my way of thinking. Novitiates, presumably the largest target audience share for such an instructional work, should be made aware that the expense of a powered cleaner is not necessary to clean and care for ones records.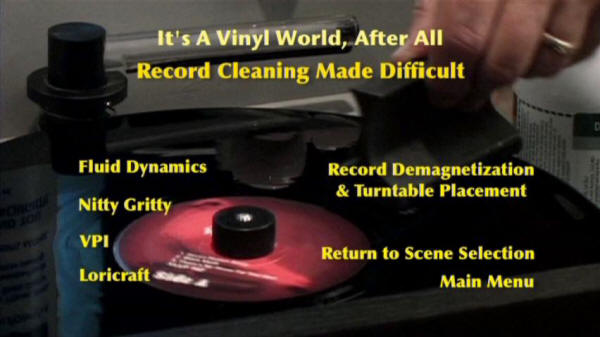 There are also seeming contradictions. While he rightly and emphatically swears by using a separate, different brush for each and every different cleaning fluid used, he repeatedly wipes his bare fingers across the bristles of both cleaning brushes and velvet lip vacuum surfaces. This will deposit residual finger oils (and other pollutants collected by the fingers) on those surfaces, inevitably contaminating them and, by extension, any record to come in contact with them. I would expect that he would make it quite clear that such incidental contact should be avoided at all costs.
These small concerns aside (and they are truly inconsequential), this is a highly informative, detail rich, and entertainingly educational release. In my opinion, it will make an excellent addition to the tool kit of ANY vinyl fan, regardless of their experience level. Not only is the wealth of information and instruction contained on this DVD extremely useful and highly sought after, much of this content would be otherwise unobtainable by most. Most enthusiastically recommended.
It's A Vinyl World, After All
Retail: $29.95
MF Productions mxangle3 (DVD) 2008
Michael Fremer, producer/Joe Shelesky, Andre Kruger, Jeff Wilerth, directors/Joe Shelesky, editor