The Leben Hi-Fi Stereo Company is small specialty company in Japan with a very enthusiastic following—one that reminds me of what the legendary Leica M series rangefinder cameras enjoy in the photography world. Enthusiastic Leben owners in Japan have established a fan club called the Leben Audio Lovers' Club, which meets periodically for fun and games, and herald's new Leben model introductions as a special event, much as the aforementioned fans of Leica M cameras do in their world. As you might surmise, I am an enthusiast of both Leben electronics and Leica M cameras, as both are products of exquisite handcrafted quality, and are capable of sublime artistic expression—two attributes that I hold increasingly dear in our mass-market modern world.
Mr. Taku Hyodo is the founder of the Leben Hi-Fi Stereo Company. Before founding Leben, Hyodo San (for non-Japanese readers: in Japan adding 'San' behind a name means 'I respect you') designed premium valve electronics for Luxman, and occasionally made a custom valve amplifier for his own use, and for the use of a few for close friends. Hyodo San's friends loved his amplifier designs and encouraged him to start his own audio company, and as a result of their encouragement Hyodo San decided to found his own small 'private label' electronics company to offer his designs to the public. Hyodo San's philosophy is that 'music is life' so he named his new company Leben, which is a German word that literally means 'to be alive' or 'life'.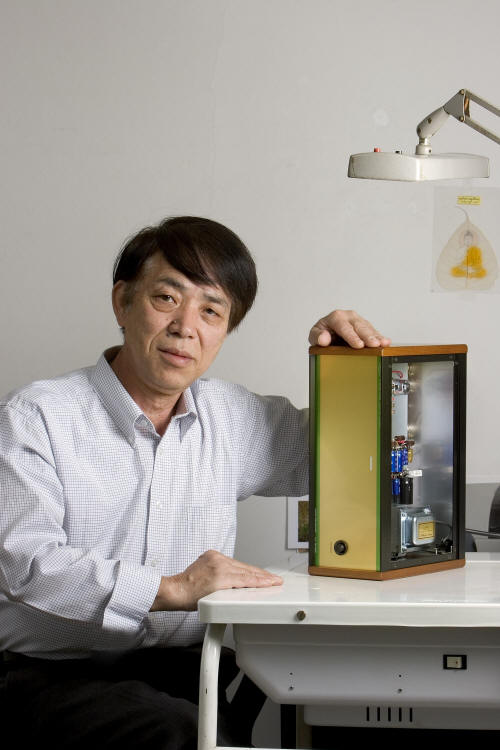 If you look closely at the front panel of Leben electronics you'll see the phrase 'A Motion Sound' written across the top. I asked Hyodo San about its meaning, and he told me, "When I was a youngster, my father worked as a movie projectionist, and I went to see many movies with him. Paramount Pictures used to call a movie 'A Motion Picture' and I adapted this phrase to Leben."
The idea behind the phrase 'A Motion Picture' is that movies consist of many still shots of a theatrical performance that when run at speed on a film projector attains a life-like motion for viewers. In the same way Hyodo San's 'A Motion Sound' conveys the idea that recorded music is brought to 'moving life' through Leben electronics.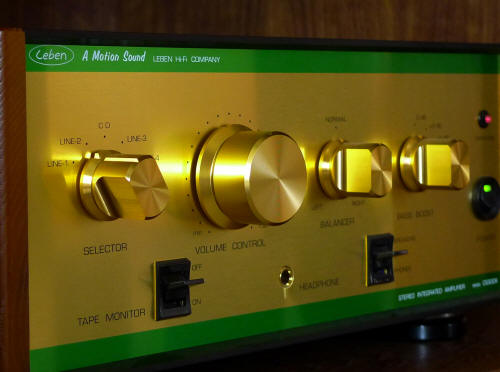 Hyodo San told me that being a musician has helped shape him as an audio electronics designer: "I have been listening to live music and playing musical instruments like the guitar, clarinet, and drums since I was young. I was a professional acoustic guitarist for a few years in my twenties, and now I continue to enjoy playing musical instruments as a hobby. My experiences performing and listening to live music helped me a lot in designing my amplifiers. Listening to live acoustic instruments guides my amplifier designs, as live music always helps people relax and enjoy the music."
When Hyodo San designs an amplifier he aims for a naturally musical sound that allows a listener to become immersed in the music. During the voicing process Hyodo San chooses what he thinks are the most musical parts combination for the design, but as a reality check he has as many ordinary music-loving listeners as possible listen to the design and provide their feedback for final voicing. Hyodo San said, "I design my products for real people, the unspecified music lovers."
The result of Hyodo San's approach is that Leben audio products enjoy a reputation for playing music that engages the listener in a natural and effortless way, being harmonically rich, timbrally correct, rhythmically and melodically adept, transparent, having a tight and tuneful bass response, and a very wide bandwidth.
Leben electronics were available only in Japan until a few years ago, when Jonathan Halpern of Tone Imports started importing a small number of Leben products to the USA for those music lovers who had heard about them and desired them. If you are contemplating purchasing a Leben product, be forewarned that there are only a small number hand-crafted each year, and when they are sold out there are no more to be had for the year—so don't procrastinate if you decide you want one.
The RS-30EQ Phono Preamplifier
Back when I wrote about the Leben CS-600 integrated amplifier for 6moons in February of 2007 I said, "There is one thing that doesn't yet exist in the Leben product line which I'd really like to see added: a stand-alone phono stage styled to go with the integrated amplifiers."
Like me, a great number of Leben integrated amplifier aficionados have been waiting for the day to arrive that Leben would offer a phono preamplifier designed specifically for their integrated amplifiers (and the soon to be released RS100 line preamplifier). Well guess what? That day is here!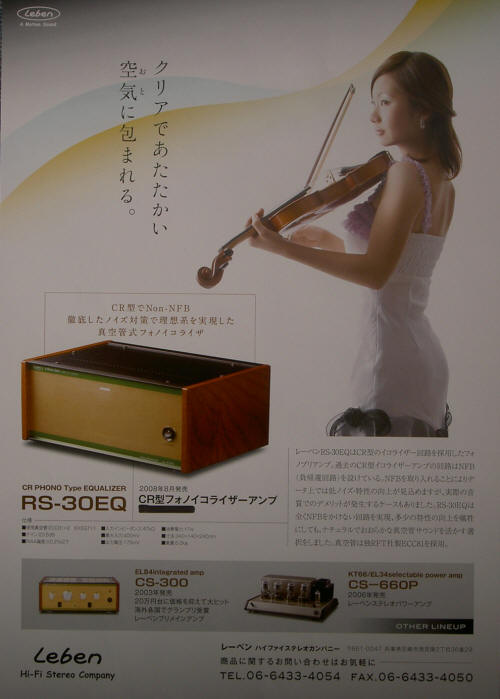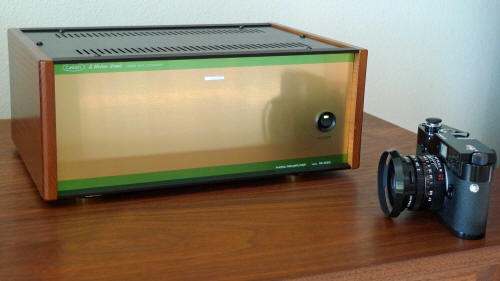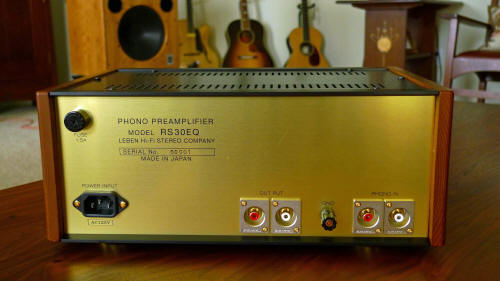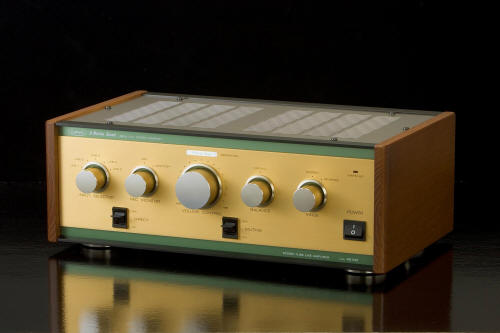 The Leben RS-30EQ phono preamplifier ($2595 US) was designed visually, and with its voicing, to complement Leben's integrated amplifiers, two of which I happen to have purchased for my own pleasure: the CS-300X Limited Edition (15 watts) and the CS-600 (32 watts). For the Leben fans out there waiting to hear about the new RS-30EQ phono preamplifier, I decided it would be the most useful if I reported my impressions of using it with both my CS-300X Limited Edition and my CS-600 so owners of either model could get a feel for what it's like to use with their respective Lebens. I've also got a few tube tips to share about the CS-300X (or XS) and the CS-600 to help you get the best out of yours.
A little background on the design of the RS-30EQ: Hyodo San divides classic valve phono stages into two basic design genres: those like the Marantz Model 7 that use negative feedback (NFB) to achieve RIAA phono equalization; and those like the Harman Kardon Citation IV that use no NFB, and use capacitors and resistors (CR) to achieve RIAA equalization (and which Hyodo San considers to be "a masterpiece" of phono preamplifier design).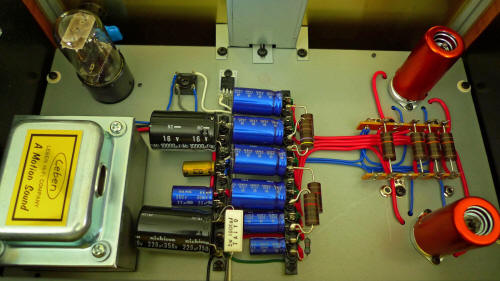 The vintage Marantz Model 7 uses three stages of 12AX7 amplification for RIAA equalization where NFB is applied from the 3rd stage cathode to the 1st stage cathode. Hyodo San says the good points of the NFB type equalization as used in the Marantz are that it's easy to get a good signal-to-noise ratio; it doesn't require high gain; and it isn't very sensitive to tube quality. He says the downside of the NFB approach is that the impedance at high frequencies becomes very low which gives a hard and dry sound that negatively affects musicality.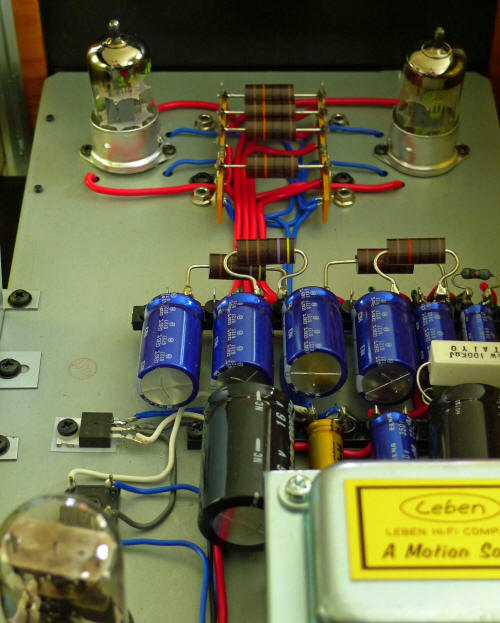 The downside of the vintage Harman Kardon Citation IV style of CR equalization is the need for high gain and a dependence on very high quality tubes. Implementation is also more difficult than with NFB designs because the tubes are directly amplified, and only the finest can be used. Hyodo San feels that the difficulties of the CR type of equalization are worth the extra design trouble because it is so stable in the high frequencies, which provides superior musicality by being much more transparent, and more natural and involving sounding.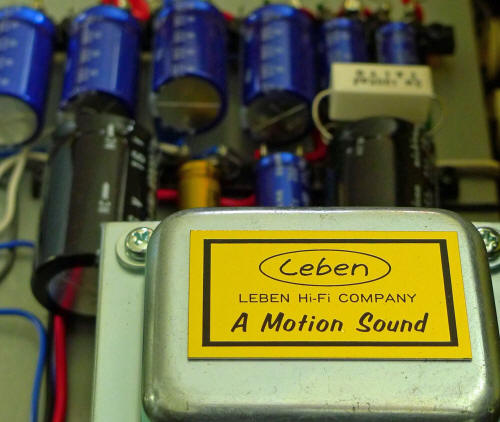 As you would expect, Hyodo San designed the Leben RS-30EQ phono preamplifier as a zero negative feedback CR RIAA equalizer in the spirit of the classic Harman Kardon Citation IV. The RS-30EQ is accurate to less than +/-0.2% of the RIAA curve, uses two NOS General Electric Joint Army-Navy (JAN) 12AT7s in the gain stage, one NOS G.E. 6X5GT rectifier, has an input impedance of 47Kohm, and has an overall gain of 23.5dB. The RS-30EQ can be used with a moving magnet cartridge, or with a moving coil cartridge in combination with a step-up transformer. Currently Leben does not offer a matching step-up transformer for the RS-30EQ for use with moving coil cartridges, but US importer Jonathan Halpern tells me that one is under development and will be available in the future.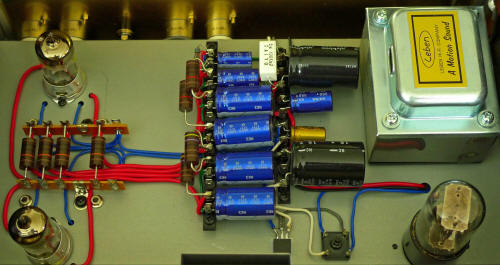 Construction quality is typical Leben—superb. The styling of the RS-30EQ phono preamplifier follows the same theme as the integrated amplifiers, which I happen to think is quite beautiful with its gold front and back panels, green highlighting, and wood side panels. On the front panel is a very tasteful lavender indicator that illuminates the word 'Leben' in its center to indicate that the phono preamplifier is fully powered up and ready to play music after power turn-on.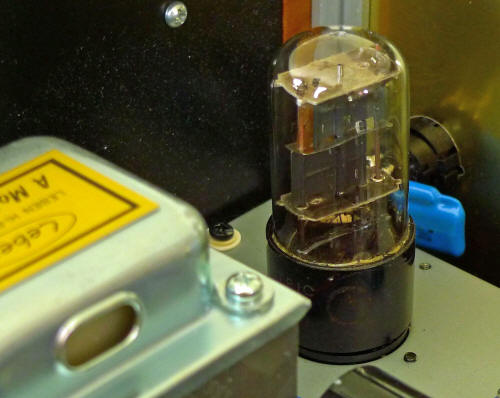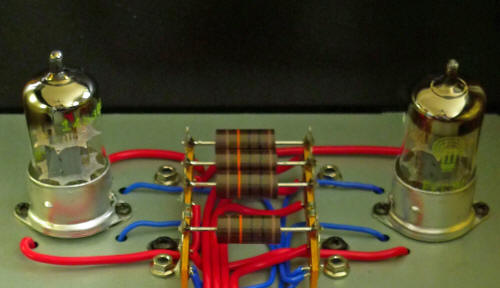 The turntable I used for this article was my custom KAB Broadcast Standard Technics SL-1200MK5 with all of the KAB performance upgrades. For phono cartridges I used either my Clearaudio Virtuoso Wood moving-magnet (MM) affixed to a Yamamoto HS-1A ebony head shell, or my Denon 103 moving-coil (MC) affixed to a stock Technics head shell in combination with my Auditorium 23 step-up transformer. For loudspeakers I used my new Harbeth Monitor 40.1s sitting atop Skylan stands, and which I connected to my Leben integrated amplifiers via Audio Tekne speaker cables. I used an Acoustic Revive interconnect between the RS-30EQ phono preamplifier and the Leben integrateds (a really nice match by the way). When using the combination of Denon 103 MC cartridge and Auditorium 23 step-up transformer, I used an interconnect I made from Cardas tonearm wire to connect the A23 transformer to the RS-30EQ phono preamplifier inputs (which is the same wire used by KAB for the Technics tonearm re-wire upgrade on my SL-1200MK5).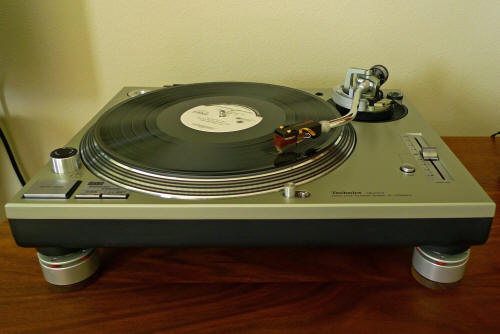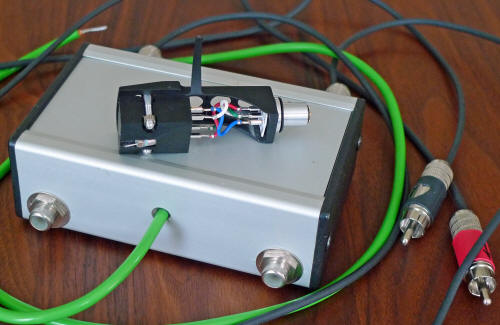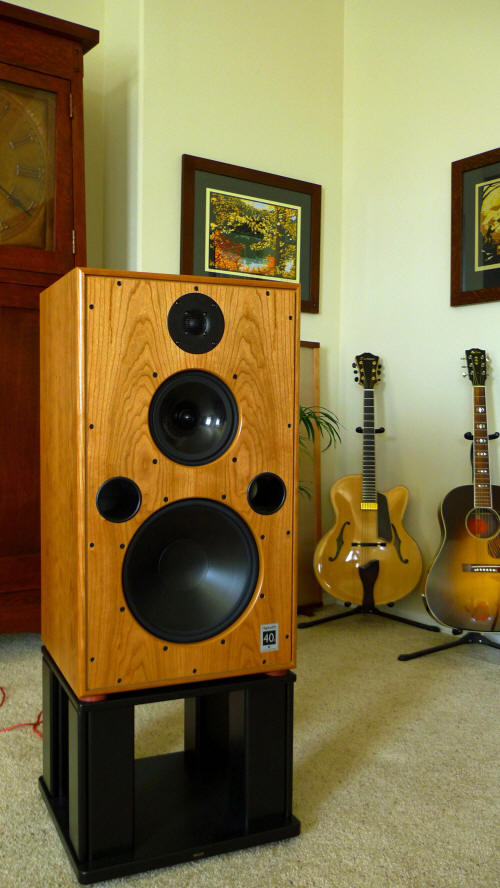 Listening Impressions
The Leben RS-30EQ Phono Preamplifier with the Leben CS-300X LE
First lets take a listen to the RS-30EQ in combination with the 15-watt Leben CS-300X EL84 integrated amplifier. The Leben CS-300X Limited Edition integrated amplifier that I own has been discontinued due to a lack of availability of the NOS Mullard EL84 tubes used in its output stage, and the Leben CS-300XS ($3495 US) now takes its place in the current Leben product line. However, the Leben CS-300X LE aficionados need not fear, as the Leben CS-300XS integrated amplifier currently offered is identical to the Limited Edition version with the exception of Sovtek EL84 tubes being substituted for the unavailable NOS Mullard EL84 tubes. The Sovtek tubes used in the CS-300XS are where the 'S' comes from in its name. For all CS300X (or XS) owners I have a hot tip from my pal Les, who tells me that he likes the new Genalex Gold Lion N709 EL84 reissue tubes even better than his vintage Mullard EL84s, so XS owners now have a chance to be one up on their LE friends. Les has great taste in audio, so as soon as the budget allows I'll be ordering a set for myself to check them out.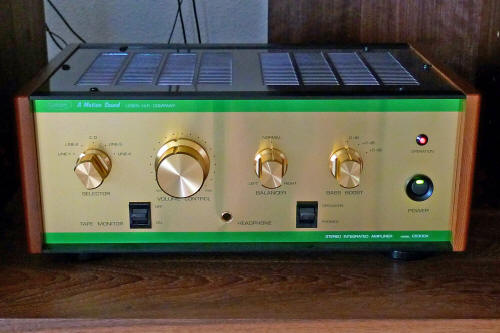 I bought my Leben CS300X Limited after reading Paul Candy's excellent article about it at 6moons, which you too should read if you want to get the full scoop on this wonderful little integrated amp. The rather low-powered 15-watt Leben CS-300X sounded more like 50-watts than 15-watts driving my new Harbeth Monitor 40.1 loudspeakers, which in spite of their intimidating sensitivity of 86db/1W/1m, turned out to be a very easy load for the little Leben to drive even to loud volumes—the little Leben CS300X has real cahones!
I really love the Classic Records 45 RPM version of the RCA Living Stereo Clair de Lune album (LSC-2326) with Raymond Agoult conducting the London Proms Symphony, which was recorded by Kenneth Wilkinson (engineer) and Michael Williamson (producer) in May and June of 1958 at Walthamstow Town Hall, located in the London Borough of Waltham Forest. It's the perfect record for washing away the residue of a long week at work, and the Leben RS-30EQ phono preamplifier really brings out the best in it. The RS-30EQ was beautifully expressive on this tranquil and seductive music, giving the bowed strings a silky texture with deeply hued tone color. The timbral textures of the bowed strings were captured beautifully, with the RS-30EQ vividly communicating variations in overtone signature due to the size of the instruments' bodies, and the touch of the musicians on the strings, which tapestry-like contributed to the overall fabric of the timbral sound at the symphonic level.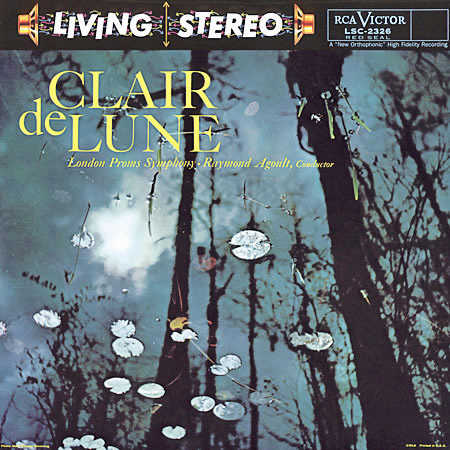 What is music but sound in time, and the Leben RS-30EQ brings 'A Motion Sound' to the flowing interplay of harmony, rhythm, melody, tempo, and meter in a recording. Take for example, Nick Drake's Pink Moon album, in which Nick does some energetic and driving acoustic rhythm guitar playing. The Leben RS-30EQ gave me a real feel for Nick's speedy tempo on Place to Bee, with the forceful nature of his strumming driving the music relentlessly forward in time. Yet Nick's almost slow feeling and laid back vocals gives an interesting counterpoint to his strumming, and the blending of the two giving an almost haunted and other-worldly feel to the music. Impressive. On Nick's Which Will there was a lot of clarity to the individual guitar strings, and a real sense of Nick's percussive attack on the strings, which brings up an important aspect of the RS-30EQ's performance—the RS-30EQ is remarkably good with reproducing even small changes in fixed and graded dynamics.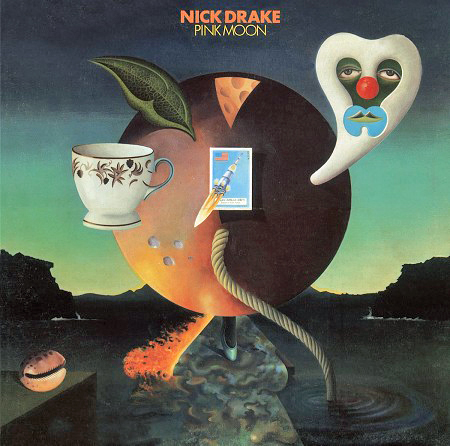 Whether the Leben RS-30EQ phono preamplifier is bringing to life the dynamic swell of a crescendo or the relaxation of a diminuendo, or caressing the listener with the softer changes in dynamics between pianississimo (ppp), pianissimo (pp), piano (p), and mezzo piano (mp), it is remarkably convincing. This prowess with dynamics really highlights the artistry of the musicians, their deft touch on the strings in Clair de Lune or Pink Moon, their caressing of the melodic line, and gives a musical 'aliveness of being' that is both exciting and exhilarating to hear. The Leben's primary success is this portrayal of a natural 'aliveness' which is not unlike what I experience listening to live music. If you didn't already know that an electronics wizard who is also a musician designed the RS-30EQ, you would after your first listen, because the RS-30EQ has that same sort of expressive touch on an LP that a musician has on their instrument.
In describing the Leben RS-30EQ phono preamplifier I've talked almost exclusively about its superb performance on the elements that make up the recorded music: things like timbre, harmony, rhythm, melody, tempo, dynamics, meter, and a life-like musical presence, while neglecting sonic descriptors about imaging, soundstaging, resolution, perspective, and their ilk. That's not because I don't think sonic factors are important, or that the Leben is lacking in sonic sophistication, as it's actually very, very, good in that regard. The RS-30EQ was so musically captivating that I didn't think much about the sonics during my listening sessions, a good sign of musical prowess in my book.
But the RS-30EQ is impressive sonically. The RS-30EQ's overall sonic character is just a touch to the warm side, and it has a somewhat up-close and personal perspective. This combination of natural sonic character and intimately-close perspective traits on Nick Drake's above-mentioned Pink Moon made it sound like Nick was in my living room playing, with a life-sized and full-bodied sonic image, and a very 'live acoustic' presence that supercharged my room (and emotions!).
On the second cut, Choctaw Hayride, from the Alison Krauss + Union Station Live Mobile Fidelity LP, the RS-30EQ casts a wide and deep soundstage with an expansive sense of the live audience space. Imaging was first rate with very solidly defined three-dimensional images of Jerry's dobro, Ron's banjo, Dan's guitar, Alison's fiddle, and Barry's acoustic bass emerging out of a black background. Barry's acoustic bass is deep, taut, punchy, and drives the music powerfully forward in this number, which is presented beautifully by the RS-30EQ.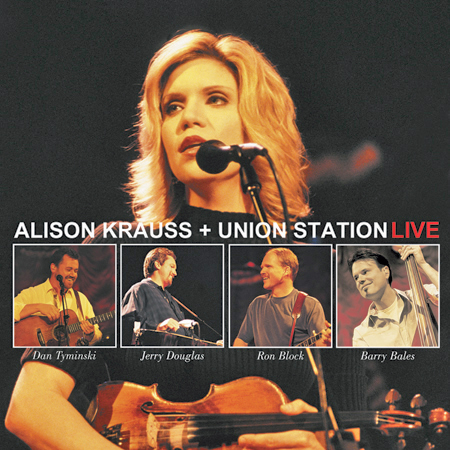 The RS-30EQ is very transparent, and its detail recovery is rather remarkable, yet I never felt like there was hyped-up 'Hi-Fi' style of presentation with more detail present than the recorded perspective called for—it always seemed just right to me in the way it portrayed perspective and resolution of detail. Let me stress, however, that even though the Leben has great clarity and detail recovery, it never ever comes across as analytical or 'in your face'. It has a natural vibrancy that makes it positively enchanting to listen to, and a full-bodied flesh and blood feel to the images that gives a 'they are here' feel to the music, and an expressiveness of musical attributes that is absolutely transfixing.
Listening to my LPs through the RS-30EQ phono stage with my Leben CS300X Limited has been quite an experience: it is all about timbral textures, a tactile feel for the music, how the music flows in time, with an infused vibrancy akin to that you hear with music played live, and a sparkling, exciting, life-likeness that just sends shivers down my spine. The fact that the Leben RS-30EQ sounds so naturally musical, and yet has such great clarity, is positively beguiling. The result of the Leben RS-30EQ's combined musical and sonic prowess is an emotive ability that is simply outstanding, with an ability to immerse the listener in a complete musical experience, one that had me playing familiar albums over and over for the new musical insights they offered. I rarely thought about the sound per se during the review, because the presentation was so musically captivating. If you've got a Leben CS300X or XS I dare say you'll be completely blown away with it in combination with the RS-30EQ phono preamplifier.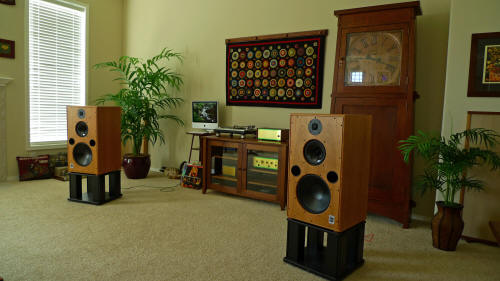 The Leben RS-30EQ Phono Preamplifier with the Leben CS-600
The $5495 CS-600 is the most powerful Leben integrated at approximately 30 watts. The CS-600 was developed at the insistence of Leben customers who wanted the Leben signature sound in a more powerful integrated amplifier to drive their less sensitive loudspeakers. Hyodo San designed the appearance to be similar to the CS-300X with the intention that this style of appearance would become symbolic of Leben's integrated amplifiers.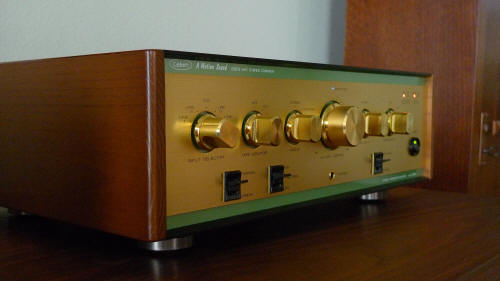 The first stage of amplification in the CS-600 uses the twin-triode 6CS7, and a 6CJ3 rectifier provides a slow turn-on of the B-voltage to the power tubes. The CS-600 includes cathode-resistor and plate-voltage switches inside the chassis to optimize it for a variety of different output tubes. For example, with 6L6GC tubes in place, the CS600 provides 32-watts of output, and 28-watts with the EL34. The CS-600 comes stock with 6L6GC output tubes; but 5881, EL34, KT77, 6L6GB, 350B, KT66, KT88, and 6550A can also be used.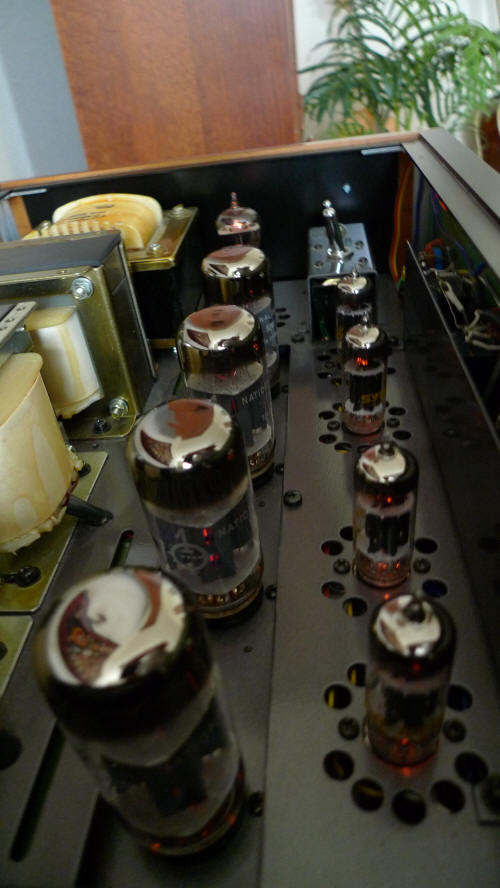 Vacuum tube tips: My preferred tube combination in the CS-600 with my Harbeth Monitor 40.1 loudspeakers was NOS Sylvania 6CS7 (over NOS Tung Sol which sounded a little too bright), NOS Sylvania 6CJ3 (over NOS GE), and the remarkably musical NOS Russian 6N3C-E as outputs (which is equivalent to a 5881). I bought my 6N3C-Es from Watford Valves in the UK, which sells cryo'd versions under their Harma label as 5881s.
I first wrote about the Leben CS-600 for 6moons as part of the Music Lovers series of articles back in February of 2007. The Music Lovers series had a little bit different theme than the usual audiophile-style gear reviews in that it emphasized how well the gear discussed performed on the musical content of the recordings rather than on just the sonic aspects, as is often the custom in audiophile oriented reviews. The theme for the series came about because of the remarkable prowess of the Leben CS-600 for the musical content of recordings—those elements that make up the music itself—like timbre, pitch, harmony, rhythm, melody, tempo, meter, and dynamics.
Even though I have been fortunate to have quite a variety of high-performance audio gear over the years, the CS-600—my first exposure to a Leben—was a revelation in how it portrayed the above-mentioned musical attributes of recorded music. I have always been a big fan of the musical competence of SET amplifiers, and as a point of comparison I said in that article, "I think it will come as a bit of a shock to SET devotees (it did me) that this refined little push-pull integrated can go toe-to-toe in a slugfest with an SET amp and KO it musically. It's a truly brilliant design." Being introduced to the Leben CS-600 completely rearranged my Hi-Fi world and resulted in a paradigm shift of my perceptions on what was important in Hi-Fi performance.
I'm not alone in my observation about the CS-600's prowess, either. Both Robert Deutsch and John Atkinson of Stereophile reported about their first Leben encounters at the 2008 Festival Son and Image Show in Montreal, saying how impressed they both were with the combination of the Leben CS-600 and the ProAc Response D Two loudspeakers. John said, "In some ways—particularly the overall balance and the sheer accessibility of the music—this was the best I heard at the Show despite the system's affordable price."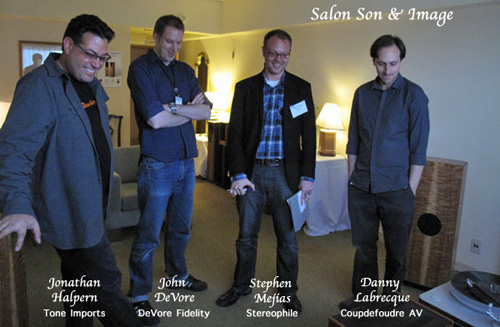 In 2009 at the Salon Son and Image Show it was much the same story: Stephen Mejias of Stereophile awarded the Leben CS-600 integrated and RS-30EQ phono stage, in combination with the DeVore Fidelity Gibbon Nine loudspeakers and a Clearaudio Champion Wood turntable, his "Best Music of the Show". John Atkinson reported that he was "equally impressed" with the Leben, DeVore, and Clearaudio combination. Once again Leben slaps down its Salon Son and Image competition like a sumo wrestler on a fly.
But I digress, so back to my listening impressions: The Leben RS-30EQ phono preamplifier in combination with the CS-600 is pretty darn impressive on my Harbeth Monitor 40.1 loudspeakers, making it easy for me to relate to Stephen and John's favorable reaction at the 2009 Salon Son and Image Show. Spinning Nick Drake's Pink Moon album again, with the CS-600 replacing the CS-300X, allowed the RS-30EQ to fully display the differences in the overall musical character of the CS-600 versus the CS-300X. By analogy, if the CS-300X is a bottle of Dom Pérignon champagne with all its bubble, sparkle, and excitement, then the CS-600 is a bottle of fine Pinot Noir, being darker, richer, and with a relaxed clarity. Fireworks versus candlelight I suppose, but both equally enchanting musically. The RS-30EQ with the CS-600 emphasized the woody resonance of the body of Nick's guitar more than the CS-300X, with the CS-300X emphasizing the textures of the strings more. The RS-30EQ demonstrates the CS-300X's prowess of revealing the musicianship of the performers and the timbral textures of the different instruments in the music of Clair de Lunee, while the CS-600 brings out more tone and mood at the symphonic level—both different, beautiful, expressive, and musically convincing in their own way.
On Crosby, Stills, Nash and Young's Déjà vu album the RS-30EQ nailed it by being both musically convincing and sonically enchanting. Musically speaking, the timbre of all the various instruments—lead and rhythm guitars, drums, cymbals, bass, etc.—were beautifully and believably represented, with the motional elements of tempo, rhythm, and melody keeping the forward momentum going. The RS-30EQ will give you new insights as to what A Motion Sound is really all about. Then there's the exquisite portrayal of the vocal harmonies on Déjà vu, with each voice layering in to contribute to their overall flavor of the harmony. With the CS-600 the RS-30EQ phono stage displays its remarkable sonic prowess on Déjà vuu with pinpoint imaging, a deep soundstage with lots of instrumental and vocal layering, and pinpoint imaging with a lot of solidity and presence. This sonic prowess combined with the RS-30EQ's musical charms makes for a very satisfying music listening experience, and one that had me listening to my LPs over and over just for the sheer musical joy of it all.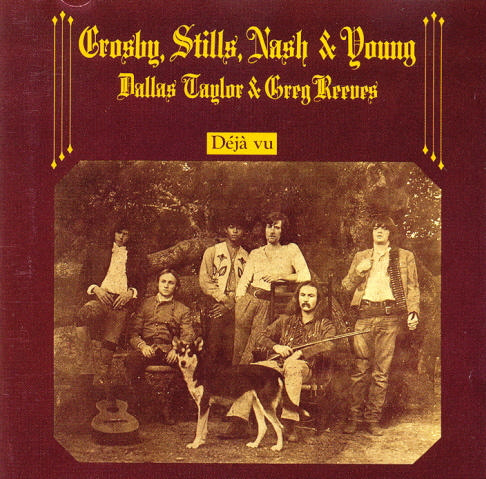 As an aside: I get quite a few emails asking whether I like the CS-300X or the CS-600 the best. Here's the answer: In preparing for this review, when I put the CS-300X in the system with the Leben RS-30EQ phono stage and my new Harbeth Monitor 40.1 loudspeakers, I was bowled over at how good it was. It was easily my favorite. Then when I put the CS-600 in the system and optimized it with the set of tubes mentioned above, I was again bowled over by the musical result—it then easily became my favorite. Just to be sure, I put the CS-300X back in the system and listened again, and was again bowled over by the musical result, and it again became my favorite. I went around like that between the CS-600 and CS-300X for a while and finally concluded that my favorite was whichever one I was listening to at the time. The reality of the situation is that I could thoroughly enjoy living with either—after all I did buy them both—as my only amplifier until the last tick of my clock. I'm really glad I don't have to choose just one, though, because I really like them both for their uniquely musical charms.
As another aside: Interestingly enough, even though the CS-300X only has half the power of the CS-600, in actual practice they both drove the Harbeth Monitor 40.1 similarly—the CS-300X is one ballsy little amp. Now maybe that wouldn't be the case with speakers that are less easy to drive than the Harbeths, but in the Monitor 40.1's case, either amp could drive them as loud as I cared to listen to.
Summary and Conclusions
Whether it is paired with the CS-600 or the CS-300X integrated amplifiers, the Leben RS-30EQ phono stage demonstrates a combination of low noise, freedom from obvious coloration, high transparency, high resolution, extended high frequencies, gorgeously liquid mid-range performance, deep and articulate bass response, superb dynamics, superb imaging, impressive soundstaging, and a natural musical expressiveness that makes it extremely involving to listen to LPs with.
The one thing that I didn't really mention about the Leben RS-30EQ was how fun it is to listen to LPs with. Fun isn't something that fits into musical or sonic categories, but is perhaps more important than either, and over and over again I found myself forgetting about Hi-Fi stuff and just found myself getting lost in the fun of listening to music on LPs, which at the end of the day is what it's all about for me.
I'll tell you what: The combination of the Leben RS-30EQ phono preamplifier, the Leben CS-300X or CS-600 integrated amplifier, and my Harbeth Monitor 40.1 loudspeakers makes for a shockingly good Hi-Fi system—a minimalist super-system for the music lover—and one I could easily be content with until my last breath on planet Earth!
So there you have it. The Leben RS-30EQ phono preamplifier is really something special, and a stone-cold bargain at its $2595 US asking price. You can build a superbly musical high-performance audio system around a Leben RS-30EQ phono preamplifier and Leben integrated amplifier that doesn't cost a fortune. Knowing that a simple Leben system KO'd some of the biggest names in audio at Salon Son and Image two years running, you can just sit back, relax, enjoy the music, and quit worrying about gear. The line to sign up for a Leben RS-30EQ forms at the right, but don't dally too long, or you might be in for a long wait. Jeff Day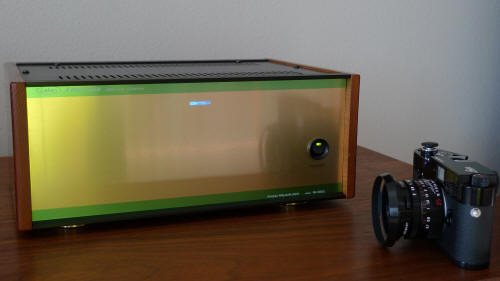 Pricing: The Leben RS-30EQ sells for $2595 in the US, which I consider a bargain considering its level of performance and build quality.
Quality of construction: The Leben RS-30EQ is built to an extremely high standard of quality.
Condition of products received: Perfect.
Human interactions: Yoshi Hontani (Leben exporter) is the best person to work with I can imagine. He is expedient, courteous and helpful. The same goes for the US importer, Jonathan Halpern, of Tone Imports. A class act all the way around!
Leben
web address: www.lebenhifi.com
US Importer
Tone Imports
web address: www.toneimports.com