It was another whirlwind romance with yet another Tonian Labs speaker. This time out it was their latest offering, the TL-AS 6.5 two-way stand mounted unit. It seems they have been busy lately in the lab with the production of yet another winning speaker. The TL-AS 6.5 is a two-way ported system with a 6.5 paper cone driver (my favorite cone material) and a fabric dome tweeter. Frequency response is stated as 50-20Khz. The nominal impedance is 8 ohms and sensitivity is stated as 89dB The size is 13.25 x 8.25 x 14.25. The pair I had was clad in a beautiful cherry finish. They are a rear ported design and thankfully have a single pair of sturdy speaker binding posts!
Before we continue, a little background is in order. When Tonian Labs owner Tony Minasian brought the TL-AS 6.5 speakers over he also brought with him a CD of recordings he had made. On the disk were included some samples he felt were good commercial recordings. He told me that the recordings he made used the 16/44 sampling rate on inexpensive recording equipment. The excerpts he recorded were mostly drums, bass, and acoustic guitar or a combination of these instruments. Well folks I don't know if this man is truly a magician, or if he has the best set of ears on the planet, or both. To paraphrase one of his customers after he heard the same recordings, "After I listened to Tony's recordings, I can't listen to my CDs anymore, my CDs sound broken." The openness, the clarity, but especially the dynamics, were so natural and correct that even most of the so called "audiophile" CDs and even regular CDs sounded downright wrong by comparison. Believe me; we went through some brand name audiophile disks. Many of which I am sure some of our readers probably have in their collections. No contest, the Minasian recordings were hands down clearly superior to just about any commercial recordings I had on hand, audiophile recordings or not.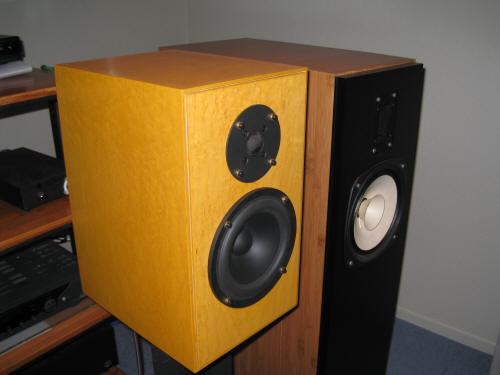 Also, in talking to the designer on how he came to actually designing his speakers, the story comes close to the classic audiophile story of a product born of frustration. The concise version is that after experimenting in the recording studio with reference microphones both vintage and new, and buying different studio monitors from major audiophile brand names, he did what any red blooded designer worth his salt would do, he made his own speakers. The frustration part was due to the fact that he felt the parade of speakers that passed through was far off the mark musically. I am sure that this was exacerbated by the use of the Tonian Labs Acoustical Lens, designed to be used with microphones in recording studios. He said that transparency was not a problem with most of these speakers. Even though many monitors were designed to perform with a flat frequency response, they sounded boring and dynamics was also a major issue.
He also made a comment when we were doing the comparisons that made me really think. He said that no amount of expensive wire upgrade, tweak or fancy gear could make up for a bad recording. Wise words indeed! In fact this philosophy seems to carry over to the type of equipment actually used to drive a pair of Tonian Labs speakers. I got very good results with an older Audiolab 8000A integrated amp when I was doing the TL-D1 review. In fact that amplifier gave my own system at the time a real run for its money. Since then I have driven my own pair with five different amplifiers of varying designs and power and the TL-D1's handled them with ease. The TL-D1's showing the strengths and weaknesses of each amp easily.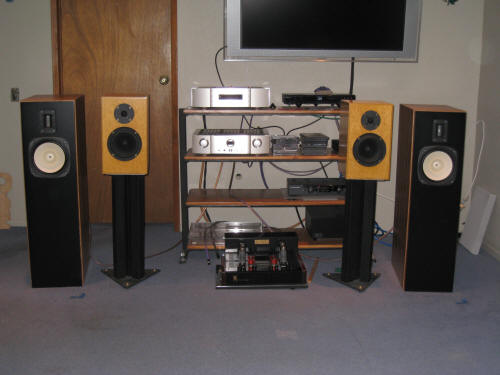 After reading reviews in the mainstream audio press of speakers in the $1000 to $2000 price range, one would believe that there are many state of the art transducers in that price range. Oh, heck, make that the $250 to $2000 price range. With such flowery audiophile phrases used to describe the "sound" of such speakers, there doesn't seem to be much room to describe the next level of performance, except in minute degrees. Of course reviewers would have to dig far into the audiophile lexicon for such explanations. In fact, if I am to believe those reviews, why would one want to search any further for a better speaker, except of course for the benefit of wider frequency extremes or aesthetics. This has been my dilemma in doing the review of the TL-AS 6.5 speakers. How do I describe the sound of a truly outstanding pair of speakers when one comes along when the so called best has already been written about?
How do I know? Because we just happened to have just such a pair of audiophile speakers to compare the TL-AS 6.5's to. This particular pair of speakers comes from a company that is world-renowned and has many designs ranging from the affordable to the outrageously expensive. This company has had many reviews of their speakers. From what I could see, many of the reviews were very positive. This particular pair of speakers sounded broken compared to the TL-AS 6.5's. If you call colored, slow, and off timbre broken.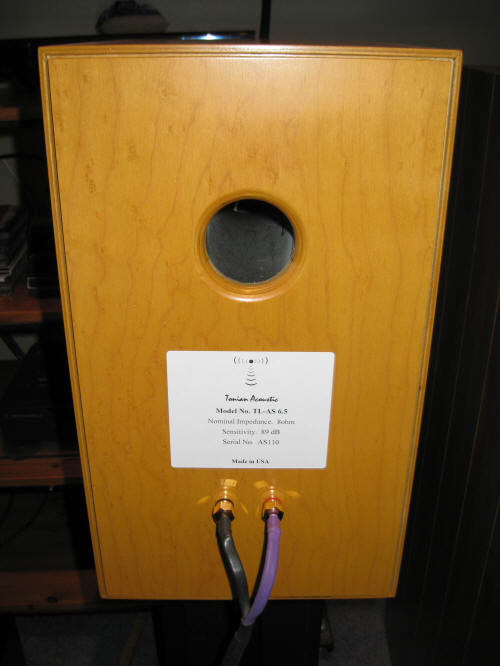 Now before I get accused of being vengeful or mean spirited, please, I am not trying to be. I have great respect for many audio designers and my fellow reviewers. After all, as they say, we all have a different set of ears. And I am sure mine are not the best set of ears out there. I am just trying to establish a reference point to describe what I heard. And yes I have not heard every speaker out there. Who has? But I have heard my share of Hi End speakers to know when something special comes along. There are many speakers more expensive and seemingly over built than the Tonian line. But many fall short of musical realism. And if it looks like I could be accused in my last few speaker reviews of raves and flag waving for a certain brand, especially ones that I own, give me a break. Have a listen for yourselves and let me know. Compare this brand to any audiophile boutique darlings and you will be surprised at what you find. In fact let's have a little fun. Let's call upon those reviewers to help us in this review. Let's use some audiophile language used in other reviews to describe the TL-AS 6.5's. Words such as clean, extended, natural, detailed, neutral, coherent, tone, organic, dynamic articulation, delicate, bloom, flow, scale etc, etc, etc will help us finish this review. In fact I have used these words before in many of my reviews. As far as I know there are no copyrights on these words. Oh, let's not forget the word musical.
Bear in mind that I had these speakers for a little over a week. They were in transit. To some, this may or may not be enough time to get a handle of the ability of a pair of speakers. But several factors helped in the process. First I own a pair of Tonian Labs speakers, so I am very familiar with the way they reproduce music. Secondly, the complete Tonian line of speakers has the same basic sound differentiated by frequency extension and resolution. So for the time I had them, I squeezed every moment I had to listen to them and take notes like crazy.
Let's start with tone or tonality. One of the great strengths of this brand of speakers is the natural and lifelike way they reproduce tone. This line of speakers is one of the most uncolored and natural sounding speakers I have heard. The TL-AS 6.5's are definitely cut from the same cloth. In listening to Claudia Gomez on her Salmandra CD and Bebel Gilberto's Tanto Tempo I was struck by how organic and articulate the vocals were on these disks. Not only vocals but instruments of every kind were reproduced in a life like manner. About this time though I kept coming back more and more to the Minisian recordings for help in sorting out these speakers sound due to how fantastic these disks sound.
Another strength of these speakers is the way they handle speed. Again the TL-AS 6.5's reproduced the music's pace and coherence in a most natural manner. I remember hearing a line of electronics famous for its timing. It sounded exaggerated as if it was purposefully designed to sound fast instead of tracking the natural speed and transient articulation of the musical event. It sounded hi-fi instead of real. Not so the TL-AS 6.5 speakers. Natural reproduction of timing is the watchword for these speakers. For example listen to either of Hiromi's Sonicbloom CDs, Beyond Standard and especially Time Control for a taste of what speed and dynamics sound like in contemporary Jazz. This girl and her band can swing with a capitol S! The TL-AS 6.5's passed this musical torture test with ease. I wasn't thinking stops and starts with the speakers but with the ability of the musicians to play the breaks in this music as accurately as possible. Hiromi's piano not only sounded fluid and clean but full, weighty, and slightly warm. I think the slightly warm part is inherent in these recordings which are on Telarc and are SACD. Beyond Standard is also a surround recording. The piano, always a difficult instrument to reproduce properly, was also handled very well on Yarlung Records, David Fung, The Piano, Evening Conversations. On this disk which has music from Mozart to Scarlatti, the delicacy and spaciousness were easily heard as was the dynamic shifts that seem to breathe from a good piano recording. When I switched disks to the Minisian recordings, the speed of the drummer, not only when he was drumming fast but also the reverberation after a hit, sounded realistic and not hi fi if you will.
Just for fun I put on Joe Satriani's Is There Love In Space CD. Two of my all time favorite Satriani songs just happen to be track 6, "If I Could Fly" and track 7, "The Soul Of Distortion." Wow, talk about a musical event. (at least I could air guitar the rhythm section) The TL-AS 6.5's captured the heart and soul of these two bouncy tunes. The tempo and rhythm were impeccable. It made anyone walking into that room stop what they were doing and commence to boogie! I wanted to see what kind of soundstage these speakers could capture with studio electronic music. But soon forgot all about it when the music started. The soundstaging abilities of the TL-AS 6.5 were reproduced according to the recording. As I found out about around thirty CD's later.
This brings me to another point. What goes in these speakers, pretty much comes out the backside in the same condition. They reflected the condition of recording very faithfully. But while they are very resolving, they are also at the same time musical, slightly forgiving and slightly sweet. They are very revealing of the recording quality but at the same time very listenable. They are very revealing of electronics but the most expensive electronics need not be used to get the best results. These stand-mounters, while less sensitive then their bigger brothers, were driven to loud levels with my Fatman iTube 13-watt integrated amplifier. But my Margules U280SC sounded fantastic hooked up to them.
So there you have it. Did I leave any thing out? How about words like excellent, breathtaking, and fantastic! These are words applied to speakers far inferior to the TL-AS 6.5's. I know I have heard many of them. But of course a stand mounted speaker can't be all things. Naturally if you want more bass, you are certainly going to need a bigger speaker or a sub-woofer. If you want greater ease of presentation and want to see into the recording resolution, Tonian's floor-standers with the Phy drivers would fit the bill quite nicely. Although not bass shy, even Tonian Labs floor-standers don't go much below 40Hz. Even though the top end was extended and clean, the TL-AS 6.5's are also ever so slightly closed in on top as compared to their stable mates with the ribbon tweeters. But if you are not into volume levels that would fill a stadium, (they filled my 20 x 12 room nicely) the TL-AS 6.5's could be the ticket for one of the most natural and articulate (and affordable) small speakers I have heard to date. Oh, if I missed some of the audio definitions listed above in describing the TL-AS 6.5's, we can save them for other speakers we haven't yet heard. But they better be as good as these! Francisco Duran
TL-AS 6.5 loudspeakers
Retail: $1850 a pair
Tonian Labs
web address: http://www.tonianlabs.com