I first met Virtue Audio founder Seth Krinsky at the 2008 Rocky Mountain Audio Fest where he had just launched his lineup of affordable audiophile products. I had briefly heard his Virtue One integrated amp driving a pair of Occam MTM4 loudspeakers and the combination was making ridiculously good sound given that the entire set up could be had for right around $1000.00.
Seth, it turned out, is a man on a mission; turning music lovers into audiophiles by providing sound quality well in excess of mid-fi offerings and doing it at prices anyone can afford. (Where was he when I was a struggling college student? Probably still in diapers.) He spoke with great enthusiasm about his new products and I happily accepted his offer to send me a review sample.
At $269, Virtue Audio's least expensive integrated amplifier, the Virtue ONE, measures a diminutive 5" H x 2.75" W x 5.5" D. Engineered by Roger Sheker of Audience the unit contains an analog/digital hybrid class T amplifier and passive volume control, and couples a Tripath TC2001 controller chip with a pair of ST/Apogee dual bridge power chips configured in BTL Mono operation. (Krinsky purchased tens of thousands of the Tripath controller chips before the chip maker went under to ensure a supply of these things for years to come.)
The amplifier can output 30, 45 or 60 watts RMS per channel (both channels driven into 4 ohms) depending on which of three available power supplies is used (24V/65W, 30V/90W or 30V/130W). The 24V/65W power supply is included in the price and the 90W and 130W supplies add $39 and $139 to the price respectively. I did all of my listening using the 30V/130W power supply.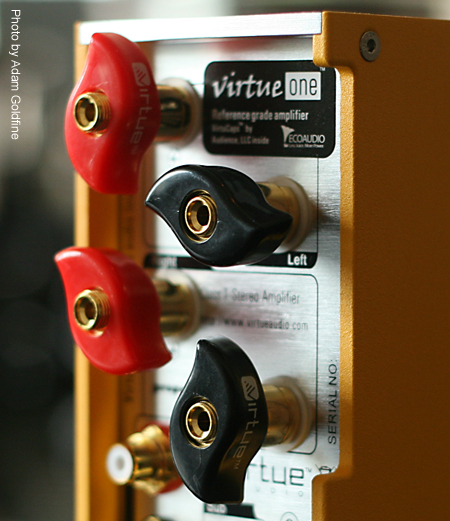 The amplifier can also be used as a mono-block. By connecting just one channel the unit will automatically dedicate all available current to that channel providing 40, 80 or 89 watts RMS per channel depending on the power supply. If used with a preamp or variable output source, the volume control can be bypassed entirely by moving a pair of internal jumpers turning the Virtue One into a dedicated amplifier. This is said to improve the sound quality but I did all of my listening with the volume control in the circuit.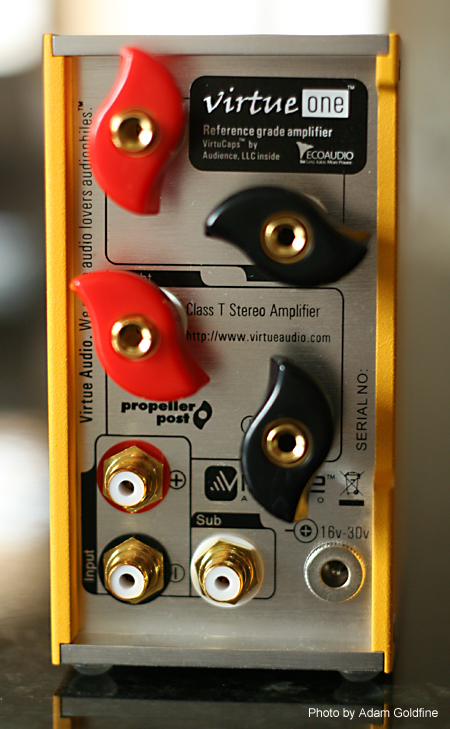 The back panel contains one pair of tellurium copper (center pins) RCA input jacks, a pair of beefy propeller binding posts designed by Virtue Audio and a single, line level RCA out for connection to a subwoofer. Clearly 2.1 channel desktop systems were in mind when this unit was designed. Both the speaker outputs and the line level out run full range but substituting the input capacitors for a smaller value will send a high pass signal to the propeller posts relieving the main speakers of bass duties. The manual specifies the value to use for several choices of high pass frequency and provides clear instructions on replacing the caps.
The unit is solidly built and clad in a removable aluminum case which comes in a choice of black, white, yellow, red or blue and the covers are interchangeable should you wish to alter the color to match your décor. Other touches include VirtuCap input capacitors made under license from Audience and cryo-treated Auric hookup wire. (For anyone that doesn't believe in cryo-treating, Cryogenics International is practically in my back yard and I've had the opportunity to hear a number of before and after tests. It works.)
I hooked the Virtue One into my system running a pair of Kimber Kable Hero interconnects from my Primare Pre30 preamp to the amplifier and wired it to a pair of YG Acoustics Anat Reference II Main Modules using Audience's Conductor E speaker cables. It may seem silly, no actually it is silly to pair this amp with a $33,000 pair of speakers, but at 280 pounds each attached to the Studio subwoofer units I wasn't about to move the Anats out of the way. And it was either that or wait until I finished with the YGs and then hook the amp up to my Wilson Benesch speakers, which would have been only slightly less ridiculous. Besides, I figured if it sounded like crap on a cracker I could always trudge on down to AudioNut and ask Bob for a more forgiving pair of speakers. But given the 92dB efficiency of the YGs I had a feeling that this might actually work.
Well I'm here to tell you that I was shocked at how good this little amp sounds. Would I sell my Music Reference RM-200 to buy a couple of these and pocket the change? No. But the Virtue One sounded way better than it should for $408 and left no doubt about its high end heritage. Given its pedigree and the intentions of its creators that should come as no surprise.
The opening tom hits on Carol Kidd's "Having Myself a Time" from The Super Audio Surround Volume (SACD, Linn AKP 245) had startling depth of tone. The piano was clear and crystalline with no sense of grain or harshness. Nothing seemed out of place and the overall effect was quite pleasing, even through the ultra revealing YGs. The amp's shortcomings were more sins of omission, sounding somewhat lightweight and lacking a bit of slam and subtlety, glossing over some of the finer details that can give music that sense of life and touch. (To be fair, my reference for the last six months has been the superb, $14,000/pair Spectron Musician III Mk. 2 mono blocks.) But never was it offensive in any way.
"Under African Skies" from Paul Simon's Graceland (CD, Warner Bros. W2-25447) was articulate and well sorted. The sound was also smooth and free of grain but similarly lacking in heft and the ultimate sense of human touch I get from the Spectrons. But the Virtue One got things fundamentally right and on speakers it is likely to be paired with I'm guessing most of the amp's shortcomings will go unnoticed. And though the amp couldn't quite resolve the artificial reverb used throughout the recording or the decay of the opening drum hits with the ease and finesse of the Spectrons, it still acquitted itself nicely leaving no doubt about its high end aspirations in that it first and foremost served the music
The story was similar on Adrian Belew's "Adidas in Heat", Desire of the Rhino King (CD, Island 314-510 518-2). Through the Virtue One, the sound was anything but electronic or hi-fi, the music flowing in a relaxed and engaging manner. Images were precise, well resolved and detailed and also a bit two dimensional compared to the Spectrons. But the amp was never harsh or unpleasant, never becoming strident in the way inexpensive solid-state amps can.
For sure the Virtue One is a smooth ride, more Lincoln than Lamborghini; glossing over certain nuances and lacking the slam some of the bigger amps can produce. (Greater slam is purportedly coming in the next version though miniaturization does have its costs). But if I didn't know what was on these recordings I wouldn't be distracted by anything unmusical from the amp. It's an absolutely amazing performer for the money, designed to play music through and through. For $269 or $408 with an upgraded power supply you get not just high end sound but the centerpiece of a very satisfying, very moderately priced system. Adam Goldfine
One integrated
Retail: $269 (upgraded power supplies add $39 or $139)
Specifications
Finishes: Black, White, Yellow, Red or Blue

Output Power: 30, 45 or 60 watts per channel depending on power supply (both channels driven into 4 ohms)

Input Impedance: 18K Ohms

Efficiency: ~85%

Dimensions: 5" H x 2.75" W x 5.5" D
Virtue Audio
TEL: 877. VIRTYOU (847-8968)
web address: http://store.virtueaudio.com