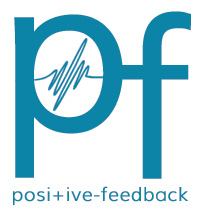 You are reading the older HTML site
Positive Feedback ISSUE
44

july/august
2009
Rachmaninoff in Re-performance, Live with Zenph Studios in Raleigh, North Carolina
by Tom Gibbs
Zenph Re-Performance on the Steinway Model D SE Concert Grand Piano with reproducing system implementation by Richard Shepherd, Middlesbrough UK, in association with Live Performance, Inc. Piano restoration by Faust Harrison Pianos, New York.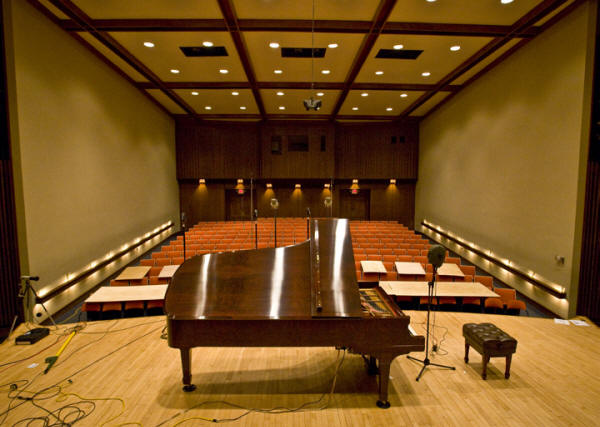 Zenph's newly restored 1909 Steinway Concert Grand inside the Kenan Recital Hall at Peace College in Raleigh, North Carolina. In addition to the array of microphones for stereo and multichannel sound, note the Neumann dummy head device for binaural recording. Photo by Mark Manring – www.manring.net.
Every generation or so, a convergence of art and technology and the inspired thinking of brilliant minds traverses time and space in the creation of magic. And those who are present to observe and experience the magic are fortunate, indeed! That happened for me on the 13th and 14th of April of this year, when it was my good fortune to attend the recording sessions and recital for Zenph Studios' latest project featuring the music of Sergei Rachmaninoff. For those of you who might not be familiar with Zenph Studios, they're a software company based in the Raleigh/Research Triangle area of North Carolina that specializes in the technology associated with the re-creation of musical performances. They've signed a multi-disc deal with Sony Masterworks, and the initial series of releases (which have been lavished with critical praise) includes the renowned 1955 Glenn Gould Bach Goldberg Variations (released 2007) and jazz icon Art Tatum's 1949 classic Piano Starts Here, Live at the Shrine (released 2008). The two releases thus far have been hybrid multichannel SACDs, with multiple playback options, including high-resolution stereo and surround sound available via SACD, as well as binaural options for headphone listening. Regardless of which playback option chosen, the resulting sound is little short of revelatory, with the music coming through clearly as never before, minus all the technological limitations of the past. Not only are the scratch and hiss of poor quality recordings and those sourced from 78's and the like gone, but in the case of Glenn Gould, you finally can hear the music without his incessant humming and that damn folding chair of his creaking throughout! And although the technology has thus far been used to produce re-creations of piano performances only, Zenph has adapted the process to work with any of a number of instruments.
This new Rachmaninoff project revolves around the work of some key individuals. Dr. John Q. Walker is the co-founder and president of Zenph Studios, and that rarest of individuals, with degrees in both mathematics and piano performance, a Master's in computer science and his Doctorate in software engineering. Talk about being able to balance both halves of the brain! And yet, having only communicated with him via emails and a couple of brief phone calls, within minutes of meeting him for the first time, his easy-going nature made me feel as though I'd known him for years. John related a story concerning his college piano teacher—who happened to live down the street and was probably chosen pretty much out of convenience. She was, as it turns out, a student of Rachmaninoff (one of only two professional pupils he took after coming to America), and would admonish the young Walker to "play as Rachmaninoff would have played." Walker, however, was not so much interested in how Rachmaninoff would play that particular piece as he was in actually hearing Rachmaninoff play it, a desire that ultimately helped propel his groundbreaking software development with Zenph Studios.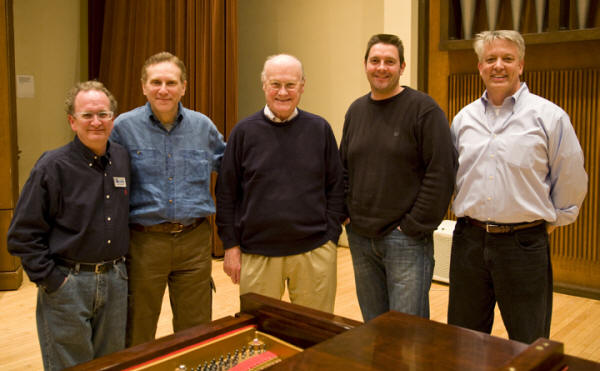 From left; piano technician Marc Wienert, Steve Epstein, Richard Shepherd, Richard King and John Q. Walker pause for a moment during the Rachmaninoff sessions. Photo by Mark Manring – www.manring.net.
Dr. Anatoly Larkin, also of Zenph Studios, served as the project manager for these sessions. Originally from Moscow, as a youth his family moved to Glasgow, Scotland where he attended the Guildhall School of Music and studied composition and piano performance. He also combined his passion for computers in his electronic compositions, and eventually received his Master's degree and Doctorate from the University of Minnesota, where he studied under Alexander Braginsky. Braginsky studied piano in Moscow with Alexander Goldenweiser, who was a classmate of Rachmaninoff and Scriabin.
Richard Shepherd is a UK-based electronics engineer who customized Zenph's 1909 Steinway piano with the SE reproducing system used here. As a young boy he was fascinated by his uncle's Pianola player piano, but was also aware of its shortcomings. Many years later his twin passions for complex engineering and classical piano performance led him to further development this highly accurate reproducing piano system, in association with his friend Wayne Stahnke of Live Performance, Inc., an industry leader in reproducing piano technology.
And, of course, from Sony Masterworks came the recording team par excellence of producer Steve Epstein and engineer Richard King, who between them have won no fewer than twenty Grammy awards, and were instrumental in the overwhelming success of the first two Zenph releases. They've worked with a multitude of notable artists, ranging from classical virtuosos Yo-Yo Ma, Rosalyn Tureck, Murray Perahia and Andre Previn to preeminent jazz musician Wynton Marsalis.
The recording sessions and recital were set to coincide with the 100th anniversary of Sergei Rachmaninoff's first recitals in the United States. The nearly acoustically perfect Kenan Recital Hall at Raleigh's Peace College was chosen for the recordings and accompanying recital. And although with the previous Zenph releases, a location more specific to the original recordings was employed, that really didn't appear to be an option here. The program elements covered such a relatively broad period in Rachmaninoff's career, and weren't specific to any particular EP or LP (which didn't even exist at the time). As noted, though, many of the principals involved in the sessions had their own unique perspective on Rachmaninoff, and it was even suggested that a certain amount of evidence existed to support that Rachmaninoff had actually played the 1909 Steinway D employed for these sessions.
I'd spoken with John Walker mid-week prior to the upcoming event, and mentioned that my wife and I were coming to Raleigh a day in advance of the recital. To my great surprise, he offered to let us sit in on the recording sessions on Monday, April 13th! While I expressed a certain amount of uncertainty at being able to arrive there by a specific time—I didn't want to inconvenience them in any way—John assured me that if past experience was any indicator, they'd be there into the wee hours of the night. Raleigh is a relatively short seven-hour drive from Atlanta, and of course, that Monday found us with particularly inclement weather. Following a gloriously warm and sunny Easter Sunday, a late-season cold front pushed through overnight, with wind gusts in excess of fifty miles-per-hour. We've had a particularly rainy spring here in Atlanta, and the soggy soil and high winds had uprooted trees everywhere that morning. The usually slow morning commute was particularly hellish, and Beth and I were strafed by high winds throughout the journey to Raleigh. The wind gusts were relentless, and it certainly seemed that at any time we'd be either blown off the road or underneath an adjacent eighteen wheeler. We didn't pull into Raleigh until after six o'clock that evening, and I was concerned that we'd probably missed our window of opportunity to observe the recording sessions.
As we hurriedly raced about the Peace College campus, I couldn't help but notice a camera crew filming a gentleman who was talking at great length about music; Beth and I couldn't avoid ending up in the background of several of the shots as we tried to find the recital hall. When we finally got there, to our dismay, the doors were locked, and a call to John Walker's cell phone went straight into his voice mailbox. My spirits were just about to hit rock bottom—especially after such a nightmarish drive up—when the door swung open wide and John Walker quickly ushered us inside, where the lobby of the recital hall had been set up as a de facto recording studio for the sessions.
Once there, we were introduced to the Sony Masterworks team of producer Steve Epstein and recording engineer Richard King. My fears of having missed the magic were soon put to rest; having been there since early that morning, the recording team was still working on getting an acceptable take on track four (out of 16 total)! Beth and I sat quietly in the wings and observed the process for the next several tracks and hours. As the Zenph Steinway poured forth what appeared to me to be one consistently perfect take after another, Steve Epstein sat in rapt attention to the studio monitors as he read through Rachmaninoff's score. Zenph's Anatoly Larkin also monitored the music, offering his input to tailor the Zenph program to more closely approximate the Rachmaninoff original recording as they constantly A/B'd between the original 78 and the latest new take. John Walker quickly and quietly shuttled us back and forth between the interior of the recital hall during playback of takes, and back into the studio area during the actual recordings. It was, in a word, fascinating to observe these geniuses at work and the mastery of their respective crafts on display. It was particularly telling (especially for Beth) to hear the relatively primitive and thin sound of the originals compared to the new takes—especially considering that playback of the original 78's was over some pretty exotic equipment offering some of the best sound they were ever likely to be presented in.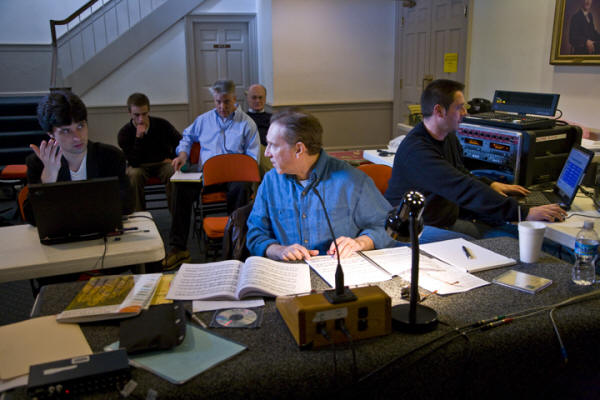 As engineer Richard King prepares for another take, project manager and performance analyst Anatoly Larkin and producer Steve Epstein compare notes while Madison Bullard, John Q. Walker and Richard Shepherd observe. Photo by Mark Manring – www.manring.net.
A loud knock on the outer doors interrupted the proceedings, and John Walker rushed over to admit the film crew, along with the distinguished-looking gentleman we'd seen earlier in the evening. As it turns out, a documentary was being produced in conjunction with the Rachmaninoff sessions, and Steve Epstein and Richard King took a short break to go on camera and offer their insights into the brief Q and A session. I have to admit it—the coolness factor of being present while all this was going on was almost unbearable, and I walked in the clouds for days afterward! And I was particularly impressed with Steve Epstein's answer to a tricky question dealing with Zenph's ability to render traditional music playing obsolete. After a thoughtfully long pause, he responded that while traditional music making would never become obsolete, the Zenph program was particularly valuable in the restoration and preservation of historic music performances. Bravo!
After thanking John Walker profusely for offering us such an incredibly insightful and informative evening, Beth and I departed for dinner, while the Sony Masterworks/Zenph forces soldiered on till four in the morning! The following day, we leisurely explored urban Raleigh, finding a particularly cool craftsman furniture store, Mission Bungalow. The proprietor engaged me in a lengthy discussion concerning the failures of the music industry, and we both lamented the passing not only of big box record stores, but especially the rapid disappearance of so many independent shops as well. I also perused the surprisingly extensive supply of used vinyl available around Raleigh, and found several near-mint LPs I'd been searching for. That evening found the Kenan Recital Hall transformed from the temporary, nearly clean-room recording environment of the last couple of days to the welcoming performance venue it was intended to be, and a quite nearly full house showed up to observe the proceedings.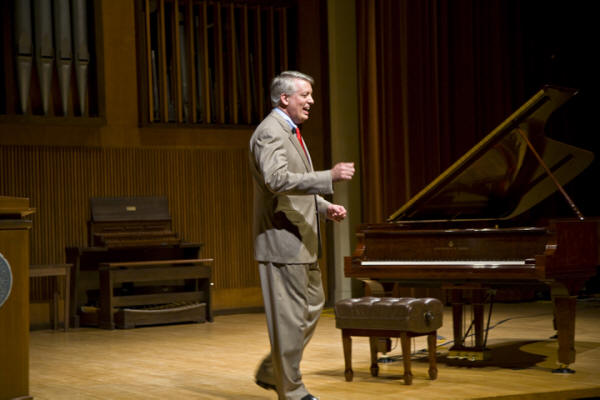 John Q. Walker is an animated and entertaining speaker whose commentary on Rachmaninoff and the Zenph process was an enlightening addition to the evening's music program. Photo by Mark Manring – www.manring.net .
At various intervals throughout the evening, John Walker, Anatoly Larkin and Richard Shepherd each spoke on their respective involvement with the project, and that really helped to put a human face on the computer-driven aspect of the evening. The emcee for the recital was Dr. Milton Laufer, a professor on the piano faculty at Peace College; his training includes studies at the Chicago Music Center of the North Shore, the Moscow Conservatory, the Gnessin Institute-Moscow, the Eastman School of Music, the University of Michigan and Rice University. In addition to his academic duties at Peace College, he's also a recording artist for the Albany label. Whereas the other speakers mostly discussed the technical or historical aspects of the performance, Dr. Laufer's comments focused on the musical content, and his introductions of the various pieces was both insightful and thought provoking.
And what about the music? It was magnificently presented by the 1909 Steinway concert grand, and I don't think there was a soul in the house who wasn't stirred, moved or impressed by the proceedings. You could truly visualize Sergei Rachmaninoff on stage, and because the Zenph process preserves the original intact—warts and all—you get to hear Rachmaninoff as he played so many years ago in the twilight of his career. Of course, the technology of the day limited him to a single take on any particular selection, so any mistakes or missed notes were preserved in perpetuity—just like in the live concert environment. And many scholars agree that Rachmaninoff's performance style of his own works was significantly different from that employed by most modern concert pianists. Even on the pieces recorded in the 1940's—only a few short years prior to his death—Rachmaninoff displays a depth of emotion and dazzling technique that's nothing short of amazing for a man nearing his seventieth year. This really brought home to me the true value of the Zenph process: here, we could finally hear Rachmaninoff play, without the hindrances of outdated sound or inadequate playback media. Rachmaninoff was a magnificent concert pianist, so very much in demand, in fact, that his attention to composition probably suffered significantly because of his ceaseless concert schedule. And hearing these performances live in the concert hall was a totally transcendent experience. Never at any point did the technology get in the way of the music pouring forth from the Steinway—Rachmaninoff was in complete control at the keyboard, and the subtleties of his pianisms and pedaling were offered with astonishing speed and tremendous dynamic range. While I look forward to the record's release (currently scheduled for September 22)—and being able to once again listen to this music in all it's new glory—I'll also always realize that hearing it live will never be bettered!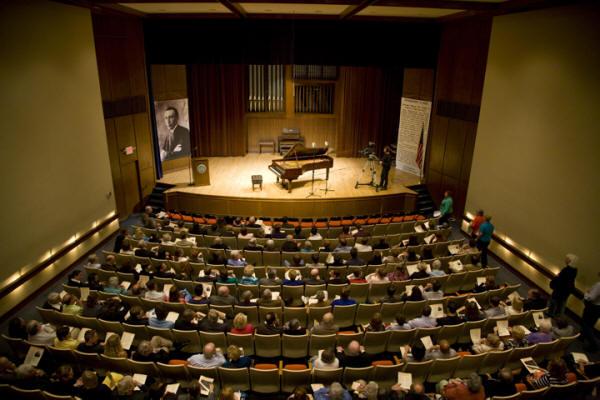 Patrons of the arts file into the Kenan Recital Hall for the concert on April 14th. Photo by Mark Manring – www.manring.net.
If the events of the previous couple of days weren't enough to leave an indelible stamp of this extraordinary experience in my memory, what happened next helped engrave a lasting impression of our trip to Raleigh. Following the recital and reception afterward, Beth and I went back to our hotel and decided to head across the street to the Perkins Restaurant for pancakes, which we both agreed would provide the perfect punctuation to the evening. As we hungrily munched, a siren pierced the air, and in moments, a fire truck turned from the street—and into our hotel complex. It was quickly followed by one fire truck after another, and another—five in all—accompanied by an assortment of emergency vehicles and ambulances. Finally, a ladder truck appeared. We sat in absolute horror as the events unfolded through a blaze of red and blue lights. When we finally got the nerve to proceed across the street back to the hotel, were told that the fire had been contained to the second floor, and there were no injuries. Fortunately, we were on the first floor, and around 2:30 am and through continually heavy downpours, we were finally allowed to retrieve our belongings from the smoky building and head to other lodgings.
Of course, all's well that ends well, and our return to the humdrum of suburban Atlanta was much less eventful than the previous days' adventures. But I'll never forget the trip to Raleigh and the wonders we witnessed while there. Many thanks to the entire crew from Zenph Studios, along with Steve Epstein and Richard King from Sony Masterworks for allowing us to participate in this memorable event.