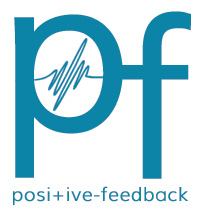 You are reading the older HTML site
Positive Feedback ISSUE
44

july/august
2009
Bartók
by Stephen Francis Vasta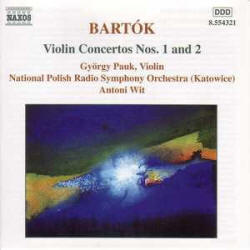 Violin Concertos: No. 1, Sz 36; No. 2, Sz 112. György Pauk, violin; National Polish Radio Symphony/Antoni Wit. Naxos 8.554321 (61:55)
For those who, like me, began discovering symphonic music via the big Romantic pieces, Bartók's music, with its sharp, angular melodic contours, sprinklings of dissonances, and bursts of motor rhythms, may at first seem rather forbidding. As you settle into the music, however, you find that a distinctive sort of lyricism inhabits most of the composer's writing, with the more aggressive passages aurally coalescing into clear rhythmic structures and groupings. And the two violin concerti are an excellent place to start getting to know Bartók.
The First, composed in 1907-8 for the violinist Stefi Geyer, remained unperformed until 1958. It comprises two approximately equal movements: the first is an extended, rhapsodic Andante sostenuto, while the following Allegro giocoso picks up the pace and the energy level. It's the work of a young, gifted composer still feeling his way, while the Second Concerto, cast in the traditional, slow-fast-slow three-movement form, finds that composer at the height of his powers. This is the mature Bartók, cosmopolitan in style, sophisticated in his handling of structure, yet, paradoxically, more heavily redolent of the contours and rhythms of Hungarian folk music.
György Pauk's violin tone is resonant and vibrant, though not unusually large. He lets the broad lyrical phrases sing vibrantly, while making sure that each crisply bowed note speaks clearly in the vigorous, driving passages. Only on some string crossings does Pauk's tone lose some quality, turning "thready." Otherwise, he's a winning, stylish soloist.
Antoni Wit increasingly impresses me as an unsung hero of the podium. He infuses each phrase with a clear sense of direction, and gets his responsive Polish Radio forces to play well "above their heads." The string tone is warm, blended, with excellent intonation. Woodwind principals are sensitive, with the warm, expressive oboe compensating for a slightly watery flute. The brasses' clean attack and firm tone are gratifying, especially in the Second Concerto's climactic "pyramids," a device the composer also used in the Concerto for Orchestra.
At Naxos prices, I'm inclined to rate this a "best buy." I don't remember hearing Midori's identical program for Sony; I imagine her playing is typically silken and musically informed. She's backed by Zubin Mehta and the Berlin Philharmonic, no slouches; but I can't imagine Mehta's conducting being any more purposeful or involved than Wit's. Meanwhile, Pauk completely outclasses Nell Gotkovsky's older RCA coupling. Warmly recommended.