Over the years, I've come to develop a love/hate relationship with the Blue Circle sound. As a listener I love the transparency, openness, and musicality that the Blue Circle products excel at. As a reviewer, I struggle to adequately describe the utter neutrality, practically, and non-existent levels of coloration that they exhibit. So, it was with some trepidation that I agreed to review Blue Circle designer Gilbert Yeung's newest integrated amplifier, the DAR.
Externally, the DAR resembles every other full-size Blue Circle integrated amplifier with its blue casework, stainless-steel faceplate, and large wooden knobs. Measuring 17.5" wide by 3.5" high by 15.5" deep (with an additional 1.25" depth for the binding posts on the rear, and 1.25" for the knobs on the front), the DAR is minimalist in nature. The front panel contains two knobs for adjustment of volume and input selection, and two toggle switches for power and selection of an external tape loop. The rear panel contains RCA jacks for the amplifier's three inputs, preamp, output, and tape loop, a pair of speaker binding posts, an IEC inlet for power, and a ground lift switch.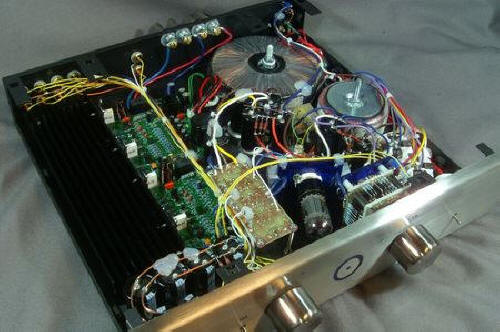 It is internally that the DAR represents a departure from previous Blue Circle offerings. A hybrid design, the DAR utilizes a single 6SN7 tube in the input stage, and runs it passively, with no active gain in the linestage. The DAR's solid-state output stage employs discrete transistors and is rated to deliver 100 watts per channel into 8 ohms and 150 watts per channel into 4 ohms. The DAR has separate power supplies for the input and output stages, and leverages a slim "pancake" toroidal transformer for improved noise performance. The DAR is biased to run very cool at idle and possesses protection mechanisms to ward against thermal overheating, DC offset, and short-circuit conditions. Upon startup, the amp mutes its outputs for several seconds to allow for the 6SN7 tube to warm up and stabilize. The parts selected for the DAR are lead-free, and the integrated amp meets European RoHS compliancy. Priced at $2995 in stock form, options such as an active preamp gain stage and Shallco stepped volume attenuator can be included at additional cost.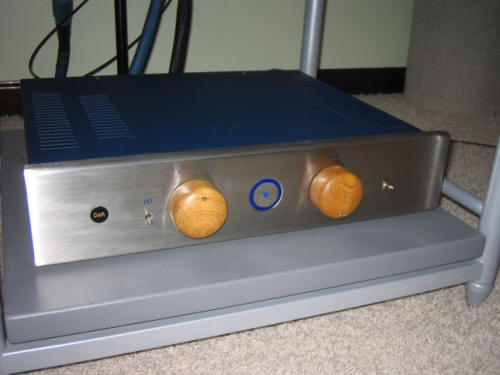 During the review period, my system was comprised of a SimAudio MOON Evolution SuperNova CD player, Pass Labs INT-150 integrated amplifier, and Joseph Audio RM25XL Special Edition and Paradigm Signature S2v2 loudspeakers. Interconnects and speaker cables were from Audience and Ecosse, with power cords from Custom Power Cord and Ecosse. As usual, my listening room was taken over by a myriad of ASC Tube Trap and Studio Trap products.
As is customary with Blue Circle products, unpacking and installation of the DAR was very straightforward and intuitive, and due to its low power consumption and cool operating temperature, there was no issue with leaving the integrated powered up continuously for best performance.
Listening to music through the DAR, it didn't take me long to recognize the hallmark Blue Circle sonic trademarks of transparency and clarity. On his Folk Singer CD (MCA / Chess CHD-12027), Buddy Guy's acoustic guitar was reproduced with an immediacy and openness that was riveting. But, Guy's vocals were reproduced with a subtle midrange warmth and glow that I'm not accustomed to hearing from a Blue Circle amp. It was a beguiling combination, one that held me transfixed in my seat for the entire CD. It wasn't just vocal reproduction that benefited; all midrange-centric instrumentation was well-served by the DAR. Coltrane's soprano saxophone on the title track of his My Favorite Things CD (Rhino R2 75204) was consummately reproduced with warmth and presence, as was McCoy Tyner's piano.
Aside from the sublime marriage of tonal warmth and overall transparency, the other aspect of the DAR's performance that jumped out at me was its spatial reproduction. The DAR's soundstaging and imaging were simply superb, particularly in the areas of image focus and layering. Listening to "Crazed Institution of the Stars" from Jethro Tull's remastered Too Old to Rock and Roll, Too Young to Die CD (Chrysalis 72435-41573-2-5), Ian Anderson's vocals were fully-fleshed out and dimensional, and it was easy to discern each instrument in the multi-track mix. Lisa Gerrard's a capella vocal on "The Wind That Shakes the Barley" from Dead Can Dance's surprisingly-well-recorded release, Into the Labyrinth (4AD 9 45384-2), was reproduced with stunning presence in my listening room, as was the ambience of the cathedral in which it was recorded.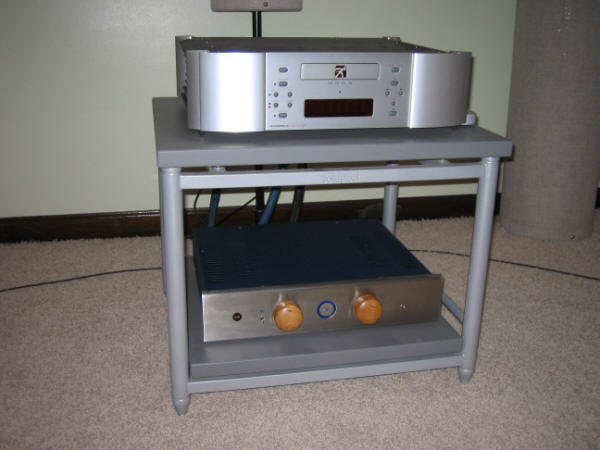 The DAR also excelled in its reproduction of dynamic contrasts. With its adequate power rating, one would expect it to cope with larger dynamic swings, and that it did as well as any medium-powered amplifier I've heard. But, where the DAR really came into its own was in its ability to reproduce micro-dynamics, those subtle note-to-note dynamic contrasts that imbue music with life and realism. This ability made listening to acoustic fare, such as California Guitar Trio's Yamanashi Blues CD (DR 9301 2) such a treat. The subtle dynamic interplay between the three acoustic guitars on "Melrose Avenue" was superbly rendered with a level of verisimilitude that I've heard only rarely in my listening room.
The DAR's treble was extended and non-mechanical sounding, but did not quite possess the ultimate level of crystalline purity that I've heard from previous Blue Circle designs. Likewise, the DAR's bass, while extended and powerful, did not represent the last word in control, again in comparison to other Blue Circle amplifiers I've reviewed. This struck me as a deliberate design choice on the part of Gilbert Yeung, who was perhaps willing to sacrifice the last smidgeon of purity and control at the frequency extremes in the service of a more organic and dimensional midrange.
While certainly not a fair comparison, I did pit the Blue Circle DAR against the Pass Labs INT-150. Like the DAR, the INT-150 is a single-chassis integrated amplifier with a passive linestage section. However, whereas the DAR is a single-ended tube hybrid design, the INT-150 is completely solid-state and fully balanced. Rated at 150 watts per channel into 8 ohms and 300 watts per channel into 4 ohms, the INT-150 is considerably more powerful, and at $7150, more than twice the price of the DAR. As transparent as the DAR was, the INT-150 took those levels of transparency to another level, and was better extended and controlled at the frequency extremes. In contrast, the DAR possessed a warm and liquid midrange that the INT-150 couldn't quite match. The two amplifiers' spatial abilities were fairly even with the INT-150 possessing a slightly larger soundstage with better delineation of images in the depth plane, and the DAR countering with superior image focus. All in all, the INT-150 is the better amplifier, as it should be at its price, but the differences were surprisingly small, which speaks volumes about the DAR's value and overall sonic quality.
It's a testament to the design prowess of Gilbert Yeung that the high expectations I have for every Blue Circle product I review are not only met, but consistently exceeded. The DAR integrated amplifier is no exception. Maintaining the Canadian company's tradition of transparency, the DAR represents a slight departure from past Blue Circle designs in its subtle addition of midrange warmth and tonal density. Expertly combining accuracy and musicality, the DAR is successful on so many levels and absolutely represents the amplifier I would purchase if I was in the market for a medium-powered mid-priced integrated. John Acton
DAR integrated amplifier
Retail: $2995
Blue Circle Audio
web address: www.bluecircle.com