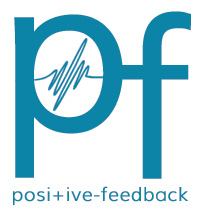 You are reading the older HTML site
Positive Feedback ISSUE
44

july/august
2009
A Visit to GTT Audio
by Marshall Nack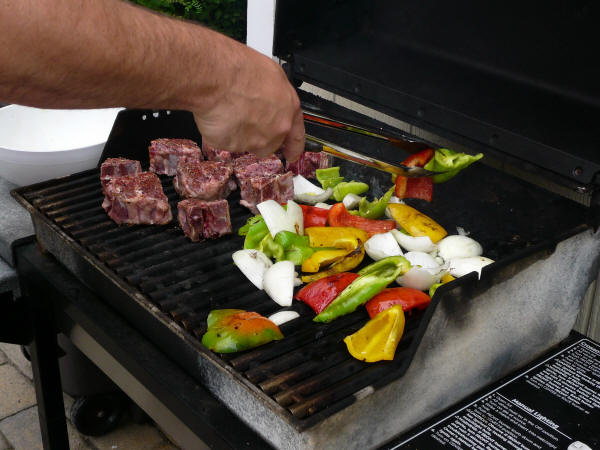 Day One: Saturday Afternoon
Summer is here. It was time for my annual visit to GTT Audio. Bill Parish, the proprietor of this specialty retailer, invited my wife Lynn and me for a weekend at his sprawling colonial house in Long Valley, New Jersey, about an hour south of the Big Apple. You may have heard of GTT as it is always mentioned in the Best of Show reports. Bill is a veteran of the show circuit, with many years on the road setting up rooms under varied and adverse conditions.
A visit to GTT affords the opportunity to hear up to six dedicated showrooms and a wide variety of gear catering to different tastes. Bill promised more than enough things to hear than time would allow and, indeed, we only got around to four of the rooms in our two-day visit.
Room 1 – mbl and Bryston Audio
We decided to start at the bottom and work our way up. The lowest-priced two-channel system consisting of mbl 116 speakers and Bryston electronics came with a price tag in the $40K neighborhood, not including wires, which were all Kubala-Sosna.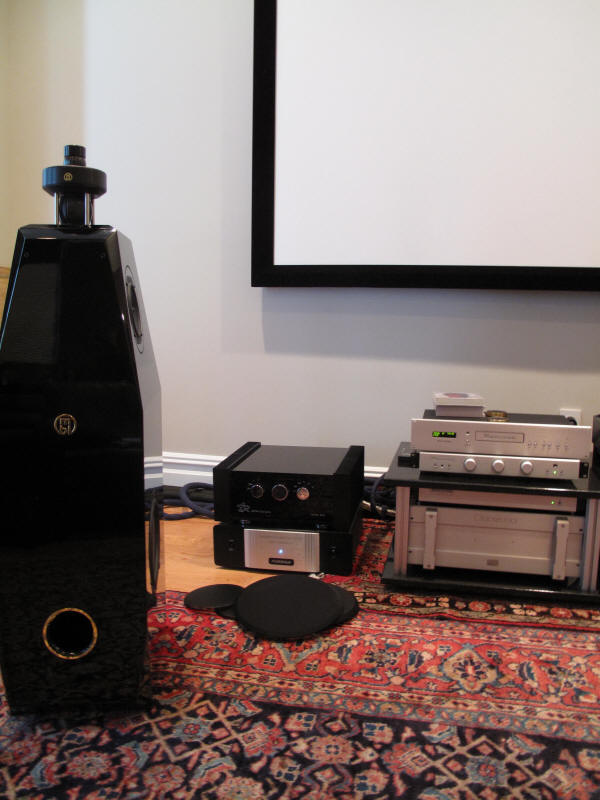 Bill started things off with Hurt, from the Grammy-winning album The Legend of Johnny Cash in the Bryston CD player. Ah, yes, mbl speakers are great for male voices. Johnny's image comes across big, full, powerful, and a bit diffuse.
These speakers also do female voices well, as heard on the Girl From Guatemala (from the Chesky Area 31 CD). What both voices shared were dynamics that scaled effortlessly and cleanly on peaks. If you're a fan of the mbl speaker sound but can't spring for a mega-watt/mega-dollar mbl amp, the Bryston 14B SST Stereo amp with 600 watts/channel is a very affordable, synergistic alternative.
Room 2 – Avantgarde Room
We moved on to the Avantgarde Acoustic room. The décor was interesting: darkness broken by occasional pools of illumination from spot lighting, black draperies with a gold filigree pattern on the walls, medium grey wall-to-wall carpeting and a slatted, dark wood ceiling. Impressions of a middle-eastern seraglio came quickly: we dubbed it the Harem Room.
The lineup was McIntosh electronics: the Mc2102 stereo tube amp, Mc C2300 tube preamp with built-in phono, a VYGER Baltic M turntable with Air Tight PC1 cartridge and the Avantgarde Uno Nano horn speakers.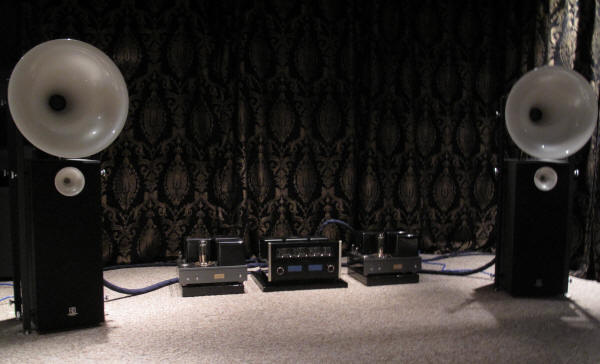 You never see 100-watt amps paired with super-efficient Avantgarde speakers. These horn speakers are usually driven with single-digit tube power amps of the SET variety. They are famous for their immediacy, presence and sheer power, but also a particular kind of nasality and shoutiness.
Not in this room. The newly revised Avantgarde speaker line successfully addresses those horn colorations.
We cued up Mosaics, one of the legendary Michael Rabin violin sonata LPs (original Capital LP from 1959). What tone and inner life—it was a beautiful thing to behold.
This system price tag was in the neighborhood of $45K, excluding the all Kubala-Sosna Emotion wires.
Room 3 – mbl Room
We moved on to the Studio Room. Digital was served up via a Sooloos Music Server, into an mbl 1611F DAC, and then an mbl 6010D preamp. Speakers were a pair of Kharma CRM 3.2 FE.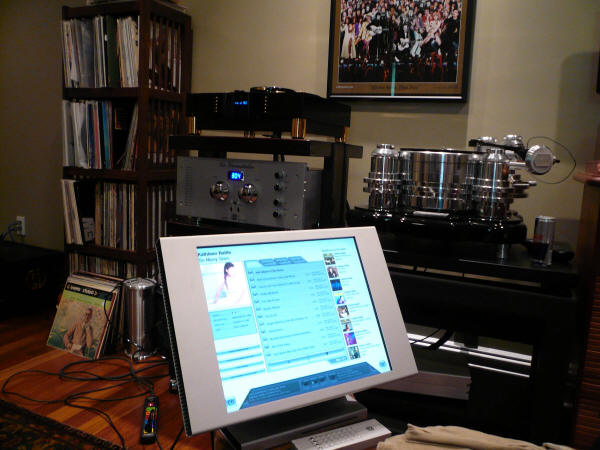 I was eager to audition the solid state McIntosh Mc501's and we fired them up first. This system was FAST. Transient action, dynamics and soundstaging were outstanding.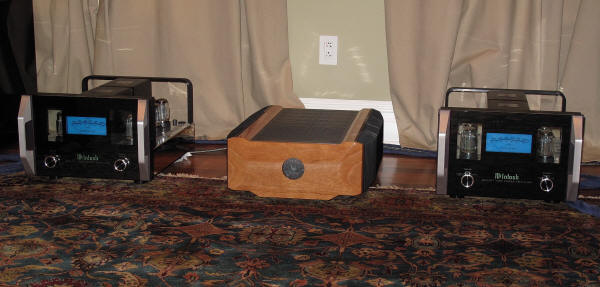 The performance of the CRM 3.2s took me by surprise. Their disappearing act was predicable, but I've never heard them sound so big and open.
"Every high-end system deserves a couple of subwoofers," to quote Bill. Behind each speaker there was a Velodyne DD18. That's part of the secret behind the open and full-bodied sound. That and the 500 watts of the Mc501s make it big. I didn't know there were subs in line, although I could see them, 'cause I didn't hear them lagging or smearing. These subs are sonically invisible. You set them up using a parametric EQ video display and adjust the built-in DSP to achieve flat response down to 14Hz.
We swapped in the mbl 8011 AM monoblocks. The sound became sweeter and a bit soft.
Then the big McIntosh Mc2301 monoblocks, with eight KT-88 tubes and 300 watts per channel went in. Ah, such timbre and amazing 3-D imaging. This was classic Mac sound—updated. The difference in quality between them and the Mc501s is like that between the mbl 6010D and 5011 preamps, and well worth the extra $11K, if you can swing it.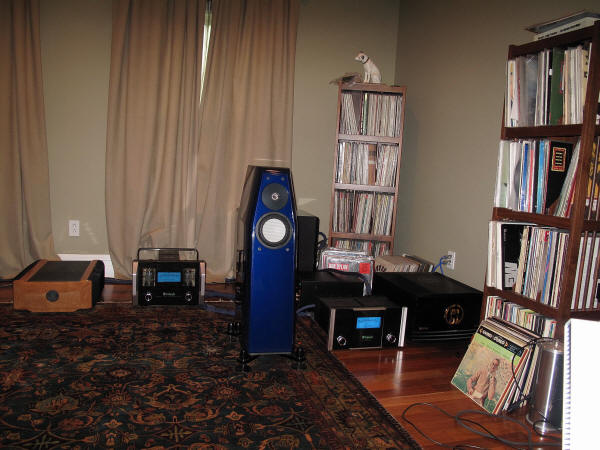 We also sampled the Tenor Stereo 175S Reference Amplifier. This hybrid, with tube input and gain stage and Mosfet output stage, changed spatial and dynamic relationships—actually, it corrected them. The Tenor Stereo was quite refined, if less robust than the Mac amps. Its strong suit was its realistic timbre.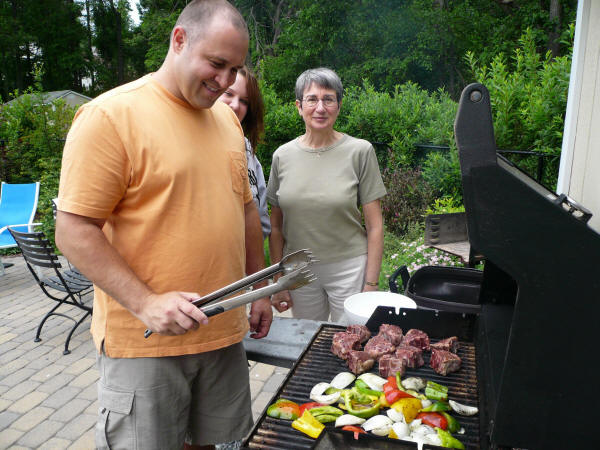 At this juncture, we decided to break for some High-End grilling action out on the deck.
Room 4 – Soulution Room
Saturday evening was reserved for the Big Room, a purpose-built addition with ideal proportions and construction Bill put in a few years ago. There are twenty-one dedicated power lines coming into this room!
We cued up Gustav Holst's Suite #1 (Reference Recordings) for play back over Soulution gear, the Swiss luxury line: their CD player, preamp and monoblocks driving Kharma Galileo speakers.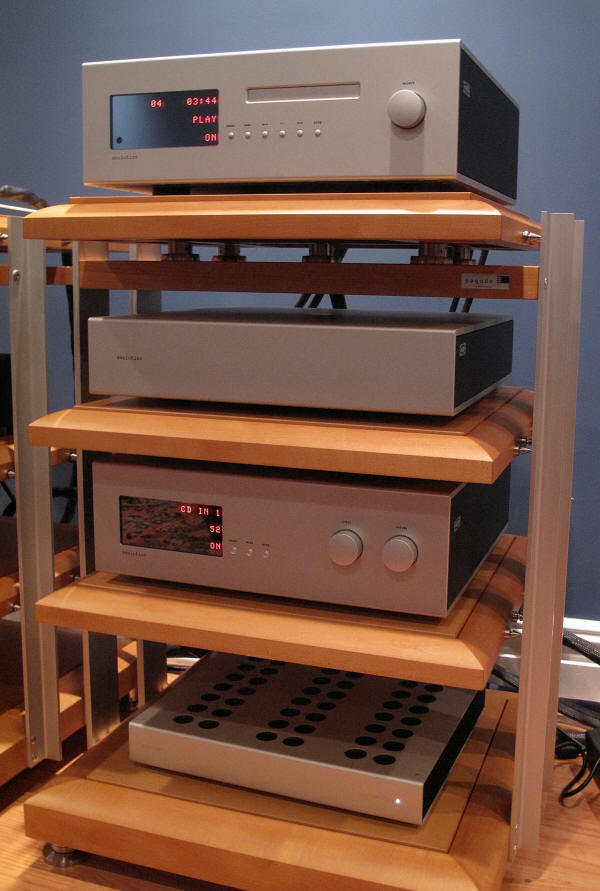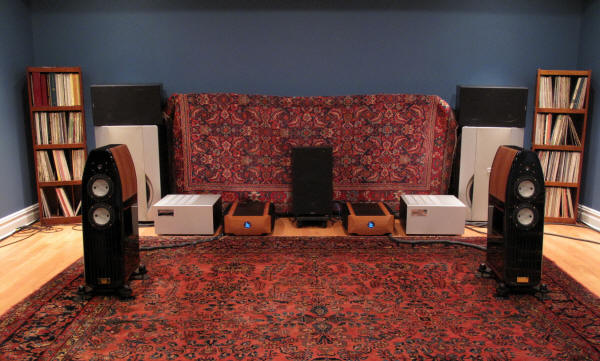 I can corroborate the buzz you've been hearing about Soulution: for purity and fidelity, you won't find better. This gear is ultra transparent to the source, wholly without embellishment or artifact, yet possessing lightning transients and SOTA resolution. Talk about open windows! The bass drum on Suite #1 rocks the room, as only Professor Johnson can do it.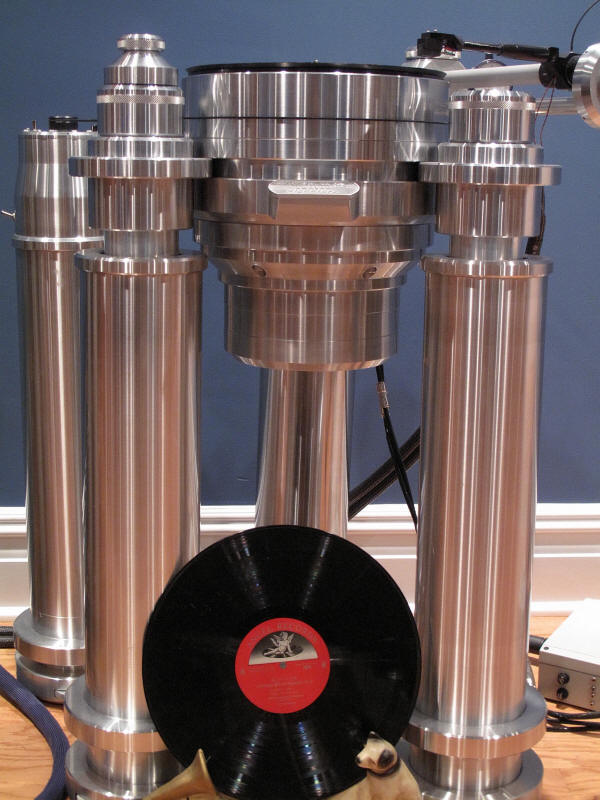 We switched to the VYGER Indian Signature turntable and Air Tight PC1 cartridge for some analog playback, using the Soulution preamp's built-in phono stage. Analog proves itself, once again. Maybe Gidon Kremer's violin on Prokofiev's Sonata #1 was a tad bigger and more dynamic than life. Or maybe that's just how I'm used to hearing it.
Also Sprach Zarathustra, with Zubin Mehta and the LA Phil (original Decca LP, SXL 6379), produced so much room-filling sound without clipping— I've never before heard the opening sustained organ pedal notes not compress. Nor have I experienced the Galileo speakers capable of this level of performance.
"There are two things in this room that are once-in-a-decade products," Bill noted, "the Soulution electronics and the new Kubala-Sosna Elation! wires."
Oh, I forgot to mention, there were twin subs behind the Galileo's, the two-way Velodyne 1812 self-powered 6000-watt subwoofers. Gasp! Using DSP, they go down to 14Hz with flat response.
The price tag in this room with the full complement of Soulution gear came to a staggering $400K, without the Kubala-Sosna wires.
Day one came to a very happy close.
Sunday
The next morning we returned to the Harem Room and put in the Avantgarde Duo Omega speakers. The McIntosh amp was replaced with the Air Tight ATM 211 monos. The sound had more tubey characteristics, but was also tightly focused and clear. No doubt this was the ATM 211s at work. As before, horn aberrations were absent.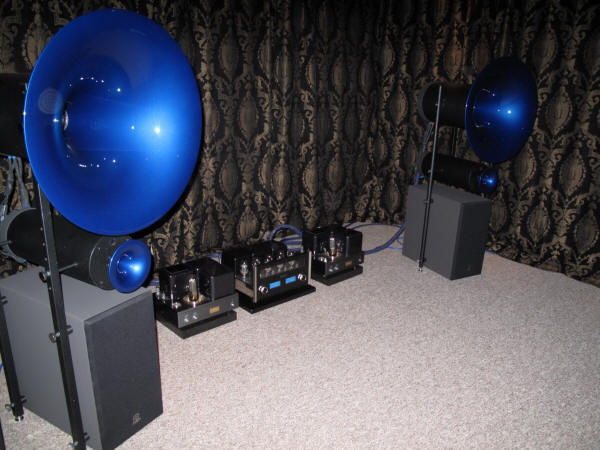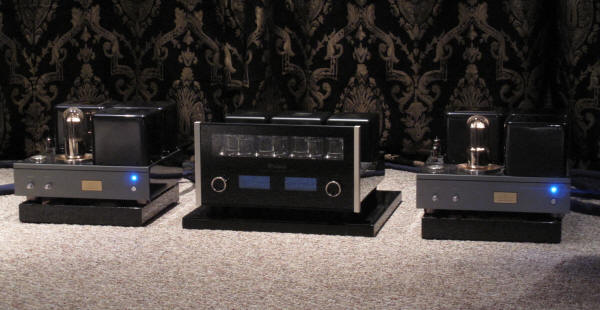 Sunday Room 4 – Soulution Room
Back in the Big Room, we swapped out the Soulution amps for the Tenor monos. Well, they might not have as much room-filling power as the Soulution amps, but they do have that outstanding timbre and liquidity I heard yesterday from the Tenor Stereo 175S Reference. Tenor amps are a contender for the most realistic timbral reproduction available.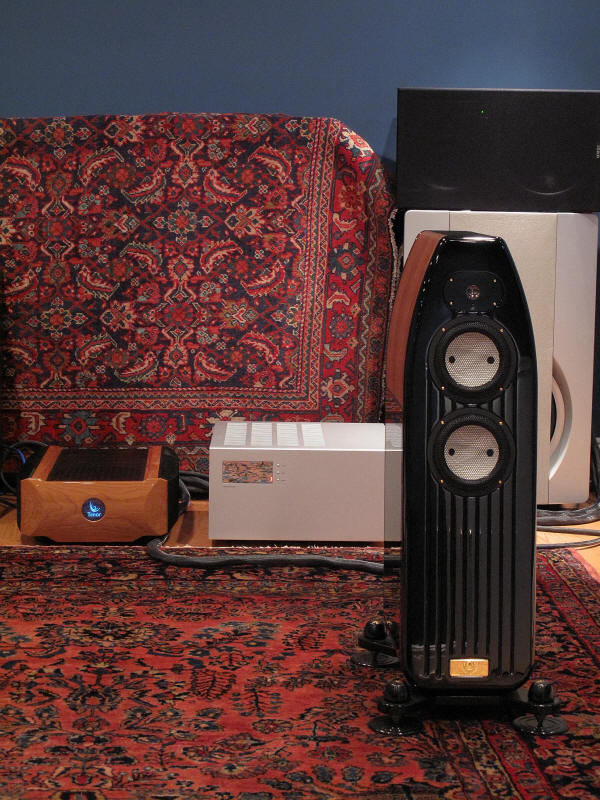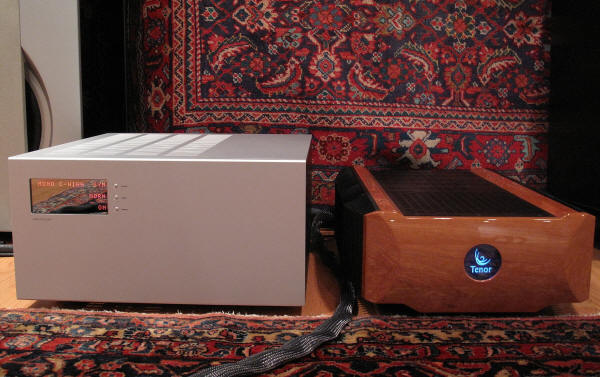 We switched back to the Soulution monos. Whew, now I'm viewing a wide-open vista again. These Soulution amps render space in a unique way. The sound opens and expands into the room. You don't sense the hall's boundaries—it has the quality of outdoors. This is how it sounds at Carnegie Hall or the Metropolitan Opera House. (And, if memory serves, at the Mormon Tabernacle in Salt Lake City.)
Most concert halls engender a sense of their dimensions in concertgoers. Listening to a violin sonata, or a Mahler symphony, one can sense the rear of the hall, the sidewalls and the ceiling. Reproducing this is the goal we audiophiles aim for and the best stereo systems can do it. But none of them can recreate the open ambiance of being in Carnegie Hall. The Soulution Monos are the only amps that can conjure this.
Homeward Bound
There were some sonic commonalities in all the GTT rooms. In every setup the sound was both dynamic and room filling beyond expectations. Frequency response was extended and flat, treble was clear and glare-free, low-end was tight and well represented, and transients were fast but never hard.
On the hardware side, the commonalities were: 1) amps with much higher power ratings than you would expect paired with the associated speakers, and 2) pairs of sub-woofers were in every room, regardless of the main speakers' lower frequency capability.
As Bill promised, there was more than enough gear to keep us busy the entire weekend. There should be something here for most everyone, ranging from the mid-level enthusiast up through the audio astronaut orbiting the furthest reaches of the high-end.
Note: Visits are by appointment only.