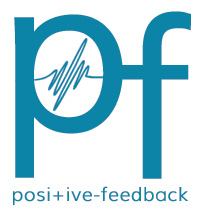 You are reading the older HTML site
Positive Feedback ISSUE
44

july/august
2009
Update: Revised TRi Mystery Feet from Marigo Labs
by Robert H. Levi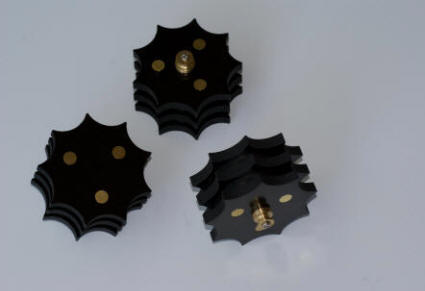 The latest version of the top rated isolation cones from Marigo are called the TRi Mystery Feet and now cost $759 retail for a set of three. They are mainly designed for anything with a motor or transformers. The slightly taller version runs $799 and is designed for speakers, turntables, amps and the like. Even more elegantly finished than the originals with a polished tip, they are the wunderkind of isolation feet and work like a charm.
I generally use the shorter version and both sizes work with ANY equipment of any weight! I also like to place them under the internal or external transformers or motors of the gear being isolated, usually one in the front and two in the rear, for best effect. The feet pull vibration from the gear and dissipate it. They also isolate the gear from platform vibration. The Mystery Feet do both jobs simultaneously. They perform just as effectively as the venerable Townshend Seismic Sinks and somewhat better than the Ginko models with my testing in multiple systems around Los Angeles. They also outperform the most expensive Black Diamond Racing cones when tested in a Magico V3 System at a local audio dealer.
I cannot find one flaw in the Mystery Feet design or any quibble in their performance under anything. I'd put them under my wife if I could. You want to know what your power amp really sounds like… get 'em. How about that great new preamp or high-end CD Player… get 'em. Interested in isolating your speakers… get 'em. Put them under your entire shelf if you can. Plus, coming soon, a Mystery shelf to use in combination with the feet for turntables and other gear with multiple units and power supplies.
Unlike most tweaks I know and use, you can't screw up using these. I've said it before and I'll certainly say it again. Use the Mystery feet and enhance the value of your system just like you bought new gear! No kidding!
These are slicker, and elegantly finished than the original and still working brilliantly. The new TRi Marigo Mystery Feet are more expensive [I warned you.] and are world-beaters as isolation devices. I found them perfect for isolating anything with a motor or transformer plus they make excellent tube gear even better. How much better you ask? So dramatically better, clearer, sweeter, more defined and distortion free, they will never leave your system. Set and forget! The TRi Mystery Feet are a must own if you consider yourself a true audiophile and want the best performance from your expensive equipment investments. Most highly recommended. Get 'em before the price goes up even further!
Marigo Audio Labs http://www.marigoaudio.com