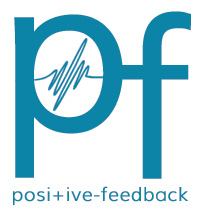 You are reading the older HTML site
Positive Feedback ISSUE
44

july/august
2009
Telarc SACD Sampler 1
by Teresa Goodwin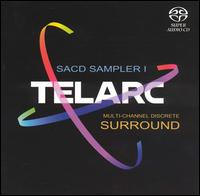 This is Telarc's first Stereo / Multichannel SACD sampler. It offers a wide variety of Jazz and Classical selections recorded in Analog, PCM and DSD so it made for an interesting comparison of the three main types of recording.
From the liner notes on level differences on this Telarc Sampler SACD: "Our goal in compiling this sampler was to present the listener with a variety of differing approaches to creating a surround sound experience, using various musical examples.
The Selections included in this SACD are presented with no alternation in overall level or dynamic range from the original masters. The apparent levels, therefore differ greatly from track to track. Telarc's masters are optimized for maximum peak levels during the recording sessions and subsequent mastering. When we attempted to match the relative volume between these tracks, we found it significantly degraded the sonic integrity of the original masters, resulting in out decision to leave them alone.
To make it easier to play these unleveled tracks, we chose to group them from loudest to softest. There is roughly a 45 percent difference in apparent level from the first track to the last so you will undoubtedly want to increase the volume as you play through the disc."
All tracks are Telarc recordings with the exception of Tracks 3 and 4 which are from their sister label Heads Up.
Selections and source recording type.
1. Moanin' - Monty Alexander from "Monty Meets Sly and Robbie" (Source: Analog)
2. Badia - Jason Miles, etc. from "Celebrating the Music of Weather Report" (Source: PCM 24/44.1)
3. Nature Boy - Philip Bailey from "Soul On Jazz" (Source: Analog / PCM 24/44.1)
4. Feelin' Fine - Spyro Gyra from "In Modern Times" (Source: Analog / PCM 24/44.1)
5. Give Me One Reason - Junior Wells from "Come On In This House" (Source: Analog / PCM 24/44.1)
6. Anthony's Blues - Michel Camilo from "Triangulo" (Source: Analog with DSD)
7. Harcourt Nights - Oscar Peterson Quartet and the Michel Legrand Strings from "Trail of Dreams: A Canadian Suite" (Source: DSD)
8. Pride And Joy - Kevin Mahogany from ""Pride and Joy" (Source: DSD)
9. Simple Gifts - Erich Kunzel & Cincinnati Pops Orchestra from "A Celtic Spectacular" (Source: DSD)
10. September In The Rain - Erich Kunzel & Cincinnati Pops Orchestra from "Nice 'N' Easy, Celebrating Sinatra" (Source: DSD)
11. Across the Universe - King'singers, Erich Kunzel & Cincinnati Pops Orchestra from "Music of the Beatles" (Source: DSD)
12. Cuban Landscape With Rain - Los Angeles Guitar Quartet from "Latin Album" (Source: DSD)
13. Dupre: Magnificat VI - Michael Murray from "Dupre, Franck, Widor: Organ Works" (Source: DSD)
14. Song For All Seas All Ships - Robert Spano, Atlanta Symphony Orchestra and Chorus from "Vaughan Williams: Symphony No. 1 "A Sea Symphony" (Source: DSD)
15. O Fortuna - Donald Runnicles, Atlanta Symphony Orchestra & Chorus from "Orff: Carmina Burana" (Source: DSD)
The first selection is from an analog master, track 2 is 24 Bit 44.1kHz PCM, tracks 3-5 are Analog / 24 Bit 44.1kHz PCM, track 6 is Analog with DSD and remaining 9 tracks are Pure DSD.
Leaving track 5 and entering track 6 is a musical revelation! Moving from Analog / 24 Bit 44.1kHz PCM to Analog with DSD the music opens up and comes alive, and stays that way with the remaining 8 tracks. The sonic differences between the first 5 PCM tracks and the remaining 9 tracks is an ear opening experience and further reinforces my belief that all recordings, no matter what type of music, no matter what the end format NEED to be DSD recorded, without a single exception.
Moving from the PCM tracks to the DSD tracks my whole soundstage opened up, it's as if someone pushed the back and side walls further back to let in more of the music in. the DSD tracks had real air between and around the instruments and their position was more defined. The bass was more realistic sounding, not deeper just more live sounding. The midrange was so precise I could reach out and touch the players in their holographic space. The smooth analog-like high frequencies of the DSD recordings are do die for, even though smoother they also had more attack sounded more like what I hear live. By contrast the PCM recordings sounded like recordings. The DSD recordings sounded like I was transported to the Jazz club or concert hall. And this is the two channel stereo high resolution program! Someday I hope to hear the multichannel program.
I had always believed that Telarc's Classical music was better engineered than their Jazz, and while that might have been true in the beginning it is not now, some of the DSD recorded Jazz sounded fantastic! While Telarc's Classical division started recording DSD several years before SACD was invented it appears their Jazz division didn't adopt DSD recording until much later.
I highly recommend this SACD and the six Telarc samplers that followed. If the first five PCM tracks don't sound so great to you, skip ahead to track 6 and listen to the remainder of the SACD. Just remember you have to gradually turn the volume up as the SACD plays to keep the same relative level. You can always listen to the first five tracks later. Musically this sampler is a joy to listen to as all tracks are complete with no fade ups or fade downs and Telarc seems to really get musicians to give their absolute best. Not just great sound but great music as well.
* Review is of the 2 channel stereo high resolution DSD layer.